Smart Woman VIP Club

Because one gala night a year is not enough, we are inviting you to learn from each other all year long. This exclusive society of inspiring women will keep the energy going in an infinite mentoring circle. Included in attendance at the transformational Smart Woman Summit will be your annual membership in Smart Women VIP Club (a $199 value), which includes:
Smart Woman Sessions: Quarterly virtual conversations
Mentorship circles "matched peer learning"
Regional in-person events
Dedicated monthly newsletter with strategic and empowering curated content
Partner discounts
And much more!
INTERACTIVE WORKSHOPS
Transformational Experiences: We have curated leading voices in career, behavior and personal advancement and they have agreed to share proven strategies for resilience, overcoming doubt and reaching your highest potential. You will share this transformative experience with a room of irrepressible women who will support you every step of the way.
PROGRAM
Day 1 /Tuesday/ September 14, 2021 - All Times Pacific Standard Time
| | |
| --- | --- |
| 5:00 pm – 7:00 pm | Welcome Reception: Mix and mingle at a fabulous networking reception |
Day 1 /Wednesday/ September 15, 2021 - All Times Pacific Standard Time
| | |
| --- | --- |
| 7:30-8:30 am | Breakfast: Check in and fuel your day with tasty morning bites |
| 8:45-10:00 am | Welcome Remarks & Keynote: From High Heels and Lip Gloss to Camo and Combat Boots with Lt. Col Patricia Murray |
| 10:00-10:30 am | Inspiration Networking Break: Spark creativity and inspiration with your fellow event attendees |
| 10:30-11:45 am | Keynote: Make Unreasonable Requests with Stephanie Burns |
| 12:00-1:00 pm | Lunch |
| 1:15-2:15 pm | Keynote: The Power of Negotiation with Alison Fragale |
| 2:15-4:00 pm | Keynote and Wrap up: Master Your Disasters with Kim Becking |
| 6:00-7:15 pm | Awards Gala Cocktail Reception |
| 7:15-10:00 pm | Smart Woman Summit Awards Gala featuring Jade Simmons |
OUR SAFETY EVENT PROTOCOLS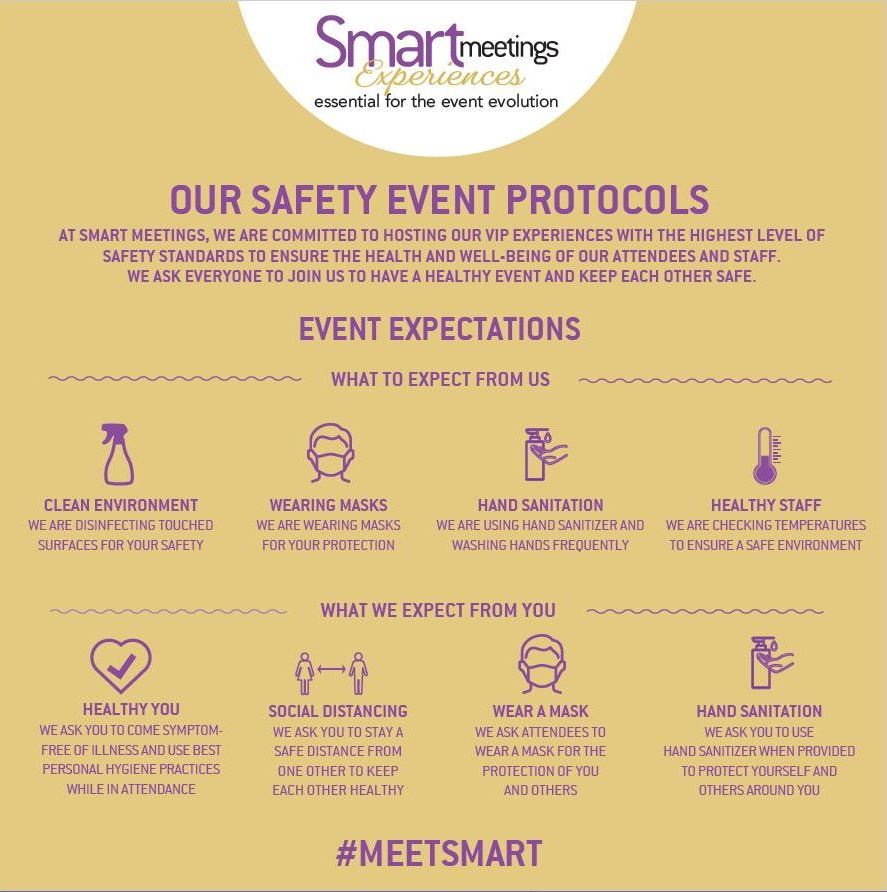 FAQS
Of course! The Smart Woman Summit is designed especially for women in meetings and includes meetings-centric topics and networking opportunities. However, all women (and men who support them) are welcome to purchase a ticket to the conference.
Yes! Non-industry guests, family and friends may purchase a ticket to the Gala to accompany winners and other conference attendees.
Yes, our keynote presentations and educational workshops are CEU-accredited. You will earn three CEUs at the Smart Woman Summit.
We understand that life happens and even though you may be just as delighted to attend the Smart Woman Summit as we are to have you, you may need to cancel your reservation. Our cancellation policy is as follows: Once purchased, you may request a refund until August 15, 2021, less a $50 administrative charge per person.
We will be arranging room blocks with special Smart Woman Summit attendee pricing of $199 per night at Resorts World Las Vegas. Stay tuned for more details!
We've prepared an approval letter just for you! Please
click here
to download an approval letter that covers the event ROI and concrete takeaways that will help you in your meeting professional role.