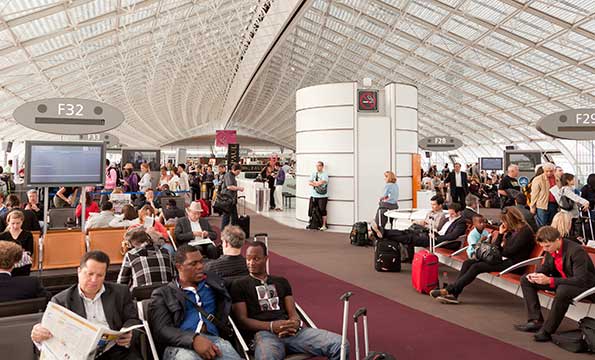 Charles de Gaulle has long been held as an airport full of inconveniences. But in a new report released by airline consultancy Skytrax, the Paris airport has greatly improved. It was recently named the "World's Most Improved Airport," moving up the ranks from 95th to 48th in just one year.
After years of traveler complaints, Charles de Gaulle is modernizing its facilities and upgrading its services. CEO & Chairman of Aeroports de Paris Augustin de Romanet acknowledged that customer satisfaction has improved according to the airport's own survey—by the end of 2014, 89.9 percent of passengers reported satisfaction.
The award also includes the first time Charles de Gaulle has been noted among the top five airports for shopping and top 10 for its services. In the past few years, Aeroports de Paris has brought in more than 50 new retail and restaurant businesses. In addition, its terminal 2E in Hall M was also named the sixth best terminal in the world.
However, the outlook wasn't always so rosy for the European travel hub. A 2011 study by a CNN travel website gave it the abysmal rating of "the most hated airport in the world." Travelers criticized everything including the disrespectful staff, a disorganized layout, a lack of signage and unclean bathroom facilities. Other travel websites, including sleepinginairports.net and airlineequality.com, have also decried the airport's dismal décor, lack of 24-hour food options and cramped terminals.
The Paris airport shall remain on the upswing if it continues to improve its services, such free WiFi it recently offered to all passengers. Charles de Gaulle is the second busiest airport in Europe. It serviced 83 million passengers last year.