Discovery Channel's annual Shark Week is upon us. If you want to get in on the action, think outside of the tank and consider these aquatic venues for your next meeting or event.
Golden Nugget—Las Vegas, Nevada
Give your event the Midas Touch at Golden Nugget. This unique hotel is located in downtown Las Vegas on what is considered the old strip, Fremont Street. The pool area is known as The Tank. Brave guests can ride down a transparent water slide inside the 200,000-gallon shark tank. Golden Nugget houses more than 30,000 sq. ft. of event space for groups of up to 2,500 attendees.
Atlantis—Paradise Island, Bahamas
Atlantis in Paradise Island, Bahamas, underwent a massive $1 billion expansion to their meetings and event space. The breathtaking Caribbean getaway boasts a world-class conference center that can fit a maximum of 4,000 guests in its 50,000-square-foot Imperial Ballroom. It also offers over 40,000 sq. ft. of pre-function space, 30 break-out rooms, boardrooms, staging area and banquet kitchen. In 2014 and 2015, the Marine Habitat at Atlantis was ranked by TripAdvisor as one of the Top 25 Aquariums in the World. Guests can zip down a clear water slide for the best views of Caribbean reef sharks inside the Mayan Temple Shark Lagoon. The aquarium also has a 100-foot tunnel guests can walk through and be surrounded by hundreds of marine species.
Long Island Aquarium and Exhibition Center—Riverhead, New York
The East End is home to Long Island Aquarium and Exhibition Center. Atlantis Banquets & Events can arrange fin-tastic corporate events for up to 650 guests. The new 5,310 sq. ft. Sea Star Ballroom overlooks the Peconic River. The aquarium has partnered with the adjacent Hyatt Place East End & Resort Marina to offer visitors nearby hotel accommodations in its 100 guest suites. Adventurous guests can come face-to-face with sharks by plunging deep down in the 120,000-gallon Lost City of Atlantis Shark Exhibit inside a cage.
Aquarium of the Pacific—Long Beach, California
The Aquarium of the Pacific in Long Beach is located walking distance to The Queen Mary. Its new Watershed classroom is LEED Platinum certified and can fit up to 40 guests. The room brings the outdoors inside, featuring a living roof of shrubs and grass. Larger groups in the hundreds can meet on the front lawn or Great Hall. If you're planning a gathering of up to 1,500, the entire facility is available for a buy-out.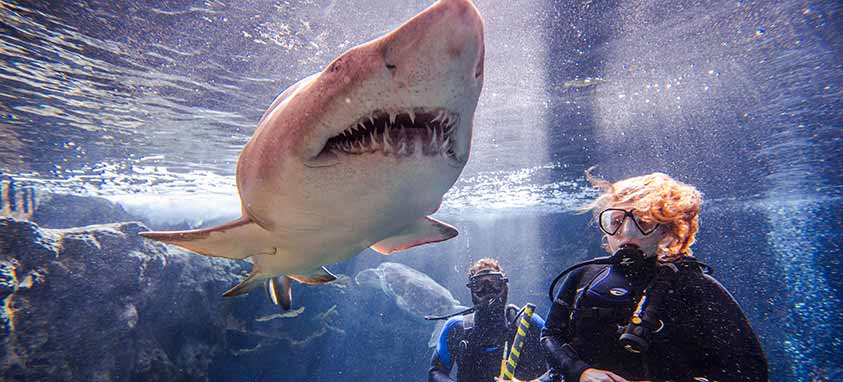 Photo courtesy of The Florida Aquarium
The Florida Aquarium—Tampa, Florida
The Florida Aquarium in Tampa recently introduced their new Mosaic Center. Guests can enjoy views of Harbor Island, Garrison Channel and the Channelside District through floor-to-ceiling, wrap-around windows. The elegant event space features an atrium and catering menu. Plus, you can get an underwater look at sharks and sea turtles. The aquarium is home to more than 20,000 species of animals and plants. Proceeds from events go toward conservation efforts.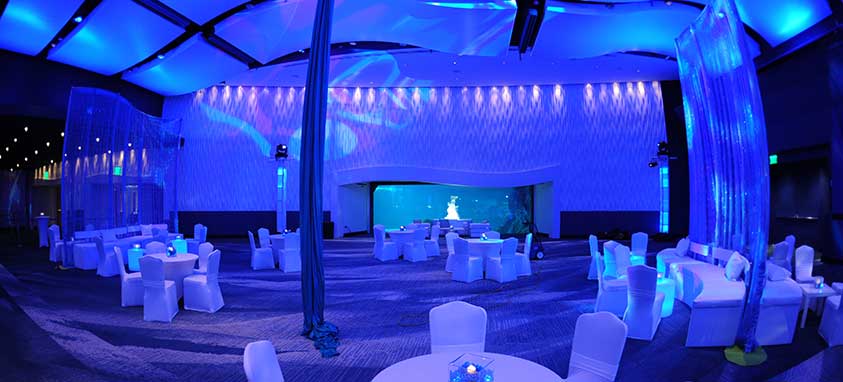 Photo of Oceans Ballroom courtesy of Georgia Aquarium 
Georgia Aquarium—Atlanta, GA
The 23,000-square-foot Oceans Ballroom at Georgia Aquarium can be configured to fit up to 1,200 guests. Attendees will not only be treated to views of beluga whales and the Ocean Voyager habitat, but will dine on catering by esteemed chef Wolfgang Puck. The ballroom features a private entrance and the events team can help arrange team building activities and provide AV services in the built-in theaters. There is enough parking for all of your guests. A private parking structure contains 1,600 spaces.
Tennessee Aquarium—Chattanooga, Tennessee
The Tennessee Aquarium and IMAX 3-D Theater has three buildings for meeting professionals to choose from. The River Journey can fit up to 500 people for a reception, IMAX Great Hall works for mid-size affairs of 400 and The Ocean Journey is perfect for a group of 200. Super-sized events can rent out the entire aquarium to accommodate 3,000 guests. Plus, the outdoor pavilion can seat 600 or more. If you want to take things out on the water, the aquarium's catamaran is available for private rental. It takes groups of up to 65 guests on a trip down the Tennessee River. 
Photo courtesy of Ripley's Aquarium
Ripley's Aquarium—Myrtle Beach, SC
Ripley's Aquarium in Myrtle Beach recently debuted its indoor glass-bottom boat attraction, Dangerous Reef, the first and only one on our continent. Riders can get up close and personal with Jaws inside the shark tank. The aquarium's banquet room can welcome 40-125 guests and the entire facility is also available for rental to accommodate larger groups.
Photo courtesy of Monterey Bay Aquarium 
Monterey Bay Aquarium—Monterey, California
The Open Sea exhibit at Monterey Bay Aquarium features a 90-foot window to give guests a great view of sea life on the other side of the glass. While enjoying a strolling or sit-down dinner, sharks swim by. The space can be reserved for up to 2,500 people. Planners can also book a special dive show.
Universal Studios Hollywood—Universal City, California
Although not an aquarium, the World-Famous Studio Tour at Universal Studios Hollywood takes guests on an excursion to Amity Island where Jaws resides. As you drive by on this backlot experience, the shark will leap out of the water to scare and splash visitors. Make sure to keep your limbs inside the vehicle! Universal Studios also offers many meeting spaces. Roll out the red carpet at The Globe Theatre for up to 700 guests. This state-of-the-art ballroom offers $25,000 worth of complimentary AV as part of the package. The Animal Actors Pavilion, WaterWorld Show Pavilion, Special Effects Stage and Universal CityWalk Cinemas are also available for private functions and presentations.
Poolside "Dive In" Movie
If you want to keep your meeting at a bit of a dryer and more conventional venue, many hotels host "dive in" movies. This could be a fun evening activity for your attendees by projecting "Jaws" or another shark-related film on a big, poolside screen as guests float in the water.