Bowling lanes serve as a great venue for a company holiday party or a night out on the town during a conference. At IMEX 2017 in Las Vegas, SITE Nite North America was held at Brooklyn Bowl on The Linq's promenade. Many facilities have the capability to project your event's or brand's logo or messaging on screens at the end of each lane. Get your head out of the gutter, spare no expense and roll a strike of a party. Here's just a small sampling of the many fun bowling alleys in the nation.
Brooklyn Bowl, Las Vegas and Brooklyn
Brooklyn Bowl has two locations that both offer a concert stage and catering in addition to knocking down pins. The original location in Brooklyn has 16 lanes and can host private events of up to 600 attendees. The Las Vegas venue offers space for parties of 3,000 and 32 lanes for bowling. They've even got your feet covered with baskets of complimentary socks available at each lane.
The Spare Room, Hollywood, CA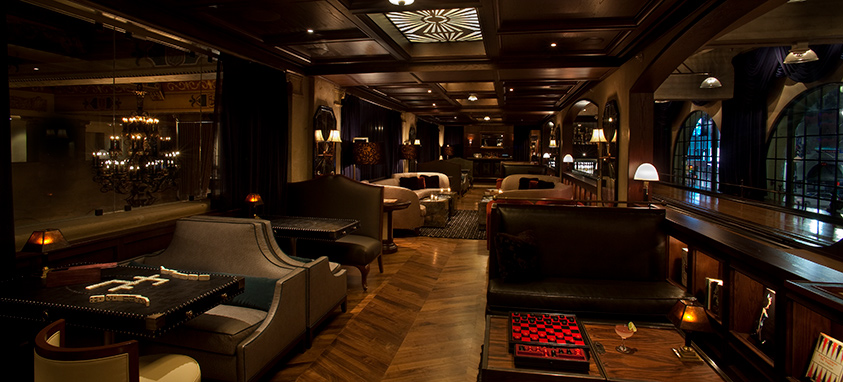 Photo credit: Hollywood Roosevelt
The historic Hollywood Roosevelt has 25,000 sq. ft. of flexible meeting space, but The Spare Room within the hotel is an intimate gaming parlor with a speakeasy feel. The 2,780-square-foot cocktail lounge features two vintage bowling lanes and can accommodate 180 guests for a reception.
Highland Park Bowl, Los Angeles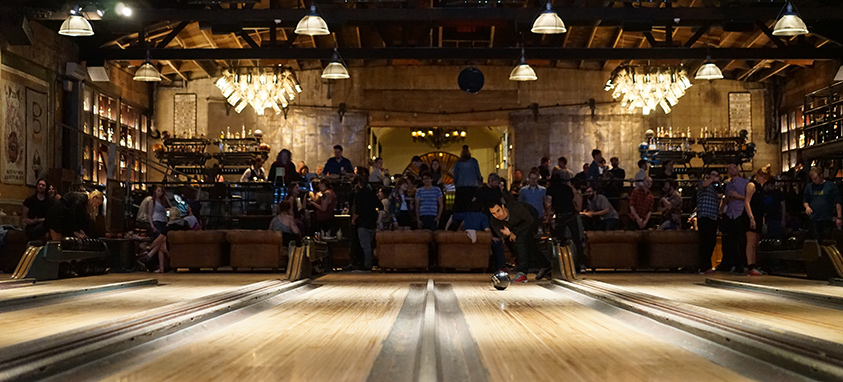 Photo credit: Danielle Bernabe
Established in 1927, Los Angeles' oldest bowling alley—Highland Park Bowl—was restored and reopened in 2016. The eight-lane establishment has beautiful wooden finishes and will transport your guests back to the Prohibition-era; it's available to rent for private events of up to 400 guests for a full buy-out. The building also originally housed doctors' offices and a pharmacy. During Prohibition, doctors could write prescriptions for whisky, so patients would fill the prescription and booze and bowl—all under one roof.
Plank, Oakland, CA
Located in Oakland's waterfront Jack London Square, Plank boasts more than 50,000 sq. ft. of indoor and outdoor event space. There are 18 bowling lanes, a bocce ball court, 50 handcrafted local beers, 40 televisions and interactive video games. Plank can host meetings and team-building events of up to 1,000 attendees. Their Boardroom is a designated adult-only VIP section with private bowling lanes, billiards and a bar.
Uncle Buck's Fish Bowl & Grille, 12 Locations in U.S. & Canada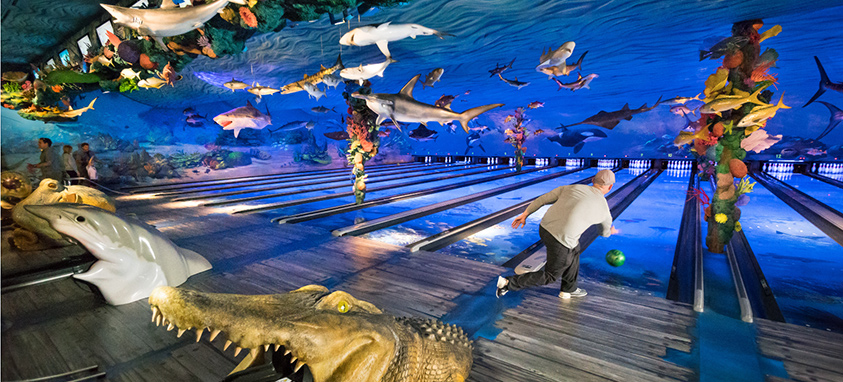 Featured as the Smart Space in the September issue of Smart Meetings, Uncle Buck's Fish Bowl and Grille takes you bowling under the sea. Marine life hangs from the ceiling, which is painted blue to make you feel like you're beneath the ocean's surface. Bowling balls are returned to the rack through the mouths of sea creatures such as sharks and octopi.
Lucky Strike, 20 Locations in U.S.
With locations in Arizona, California, Colorado, Hawaii, Illinois, Maryland, Massachusetts, Michigan, New Jersey, New York, Ohio, Pennsylvania, Texas, Washington and Washington, D.C., there's a good chance there's a Lucky Strike close to your meeting. Private lanes or the entire facility can be rented out for parties of up to 1,200 guests. They have a bar, catering and mood lighting. The Hollywood location has become a celebrity hotspot with pins signed by some of the biggest stars.