Exercising makes you feel alive, and what better place to do than among fellow colleagues. There's nothing like getting dopamine pumping through your system, the brain chemical responsible for that pleasurable feeling commonly felt post-workout, making you feel like you're ready to take on the day.
Corporate events are a great place for attendees engage in physical activity. Not only do these activities encourage attendees to get to know one another better, but they also promote a healthy lifestyle. Below are some ideas to jump start your next corporate gathering.
Cycling
Bike-riding can make for a great alternative to the traditional, sedentary corporate gathering. Attendees can go for a simple ride with the intent to team build or they can make it more competitive.
Corporate Cycling Challenge hosts events the weekend of August 18 in Omaha, Nebraska. Starting in the Heartland of America Park participants can choose from three different routes: Olde River Ride (10 mi.), Riverside Ride (25 mi.), and Tour De Fort and Gran Fondo—both of which are 42 miles. Proceeds will be donated to Eastern Nebraska Trails Network, a non-profit for trail development in Omaha and eastern Nebraska.
Many of the companies that host cycling events are based in Europe and Australia, such as Corporate Cycling in Melbourne, Ride25 in the U.K. and Truecycling in Yorkshire, New England.
Run a Marathon Relay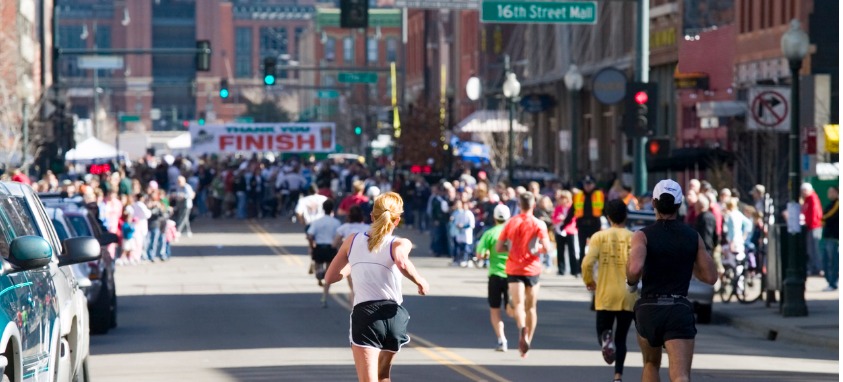 No need to fear, in relays all attendees don't have to run the entire 26.2 miles. Many marathons for corporate events are structured as relays, in which each attendee runs their own section of the race.
In Denver, Colfax Marathon Relay runs every May; this year it lands on the 19th. A multitude of winners from various divisions receive a total of more than $90,000 in awards for an eligible charity partner.
In La Crosse, Wisconsin, the Festival Foods Grandad Half Marathon is hosted in May as well, on the 4th. Teams can run in either a 5k or half marathon, based on fastest finish times. In the relay, the number of miles that attendees must cover depends on the size of the company.
Jump on Trampolines
Surely the suggestion of a trampoline park for a corporate event will be met with wide eyes. They are as fun as they are exhausting.
At trampoline parks, such as House of Air—located in California, Texas and Poland—and Skyzone—located in the U.S., U.K, and many more countries—there are numerous activities to engage in within the park, such as freestyle jumping, dodgeball, dunk basketballs or jump in the foam pits. You can rent out a room or buy-out the entire facility.
Stand Up on a Paddleboard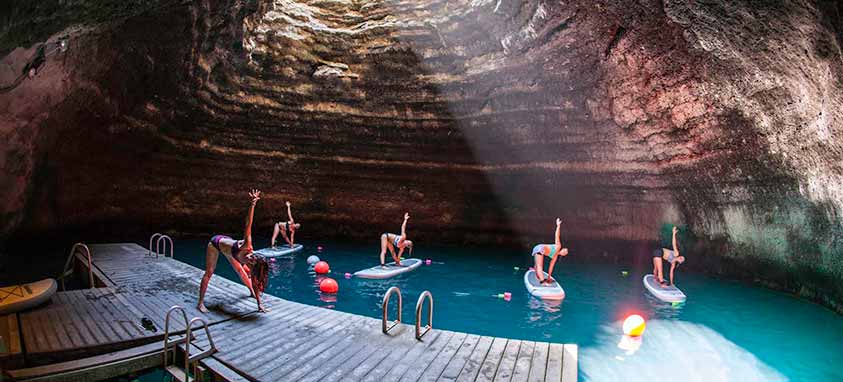 Stand-up paddleboarding (SUP) is all the rage. Yoga, scavenger hunts and bingo—who knew you could do so much on a paddle board?
At Mantra Fit, in Severna Park, Maryland, you can do all this, as well others, including SUP stroke class, where you learn the fundamentals of paddle boarding technique, Sunset SUP N' SIP, during which attendees enjoy a casual paddle and refreshments at the adjacent waterside restaurant, Paddlefit, a boot camp that includes a mix of paddle intervals and bodyweight exercises, and Barre on Board, which—like it sounds—is barre class on paddle boards—talk about a challenge.