More Than 504,000 Reasons to Get Excited About Opening of Moscone Expansion in SF
After four years of tiptoeing around ongoing event business to expand and update the circa 1981 Moscone Center in the heart of the financial and arts districts, San Francisco Tourism Improvement District Management Corporation will tear down the temporary walls on January 3 to welcome 157,000 sq. ft. of new "front of house" space.
The renovation is about more than added elbow room, however.
"We surveyed planners and heard consistently that what they wanted was open space and flexibility," said Lynn Farzaroli, senior director of the Moscone Expansion. That is why the highlight of the $551 million project is 504,914 sq. ft. of contiguous space. Before expansion, the largest uninterrupted area was 260,000 sq. ft. To put that number into perspective, the exhibition area can now accommodate 2,300 10-foot square booths and still serve other events in separate parts of the event campus.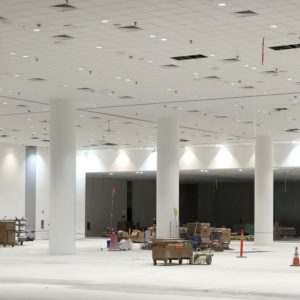 "We are already booking big events for next year that could not have fit in the old space," Farzaroli said. San Francisco Travel Association President and CEO Joe D'Alessandro is expecting a record year for visitors to the city—1.2 million room nights are already booked.
To fulfill the request for flexibility, designers incorporated multiple tracks for airwalls that will allow any group to feel cozy, plus 82 separate meeting rooms. Twenty loading docks in three separate areas with drive-on access to the exhibit halls ease moves in and out.
Smart Meetings took a hard hat tour as final touches were being added and came back with a list of features that make the space transformative.
Related: Progress Report: Global Convention Center Outlook
View Central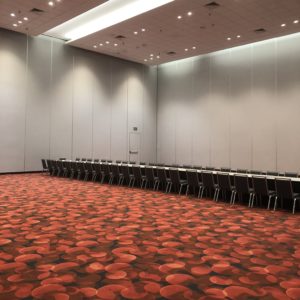 The improvements are visible from the moment attendees enter the space. A soaring prefunction lobby is sheathed in windows for dramatic views of the city and surrounding Yerba Buena Gardens. Another 25,000 sq. ft. of elevated outdoor terraces show off the stunning location.
Inside, decor subtly draws from the "International Orange" of Golden Gate Bridge in the otherwise neutral carpet and walls.
Wired
Two massive LED screens wrap around the interior wall. Obscura Digital, the company behind the immersive experiences at nearby Salesforce headquarters, installed the nearly 75-foot displays and will manage the visual storytelling technology for groups.
Plus, a robust wireless system allows Moscone to support as many as 60,000 devices at once so attendees can download, stream and selfie at will.
Public Face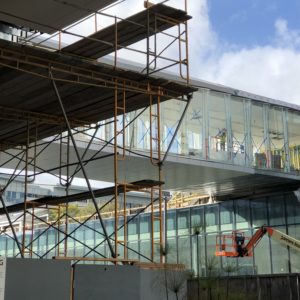 Much of the art planned for the site will be outside the building so both attendees and passers-by can enjoy the investment. Returning to Moscone from a stay at M.H. de Young Museum is a colorful Keith Harring painted aluminum piece. A series of new sculptures by New York City designer Sarah Sze called Double Horizon will join a mural by California surreal painter Brendan Monroe.
Moscone will also now be home to San Francisco Visitor Information Center. A new, glass-walled space will welcome tourists and feature information about only-in-SF experiences.
More: Smart Dispatch: Opening My Heart to San Francisco
Earth Friendly
The project is on track to earn the highest LEED certification, Platinum, based on its ambitious resource-efficiency features. When complete, it will host the largest solar panel array in the city and the largest publicly owned solar power system in the country. The water recycling system will recover 15 million gallons a year for reuse in landscaping and street cleaning.
An in-house recycling system will reduce the impact of events and streamline the process for planners. Even the hand soap in the restrooms is environmentally friendly. Plus, its central location near 20,000 hotel rooms and major attractions means less fuel and logistical energy burned because no one will have to be bused to the off-site venue.