There's a place where innovation meets inspiration. And business meetings are elevated to unforgettable gatherings. Some of the world's most influential minds come to live, work and create in Pasadena. Bring your next meeting here and image the possibilities.
There's a reason Pasadena is the perfect choice for meetings. The weather is idyllic. Mountain views and blue skies abound. Intimate neighborhood allure is infused with modern energy and metropolitan offerings that make it a destination in itself.
Meetings and Accommodations
The state-of-the art Pasadena Convention Center features 80,000 square feet of space for meetings of all sizes, with spacious exhibit halls, an expansive ballroom and 28 meeting rooms. Scores of three- to five-star convention hotels and more than 2,500 rooms are nestled within the city, with countless more nearby.
Activities
An eclectic mix of shopping, theaters, golf, museums and gardens are all conveniently just steps away from Pasadena's Civic Center. There's literally something significant around every corner, whether you're into architecture, design, high fashion, music, theatre, museums or galleries. Pasadena is the heartbeat of SoCal's cultural side. Art Connoisseurs have a myriad of landmark museums and galleries, housing everything from European masters to early California Impressionists to modern art. Literary lovers can peruse rare books and manuscripts. Explore mile upon mile of stunning botanical gardens, top-notch arts performances and live concert venues. A tour of the town will lead to a beautiful tree-lined shopping district along South Lake Avenue, galleries and specialty shops in the Playhouse District, 19th century structures and quaint alleyways in Old Pasadena, and an open-air urban village in Paseo Colorado. Pasadena could easily be called "Foodie City," with more than 500 restaurants – more per capita than New York City.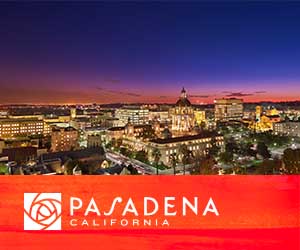 Getting There
Pasadena is located just ten miles from downtown Los Angeles, and is conveniently accessible from all LA area airports and freeways. The Gold Line light rail transports passengers from Pasadena to downtown Los Angeles and points in between.
Smart Facts
Pasadena Convention Center
300 E. Green Street
Pasadena, CA 91101
Phone: (626) 795-9311, (800) 307-7977
Website: www.PasadenaMeetings.com