The Abbey Resort has completed the final phase of a multimillion-dollar renovation that began in 2013 and highlights Smart Meetings' weekly new and renovated report. The expansive property is located 80 miles from Chicago and 50 miles from Milwaukee on the shores of Lake Geneva.
The renovations included upgrades to three meeting rooms and the transformation of hallway areas where buildings connect into miniature lobbies. The newly renovated lounge and corridor areas feature new carpet, wallpaper, artwork and furniture, providing ample gathering space for attendees to collaborate and socialize before and after meetings. The project also included major renovations of the 35,000-square-foot Avani Spa, two restaurants, two bars and coffee shop.
There 334 guest rooms and suites, 40,000 sq. ft. of indoor and outdoor meeting space.
---
A new 41-room luxury hotel opened last week in the heart of historic Charleston, South Carolina. There is meeting space for up to 50 people. The hotel is named after the iconic spectator shoe of the '20s and '30s, and the property's architecture reflects the shoe's style, including wrought-iron railings that are reminiscent of the shoe's stitching.
"Guests at The Spectator Hotel are surrounded by beauty and carefully crafted fashion, form and elegance," says Jay Keenan, one of the developers. "Vintage touches and high-styled Hollywood glamour are complemented by modern sensibilities."
---
The 30,000-square-foot convention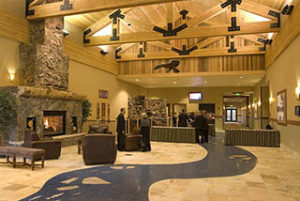 center has new technology, including full HD components and improved wireless Internet connections.
The upgrade to the LEED certified convention center comes on the heels of the property's purchase in March by Vancouver-based Vesta Hospitality, which has announced plans for an $8 million renovation to the guest rooms and dining facilities.
"The Riverhouse Convention Center needed very little work as a standalone property, however with technology changing so quickly, much of the audio and visual equipment was dated, and we want to ensure our guests and meeting clients have a seamless experience when hosting an event in our facility," says Rick Takach, CEO of Vesta Hospitality. "We worked with a local company to execute the upgrade, which gives us access to onsite support and ensures reliability."
---
To share information on new and renovated meeting properties, contact Smart Meetings Content Manager Holly Woolard at holly@smartmeetings.com