Lookin' for different, pardner? Come to Arizona
Arizona is different than other states. The land is different, ranging from the most magnificent canyon in the world to stone spires that pierce the brilliant blue skies like ancient watchtowers, and from dry, stark, high desert to red rocks and forested mountains. The ethnic mix is unusual there, as well, with Native-American, Hispanic/Mexican and Anglo influences in the culture, cuisine, architecture and festivals.
The Old West is still very much alive, too, even amid some of America's most booming cities. After all, this was the site of the most famous Western gunfight in history, in Tombstone's OK Corral, in 1881. This most famous of all gunfights took exactly… 30 seconds.
There's still another way Arizona is different—its splendid variety of off-site meeting venues.
Glendale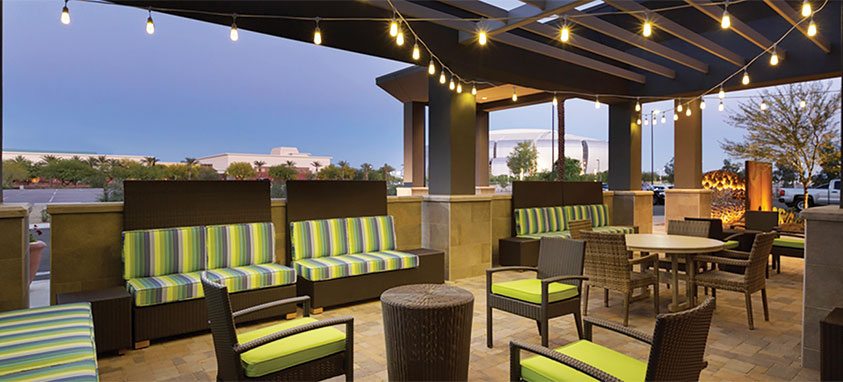 Glendale has hosted the 2008 Super Bowl, 2015 Super Bowl, 2016 College Football Playoff National Championship and 2017 NCAA Men's Basketball Final Four.
Even while gaining national attention, Glendale preserves its past in the two colorful neighborhoods comprising its historic downtown. The Catlin Court neighborhood is filled with interesting specialty shops in old bungalows, while Old Towne has brick-trimmed sidewalks and old-time gaslights.
This city, with 234,000 residents, has two lively entertainment districts—Westgate Entertainment District and Arrowhead Entertainment District—and some 500,000 sq. ft. of meeting and event space.
There are now some 1,600 hotel rooms there, among them the 331 casitas/suites (and more than 100,000 sq. ft. of meeting space) at luxurious Wigwam Arizona, a historic landmark. Glendale's newest hotel is Home2 Suites by Hilton Phoenix Glendale-Westgate, which opened in March with 127 guest rooms and a 400-square-foot boardroom. Residence Inn Phoenix Glendale Sports & Entertainment District, with 2,802 sq. ft. for meetings, recently completed a $3.2 million renovation.
Glendale is no second fiddle when it comes to unique meeting spots, either. At Sahuaro Ranch Park Historical Area, your attendees can roam among 13 buildings from the late 1800s; and the Fruit Packing Shed, built in 1891, can host events for 150 people. Arizona Broadway Theater brings popular Broadway classics to town, and is available for rentals. The main auditorium seats 470, and there are several banquet spaces. Gila River Arena hosts concerts and sports events, and offers meeting and event spaces that include luxury suites accommodating 50 and spacious Fireball Terrace.
Greater Phoenix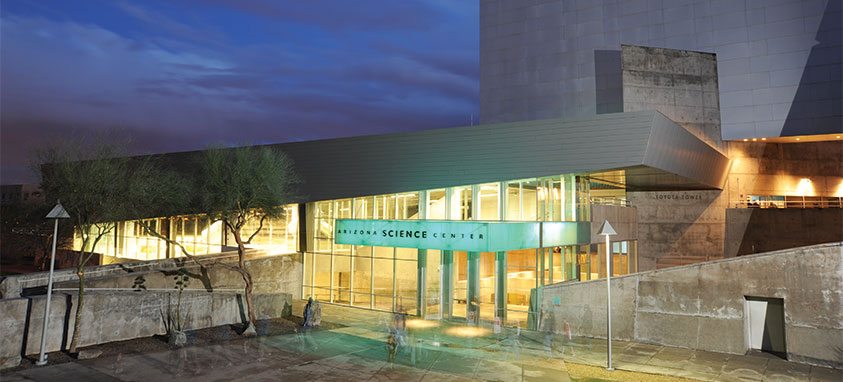 Phoenix is the hub of a metropolitan area with 4.5 million residents, and a lively downtown has bloomed in recent years.
Courtyard Phoenix Downtown opened in May, with 120 guest rooms and 5,733 sq. ft. of meeting space. The sophisticated Found: Re Phoenix opened in late 2016, with 104 guest rooms, 3,014 sq. ft. of meeting space. Slated for a summer opening, Hampton Inn and Suites Downtown Phoenix will have meeting space and 210 guest rooms.
Renaissance Phoenix Downtown Hotel, with 521 guest rooms and 49,185 sq. ft. of meeting space, recently finished a $13 million renovation of the lobby and added a new restaurant. Pointe Hilton Squaw Peak Resort, with 563 guest rooms and 48,000 sq. ft. for meetings, recently completed an $8.5 million renovation of 224 suites.
Greater Phoenix has its share of unusual offsites, too. The Duce is in a 1928 building that was a warehouse during the day… and a house of ill repute at night. Today it has a jazz club, a Streamline camper where old-time classics are cooked, a drugstore soda fountain and 15,000 sq. ft. of meeting space.
Arizona Science Center offers 140,000 sq. ft. of meeting space on four floors and more than 300 hands-on, interactive exhibits. Native-American and Western cultures are illuminated at Heard Museum, which can host receptions and banquets.
The Phoenix Convention Center celebrated its 45th anniversary in September 2017. It has a 312,500 square-foot exhibition hall, 46,000-square-foot ballroom, 99 meeting rooms and two theaters.
"Phoenix has a lot of the things planners like," says Kristen Keenan, vice president of industry outreach and engagement at Alexandria, Virginia-based Independent Electrical Contractors. "The convention center is great, and I can't say enough about the CVB… Downtown is very walkable. People from the Ambassador Program were on every downtown corner to assist us. The weather was fantastic. And there's so much to see and do."
The nearby cities of Chandler and Mesa are also in the major leagues, when it comes to off-sites.
Chandler has a very active new hotel scene, with recent additions such as Drury Inn & Suites Phoenix Chandler Fashion Center, with 210 guest rooms and 5,239 sq. ft. of meeting space, and Element Chandler Fashion Center, with 107 guest rooms and 600 sq. ft.
Interesting off-site venues in Chandler include an innovative event space, SoHo63, with options holding up to 200 attendees. Chandler Center for the Arts has auditoriums holding 1,500, 350 and 250. The Ostrich is a speakeasy/craft-cocktail lounge featuring classic drinks, vintage furniture and a unique dining experience for groups of up to 100.
It may surprise you to learn that the nearby Mesa has nearly 500,000 people, and is the 36th-largest city in the United States. As befitting its ever-growing spot among the cities of both the state and the nation, Mesa, too, has a variety of excellent meeting hotels and unusual meeting venues.
Mesa hotels have won a lot of plaudits, but they're not resting on their laurels. Hilton Phoenix Mesa, for example, with 260 guest rooms and 25,000 sq. ft. of meeting space, is now completing an $8.5 million renovation to merge the lobby and atrium areas.
Interesting offsites in Mesa include Arizona Museum of Natural History, which can accommodate 1,000 attendees for events; Dolly Steamboat, which can handle 142 in a corporate buyout; and Mesa Arts Center, a 210,000-square-foot performing and visual arts center that can hold 1,600 for events.
Scottsdale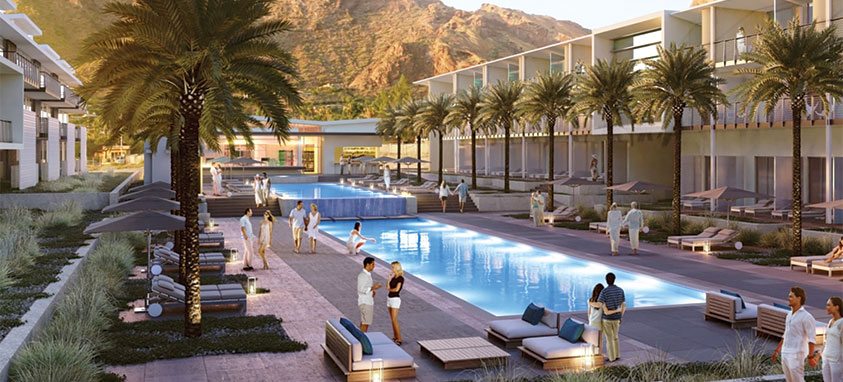 Scottsdale, population 240,000, is a nexus of affluence and culture. But its roots are firmly planted in the Old West. In fact, when the city was incorporated in 1951, it was still called The West's Most Western Town. Western landmarks are everywhere, among them the legendary Rusty Spur Saloon, and Western shops and art galleries in Old Town; as well as Arizona Cowboy College and MacDonald's Ranch.
Renowned architect Frank Lloyd Wright built his winter home and an architecture school, Taliesin West, there in 1937. Many of his buildings still stand.
Scottsdale boasts more than 70 hotels and resorts, 27 golf courses and more than 800 restaurants.
Mountain Shadows, a luxurious resort with 183 guest rooms and 12,500 sq. ft. of bright indoor meeting space, opened in early 2017. Opening later this year is The Ritz-Carlton Paradise Valley, with 200 guest rooms and 20,000 sq. ft.
Smart Meetings Platinum Choice-winning Talking Stick Resort and Spa has more than 100,000 sq. ft. of meeting space and 496 guest rooms. Last year, Talking Stick Golf Club renamed two courses to pay tribute to Native-American tribes, and the holes were renamed using tribal language.
Up to a dozen guests can enjoy an intimate dining experience at Sanctuary on Camelback Mountain Resort & Spa's private dining room, XII, as chef Beau MacMillan whips up a special meal. The resort has more than 13,000 sq. ft. of indoor/outdoor meeting space. Recent renovations include $2 million in upgrades to the Spa Casitas and Spa Suites, bringing the guest room total to 109.
Two of Scottsdale's best off-site experiences are hands-on. At Arizona Cowboy College, your attendees can learn teamwork while being cowboys and cowgirls for a day. At Octane Raceway, they'll experience thrills on the racetrack at 45 mph on zooming electric go karts. At Lusso Fine Motorcars, on the other hand, they can ogle cars they'll probably never drive, amid 10,000 sq. ft. of meeting space.
Brad Feldman, MPA, CAE, IOM, president of Columbus, Ohio-based BLF Management, has taken more than a dozen groups to Scottsdale.
"There's a reason we keep going back," Feldman says. "Attendees love it! They love the weather, the mountains and the multicultural, Old Southwest ambience. Managers tell me the atmosphere creates energy among their attendees. And the Scottsdale CVB is a planner's dream. Our post-event surveys from Scottsdale meetings are off the charts."
Sedona
Sedona exists at an intersection of soul-nourishing wilderness and pampered luxury. The town has more than 3,300 hotel rooms, meeting spaces with up to 34,000 sq. ft. and more than 50 restaurants. Additionally, it's only two hours from Phoenix Sky Harbor International Airport (PHX).
Your attendees can meet surrounded by one-of-a-kind landscapes they will remember forever. The red rocks really are red, and they glow with an iridescent brilliance that's almost indescribable. The surrounding landscapes are definitely, well…spiritual. This is one place where many attendees who never had a spiritual thought in their lives suddenly feel very moved. Many of the shops in Sedona are fascinating because of their spiritual bent.
Sedona's newest hotel is Courtyard Sedona, which opened in late 2016 with 121 guest rooms and 1,400 sq. ft. of meeting space. Next year will see a new Westin Element and a Marriott Residence Inn.
Arabella Hotel Sedona, with 144 guest rooms and 1,000 sq. ft. of meeting space, recently completed Stage 1 of a renovation that includes enhanced landscaping and new furniture in guest rooms. Hilton Sedona Resort at Bell Rock just finished a $2 million renovation of its restaurant and meeting space.
Sedona has eclectic off-sites. The Collective Sedona features more than 30 shops, galleries and restaurants, along with 5,500 sq. ft. for indoor meetings or events. Posse Grounds Pavilion is a breathtaking spot for a meeting, offering a 360-degree view of the Red Rocks and outdoor seating for 300.
Tlaquepaque Arts & Crafts Village is a re-created Mexican village that transports your group back in time. Vine-covered stucco walls, cobblestone walkways and arched entryways lead into garden nooks and courtyards that can hold 100 attendees.
Tempe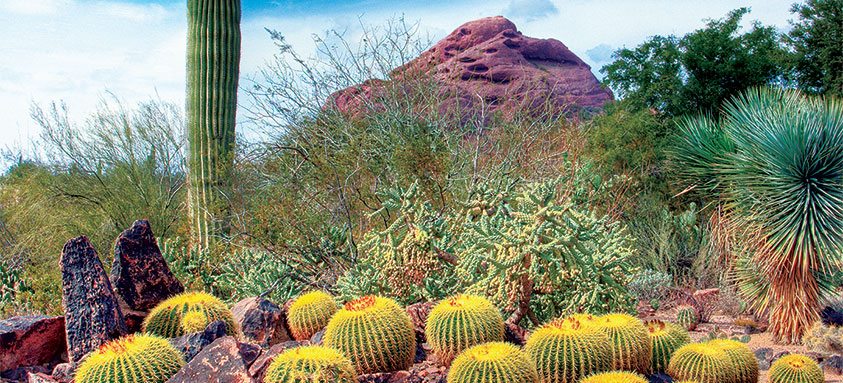 Tempe (pop. 183,000) is home to Arizona State University (ASU), which brings youthful energy to the city. There, you can catch a Broadway show at Frank Lloyd Wright-designed Gammage, or visit ASU Art Museum or ISTB 4 Gallery of Scientific Exploration.
The historic, walkable downtown offers pursuits such as hiking up "A" Mountain, lunching outdoors, sampling craft beers from breweries, and visiting Mill Avenue's shops and restaurants. Tempe Town Lake is a 2-mile urban oasis where you can kayak, paddleboard or cruise in an electric boat.
The town boasts attractions such as Sea Life Arizona Aquarium and Tilt Studio, filled with vintage and new arcade games.
In November, Tempe opened the adjoining Hilton Garden Inn Phoenix/Tempe ASU Area and Home2 Suites by Hilton Phoenix-Tempe ASU Research Park. Hilton Garden Inn has 125 guest rooms and 5,200 sq. ft. of meeting space, while Home2 Suites has 108 guest rooms and 1,050 sq. ft. In addition, Courtyard Tempe Downtown recently completed a $5 million renovation of its 160 guest rooms, lobby, Bistro Restaurant and 1,623 sq. ft. of meeting space.
A funky gastropub, Culinary Dropout, is in a former industrial space that now has classic games such as pingpong, corn hole and foosball; creative beers and pub food; and event space for 1,000. Old Main at ASU is an iconic Western building constructed before Arizona statehood, that accommodates 200. Desert Botanical Garden, with 50,000 plants on 55 very colorful acres, can accommodate 500 attendees standing.
Tucson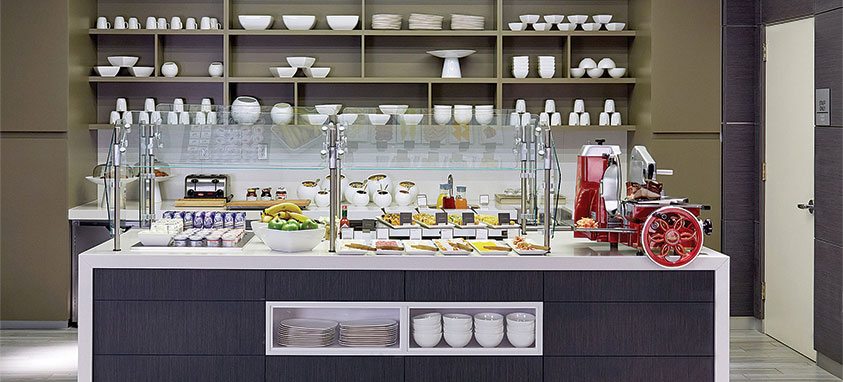 Tucson provides a tri-ethnic historical, traditional, cultural and culinary experience found nowhere else in America. It's set amid purple mountains, startling moonscapes, Old West towns, Native-American homelands and sunsets that will have attendees reaching for their cameras.
This city also has a major educational institution. It's home to the University of Arizona, along with myriad cultural centers and events.
In Tucson, you're never very far from stunning natural beauty, giant rock formations, and Old West towns with legendary old hotels and very colorful stories. The city is surrounded by five mountain ranges, the incredibly diverse ecosystems of Saguaro National Park and the brightest stars you've ever seen, splashed against a black-velvet sky. According to Visit Tucson, four out of every five planners who visit for site inspections end up holding meetings there.
Tucson's newest hotel is AC Hotel Tucson Downtown, with a luxurious ambience and a high-tech infrastructure, along with 136 guest rooms and 1,847 sq. ft. of meeting space.
One of the most popular off-site venues is Old Tucson, where many Hollywood Westerns were filmed. It's still filled with saloons, dance halls, stables and cowboys, and can host events for up to 800. Team-building options there are something your attendees will always remember.
Fox Tucson Theatre is an icon from the 1930s, beautifully restored and once again one of the West's great theaters. There's a 1,164-seat auditorium, and three lobby spaces collectively offer 29,000 sq. ft. of meeting space. At Pima Air & Space Museum, with 20,000 sq. ft. of event space, your attendees can ogle aircraft from the early 1900s to the Space Age.
Tanque Verde Ranch offers stunning views of the Rincon Mountains and plenty of ridin' and ropin' activities for your attendees. The ranch can accommodate up to 300 outside, and offers 14,716 sq. ft. of indoor meeting space.
Fun Facts About Arizona
It is the only state with official state neckwear—the bolo tie—resembling a rope used by South American cowboys to lasso cattle.
It also has its own state amphibian—the Nobel Arizona Tree Frog.
It would take 4.8 million pennies to make the amount of copper on the roof of the Arizona State Capitol building.
It was the last of the lower 48 states to become a state. President William Howard Taft signed the proclamation on Feb. 14, 1912.
It has 60 percent of all wildlife species found in North America, among them javelina, antelope, bighorn sheep, bear, elk, bison, mule deer, white tail deer, mountain lion and turkey.
The battleship U.S.S. Arizona—which never got anywhere near Arizona, of course, since the state is landlocked—is the most poignant symbol of the attack on Pearl Harbor. It still lies at the bottom of the harbor.
The best-preserved meteor crater in the United States is near the city of Winslow. Some 50,000 years ago, the meteor crashed with such force that it destroyed everything within a 100-mile radius. The crater is almost 1 mile wide.
Arizona has more mountains than Switzerland and more golf courses than Scotland.
The "bad guys" from the gunfight at the OK Corral—the Clantons and the McLaury brothers—are buried on Boot Hill in Tombstone, southeast of Tucson.
Contrary to popular impression, Wyatt Earp was not the marshal of Tombstone. His brother Virgil was.
The Arizona state reptile? What else? The Arizona Ridged-Nosed Rattlesnake.
Arizona has seven of the 100 largest cities in the United States.
The Grand Canyon is 227 miles long and 1 mile deep, and has an average width of 10 miles.
---
Steve Winston is an award-winning writer who has traveled extensively and writes for national and international magazines.