Atlantic City beach
In the hit Broadway musical Hamilton, King George sings "oceans rise, empires fall" in the song "You'll Be Back." In plucky Atlantic City, once the tide subsided, the empire struck back—and is steadily rising to where it was in its heyday.
The story of the "Vegas of the East" has the backbone for an Oscar-worthy film, including all the ingredients moviemakers need to whip up a cinematic spellbinder—drama, struggle, twists and turns, and trials and tribulations.
If there's one thing Americans are known to love, though, it's a comeback story—whether it be a disgraced public figure who bounces back after a scandal or an underdog sports team that gets an unexpected win. In recent years, Atlantic City has been dealt a difficult hand of cards. From Superstorm Sandy to the demise of Trump Taj Mahal, the boardwalk town kept taking hits. The conclusion to this tale is still being written, but the story is far from over.
Act One
Atlantic City first rose in popularity in the 1850s as a resort town by connecting Philadelphia to the beach via railroad. The 1920s were roaring in Atlantic City because establishments chose to ignore Prohibition and continued serving alcohol when most places throughout the country had gone dry. To get a taste of this era, groups can dine at Knife & Fork Inn, which was established in 1912 and restored in 2005. The historic steak and seafood restaurant offers private dining for up to 80 guests.
Referred to as "America's Playground," Atlantic City is home to the world's first boardwalk, which dates to 1870. Street names might sound familiar. That's because the Monopoly game board is fashioned after streets in the city. Sorry, you don't get $200 for passing "go."
Intermission
Over the last decade in Atlantic City, it's been, well, bleak is the word that comes to mind. Casinos became legalized in neighboring states, over-saturating the East Coast gaming market. Five of the city's 12 casinos—Trump Taj Mahal, Trump Plaza Hotel and Casino, Revel Atlantic City, Showboat Atlantic City and The Atlantic Club Casino Hotel—took their final bow from 2014 to 2016, according to Curbed Philadelphia, as customers with more choices took their dollars elsewhere.
Atlantic City also faced a rise in property taxes, an economic slump and a loss of jobs during its downfall. And that's still not all. "Corruption in Atlantic City, combined with actions in Trenton, helped to bring this town to the brink of bankruptcy," said former Gov. Chris Christie in his final state of the state address on Jan. 9. "Bad decisions and timid inaction…led to Trenton nearly killing the goose that laid the golden egg for all of New Jersey."
The once-proud boardwalk empire was already down when Superstorm Sandy blew through town in October 2012, forcing it to rebuild not only figuratively, but also literally.
Today's Atlantic City is rebranding itself as more than a gaming destination. Like never before, it needs the meetings industry. The question is, do you need Atlantic City? We're betting you will decide the answer is yes.
Act Two
Things are already looking up. Tourists and meetings attendees are once again buying saltwater taffy and strolling the 5-mile boardwalk. The first phase of the boardwalk's inlet section is done, and work is progressing to extend it to Gardner's Basin. Meet AC announced it has already booked 255 meetings and conventions in 2017. Sixty-five percent of future bookings are for Atlantic City Convention Center, and the CVB projects the meetings industry will have a $348 million economic impact.
"Our 2018 sales and marketing strategies are designed to help us continue to book more business into Atlantic City and continue to portray a positive image," says Jim Wood, president and CEO for Meet AC. "Exceeding our room-night goals for the fourth consecutive year allows us to continue to grow our meetings footprint and confirm why Atlantic City is heading toward being named a top meeting destination."
Also in January, the Division of Gaming Enforcement, a department within the New Jersey Office of the Attorney General and the New Jersey Department of Law & Public Safety, released promising figures from 2017. The industry brought in nearly $2.7 billion and saw an almost 25 percent increase from the previous year in internet gaming profit, which is taxed at a higher rate than casino profits, and has been a game-changer for the state.
Staging an Intervention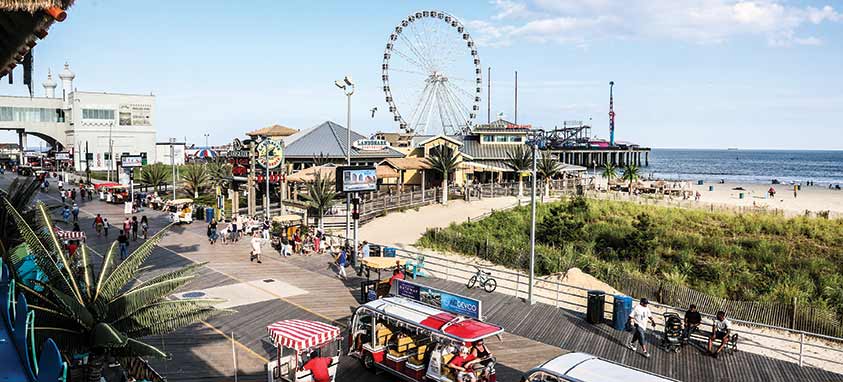 Observation Wheel at Steel Pier
Christie, whose term ended in mid-January, is credited with giving CPR to Atlantic City during his tenure. In November 2016, the State of New Jersey initiated a takeover. Former U.S. Sen. Jeff Chiesa was appointed to honcho the revival efforts. A decrease in taxes and additional budget cuts helped stabilize area businesses. Plus, investments in signature projects are now seeing the light of day. Standing proud at 227 feet tall, the third-largest observation wheel in the United States recently began spinning at Steel Pier. Group rates are available and the pier offers Ocean Reef Oasis event space for corporate outings 1,000 feet above the ocean.
Hotel Cast List
There are more than 15,500 guest rooms and counting. Here's a look at some of the high-rollers investing in making Atlantic City a premier destination once again.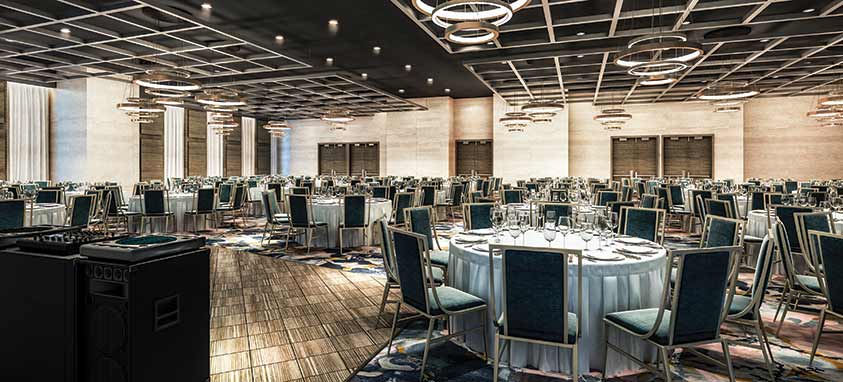 Borgata Hotel & Casino
Owned by MGM, Borgata Hotel Casino & Spa and its adjacent sister property, The Water Club at Borgata, have a combined 2,800 guest rooms. With the debut of the new 18,000-square-foot Central Conference Center in May, the properties now have 106,000 sq. ft. of total meeting space. A new restaurant, Angeline by Michael Symon, opened that same month. These additions follow a $50 million investment on projects in 2016 that included a pool, beer garden and nightclub.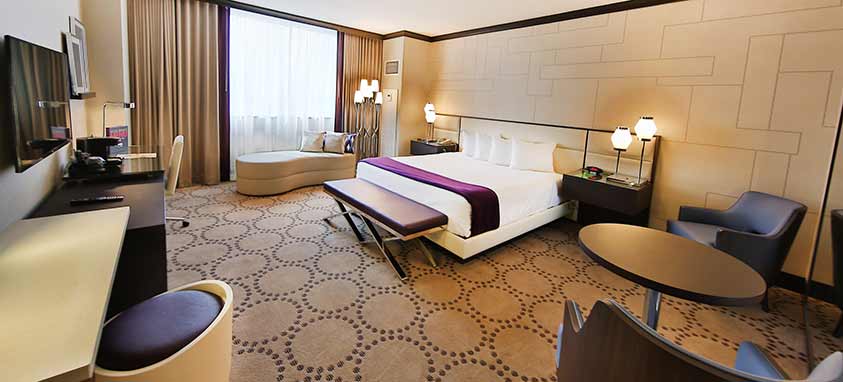 Bayview Tower guest room at Harrah's Atlantic City
Caesars Entertainment Corporation lays claim to three boardwalk hotels—its namesake Caesar's Palace (1,144 guest rooms, 26,000 sq. ft. of meeting space), Harrah's Atlantic City (2,590 guest rooms, 148,000 sq. ft. of meeting space) and Bally's Atlantic City (1,245 guest rooms, 80,000 sq. ft. of meeting space). Harrah's Atlantic City Waterfront Conference Center, which opened in 2015, is the largest convention center-hotel complex between Baltimore and Boston, and features twin 50,000-square foot ballrooms. Harrah's also completed a $30 million guest room enhancement project in the summer.
"[It] has been a huge success in Atlantic City," says Steve van der Molen, vice president of meeting operations in Atlantic City for Caesars Entertainment. "The demand far surpassed our expectations, and we are incredibly pleased. When we opened the facility, it was the beginning of a new era. Now, companies can eat, sleep and meet all under one roof, with 5,000 attendees. Five years ago, that was not the case."
The Claridge-a Radisson Hotel is a survivor of the Boardwalk Empire days in Atlantic City. It was known as the "Skyscraper by the Sea" and welcomed Marilyn Monroe, President John F. Kennedy, Al Capone, Princess Grace of Monaco and Frank Sinatra as guests. Since reopening in 2014, the restored historic hotel now offers 500 guest rooms. In 2016, 15,000 sq. ft. of meeting space was added, bringing the total to 100,000 sq. ft., and the city's first and only rooftop bar, Vue, opened.
According to The Press of Atlantic City, a new skyway bridge will connect Tropicana Atlantic City to Chelsea Tower this spring. Since purchasing the former The Chelsea Hotel, Tropicana's guest room inventory has increased to 2,730. The casino hotel completed $50 million in renovations, including upgrades to its Havana Tower rooms and a spectacular multimedia light and sound show. Tropicana's AtlantiCare LifeCenter Fitness boasts one of the most advanced workout facilities in the city. The hotel offers 122,000 sq. ft. of meeting space.
In December, Mohegan Sun completed renovations to 480 guest rooms in the Ocean Tower at Resorts Casino Hotel. This $100 million investment in the property also included a Jimmy Buffet-themed Margaritaville entertainment complex and conference center in 2015, which increased event space to 64,000 sq. ft. Resorts Casino Hotel has 942 guest rooms and, as the first casino on the boardwalk when it opened in 1978, is responsible for introducing gaming to Atlantic City.
Also making moves is Showboat Atlantic City Hotel, which re-opened in July 2016 with 872 guest
rooms. It currently offers 100,000 sq. ft. of meeting space and plans to add more. And, don't fuhgeddaboud Golden Nugget Atlantic City's 724 guest rooms and 42,700 sq. ft. of meeting space.
Coming Attractions
"Atlantic City: The Sequel" is coming soon. Two major properties are undergoing a costume change and reopening this summer with new names—Hard Rock Hotel & Casino Atlantic City and Ocean Resort Casino.
The resurgence of Atlantic City is music to planners' ears, and Hard Rock will pump up the volume even louder. The brand is investing $500 million to re-do the site once occupied by the shuttered Trump Taj Mahal. Meeting professionals can expect to see an updated facade, two performance venues offering 7,000 seats total and upgraded meeting spaces. According to nj.com, Hard Rock is seeking to re-hire former Trump Taj Mahal employees to fill some of its 3,000 permanent jobs.
On Jan. 8, AC Ocean Walk announced the $200 million acquisition of the former Revel Atlantic City, which has a story that contains enough drama for its own feature film. The property had previously been renamed Ten, but will now be known as Ocean Resort Casino. The 20-acre location will make its 165,000 sq. ft. of meeting space, 5,700-seat concert hall and 1,399 guest rooms available to the convention industry. It cost a whopping $3 billion to build, and opened in April 2012. Forecasts say it will bring 2,500 to 3,000 jobs to the area.
"The former Revel property opened at a time when Atlantic City was still in economic recovery, and operationally it just did not cater to the customer base for this destination," says Bruce Deifik, the Colorado developer who bought the property. "However, given the extraordinary quality and investment made during its development, the new Ocean will represent one of the finest hotel-casino properties in existence today in an improving market that has demonstrated strength and resilience."
Another rising star on the boardwalk is Polercoaster. Hold your breath—the 350-foot high vertical roller-coaster will entertain thrill-seekers beginning in 2019.
Power Shift
A new New Jersey governor, Phil Murphy, took office Jan. 16. According to casino.org, he supports casino expansion in northern New Jersey, which would bring an end to Atlantic City's state monopoly on gaming.
On the other hand, a case currently in the hands of the U.S. Supreme Court aimed at legalizing sports betting in Atlantic City could drive more traffic to the casinos.
Stay tuned…
There she is (And There She Goes?) – Miss America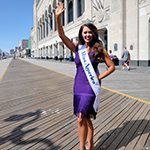 Miss America 2018 Cara Mund at Boardwalk Hall
A businessman founded The Miss America Organization in 1921 to extend Atlantic City's summer season. In the mid-2000s, the scholarship pageant lost viewership and its broadcasting partner, so it relocated to Las Vegas for financial reasons. Alas, The Strip was not its home and it returned to Atlantic City's Boardwalk Hall in 2013.
"Miss America was proud to be a big part of helping Atlantic City rebound after Hurricane Sandy," says Gretchen Carlson, new chair of The Miss America Organization. "Moving forward, with the support of the CRDA [Casino Reinvestment Development Authority], we will help generate increased tourism, jobs for the building trades, national television exposure and increased revenue for the casinos."
However, in the wake of controversial emails sent by former Miss America Organization CEO Sam Haskell,
Dick Clark Productions severed ties with Miss America. Local politicians, including new mayor Frank Gilliam, who was sworn in on Jan. 1, are asking the CRDA to pull its $4 million state subsidy of the organization, because they haven't seen a return on the investment, according to The Press of Atlantic City. This could mean the pageant's days in Atlantic City are numbered.
Meanwhile, Boardwalk Hall, which was built in 1929 and was named a U.S. National Historic Landmark in 1987, is undergoing a $10 million lobby renovation that's expected to be complete in the fall, the publication also reports. The venue houses a 141,000-square-foot main arena in addition to a 23,100-square-foot theater.