Whistler Olympic Plaza, British Columbia
From staging two Olympics and the FIFA Women's World Cup to featuring tech-enriched cultures and stunning natural resources, the Canadian provinces of British Columbia and Alberta prove over and over that they are world class.
Vancouver, British Columbia, and Edmonton, Alberta, were key competition cities when Canada hosted the Women's World Cup in June and July. Vancouver and Whistler, British Columbia, were big-time players during the 2010 Winter Olympics. Calgary, the capital of Alberta, had its own Olympic glory during the 1988 Winter Games and maintains renowned training venues that can be used for special events.
Boasting world-class natural attractions, the Alberta towns of Banff and Lake Louise lure many groups for executive meetings and incentive travel, and rank as bucket-list destinations for leisure and business travelers. This is in addition to their renowned ski resorts, capable of hosting World Cup competitions.
Western Canada is indeed a big-time player on many stages, including meetings, and has the credentials and venues to lure international groups.
Vancouver
According to International Congress and Convention Association's annual report in May, Vancouver ranked as North America's top destination for international meetings in 2014, ahead of dynamic-event cities such as Washington, D.C., Chicago and Orlando. Considering Vancouver's roster of medical meetings in 2015, that ranking is expected to climb when the next annual report is delivered.
"Over the years, Vancouver has become a mecca for meeting planners, delegates and event organizers seeking a breath of fresh air alongside state-of-the-art venues and inspiring surroundings," says Ty Speer, president and CEO of Tourism Vancouver. "Most recently, we hosted nine matches of the 2015 FIFA Women's World Cup, including the final, and the energy in our city was unrivaled. It felt like the 2010 Olympics all over again. Our ability to flawlessly and consistently execute major events like FIFA, the TED Conference, World Congress of Dermatology and 2016 PCMA Convening Leaders proves that Vancouver is one of the world's best meetings destinations."
Vancouver Convention Centre
Vancouver is raising the bar for international meetings in 2015–16, with 55 conferences taking place at the award-winning Vancouver Convention Centre. In June, the World Congress of Dermatology drew more than 10,000 attendees. The International AIDS Society Conference on HIV Pathogenesis, Treatment and Prevention brought in 7,500; last month's World Congress of Gynecology and Obstetrics boasted 7,000 attendees; and the World Diabetes Congress this month is expected to draw 12,000.
Dave Gazley, vice president of meeting and convention sales for Tourism Vancouver, says the city's international meetings popularity "is largely due to the diligence and longstanding efforts of our local hospitality community, which has built strong relationships with conference organizers around the world. We are confident that Vancouver will maintain its top ranking for many years to come."
Vancouver Convention Centre, the world's first LEED Platinum certified convention center, is as spectacular as it is green. Located downtown on the waterfront with a dramatic mountain backdrop, its two buildings feature 466,500 sq. ft. of flexible meeting, exhibition, ballroom and plenary space.
There are more than 13,000 downtown guest rooms to handle an influx of attendees. Hyatt Regency Vancouver offers 644 guest rooms and 45,000 sq. ft. of meeting space. Pan Pacific Vancouver is another popular meeting hotel, with 503 guest rooms and 42,000 sq. ft. of space.
Whistler
The 2010 Winter Olympics meant much more than international acclaim to Whistler. For starters, there was a $600 million upgrade on the Sea to Sky Highway, making it easier than ever to travel between Vancouver and Whistler.
Whistler's Olympic legacy dates to 1960, when businessmen identified the city's mountain as an ideal destination to host the Winter Games. British Columbia pursued hosting the Olympics four times before landing the 2010 Games, so the province was more than prepared to fulfill its dream.
Today, meeting attendees can experience that Olympic glory firsthand, including skiing the downhill course, sliding down the fastest and most technical bobsleigh and skeleton track in the world and celebrating like a gold medalist in the heart of the village at Whistler Olympic Plaza.
"In Whistler, we like to say we were born for the Games," says Patricia Westerholm, communications manager for Tourism Whistler. "Whistler continues to celebrate the spirit of the Winter Games, and we invite the world to join us in keeping that passion alive."
The year-round destination is much more than a ski town, having risen up as a popular choice for small meetings, executive retreats and incentive travel. It boasts 24 hotels and 10,000 guest rooms, including townhomes, condos and chalets. Add in 100 restaurants and bars, 25 spas and tons of outdoor activities such as rock climbing, golf and hiking, and you can see why Whistler has emerged as a great meeting city.
Whistler Conference Centre is part meeting venue and part mountain lodge, offering 40,000 sq. ft. of versatile space. It served as the media center during the Winter Games and can host 1,500 for general sessions.
Planners seeking a mountaintop experience for attendees need look no further than Whistler, a city that has game.
Calgary
Sure, Calgary hosted the 1988 Winter Olympics, but Alberta's capital city refuses to rest on its laurels and is going through a growth spurt that can definitely benefit meeting planners and attendees.
Regarded as one of North America's best airports, Calgary International Airport (YYC) is undergoing a $2.1 billion expansion that will be completed by the end of 2016. The project includes a new international terminal that will add 22 gates.
Calgary's hotel supply grew by 4.7 percent this year with 1,703 new guest rooms, and more than 3,000 are expected to be added by 2017. The 124-room Fairfield Inn & Suites Calgary Downtown opened in June with a great location beside Central Memorial Park and within walking distance to Calgary Telus Convention Centre. The property is expected to be very popular with millennials due to its proximity to biking trails, bowling, fly-fishing and even kayaking.
Calgary Marriott Downtown Hotel completed a multimillion-dollar renovation in July that expanded its state-of-the-art meeting space to more than 11,000 sq. ft. There's also a cool new whiskey bar and updated fitness center. The 388 completely remodeled guest rooms and suites incorporate multifunctional spaces for work and relaxation, including easily accessible plug-in points for enhanced connectivity.
One of the most exciting new projects in Calgary is the National Music Centre, which is expected to open next spring. Located near the convention center, it will provide rental space for groups of up to 400.
"Calgary is a vibrant city and competes on a global level in many areas," says Carolyn Watson, manager of marketing and communications with Meetings + Conventions Calgary. "With more than 100 years of experience hosting events, we know how to throw a party."
Banff & Lake Louise
Fairmont Banff Springs, Alberta
The iconic Fairmont Banff Springs and Fairmont Chateau Lake Louise are truly memorable places for meetings and incentive travel. But these two stunning historic properties only begin to scratch the surface of what the Alberta towns of Banff and Lake Louise are all about.
"It has the perfect combination of breathtaking scenery, a vibrant town, activity options for whatever your adrenaline level preference may be, flexible meeting space and luxurious hotels," says Cathy Macdonald, senior manager of meetings and incentives for Banff Lake Louise Tourism. "You just simply feel alive when you are in Banff and Lake Louise."
Both Fairmont properties and the two towns are located within the boundaries of Banff National Park, which is a UNESCO World Heritage Site. Canada's oldest national park stretches 2,564 sq. mi. and is revered by international travelers for its mountains, glaciers, ice fields, forests and alpine landscapes.
For attendees suffering from "nature deficit disorder," as Macdonald likes to call it, Banff and Lake Louise provide the perfect tonic to otherworldly experiences. Fairmont Chateau Lake Louise, for example, not only boasts a scenic glacial lake with emerald-colored water outside its front door, but also features Victoria Glacier. For once-in-a-lifetime photos of executive board members and top performers, there is no better backdrop for a group photo.
World Cup skiing comes to the Canadian Rockies twice this year, when Lake Louise Ski Resort hosts men's and women's downhill and super-G events Nov. 28−29 and Dec. 4−6, respectively. The resort is one of few to host both men's and women's World Cup speed events, and Lake Louise's international allure will get an extra measure of exposure, with a television audience expected to exceed 184 million.
"Everywhere you look you have spectacular vistas," Macdonald says. "It stays with you, and for that reason it's hard to put a dollar value on the experience when you meet in Banff and Lake Louise."
Oh, Western Canada
There are many glorious, vivid visuals that emanate throughout Western Canada, and they help create indelible memories for meetings, events and incentive trips in British Columbia and Alberta.
"It literally can take your breath away," Macdonald says. "There's a sense of place. You know you're someplace special."
---
The Big Stage
When the FIFA Women's World Cup final took place in July, Vancouver's BC Place stadium (pictured) drew more than 53,000 fans. The event was also watched on TV by millions of people from around the world, giving Vancouver's marquee venue massive exposure.
This was not the first time that BC Place stadium was in the international spotlight. The opening and closing ceremonies of the Vancouver 2010 Olympic Winter Games were also held there.
Here are 10 facts to help you decide if BC Place is the right venue for your group:
– BC Place is the largest multipurpose events venue in British Columbia.
–It features the biggest retractable roof in the world. In other words, weather will never be an issue.
–It has the second-largest video board in North America.
–The stadium is one of the most technologically advanced event venues in the world, with 800 Wi-Fi ports and 1,100 digital screens.
–It's located downtown.
–It has an energy-efficient LED lighting display that regularly helps bring awareness to events, charities and nonprofit causes important to communities in British Columbia. (Note to planners: Can you say branding opportunity?)
–The stadium underwent a complete renovation in 2011.
– It has a seating capacity of 54,500.
–A flexible secondary roof system between the lower and upper tiers of the stadium can be closed to create space for 22,000.
–This event venue implements many green practices, including a comprehensive recycling program using biodegradable cleaning products and a catering department that locally sources food.
---
Major Meeting Venues
Alberta
Calgary Marriott Downtown Hotel
Pet-friendly hotel; health club; indoor pool; floor-to-ceiling windows with views of Calgary and Rockies; 388 guest rooms and suites; more than 11,000 sq. ft. of meeting space; ONE18 Empire offers whiskey-inspired cuisine.
Calgary Telus Convention Centre
Connected to 1,100 guest rooms; 122,000 sq. ft. of meeting space, including 20,000-square-foot ballroom; 47,000 sq. ft. of exhibition space; accommodates up to 4,000 for conferences and galas; great downtown location.
Coast Plaza Hotel and Conference Centre
Centrally located in Calgary's business district; ballroom can hold up to 1,100; 248 guest rooms; more than 20,000 sq. ft. of meeting space; nightclub features dancing.
Fairmont Banff Springs
Mountainside castle is one of the most recognizable properties in North America; largest meeting space in Banff at 76,000 sq. ft.; 768 guest rooms; offers skiing, championship golf, dogsledding, skating, fishing, river rafting; spa with mineral pool.
Fairmont Chateau Lake Louise

Luxury mountain resort located in heart of Banff National Park at Lake Louise and Victoria Glacier; 550 guest rooms; 36,000 sq. ft. of meeting space; world-class skiing, hiking, canoeing, guided mountain tours; luxury spa; exquisite dining. q
Fairmont Palliser
Famous Calgary property voted one of the best employers in Canada; easy access to restaurants and shopping; meeting space is 100 percent wind-powered; 21,000 sq. ft. of meeting space; can host up to 1,000 attendees; 407 guest rooms.
Grey Eagle Resort & Casino
Near downtown Calgary; event center, which opened in 2014, regularly hosts concerts featuring major acts; event space for up to 2,500; 178 guest rooms; two restaurants and two bars.
Hyatt Regency Calgary

Next to Calgary Telus Convention Centre; 355 guest rooms; 33,000 sq. ft. of event space; multilingual staff; spa; top floor sundeck with city views; Thompson's Restaurant. q
The Banff Centre
Unique conference facility on 43 acres in Banff National Park; Kinnear Centre for Creativity & Innovation is LEED Gold certified; more than 400 guest rooms; 72,000 sq. ft. of meeting space.
The Rimrock Resort Hotel
Sweeping views of Banff National Park; AAA Four Diamond rated; full-service spa; indoor pool; sweeping views; 343 guest rooms; more than 18,000 sq. ft. of meeting space.
The Westin Calgary
Hotel features 26,000 sq. ft. of meeting space that is wind-powered; room for up to 1,000; 525 guest rooms; three restaurants; pet-friendly.
British Columbia
Coast Coal Harbour Hotel
Next to the water and close to Vancouver's Gastown district and Stanley Park; 220 guest rooms; 8,061 sq. ft. of meeting space including 5,000-square-foot ballroom; close to convention center.
Fairmont Pacific Rim
Vancouver property features unobstructed views of harbor and mountains; 377 guest rooms; more than 15,000 sq. ft. of meeting space; ballroom can hold up to 500; 8,500-square-foot spa.
Four Seasons Resort Whistler
Canada's only AAA Five Diamond property; 273 guest rooms; 15,380 sq. ft. of meeting space, including a 3,800-square-foot ballroom; ski concierge.
Fairmont Vancouver Airport Hotel
AAA Four Diamond property located inside airport; named to Conde Nast's Top 100 Gold List; 392 guest rooms equipped with soundproof windows; 8,800 sq. ft. of meeting and event space.
Hilton Whistler Resort & Spa

Named one of the top 10 resorts in Canada by Conde Nast readers; located at base of Whistler Mountain next to ski lifts; 11 meetings rooms, including 4,042-square-foot ballroom; 287 guest rooms.
Hilton Vancouver Airport
Located in Richmond, 7 miles from Vancouver International Airport; free airport shuttle; 237 guest rooms; 4,560 sq. ft. of meeting space includes 3,432-square-foot ballroom; renovated in April.
Hotel Blu
AAA Four Diamond boutique property; great location near Vancouver's Robson Street shopping; 75 guest rooms; conference room can hold up to 60; 14-person boardroom; 24-hour business center.
Pan Pacific Whistler Village Centre
Nestled in the heart of Whistler Village; access to skiing, hiking, mountain bike riding, golf, fishing; spa; fitness facility; Pacific Bistro restaurant and Irish Pub; 83 guest rooms; reception space for up to 80.
Pinnacle Hotel at the Pier
North Vancouver waterfront location; 105 guest rooms; 10,000 sq. ft. of meeting space; event facility has floor-to-ceiling glass walls; art collection.
Rosewood Hotel Georgia
Forbes Five Star property in downtown Vancouver; 156 guest rooms; 9,847 sq. ft. of meeting space; elegant ballroom can hold up to 350 and 800 when combined with promenade; full-service spa.
The Westin Resort & Spa, Whistler
Host resort for the alpine, nordic and sliding events during the 2010 Winter Olympic and Paralympic Games; 419 suites; pet-friendly; nearly 20,000 sq. ft. of meeting space; can accommodate up to 1,000 for receptions.
Vancouver Convention Centre
Two buildings offer 466,500 sq. ft. of meeting and exhibition space in 72 rooms; 53,000-square-foot waterfront ballroom; natural light and stunning views are highlights of prefunction spaces; 2010 Olympic cauldron is key feature of 57,964-square-foot plaza.
Smart Meetings Related Posts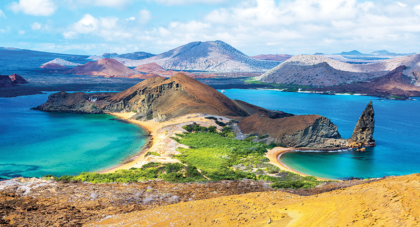 Where better to find natural inspiration that in the destination where Charles Darwin developed his ground-breaking theory of evolution? As the first World Heritage site, this picturesque escape is on many bucket lists and has long been a favorite for incentive travel experiences. Although tourism is closely monitored, new opportunities to experience this wonderland make a return to nature easier than ever for groups.