Santa Cruz, Monterey, San Luis Obispo and Santa Barbara welcome groups to new, innovative spaces with timeless views
"It is all very beautiful and magical here—a quality which cannot be described. You have to live it and breathe it, let the sun bake into you," was how photographer Ansel Adams wrote about California's Central Coast. That awe-beyond-words feeling captured in his black-and-white photos of Big Sur introduced many to the rugged beauty of California's winding Highway 1. The scenic roadway is a natural path to meeting experiences that combine breathtaking ocean views, access to leading academic resources, fresh food and new perspectives.
Headlines about road-blocking mudslides belie the fact that winter's worst only added a half-hour scenic detour, doing little to slow the waves of visitors from Silicon Valley and beyond who bask in the team-building power of oceanside meetings. Groups collaborate with top ocean researchers in Santa Cruz and Monterey. San Luis Obispo (SLO) and Santa Barbara have opened creative new gathering spaces and improved access from all directions. This 250-mile stretch of Pacific-meets-land real estate has become a place where people from all over the world come together to talk about what really matters in business and life.
Santa Cruz/Aptos
The distance between Sand Hill Road in Menlo Park and Santa Cruz Beach Boardwalk is 43 miles, yet it is a world apart. Laura Manriquez, director of sales and marketing for Visit Santa Cruz County says the Bay Area giants—Google, Facebook and Apple—have been sending groups south for years to bond on the beach. However, with the flurry of mergers occurring in the tech space lately, she is seeing more small teams being put in retreat-like isolation to speed up the bonding process.
This fusion is happening at 1440 Multiversity, where five-day immersions in the redwoods focus on everything from authentic leadership to neuroscience. Similarly, on the rustic side but with the added benefit of being on the University of Santa Cruz campus is Hay Barn, an 1860s structure that has been modernized for workshops and cocktail parties for as many as 325 people.
Manriquez points out that in addition to 29 miles of beach, Santa Cruz is home to 14 state parks filled with towering redwoods, a perfect backdrop for a group in search of an outing where relationships can take root. The traditional treasure hunt is no longer good enough for a lot of these disrupters. "They want the ability to incorporate acrobatics and fireworks and cooking competitions. And Santa Cruz is the perfect place to do that," she says. Manriquez cites another reason why this is the best time to meet on the coast: Major conference hotels have all refreshed their meeting space.
Smart Tip:
The coast is beautiful year-round, but for those who book in the off-season (January through March), many venues can be more flexible.
The beachfront Santa Cruz Dream Inn recently completed an $8 million remodel of the pool area, lobby and its 165 guest rooms. The iconic building includes 3,500 sq. ft. of meeting space and an homage to local surf pioneer Jack O'Neill.
Downtown, a new 106-room Hyatt Place Santa Cruz with 1,500 sq. ft. of meeting space recently opened with room for up to 104 people. Minutes away, on the site of a 1904 Spanish Mission, Chaminade Resort & Spa just put the finishing touches on a $7.9 million renovation of all 156 guest rooms.
Meanwhile, Hilton Santa Cruz/Scotts Valley remade its 174 guest rooms and added four more with a contemporary design. While the extra rooms came at the expense of some breakout areas, leaving a total of 3,498 sq. ft. of meeting space, the prefunction spaces and restaurant have been modernized.
In nearby Aptos, Seascape Beach Resort is the site of a multimillion-dollar refresh of its villas, studios and suites. The property offers 17,000 sq. ft. of event space, 17 conference rooms, a tennis center and access to world-class golf.
MAJOR MEETING VENUES IN SANTA CRUZ

Chaminade Resort & Spa
156 guest rooms; 12,000 sq. ft. of International Association of Conference Centers-approved meeting space; AAA Four Diamond-rated.

Hotel Paradox
170 guest rooms with down bedding; 8,000 sq. ft. of meeting space; contemporary ballroom; pool deck with fire pits and cabanas; part of Marriott Autograph Collection Hotels.

Santa Cruz Beach Boardwalk Cocoanut Grove
20,000 sq. ft. of meeting space, including ballroom and glass-covered Sun Room; on the boardwalk; historic landmark from Big Band era.

Santa Cruz Civic Auditorium
Fixed seating for 1,000; expanded seating on main floor can accommodate more than 2,000; historic Art Deco design.
Monterey/Pacific Grove/Big Sur
Another 44 miles down the Coastal Highway, on the southern side of a tranquil indent in California's far western border, are the enclaves of Monterey, Pacific Grove, Pebble Beach and Carmel-by-the-Sea, a destination See Monterey President and CEO Tammy Blount is happy to report is open and accessible. Despite reports of mudslides over the winter and ongoing bridge improvements in Big Sur, Highway 1 is wide open from the north.
The big draw in Monterey in 2018 will be the $60 million reimagining of Monterey Conference Center and its 40,000 sq. ft. of meeting space—which after 40 years will be open to coastal views. "It brings this beautiful scenery into the meetings," Blount says. The new space and loading docks will make getting in and out as simple as spotting whales in a glass-bottom boat. Plus, the improved AV and bandwidth will appeal to groups dropping in from the Bay Area for ideation paired with kayaking on the bay.
Next door to the conference center is Portola Hotel & Spa, site of a $6 million renovation of 379 guest rooms, the restaurant and lobby area. Portola offers its own 120,000 sq. ft. of indoor and outdoor meeting space.
Monterey Marriott, which is also connected to Monterey Conference Center, received its own $2 million renovation last year, with a focus on the public spaces. It includes 16,500 sq. ft. of meeting space and a renewed focus on local, sustainable fish at Fin & Field Restaurant and Bar.
All of this meeting space enjoys easy access to Old Fisherman's Wharf and the brand-new Dali 17 Museum, the first permanent exhibition on the West Coast for the iconic surrealist artist who at one time called the area home. Planners can easily stage beach parties, team building in the Memory Garden at Monterey State Historic Park or behind-the-scenes tours of Monterey Bay Aquarium. Monterey also offers proximity to Salinas, the salad bowl of the world for farm-to-meeting events that don't get much more authentic. Salinas is also home to National Steinbeck Center, as befits the home turf of Nobel Prize-winning author John Steinbeck.
Meanwhile, at Hyatt Regency Monterey Hotel & Spa, $2.5 million is going into the 550 guest rooms, lobby and lounge flooring.
New options abound for groups to enjoy coastal fresh air in luxury. At famed Pebble Beach Resorts, the new Fairway One at The Lodge now overlooks Pebble Beach Golf Links. This cluster of 38 new guest rooms, two cottages and a separate meeting facility put attendees in the swing of U.S. Open action.
Sanctuary Beach Resort Monterey Bay is opening Salt Wood Kitchen & Oysterette Restaurant. Hyatt Carmel Highlands celebrated its 100th anniversary by adding California Market at Pacific's Edge restaurant, with an 870-square-foot deck overlooking the coast. Blocks from the beachfront, Embassy Suites by Hilton Monterey Bay Seaside is in the midst of an $11 million renovation that includes ballrooms, all 225 guest rooms and Pacifica Cafe restaurant.
New to the coastal meeting inventory list is SpringHill Suites by Marriott The Dunes on Monterey Bay. The all-suite hotel in Marina includes 106 guest rooms, 2,123 sq. ft. of event space and three meeting rooms. Hyatt Regency Monterey Hotel and Spa on Del Monte Golf Course was remade two years ago to incorporate what it calls a land, edge, sea vibe to 40,000 sq. ft. of indoor and outdoor meetings space.
At the tip of the Monterey Peninsula is Pacific Grove, where Tim McGill, director of sales and marketing for Asilomar Conference Grounds, has a beautiful view of the ocean and is a keen observer of successful meetings from his vantage point at the longtime state recreation area. He has watched as more tech companies have found their way to the Central Coast and has taken steps to make them feel at home—not least by beefing up Wi-Fi strength so visitors now enjoy half a gig of high-speed internet service. "This way the Googlers can escape the brass and glass for an off-site with the trees and waves, walk and meditate, and still be connected," he explains.
In Big Sur, Ventana Big Sur took advantage of the lull in tourism while roads were being repaired to invest in a reimagining of all 59 rooms and 12,000 sq. ft. of indoor and outdoor meeting space, including an ocean meadow for glamping in the redwoods. It will reopen as an Alila Hotels & Resort property.
Smart Tip:
Book your coastal meeting mid-week and then work with locals to make it easy for attendees to stay over the weekend to kayak with harbor seals, explore the National Steinbeck Center or just enjoy the beauty of the mash-up of Pacific and Cali.
Planner Tips for Making Monterey Bay Meetings Really Matter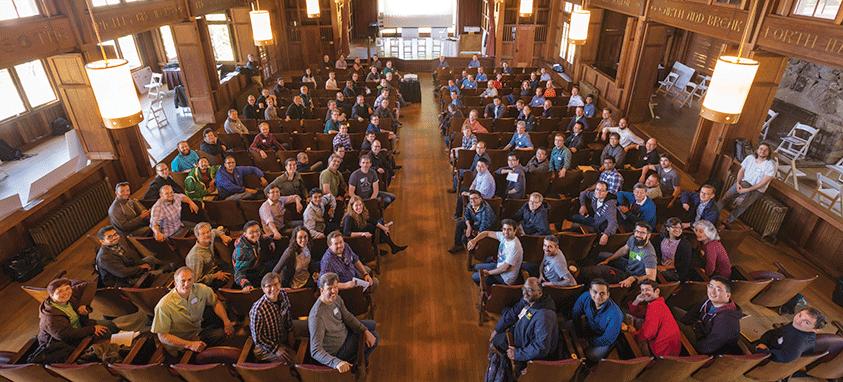 Three years ago, Sylvia Chanak, project manager at NVIDIA Research, picked Monterey as the site for her team's annual gathering because of its proximity to the company's headquarters in Santa Clara. The Research division of the AI-computing company had outgrown its former space and wanted a location within 90 minutes of Silicon Valley. Asilomar Conference grounds and its 40,000 sq. ft. of event space fit the bill, she says. "It has a mix of different-size spaces, room to grow and accommodated a constrained budget. Plus, there is that gorgeous beach, and our head of research likes the rustic feel."
Chanak has also participated in events at Monterey Bay Aquarium, which prides itself on being fish and people friendly. Events use zero disposable plastics and follow a Seafood Watch guideline to ensure anything that swims to the plate is sustainably caught or farmed. To make the experience memorable, planners have the option of incorporating a dive show, dinner under a life-size killer whale replica or cocktails in front of a stunning tuna tank. Chanak described it as "magical."
She has this advice for planners considering putting on an event on the Central Coast.
Take advantage of the scenery: If you are going to be near the beach, it would be a shame to not spend time there. Something about just seeing the ocean out of a window reminds people they are out of the office and helps them decompress.
Set expectations: In the case of Asilomar, it has a wonderful history as a YWCA camp designed by Julia Morgan, but conference attendees need to understand they are not on an incentive program and they may not have a lot of extra time. The fact that rooms have no televisions is no accident.
Capture the moment: Both locations lend themselves to fabulous photos, so be sure to snap pictures—or set up selfie opportunities—on the beach, in front of the shark tank, with the amazing food…the possibilities are endless.
MAJOR MEETING VENUES IN MONTEREY COUNTY

Carmel Valley Ranch
181 guest room suites; 10,000 sq. ft. of meeting space; six meeting rooms; experiential activities include beeswax-candle workshops and back-country obstacle courses.

Hyatt Regency Monterey Hotel and Spa
on Del Monte Golf Course
550 guest rooms and suites; 40,000 sq. ft. of meeting and event space; 22 acres of Monterey Pine forest; Marilyn Monroe Spa.

InterContinental The Clement Monterey
208 guest rooms; 16,000 sq. ft. of conference space; 2,400-square-foot Ocean Terrace Ballroom; 12 meeting rooms; outdoor pool; on Cannery Row.

Monterey Conference Center
40,000 sq. ft. of meeting space; 3,200-person capacity; LEED certified; completely remodeled for 2017; connected to additional meeting space in adjoining Monterey Marriott and Portola Hotel & Spa.

Monterey Marriott
341 guest rooms; 16,500 sq. ft. of conference space; 31 event rooms, including casual networking lounge; can host up to 800; connected to Monterey Conference Center.

Monterey Plaza Hotel & Spa
290 guest rooms; 30,000 sq. ft. of indoor and outdoor meeting space, including ballroom with waterfront terrace; two locally inspired restaurants; Vista Blue Spa on top floor with panoramic ocean views.

Portola Hotel & Spa at Monterey Bay
379 guest rooms; 60,000 sq. ft. of indoor event space; De Anza Ballroom can seat 1,000 theater-style; spa; outdoor heated pool, connected to Monterey Conference Center.

Wave Street Inn
32 guest rooms; newly opened; adjacent to Cannery Row and Monterey Bay Aquarium; part of Inns of Monterey collection.
San Luis Obispo/Pismo Beach
Highway 1 is not only completely open in San Luis Obispo County, it is more accessible than ever due to direct flights from San Luis Obispo County Regional Airport (SBP) to Los Angeles, San Francisco, Phoenix, Seattle and Denver.
Once visitors arrive, Visit San Luis Obispo County President and CEO Chuck Davison encourages groups to adopt a uniquely SLO state of mind and be open to all the culinary and natural experiences the region offers.
Those eager to downshift to a more relaxed state of mind will find an additional 200–400 rooms in place by the end of 2018. Hotel San Luis Obispo (The SLO) will be a 78-room property in the heart of downtown with two restaurants, a full-service spa, garden courtyard and meeting facilities for 350 people. Hotel Serra, steps from the site of SLO's popular Thursday-night farmers market, will be a 65-room retreat with views of the hotel's edible gardens, the city and hills beyond. It will include a restaurant, rooftop pool, and private party and meeting space for up to 60 people.
At Pismo Beach, Inn at the Pier offers a brand-new beach house scene with 104 guest rooms; The Rooftop, a restaurant and bar overlooking the coastline; and Blonde, a full-service, classic- contemporary California restaurant. And in 2018, Marriott will open Vespera on Ocean, part of its Autograph Hotel collection. It will include 128 guest rooms and meeting space steps from the beach and boardwalk.
Planner Secrets for Healthy SLO Meetings
Tom Davis, business development director for California Association of Latino Superintendents and Administrators, had been designing retreats in California's Napa Valley for years. Then he and his wife visited Paso Robles for some wine-tasting. That trip changed everything. The mellow, uncrowded vibe of the area was a much better fit for the School Administrators' Health and Wellness Seminar he wanted to produce. He chose Allegretto Vineyard Resort Paso Robles for his 30 guests and peppered the agenda with yoga classes, walks in the vineyard, speakers on diet and exercise, a stress pathologist, a cooking competition and plenty of wine. Attendees rated the experience with nines and 10s. He says he is absolutely going back next year.
Davis had this advice for those considering putting on an event on the Central Coast.
Let people know this is a destination: The appeal of the site is that it is away from distractions so attendees can relax and forget the outside world, but set expectations up front that they will have to plan on travel time to get there.
Don't pack the schedule too full: Leaving some afternoons for touring Hearst Castle or going wine tasting will be appreciated because it adds local flavor to the trip and gives people agency over how they spend their time.
Incorporate the richness of locally grown food in the event: Allegretto's chef led the group on a foraging excursion in the resort's vineyard for herbs, and then helped them make their own salad dressing from the ingredients they collected.
MAJOR MEETING VENUES IN SLO COUNTY

Allegretto Vineyard Resort
171 guest rooms; 35,000 sq. ft. of indoor and outdoor meeting space; in Paso Robles wine country; Cello Risorante & Bar.

Embassy Suites by Hilton
340 guest rooms; 15,000 sq. ft. of indoor and outdoor meeting space, including garden terrace and 600-seat ballroom; free cooked-to-order breakfasts and evening receptions.

Hearst Castle
Sprawling estate built by publisher William Randolph Hearst in 1919; indoor and outdoor meeting spaces for up to 250 people; hilltop location with views of the ocean in state historical monument in San Simeon.

Inn at Morro Bay
98 guest rooms; 10,569 sq. ft. of indoor and outdoor meeting space; adjacent to ocean, Morro Bay Golf Course and 4,000 acres of woodland.

The Cliffs Resort
160 guest rooms; 10,000 sq. ft. of indoor and outdoor event space, including 3,000-square-foot grand ballroom and 6,500-square-foot Oceanside Tent Pavilion; newly renovated; overlooking ocean on Pismo Beach bluff.

The Madonna Inn
110 guest rooms; 20,000-square-foot Alex Madonna Expo Center; themed rooms and public spaces; minutes from downtown San Luis Obispo.
Santa Barbara
Fewer than 95 miles separate Rodeo Drive in Beverly Hills from State Street in Santa Barbara. The two share a propensity for upscale shops and award-winning restaurants, but Michelle Carlen, director of sales at Visit Santa Barbara, says Santa Barbara is actually a diverse community with something for everyone. (Did you know Santa Barbara's Urban Wine Trail winds through the Presidio Neighborhood and ends in the Funk Zone, a 10-block area of artists, shops and surfers?)
Santa Barbara is also getting more accessible every day. In addition to being fewer than two hours from Los Angeles International Airport (LAX) and Bob Hope/Hollywood Burbank Airport (BUR), Santa Barbara Municipal Airport (SBA) is once again adding capacity minutes from downtown hotels.
That makes it a popular place for incentive trips, executive board retreats and sales conferences that take over the Fess Parker Hotel-A Doubletree by Hilton Resort and fill the 11,960-square-foot ballroom, spilling out onto Anacapa Patio on warm coastal evenings. "This is an escape destination where people come early or stay on to enjoy sailing, cycling and sightseeing," Carlen says.
One new option for an unforgettable experience that blends ocean and mountain views with the spirit of the American Riviera is Hotel Californian on State Street. The 121 guest rooms, Majorelle Spa, 2,850-square-foot ballroom and 3,670-square-foot rooftop event deck offer cool Spanish Colonial architecture with intriguing accents of Moroccan tiles and modern art.
Across the street, The Wolf Museum of Exploration + Innovation (MOXI), a brand-new home for inquisitive kids of all ages, is available for buyouts. The creative energy of MOXI's interactive, hands-on approach will infuse any activity with a can-do spirit—especially when paired with cocktails and a spectacular view of the city.
Or, head to the hills for a cultured, equestrian adventure. Nestled in the Santa Ynez Mountains, the world-famous Santa Barbara Polo and Racquet Club hosts groups for golf-cart polo. Santa Ynez Valley is also home to The Alisal Guest Ranch and Resort, a favorite for executive retreats. It's a 10,000-acre, working cattle ranch and full-service resort, with 73 guest rooms, 6,000 sq. ft. of meeting space and two 18-hole golf courses.
When it comes to California's coast, as Ansel Adams and thousands who have followed in his footsteps will tell you, getting there is all part of the beautiful adventure. Leaving the splendor and relaxed gestalt behind is the hard part.
MAJOR MEETING VENUES IN SANTA BARBARA COUNTY

Bacara Resort & Spa
354 guest rooms; 70,000 sq. ft. of meeting space, including self-contained Executive Conference Center; wine-tasting room; group spa menu; Forbes Four Star beach resort on 78 acres in Goleta.

Chumash Casino Resort
320 guest rooms; 17,000 sq. ft. of meeting space; 2,300 slot machines; 15,000-square-foot rooftop deck; newly renovated.

Four Seasons Resort-The Biltmore Santa Barbara
207 guest rooms and suites; 15,000 sq. ft. of meeting space; six restaurants and lounges; experiences include Train with an Olympic Champion and Surf with a Legend.

Kimpton Canary Santa Barbara
97 guest rooms; 7,300 sq. ft. of meeting space; seven meeting rooms; rooftop pool; Finch and Fork restaurant; hosted wine hours and coordinated private tastings in vineyard.

The Alisal Guest Ranch and Resort
Located in Santa Ynez Valley on 10,000-acre ranch; 73 guest rooms; 6,000 sq. ft. of meeting space; two 18-hole golf courses; 50 miles of horseback-riding trails.