Absecon Lighthouse, Atlantic City, New Jersey
New Jersey is geographically the fourth-smallest state in America, but it boasts a wide array of attractions, ranging from stunning mountains and forests to historic cities with top hotels, restaurants and entertainment. Meeting groups have long enjoyed this variety, which has recently been enhanced by new development.
More: New Wave of Hotels Crashes Into Atlantic City
"New Jersey is a very unique state: You can be in the hustle and bustle of a city, or a half-hour away you can be in the rural countryside picking fresh flowers, fruits and vegetables, or visiting one of our 20 wineries," says Jim Wood, president and CEO of Meet AC, Atlantic City's convention and visitors bureau. "New Jersey—and especially Atlantic City—also allows for a quick drive time to our surrounding cities and states."
Meeting planners are well-aware of some of the Garden State's most popular attractions—such as the Atlantic City Boardwalk, Princeton University and Battleship New Jersey—but the state also offers plenty of lesser-known, unusual attractions. Here are some that are sure to add some spark to your next meeting there.
Atlantic City
Though only the 55th-largest city in New Jersey, with a population of around 40,000, Atlantic City has attracted plenty of tourism and recently has become a much more attractive meetings destination.
"Additional casino resorts have added or expanded their meeting space to accommodate meeting groups," Wood says. "They realize the impact this industry has had and will continue to have on our destination. The casino properties are also more flexible [than properties in many other destinations] with hotel rates on peak nights."
Planners are well-aware of many of Atlantic City's attractions, including the casino-resorts, boardwalk and beaches—but there's plenty more to be discovered and enjoyed, including the following.
Amazing Attractions
Made Atlantic City Chocolate Bar, which opened this year just off the Atlantic City boardwalk, offers locals and tourists the opportunity to enjoy handcrafted chocolate and cocktails. Owner-chefs Mark and Deborah Pellegrino have sourced the finest cacao beans from around the world to create unique, single-origin chocolate.
Guests can take a seat at the bar and watch the magic unfold in the kitchen or enjoy a private tasting in the lounge. Chocolate tastings are available in group and private sessions. Informal tastings are also offered at the bar: The bartenders can lead groups through a Made chocolate tasting, paired with wine or whiskey. Made is also available for groups and private events.
More: Experience Virtual Reality in Atlantic City
Viking Cooking School at Harrah's Resort Atlantic City offers series of classes as well as one-day group events. Planners can choose the classroom, class style and menu for their event, and can make it into a stirring—pardon the pun—team-building exercise.
"The Viking Cooking School is a great experience for groups and offers a variety of classes and menus to choose from," Wood says. "Cook, connect and collaborate with one another while creating appetizing dishes. If you love to cook, entertain or just appreciate the pleasure of delicious cuisine, Viking Cooking School is the place to indulge your passions."
Absecon Lighthouse, which was first lit in 1857, is New Jersey's tallest lighthouse and the only one in the state with an original first-order Fresnel Lens still in place at the top. Absecon was decommissioned in 1933, but the lens is lit every evening for people to enjoy its beauty. Groups can brave the 228 steps to reach the watch room, which provides breathtaking views of the Atlantic City skyline. Groups of 10 or more people can receive a guided tour of the grounds, museum and lighthouse, and can work together as a team to encourage one another to complete the journey to the top.
Atlantic City's huge Boardwalk Hall features the Midmer-Losh Pipe Organ, painstakingly built from 1929 to 1932. It has several staircases and 33,114 pipes, making it the world's largest and loudest pipe organ (its volume is six times louder than the loudest locomotive whistle). Groups can take a guided tour of the organ, nicknamed "The Sonic Mount Rushmore," and climb in and out of the chambers—and perhaps play a few notes.
Westecunk Axe Throwing debuted this year, offering groups an opportunity to channel their inner lumberjacks. The company can bring an axe-throwing cage, along with trained professional staff members, to events. A 15-foot-by-30-foot area of mostly flat land is required to set up the cage, and participants must wear closed-toed shoes.
Outstanding Meeting Spaces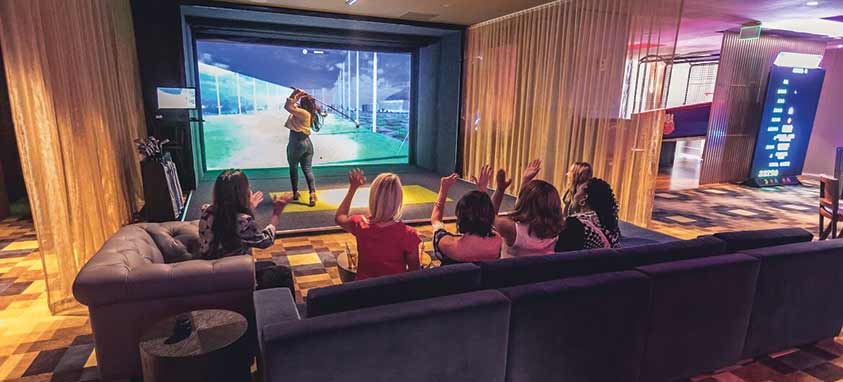 Atlantic City Convention Center provides 486,600 sq. ft. of contiguous exhibit space, along with 45 meeting rooms featuring an extra 109,100 sq. ft. Two major new hotels opened in Atlantic City in July. Set on 17 acres with the boardwalk as its backdrop, Hard Rock Hotel & Casino Atlantic City features 2,000 guest rooms, lots of rock 'n' roll memorabilia, expansive nightlife options—including plenty of music—and 150,000 sq. ft. of meeting space. Ocean Resort Casino boasts floor-to-ceiling windows facing the ocean, 1,399 guest rooms, the world's largest TopGolf Swing Suite, and 160,000 sq. ft. of outdoor meeting space and 90,000 sq. ft. of indoor space.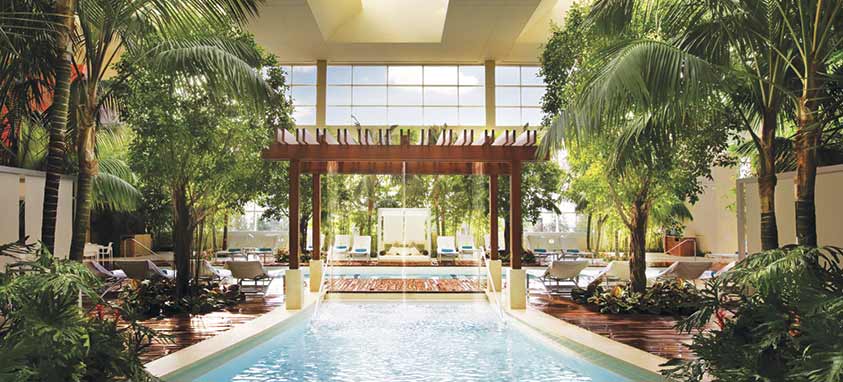 Other top hotels include Harrah's Resort Atlantic City, with 2,590 guest rooms and 148,000 sq. ft. of meeting space, including 125,000 sq. ft. in its Waterfront Conference Center; Caesars Atlantic City, with 1,444 guest rooms and 28,000 sq. ft.; and Bally's Atlantic City, with 1,254 guest rooms and 80,000 sq. ft. Borgata Hotel Casino & Spa and adjacent sister property The Water Club at Borgata provide 2,800 guest rooms and 88,000 sq. ft.
Newark
Newark, with a population of some 280,000 people, is the largest city in the state and is one of the oldest cities in the United States, dating back to the 1600s. The city is also making major strides as a meetings destination, with several hotels scheduled to open within the next two years and a potential convention center in the offing.
"Newark is a thriving city currently seeking a transformation not seen in at least 50 years, but what makes a thriving city a meetings destination?" says Megan Black, national sales manager for Greater Newark Convention and Visitor Bureau. "While this doesn't fall in the 'meetings destination' category, the growth the city is experiencing demonstrates where it's headed, motivating potential developers with a vision of a potential convention center."
The city has plenty of historic attractions—including Newark Museum, Cathedral Basilica of the Sacred Heart and Branchbrook Park, as well as the Ironbound neighborhood, known for its abundance of international cultures and cuisines. But meeting planners looking for something under the radar might want to consider the following places.
Amazing Attractions
GlassRoots' main purpose is to boost the creative and economic vitality of Greater Newark by providing under-served youth and young adults with opportunities to create with fire and glass. Workshops and special events can be arranged for adult groups, as well, in a variety of beginner, intermediate and advanced lessons in glass-art across three studios: The Flat Shop, The Flame Shop and The Hot Shop (glassblowing).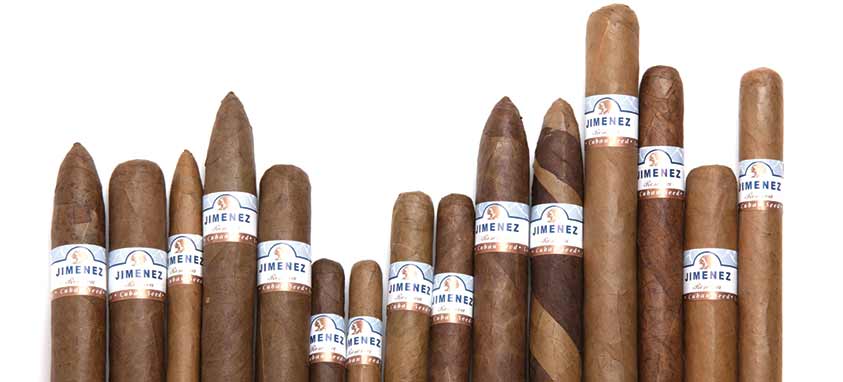 In 1903, the Jimenez family began producing one-of-a-kind, handmade cigars. In the late 1960s, brother/sister duo Humberto Jimenez and Nelda Pozo-Jimenez emigrated to Newark from the Oriente region of Cuba, and for the past 30 years, she has carried on the family tradition by hand-blending premium cigars. Jimenez Tobacco is a strong, matriarchal institution, as Nelda is not only the paramount presence in the kitchen, but the only female master blender in the country.
The company has two shops in the Downtown Arts District—on Liberty Street and at the Prudential Center on Lafayette Street. The Liberty Street store has a lounge, a swanky speakeasy featuring aromatics, prohibition-style cocktails and live performances. The Jimenez Tobacco team can travel to group events, donning white Guayabera shirts and bringing a festive rolling station to make a fresh batch of handmade, Cuban-style cigars.
Nestled beneath the bustling city streets of Newark is the first wax museum in the United States, but unlike other wax museums, its purpose was solely to show what the deceased bodies of various patron saints were supposed to look like as they were interred in graves throughout Europe. St. Joseph's Catacombs is located underneath St. Joseph's Church and is modeled after the catacombs in Europe, where thousands of people were interred from the Dark Ages through the Renaissance. Groups can visit the catacombs by prior arrangement.
Outstanding Meeting Spaces
Newark doesn't have a convention center yet, but Prudential Center, home of the NHL's New Jersey Devils, offers more than 100,000 sq. ft. for meetings and events. Tryp by Wyndham Newark Downtown, which opened in May, is located near Newark Liberty International Airport (EWR), Newark Penn Station, and the city's thriving business district. It includes 101 guest rooms and meeting space.
Newark Liberty International Airport Marriott offers 585 guest rooms and 27,160 sq. ft. of meeting space, Renaissance Newark Airport Hotel includes 386 guest rooms and 16,618 sq. ft. and DoubleTree by Hilton Newark Airport has 502 guest rooms and some 18,000 sq. ft.
Jersey City
Jersey City was the first destination for many immigrants entering the United States through nearby Ellis Island, which operated from 1892 until 1954 and processed more than 12 million immigrant steamship passengers. The city has remained a melting pot of cultures and reflects the many flavors and influences of its people.
It features several major attractions, and many of them are connected to Liberty State Park, a 1,212-acre oasis in the middle of the city. There, you can catch ferries to the Statue of Liberty and Ellis Island, and visit Liberty Science Center, which includes hundreds of exhibitions and films in the nation's largest IMAX Dome Theater.
New Jersey also features other unique attractions that are ideal for groups.
Amazing Attractions
Infinity Climber is located in Liberty Science Center but deserves special mention because of its uniqueness. The world's first suspended climbing place space of its kind, Infinity Climber is 26 feet wide, 24 feet deep and 19 feet tall. It's great for groups—up to 50 people can navigate the giant structure simultaneously, and its sinuous pathways deviate and merge to offer many ways for attendees to explore the concept of relativism within a given space. More than 19 miles of hand-threaded wire mesh encloses the structure and safeguards climbers from falling.
It may not rank high in historical significance among the many landmarks visible along New York Harbor—which include the Statue of Liberty, Ellis Island and Verrazano Bridge—but the Colgate Clock has loomed over the area since 1908, and at night its giant, neon-red hands can be seen along the New Jersey side of the Hudson River from miles away.
The clock stood atop the Colgate-Palmolive factory until the 1980s, when the Colgate headquarters was razed to make room for the new Goldman Sachs Building. The state of New Jersey decided to preserve the clock, which now rests on an empty lot that is leased to Colgate-Palmolive by the state and maintained by Goldman Sachs.
The surface of the clock is 1,963 sq. ft. and 50 feet in diameter, making it the fourth-largest clock in the world. The minute hand is 25 feet, 10 inches long, and the hour hand is 20 feet long. The timepiece can be adjusted and is maintained to stay within one minute of accurate time. In 2013, the clock was refitted with LED lights and affixed to a new foundation and platform.
Planners looking for unique pastries might try Choc-o-Pain Boulangerie and Cafe, with locations downtown and in Jersey City Heights. It features traditionally baked bread and viennoiseries (classic French breakfast pastries) and is one of the few places outside of France that offers a (Petit) Kouign Amann, a sort of inside-out stuffed croissant, cooked twice and covered in a caramelized sugar crust.
Outstanding Meeting Spaces
Jersey City has several downtown hotels, including Hyatt Regency Jersey City on the Hudson, which occupies a waterfront location and offers 351 guest rooms and 20,679 sq. ft. of meeting space. Others of note are The Westin Jersey City Newport, featuring the brand's many wellness options along with 429 guest rooms and 20,227 sq. ft., and Hyatt House Jersey City, with 258 guest rooms and 5,400 sq. ft.
The Meadowlands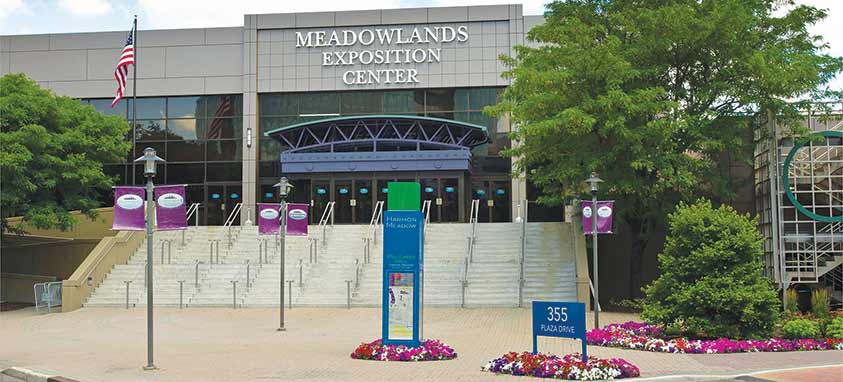 New Jersey Meadowlands, also known as the Hackensack Meadowlands after the primary river flowing through it, is a large ecosystem of wetlands in northeastern New Jersey, a few miles to the west of New York City. It includes portions of Kearny, Secaucus, East Rutherford and several other cities.
The Meadowlands also features outdoor recreation options, designer outlet centers—and some fabulous meeting spaces. Meadowlands Expo Center at Harmon Meadow (pictured), located in Secaucus, provides 61,000 sq. ft. of contiguous, obstruction-free meeting space with 20-foot-high ceilings. Meadowlands Sports Complex in East Rutherford incorporates MetLife Stadium, home to the NFL's New York Giants and New York Jets. Meadowlands Racing & Entertainment Complex, a 280,000-square-foot facility with several event places, has an 180,000-square-foot indoor clubhouse with sky box suites and a roof and bar, and a 100,000-square-foot outfield area. The complex can accommodate up to 200,000 people.
Situated across the street from the complex, Hilton Meadowlands provides 427 guest rooms and 30,000 sq. ft. of meeting space, including 15 meeting rooms and two ballrooms. Renaissance Meadowlands Hotel, also located near the complex, has 167 guest rooms and 4,972 sq. ft.