Orcas off the Washington state coast
Washington State will make attendees' heart sing
From the Cascade Mountains and Olympic National Park to the limitless shores of Puget Sound, the San Juan Islands and the Pacific Ocean, the state of Washington is about as wild and rugged as it gets. Even though people have lived here for thousands of years—among them Native Americans, rough-and-tumble mining prospectors, lumberjacks and Bill Gates—the state remains a mostly untamed place.
For meeting planners, the challenge is to organize a gathering that gives attendees a taste of this wildness. Fortunately, there are options galore, among them salmon fishing charters, ziplining, paddleboarding and river rafting. Even in the cities, groups can get a taste of the Pacific Northwest vibe by trying their hands at fun pastimes such as glass blowing and oyster shucking.
And who doesn't love whale watching? As Smart Meetings was going to press, we were told about two pods of Orca whales spotted in Elliott Bay between the downtown Seattle Waterfront and Bainbridge Island. The pods included one of the oldest Orcas known, J2 Granny, who is estimated to be 105 years old.
Here's an overview of just a few of the possibilities to get wild in and around four major meeting cities—Seattle, Bellevue, Spokane and Tacoma, but of course this is just the tip of the iceberg to find a wild experience that's right for your group.
Washington State Convention Center
Seattle
Seattle's inhabitants tend to be a hearty breed, as wimpier types tend to be driven away by the, ahem, damp winters. It speaks volumes that the nation's oldest continually running outdoor market is in Seattle, not San Diego or Miami. This region may have been the birthplace of Microsoft and Starbucks, but it's also the home of REI, Eddie Bauer, grunge music and the famously boisterous NFL Seattle Seahawks fans who pack CenturyLink Field, which seats 68,000. Rugged rules, here.

Seattle Aquarium
Seattle also holds a firm position among the world's top business cities. With 20,000 guest rooms and Washington State Convention Center, the "Emerald City" is a great choice for conferences throughout the year.
"Seattle is on a lot of people's bucket lists," says Rob Hampton, senior vice president of convention sales and services for Visit Seattle. "It's a very progressive, innovative city and companies like Amazon bring a young demographic. All the things people want to do when they're done with meetings—shopping, theaters, restaurants, visiting neighborhoods visiting the Space Needle—are just blocks from downtown."
Seattle is in the process of developing a new convention center two blocks from the existing facility; the new center, with more than 250,000 sq. ft., is slated to open in 2020. The 1,200-room Hyatt Regency Seattle is also in development, set to open in 2018.
"We will have two convention centers right in heart of downtown," Hampton says. "The architect is making sure it fits into the community and the beautiful natural area."
Seattle has no shortage of opportunities to get outdoors, and some of the top tourist attractions have a built-in wild edge. The world-famous Pike Place Market, for example, is home of the Pike Place Fish Market, where fishmongers throw the (wild) catch of the day across the store. The workers' hearty attitude spawned a motivational book and video, Fish Philosophy, and the market's owners and staff are available to give motivational presentations, complete with flying fish demonstrations. NPR radio even described them as the "most successful corporate motivators on the planet." (And yes, you can hire them to come toss fish at your convention or meeting.)
 CenturyLink Field, Seattle
Near downtown Seattle on Lake Union, Electric Boat Company allows groups to rent 21-foot boats that are fully enclosed and hold up to 10 passengers. With tables, sound systems and plush leather seats, it's a great spot for a floating meeting. The company offers a team-building scavenger hunt, Clueless in Seattle. The nearby Center for Wooden Boats, meanwhile, can provide group classes in rowing and sailing.
Puget Sound is its own natural playground, and you can arrange a sail with Let's Go Sailing or put together a fishing charter, which is a great incentive prize for the right audience. Charter companies such as Fish Finders depart just 7 miles from the city and can handle up to six people at a time.
Seattle has plenty of urban wildness, of course, and spouses or attendees will welcome a chance to visit one of the city's eclectic neighborhoods. Popular options include Pioneer Square, home to dozens of art galleries, as well as the South of Downtown (or SoDo district), which has an extensive array of breweries, distilleries, art studios and other funky spots. Closer to downtown, Seattle Aquarium can be rented for groups of up to 800 people and has attractions such as Window on Washington Waters, a massive aquarium that makes for a jaw-dropping event venue.
A different kind of wild, the thrill of gaming can be found in one of the many tribal casinos in the area. Tulalip Resort Casino, about 45 minutes north of Seattle, recently renovated its 370 guest rooms and offers with perks such as in-room refrigerators and 55-inch televisions. Tulalip has 30,000 sq. ft. of meeting space.
Clearwater Casino Resort, on the Kitsap Peninsula across Puget Sound from Seattle, is reachable by ferry. It offers 186 guest rooms and 13,766 sq. ft. of event space.
If your group is dead-set on staying in their meeting room, consider bringing the wild inside. Visit Seattle can organize onsite oyster-shucking that combines a fun hands-on team-building challenge with the payoff of the freshest seafood around.
"Our convention services team will tailor the event based on what a group is looking for," Hampton says.
Bellevue
Located across Lake Washington from Seattle, Bellevue was once famous for its berries and other fruit. But in the past few decades, thanks to companies such as Microsoft and Expedia, Bellevue has become a major business center.
Bellevue is developing a new AC Marriott, Hilton Garden Inn and W Hotel, which will all go online in 2017. In addition to its 4,900 hotel guest rooms (including 2,400 downtown alone), Bellevue has 2,500 acres of parks and open space, and nearly 100 miles of trails, providing excellent opportunities to get out into the wild.
"A lot of people don't think about finding an alternative near Seattle," says Jane Kantor, director of sales for Visit Bellevue Washington. "We see ourselves as a smaller, cozier type of destination, where delegates can really command the city. It's not far from Seattle, and it's just as easy to get here. A lot of people live in the downtown core, and you can walk around and enjoy shopping and restaurants day and night. We also have a lot of nature within walking distance."
Among the natural attractions in the area is Bellevue Botanical Garden, a showcase of flora from the region that has meeting space that can be rented by groups. Mercer Slough Nature Park, just a mile from downtown, features ranger-guided canoe trips and "you-pick" berry farms. Groups can rent the 1,575-square-foot Douglas Fir Community Room, which has an elevated boardwalk that goes out into the trees.
Museum of Glass, Tacoma
"You feel like you're in nature," says Sharon Linton, marketing and communications manager for Visit Bellevue Washington. "It has a tree-house feeling to it, and you can see the Bellevue skyline in the distance."
For team building in the wild, Bellevue Challenge Course & Zip Tour, in nearby Eastgate Park, has a network of ropes courses, ziplines and suspension bridges, some as high as 80 feet so you can fly through Douglas firs, cedars and broad-leaf maple trees.
For a closer event venue, Bake's Place is a livemusic spot with a large patio. Cast Iron Studios is a stunning warehouse-style venue that can hold groups up to 250, with catering provided by one of four partner restaurants.
Meydenbauer Center, which offers 54,000 sq. ft. of meeting space, features a 410-seat theater.
Tacoma
Located in Pierce County, on the banks of Puget Sound about 30 miles south of Seattle, Tacoma has wildness built into its name, which comes from Takhoma or Takoma, names given to Mount Rainier by the Puyallip Native American tribe.
Bellevue Botanical Garden
"You're automatically consumed by the nature around you," says Chelene Potvin-Bird, vice president of sales and servicing for Travel Tacoma & Pierce County. "We're right on Puget Sound; you can see Mount Rainier in the distance. Seattle is very high-volume hustle and bustle, but here you have time to see everything and you don't have the pressure of all the people around you. You get to experience the amazing assets of our region. A large event with 1,000 people is a citywide for us, and a group of that size would have first rights to all the restaurants, attractions and entertainment right here in the city."
Northwest Trek Wildlife, Eatonville
Tacoma has 13 meeting hotels and more than 2,000 rooms, as well as 25 special-event venues. Greater Tacoma Convention & Trade Center has 119,000 sq. ft. of meeting space.
Groups can get around on the Tacoma Link, the first modern electric light-rail service in the state and spend time along the Thea Foss Waterway, a mixed-use district near downtown. Event venues in this area include Foss Waterway Seaport, a maritime heritage, education and event center in a century-old wooden wheat warehouse with 55-foot ceilings. The exhibit hall holds up to 800 for receptions.
For a uniquely wild experience in Tacoma, consider visiting a local glass-blowing studio, where groups can get a hands-on experience. The beautiful Museum of Glass has rental spaces that include access to the Hot Shop, a working glass studio where teams of artists create masterpieces out of molten glass. There's a 6,900-square-foot hall, 180-seat theater and boardroom for events.
Tacoma is also home to the 165,000-square-foot LeMay-America's Car Museum, one of the nation's largest car museums, with room for up to 2,500. There's banquet space for 200 and a 3.5-acre lawn that is perfect for concerts and festivals.
Arbor Crest Wine Cellars, Spokane
"They've got amazing venue space and thousands of collector vehicles," Potvin-Bird says. "Whether they are car enthusiasts or not, people just love it."
Another popular local venue is Point Defiance Zoo and Aquarium, the only combined zoo and aquarium in the Northwest. Pacific Rim Plaza has views of Mount Rainier and Puget Sound.
"You might have one group go out kayaking, while another heads over to the glass-blowing facilities to create artwork they get to take home with them, and another goes to the zoo and aquarium," Potvin-Bird says.
In nearby Eatonville, Northwest Trek Wildlife Park operates a 50-minute, naturalist-led tram tour that goes through 435 acres of forests and meadows where visitors can see moose, bison, elk and other animals native to the region. Meeting facilities here include the Hellyer Center, which can seat up to 76 people theater-style; the picnic pavilion has an open meadow for groups of up to 500.
Tacoma is also the closest large city to Mount Rainier National Park (about 60 miles away), and a group outing to this famous 14,411-foot peak could include a gondola ride, snowshoeing and skiing in the winter, or hiking and biking in the summer.
"If a group wants to get creative, there are opportunities for voluntourism, where they can clean up trails, clear brush, or build fences that protect animals from going down into the roads," Potvin-Bird says.
Foss Waterway Seaport, Tacoma
Spokane
Located in eastern Washington, near the Idaho border, Spokane has a different vibe from the western coastal areas, with a rural, plains feel. That's not to say there isn't plenty of wildness to be found here, though: Spokane River and Spokane Falls, the second-longest urban waterfall in the United States, rushes right through town. There's even a fun group activity built in, as Spokane Falls SkyRide lets visitors ride in purple gondolas past Spokane's City Hall, then slowly cruise over the water for 200 feet. The ride takes 15 minutes and each gondola can hold up to six guests.
"Spokane allows you to exhale and relax; it's a sense of 'aah, this just feels right,'" explains Rob Enriquez, vice president of sales and marketing for Visit Spokane. "Time is so critical for groups, and in 15 to 20 minutes, you could be whitewater rafting down the Spokane River, ziplining, paddleboarding and biking Centennial Trail. We have brand-name stores, shopping and dining, but we also have a lot of local flair that is very Washington, including farm-to-table restaurant experiences."
Downtown is constantly evolving. Riverfront Park is undergoing a $64 million renovation, with upgrades to a 100-year-old carousel and structures that date back to the 1974 World's Fair. There are 3,300 hotel rooms within eight blocks of Spokane Convention Center, and dozens of restaurants, shops and entertainment spaces.
The convention center expanded in 2015, offering more than 650,000 sq. ft. of event space, including a 120,000-square-foot exhibition hall. The 2,700-seat INB Performing Arts Center is adjacent to the convention center.
Spokane has 76 lakes within a 50-mile radius and five ski resorts within a two-hour drive, not to mention ziplining, rock climbing and other activities. There are no fewer than 41 microbreweries on the Inland Northwest Ale Trail and 21 wineries in the city's Cork District. For an elegant wine-venue option outside of town, Arbor Crest Wine Cellars is home to the Cliff House Estate, a beautiful venue overlooking Spokane Valley.
"A lot of people are just not familiar with the Spokane experience," Enriquez says. "When people see this destination and experience it, their response is, 'Oh my gosh, I did not realize this place can definitely facilitate my event, this is a hidden gem.' Come experience the destination, and it will sell itself."
Three hours southwest of Spokane near the Oregon border in Wala Wala, Marcus Whitman Hotel & Conference Center is an elegant landmark amid wine country. It has more than 13,000 sq. ft. of event space and 133 luxurious guest rooms.
Wild Thoughts
Of course, if you're worried that your group isn't hearty enough for a Washington meeting, don't fret: In Seattle alone, you can find the Space Needle, Dale Chihuly Glass Garden, Seattle Symphony, high-end shopping and more.
And, of course, if what we've described here isn't hearty enough, rest assured that the state has hundreds of lodges, camps and farms that can provide a range of experiences. Most important, make sure your group doesn't go home without at least a little taste of the local flair.
---
Chuck Kapelke is a professional writer, video producer and longtime contributor to Smart Meetings magazine.
---
Major Meeting Venues
Bellevue
Hilton Bellevue
Easy access to Seattle; 178 guest rooms; 60,000 sq. ft. of meeting space; capacity for up to 1,000 people.
Hyatt Regency Bellevue
Connected to the posh, 250-shop Bellevue Collection, a high-end mall; 70,000 sq. ft. of meeting space; 732 guest rooms and suites; $185 million expansion is adding a new guest tower and more than 53,000 sq. ft. of event space.
The Westin Bellevue
AAA Four Diamond rated; 337 newly renovated guest rooms and suites with city and lake views; 25,000 sq. ft. of meeting space; shopping at Bellevue Collection.
Hilton Garden Inn Seattle Downtown
On the southern tip of Lake Union; 222 guest rooms; saltwater swimming pool; 2,000 sq. ft. of meeting space.
Hotel Monaco
Hip, pet-friendly Kimpton property; hailed as one of the world's best hotels by Conde Nast Traveler; 189 guest rooms; 6,000 sq. ft. of event space; spa; fitness center.
Mayflower Park Hotel
Built in 1927; 161 guest rooms; crystal chandeliers and period antiques, including poster headboards and armoires in traditional Queen Anne styling; six meeting rooms offer 4,300 sq. ft. of total space.
Motif Seattle
Stylish upscale downtown hotel; home to Frolik Kitchen & Cocktails, with the largest outdoor deck in downtown Seattle; 319 guest rooms and 10 suites; 10,000 sq. ft. of event space, including 6,000-square-foot ballroom.
Pan Pacific Hotel Seattle
AAA Four Diamond rated; located in South Lake Union neighborhood; 153 guest rooms and suites with views of the city, Lake Union or Space Needle; 5,554 sq. ft. of event space; fitness center; salon.
Seattle Marriott Waterfront
Steps away from Pike Place Market; 358 guest rooms, all with water views; more than 11,000 sq. ft. of event space.
The Paramount Hotel, Seattle
A block from convention center; boutique downtown property; 146 guest rooms; meeting space for up to 45 people.
The Westin Seattle
Near convention center and Pike Place Market; 891 guest rooms; indoor and outdoor pools; 69,000 sq. ft. of meeting space.
Tulalip Resort Casino
AAA Four Diamond luxury property north of Seattle; 30,000 sq. ft. of meeting space, including a 15,000-square-foot ballroom; 370 guest rooms; 450-seat theater; more than 2,200 slots and 35 tables.
Spokane
Davenport Grand
Marriott Autograph Collection property; 716 guest rooms and suites; 63,177 sq. ft. of meeting space; connected to convention center.
DoubleTree by Hilton Spokane City Center
Located on the Spokane River; connected by sky bridge to the convention center; 375 guest rooms; 21,000 sq. ft. of function space.
Northern Quest Resort & Casino
AAA Four Diamond rated; 250 guest rooms; 22,000 sq. ft. of meeting space; full-service spa; 10 minutes west of downtown Spokane.
Tacoma
Courtyard by Marriott Tacoma Downtown
Trendy hotel near convention center; 162 guest rooms; 15,970 sq. ft. of event space; Cascade Ballroom accommodates up to 450 people.
Holiday Inn Express and Suites Tacoma Downtown
A 10-minute walk from the Greater Tacoma Convention and Trade Center; 1,460 sq. ft. of meeting space; 163 guest rooms.
Hotel Murano
Located Tacoma Museum of Glass; 319 guest rooms; 28,000 sq. ft. of meeting space.
Smart Meetings Related Posts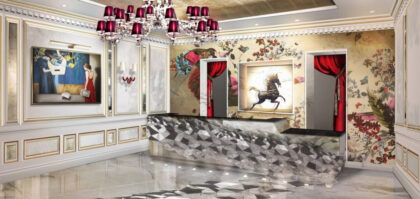 Hotels around the world are incorporating art into the visitor's experience with private art collections, galleries and installations.