10 Cancun and Riviera Maya hotels that offer an intriguing mix
Cancun and the Riviera Maya are among the most welcoming destinations on earth. The combination of ancient cultures and modern luxury keeps calling visitors back. Where else could you visit a UNESCO World Heritage temple such as Chichen Itza in the morning and then go cruising on a brand new, state-of-the-art catamaran all afternoon? Kiimakoolal, or welcome, as residents would say!
Traditional cochinita pibil (pork roast)
Everything old is new again in Mexican cuisine. Twenty-something TV chefs revel in centuries-old mole recipes and traditional pig roasts. Paleo proteins (insects) are no longer a tourist novelty: They grace the very finest tables on the peninsula. Ku meejtech uutsil (Bon appetit)!
Typical Mexican wooden crafts
One trend that shows no sign of stopping is the expansion of high-end lodgings. But the hotels listed below pride themselves on respecting, celebrating and immersing their visitors in the endless bounty of Mexican culture. Xíiktech uutsil (Bon voyage)!
Here are 10 top hotels on the Yucatan Peninsula for experiencing the best that Mexico, old and new, has to offer.
Cancun
Grand Fiesta Americana Coral Beach Cancun
Grand Fiesta Americana Coral Beach Presidential Suite, Cancun
At Fiesta Americana Hotels & Resorts, old cuisine is exciting and new again. Mexico's rich culinary history has been chosen for UNESCO Cultural Heritage recognition, which is one reason Fiesta Americana has recently brought acclaimed chef Ricardo Munoz Zurita (he literally wrote the dictionary on Mexican food) into its umbrella of hotels. Undertaking the colossal task of creating individual restaurant menus for each of Posadas' 140 properties, the Yucatecan hotels will feature indigenous treats such as grasshoppers, black beans, habanero chili peppers and native squash.
"These hotels are the best place to share local cuisine," Munoz says. "While it is a great challenge and a great responsibility, it is very exciting to do it with Fiesta Americana."
La Joya restaurant at Grand Fiesta Americana Coral Beach Cancun is the place to taste all this tradition. Groups should also take advantage of the unique tequila-tasting menus, either before or after dinner. The hotel's events team adds more flavors to group fun with tasting menus and curated theme nights. The hotel also proudly offers Le Basilic, featuring French Mediterranean cuisine, and one of only seven AAA Five Diamond restaurants in Mexico.
AMResorts Secrets The Vine Cancun
This is the first of the Secrets Resorts & Spas collection in Cancun and is still the best, a vision of teak brown and ocean blue. The unlimited-luxury all-inclusive property allows for unlimited connectivity with the Secrets app, which includes Wi-Fi and free land line calls across North America. The 21st-century hotel concept mixes technology with authentic experiences.
Use the app to book a yoga class, a mixology lesson or a session at Secrets Spa by Pevonia, with a design inspired by the natural caves and cenotes of the area. Eighteen holes at nearby Playa Mujeres Golf Club, deep-sea fishing and scuba diving can be arranged, as well. Upgrade to the Preferred Club option for access to a private floor and a dedicated concierge.
Meeting planners will appreciate having 497 guest rooms just 10 minutes from the airport, and new 24-hour dining at The Vine Cafe. They will also enjoy a plethora of options, including dedicated meeting space for up to 800 guests, flexible indoor and outdoor rooms and terraces, and a private boardroom with the latest audiovisual bells and whistles. As with several other hotels on this list, Secrets The Vine was recently named one of the top 25 all-inclusive resorts in the world by TripAdvisor.
Nizuc Resort & Spa
Vino de Mexico? Nizuc Resort & Spa, a luxury resort in Cancun, allows its guests to sample the burgeoning Mexican wine scene, rooted in the old vines brought to the New World by the Spaniards in Baja California. Taking place at Ramona, a restaurant that offers a contemporary interpretation of traditional Mexican cuisine, a sommelier guides guests on a tasting of four Mexican wines, which change each week.
Nizuc's house wines are produced by Bodegas de Santo Tomas, the second-oldest wine producer in Mexico, founded in 1888. Group wine experiences can be booked through the concierge.
Nizuc recently debuted a crafted luxury catamaran available for groups of up to six. The 56-square-foot catamaran picks up guests on property to take them for an afternoon sail down the Riviera Maya to the Caribbean island of Isla Mujeres, or to various other aquatic activities such as scuba diving in a nearby underwater museum. The catamaran features an onboard butler, chef, full staff and provisions such as champagne and caviar, which are perfect for small-group bonding experiences and for entertaining high-level executives.
The Grand at Moon Palace Cancun
Loyal regulars of the old Moon Palace Cancun will love the new The Grand, which is currently undergoing a $450 million renovation after 30 years of operation. Expected to be completed by February, highlights include more than 900 additional guest rooms, a gigantic new lobby and seven outdoor swimming pools, including two adults-only pools with a live DJ, five swim-up bars and an elaborate beach club.
"Awe-inclusive" is the buzzword, which includes revamped Awe-Spa, top-shelf liquor in myriad locations and a variety of flexible indoor and outdoor meeting spaces at no extra charge.
Organizers can plan around more than 80,000 sq. ft. of new meeting and event spaces, a bowling alley with six lanes, the chic nightclub Noir, plus 17 food and beverage outlets for hard-to-please gourmands. Already onsite is a 140,000-square-foot convention center, Moon Palace Arena, which attracts headliners from Duran Duran to Kool & the Gang. The 55,850-square-foot ballroom seats up to 5,000 attendees.
Riviera Maya/Playa del Carmen
Grand Velas Riviera Maya
With 539 designer suites that boast more than 1,100 sq. ft., set upon the whitest of sands, Grand Velas Riviera Maya is an all-inclusive luxury treat and supreme foodie destination. The molecular gastronomy at Cocina de Autor restaurant was named one of the 100 Best New Food and Drink Experiences in the World by Food & Wine magazine.
Visitors with adventurous minds and palates can sign up for a culinary workshop on pre-Hispanic cuisine that includes a tasty lesson on what Mexicans ate in ancient times. Participants sample ancient (and perhaps future) protein sources such as worms, ants and grasshoppers, now and again considered among the finest delicacies at the greatest tables in Mexico. An onsite ceviche bar offers the crunchy critters as a salty snack atop citrus marinated tuna, salmon and scallops. Nothing gets more laughs or attention than an Instagram post of grasshopper munching.
The Spa at Grand Velas is world-class, no idle distinction considering Virtuoso named it Best Spa in the World in 2010. As with ancient foods, The Spa follows the flavors and traditions of Mexico mantra with its new aloe vera massage. The succulent was known to the Mayans as the "immortality plant" because of its regenerative life powers.
Grand Hotel Paraiso
With 137 courses worldwide, the Iberostar brand has become synonymous with golf. Iberostar Grand Hotel Paraiso kicks it up a notch, offering 18 holes designed by P.B. Dye, son of legendary course architect Pete Dye.
The course is unique to the Yucatan Peninsula, with a dramatic layout, unconventional hazards such as a rock-lined river and appealing verticality against a flat backdrop. Site of the recent world amateur championship, the course is a must visit for the golf-obsessed. Complimentary greens fees are included with stays of three or more days.
Just as awe-inspiring as the golf course are the Mayan ruins in the lobby bar, a life-size replica of Chichen Itza. The resort offerings are so enticing that jokes about never leaving to see the real thing are inevitable. But groups should check in with the excursions desk: Visits to the Tulum and Coba ruins, cenote swims and even visits to the real Chichen Itza are all on the menu.
Complimentary butler service is a welcome perk, as is the 9,843-square-foot Paradise Beach Resort Spa. The adults-only hotel features 310 suites—equipped with minibars, private balconies and flat-panel TVs—and every suite has its own Jacuzzi. The Iberostar chef on tour adds the final touch to high-end offerings. Nine different Michelin-starred chefs host multicourse tasting menus throughout the year.
Barcelo Maya Beach
With $80 million in upgrades and all-inclusive access to five luxurious resort-hotels, Barcelo Maya Beach hotel has long been a favorite for meetings planners. Recent additions include Maya Mall, the largest shopping center on the Riviera Maya.
Art collectors and culture lovers can find respite inside Plaza Mexicana, where handicrafts from all 32 states of Mexico are on display and available to take home. Besides the array of shops, jet-lagged visitors will love Strikers, the 24-hour sports bar where fans of many teams and nations rally until the wee hours. Access to 20 different restaurants keeps the dining variety virtually unlimited, with options ranging from Japanese to Italian and Mexican.
U Spa has more than 32,000 sq. ft. of space and recently received $6 million in upgrades with hydrotherapy. Kids of all ages will be enthralled with Pirates Island, the new water and surf-riding park. On the activities front, tennis and water sports are complemented by bowling alleys, 18 holes of mini golf and a giant chess set.
Paradisus Playa del Carmen
Part of Melia Hotels' all-inclusive luxury offerings, Paradisus maintains resorts in Cancun and Playa del Carmen. The Riviera Maya location is a group-stay paradise, with 394 rooms on the adults-only La Perla side and 510 rooms at family-friendly La Esmeralda.
Groups wishing for privacy and focus will find plenty of ways to do so. Sixty different swim-up suites—replete with Wi-Fi, stocked minibars and 40-inch TVs—can be reserved. The Royal Service package includes 24-hour butler service and private hot tub, beach and pool areas.
Paradisus has always been focused on travel fitness, and YHI Spa doesn't disappoint. With more than 19,000 sq. ft. of harmonic space, groups can indulge in massage, yoga and Pilates. Experiential offerings range from tango lessons to sushi making. When it comes to adventurous culture, guests can indulge at Mole, an authentic contemporary Mexican restaurant with rich flavors and decor. Try the fried red grasshoppers with a glass of white wine. Mole received the Award of Excellence from Wine Spectator.
Paradisus raises the bar with its partnership with Michelin-multistarred Basque chef Martin Berasategui. His AAA Five Diamond Award-winning fine-dining restaurant, Passion, serves modern French cuisine and is consistently rated one of top restaurants on the Yucatan Peninsula.
Unico Hotel Riviera Maya
Set to debut in the first quarter of 2017, Unico Hotel Riviera Maya will combine the importance of past traditions with 21st-century information on demand. High on the agenda will be supporting the local artisans, something that will surely make every attendee feel like a responsible tourist.
Art and crafts from the locals will be available for purchase, both in-room and throughout the hotel. Esencia Wellness Center will allow guests to be a part of the experience by selecting their own personalized in-room amenities, made with local ingredients.
Unico Hotel Riviera Maya will play host to experiential meetings, with an 11,600-square-foot ballroom, two breakout rooms and plenty of outdoor event space. To inspire spontaneity, impromptu pop-up programming will include a mescal-tasting cocktail hour in a nearby Mayan village, Mayan-style pibil's pit roast and full-moon parties on the beach. Groups are encouraged to participate en masse.
Rethinking the traditional butler concept, Unico will offer local host service for an insider's guide to the local scene. From restaurant reservations to exclusive bars, the local host provides VIP access in the surrounding areas. Most golf, spa, beauty and barber options are included with the overall luxury package.
Thompson Playa del Carmen
The Thompson offers a novel concept with two locations: the centrally located, lively 92-room Fifth Avenue Building in the heart of Playa's shopping and dining district, and the more intimate Beach House, located just a few blocks away.
The Beach House, inspired by a 1950s Mexican oasis esthetic, recently opened with 27 oceanfront rooms with private balconies, cabanas and ocean views. The bungalows are the perfect rental for small gatherings and team building.
The Fifth Avenue Building is a planner's delight, with a 30,000-square-foot rooftop playground complete with infinity pool, swim-up bars, panoramic ocean views, luxury cabanas and two restaurants including Catch, featuring an open kitchen and a sushi bar. Have the group book cooking classes with the chef and then celebrate with mezcal margaritas at sunset, just in time for the vibrant nightlife to heat up.
Or choose "dive-in" movies featuring classic films al fresco, dessert bonfires for making s'mores, and dancing under the stars with live salsa and jazz. A partnership with high-end tour operator Mexico Tropical enables groups to organize curated day trips to Tulum or Chichen Itza, and thereby go from the brand new to the revered past.
---
The New Jewel of the Riviera Maya
It's hard to compete with the plethora of high-end resorts strewn up and down Yucatan's Caribbean coast, but here comes the Andaz Mayakoba Resort Riviera Maya, one of the most eagerly anticipated hotel openings of next year.
The 213-room sustainable stunner is set to open in January. It will include 41 suites, nearly 7,000 sq. ft. of meeting space, three outdoor pools, four restaurants and a spa. The theme is effortless luxury and total relaxation.
The dining options reflect this mantra, where simplicity is key. Beachfront restaurant Olla Taco promises "elevated street food" to satisfy those taco cochinita pibil cravings without leaving the resort. Next door, Olla Ceviche will offer fresh seafood with a wide array of tequila and mescal.
Recognizing that visitors want to immerse themselves in Mexican food and culture, lauded local and visiting chefs will teach cooking classes at El Pueblito Cooking School. Among other unique offerings, the hotel will provide daily yoga classes and boat rides. Complimentary bike rentals will allow guests to take in the natural splendor by pedaling along freshwater canals filled with thick mangroves and an array of wildlife—from turtles to iguanas to birds—on the way to the beach.
The Mayakoba eco-resort complex is a supreme combination of understated luxury and dazzling natural beauty. Fairmont Mayakoba Riviera Maya, Banyan Tree Mayakoba and Rosewood Mayakoba form the most harmonious high-end resort on Riviera Maya. El Pueblito is the Mexican village reincarnate, a bustling center of activity and life. The verdant fairways of El Camaleon—the only PGA stop in Mexico—along with white sands and the azure waters of the Caribbean, flank them all. Andale!
---
Natalie Compagno is an avid traveler who has written for The Huffington Post, TravelAge West, Yahoo Travel and more.
---
Major Meeting Venues
Cancun
AM Resorts Secrets The Vine Cancun
All-inclusive; 497 smoke-free guest rooms; on the beach; five restaurants and three poolside bars; 17,000 sq. ft. of conference space; five meeting rooms; library.
Grand Fiesta Americana Coral Beach Cancun
Beachside location; 602 guest rooms; six restaurants; full-service spa; two-minute walk from Cancun International Convention Center; business center.
JW Marriott Cancun Resort & Spa

448 smoke-free guest rooms; situated on a beach; nine restaurants; three lounges; three outdoor pools; tennis court; 24-hour fitness center..
Nizuc Resort & Spa
274 guest rooms; on a private beach; six restaurants; three lounges; 8,234 sq. ft. of meeting space; seven meeting rooms; scuba, snorkeling, yoga, Pilates, kayaking.
Omni Cancun Hotel & Villas
All-inclusive; 347 smoke-free guest rooms; eight restaurants; seven meeting rooms; 12,500 sq. ft. of meeting space; full-service spa.
Paradisus Cancun
All-inclusive property; 525 guest rooms; marina; 10 restaurants; 24,692 sq. ft. of conference space; 10 meeting rooms; golf course.
The Grand at Moon Palace Cancun
All-inclusive resort; 1,316 guest rooms; 10 restaurants; 32,630 sq. ft. of conference space; six meeting rooms; golf course; nightclub; 24-hour fitness facility; full-service spa.
The Ritz-Carlton, Cancun
365 smoke-free guest rooms; 11,200-square-foot ballroom; seven meeting spaces; tailor-made banquet menus by the executive chef; only setting in Cancun for on-the-beach events with up to 700 guests.
Cozumel
Cozumel Palace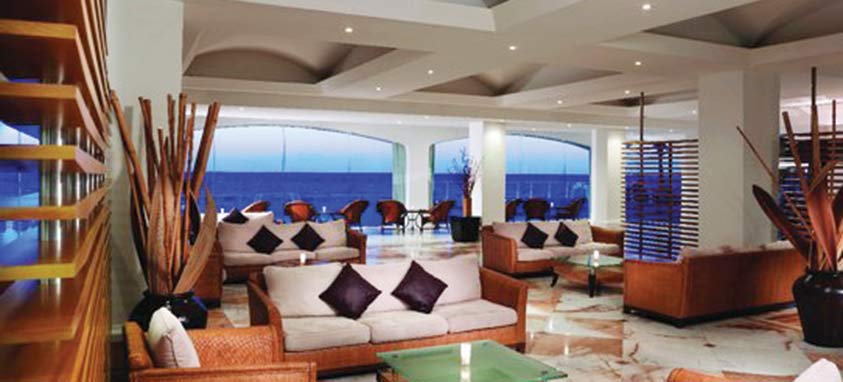 All-inclusive property; 169 guest rooms; full-service spa; four restaurants; three outdoor pools; business center; conference center.
Melia Cozumel Golf
All-inclusive; 140 guest rooms; unlimited golf; 2,000 sq. ft. of meeting space; three-minute walk to Cozumel Country Club and Golf Course.
Presidente InterContinental Cozumel Resort & Spa
220 guest rooms; on private beach; four restaurants; health club; spa; business center.
Secrets Aura Cozumel
All-inclusive resort; 266 guest rooms; three outdoor pools; five restaurants; indoor tennis; health club; spa.
Playa del Carmen/ Riviera Maya
Andaz Mayakoba Resort Riviera Maya
Scheduled to open in early 2017; 213 guest rooms, including 41 suites; 6,652 sq. ft. of indoor and outdoor meeting and event space; three outdoor pools; four restaurants serve fresh local cuisine; full-service spa and salon with hydrotherapy rooms; 24-hour fitness center with yoga studio; complimentary bicycle rental.
Banyan Tree Mayakoba
117 guest rooms; 5,622 sq. ft. of conference space; two free bikes per villa to use around the resort; private outdoor soaking tub for two.
Barcelo Maya Beach
All-inclusive; 630 guest rooms; situated on the beach; three restaurants and three bars/lounges; 12,109 sq. ft. of meeting space.
Fairmont Mayakoba Riviera Maya
401 guest rooms, including 34 suites; on a private beach; 40,000-square-foot conference space; 18 meeting rooms; 26,495 sq. ft. of indoor function space and 8,000-square-foot outdoor event lawn.
Grand Velas Riviera Maya
539 smoke-free guest rooms; located on a beach; eight restaurants, two beach bars; two indoor and three outdoor pools.
Hard Rock Hotel Riviera Maya
All-inclusive resort; 1,264 guest rooms; adults-only section features private beach, dining and clubs; 87,017 sq. ft. of meeting space; legendary Rock Spa has 75 treatment rooms; 11 dining options.
Iberostar Grand Hotel Paraiso
All-inclusive; 310 fully equipped suites; four restaurants, five bars; 24-hour room service; 15,000 sq. ft. of meeting space.
Paradisus Playa del Carmen La Perla
All-inclusive property; 394 guest rooms; free Wi-Fi; 25,000-square-foot conference space; 14 meeting rooms; 14 restaurants; 11 bars/lounges; Pilates; snorkeling; volleyball.
Rosewood Mayakoba
130 deluxe guest rooms; 2,615 sq. ft. of indoor space accommodates up to 100 people for meetings and 140 guests for events; outdoor events can be hosted on terraces, tropical garden lawns and the beach.
Thompson Playa del Carmen
92 rooms at the Main Hotel; 27 rooms at the Beach House; midcentury decor; 30,000-square-foot rooftop events space for groups and parties; Catch seafood restaurant.
Unico Hotel Riviera Maya
448 guest rooms, including 40 suites; 16,000 sq. ft. of meeting space; local host service; culturally inspired activities.