Where groups can take refuge with luxury lodging, spas and fine dining
Lighthouse at Montauk point, Long Island
No one can deny that New York City is a great place to meet, yet it's the City that Doesn't Sleep for a reason. Its energy level never gets dialed down, the hurly-burly never stops. Sometimes, for incentives and business meetings that will benefit from an absence of urban distractions, alternative venues are needed. On such occasions, take your cue from New Yorkers themselves, who long ago discovered the perfect antidotes to their own city's go-go clamor.
These refuges are nearby. They are beautiful. They are tranquil. And, increasingly, they offer groups not only a unique ambiance, but also a luxury experience that rivals the fabled Oz of endless skyscrapers and bespoke indulgence. We refer, of course, to Long Island and Westchester County.
Long island
Lodging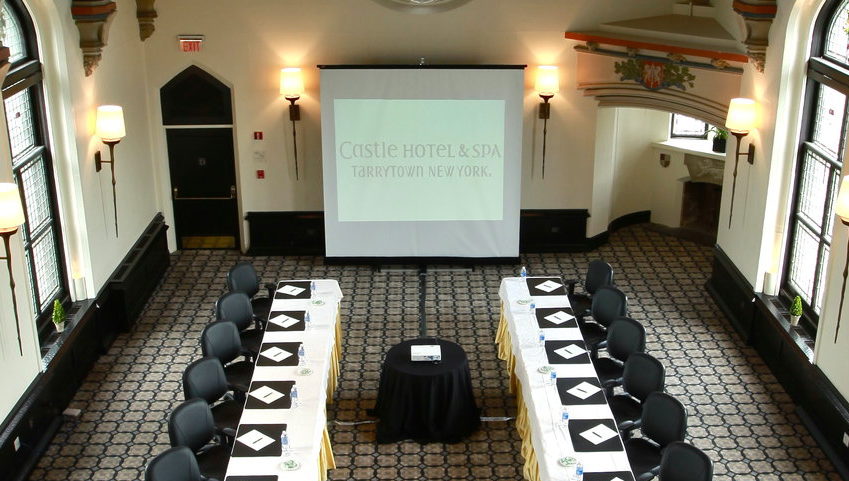 Think The Great Gatsby. Oheka Castle, in Huntington, sits majestically on the highest point of Long Island, and has since 1919, when this palatial residence was built by Otto Hermann Kahn, a financier and patron of the arts. A member of Historic Hotels of America, the castle features 32 luxurious guest rooms and suites that evoke a visit to a royal's country estate. You can reimagine the Roaring Twenties in its function rooms, which accommodate 10 to 400 attendees and include a hardwood-floored grand ballroom of 2,380 sq. ft; or take the party outside to the estate's 23 acres of formal gardens and lawns.
In Bridgehampton, Topping Rose House is the Hamptons' first full-service luxury hotel. This artfully restored 1842 Greek-revival mansion offers 22 guest rooms (including freestanding cottage suites). Meeting spaces include the Barn, a restored vestige of the original property that seats 60 for lunch or dinner, and up to 100 for a standing reception; and the Studio, a modern venue with cutting-edge tech and floor-to-ceiling windows that fits 60 to 150 overlooking the pool and Topping Rose Orchard. Also available are the Restaurant and the Roofdeck for small gatherings with panoramic views.
Gurney's Montauk Resort, a Hamptons landmark, is a year-round property that presides over a 2,000-foot-long private sand beach. Limitless ocean views can be had from its 146 guest rooms, suites and oceanfront cottages, and there are over 25,000 sq. ft. of meeting and banquet space. In warm weather, attendees won't want to miss North America's only seawater-fed swimming pool.
Shelter Island, at the eastern end of Long Island, is a 10-minute ferry ride from the mainland, which makes the arrival experience indelible. The island is a haven for boutique hotels and quaint bed-and-breakfasts, but its most distinctive property is The Chequit, named by Fodor's Travel as one of the 15 best hotels in the United States. The 1872 inn has been rejuvenated since being acquired by the owners of Provincetown, Massachusetts' award-winning Salt House Inn, and features classic black shutters, clawfoot tubs, and a palette of blues and pinks. It has 37 renovated guest rooms with hardwood floors and a bright, beachy vibe. A pair of light-filled meeting spaces off the lobby is available year-round and together total 770 sq. ft.
Spas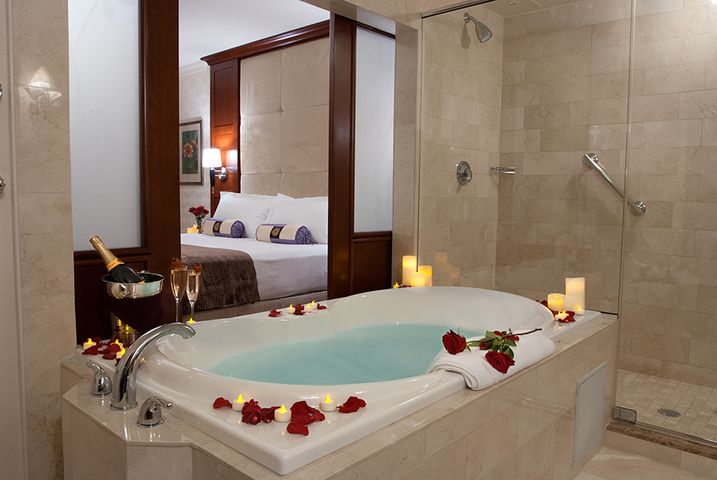 The spa at stylish Viana Hotel & Spa in Westbury is rated among the best on Long Island. And this luxury boutique hotel itself is both green-built and feng shui-based for "increased harmony and an enhanced sense of vitality and joy," says its website. Spa treatments include reiki and organic spray tan, as well as aromatherapy, salt scrubs and an earth-and-sea mud wrap. The hotel has 116 guest rooms, a private boardroom and a 1,700-square-foot banquet space that can handle up to 95 guests.
The spa at Gurney's Montauk Resort boasts more than the aforementioned seawater pool. Other traditional European spa amenities include a Roman bath, a Finnish-style rock sauna, a Russian steam room (120 degrees Fahrenheit, 100 percent humidity) and a Swiss shower. A full range of body therapies and treatments is offered.
Oheka Castle has yet to add a full-fledged spa, but while your attendees luxuriate in the property's many other charms, be sure to suggest scheduling an in-room massage.
Cuisine
Chefs are escaping New York City and its unrelenting battle for dining supremacy in favor of the more relaxed rivalry of the seaside and bucolic settings of Long Island. The best can compete anywhere and rely heavily on market-driven ingredients—most especially fresh Long Island seafood.
Celebrity chefs have discovered Long Island, too. Notably, Jean-Georges at Topping Rose House has joined the global empire of chef Jean-George Vongerichten, using produce grown on the property's 1-acre farm and the bounty of local fishermen and farmers. Buyouts include outdoor patio seating, and the Barn for private dining.
In East Hampton, The 1770 House is an elegant and delicious choice under the direction of chef Michael Rozzi. Dishes to savor might include spicy Montauk fluke tartare, seared Hudson Valley foie gras with pineapple chutney, and Atlantic cod with Marcona almond emulsion and Jerusalem artichokes. The inn itself reeks of colonial-era charm and offers six guest rooms and a two-story, two-bedroom carriage house, all with Frette linens.
Preston House & Hotel, a four-story boutique hotel in Riverhead in a restored 1905 home, opened in 2018. Its beachy restaurant with scenic outdoor seating and an inviting porch is a seafood-lover's dream catch. As in Peeko oysters with pickled ramp mignonette; sea bream crudo with serrano chili, dried black olive, yuzu and mint; and a "Down East-style" chowder with local clams. The kitchen also has a way with Long Island duck and premium steaks. The boutique hotel has 20 upscale guest rooms and suites, as well as a trio of event spaces for up to 40 guests.
Since 1996, the lovely country restaurant known as Stone Creek Inn in East Quogue has been helmed by chef Christian Mir, a native of southwest France and former chef de cuisine at Grand Tier at the Metropolitan Opera, and his wife, Elaine Digiacomo, a fellow cook. The menu is based on a style of cooking known as cuisine du marche (cooking with local produce). Seasonal preparations might feature the likes of Lobster Friscasee in a ginger lemongrass broth, Potato Gnocchi with local mushroom ragu and truffle, and Long Island Duck Meatballs in apple cider reduction. It is a local favorite for private events and group dinners.
Westchester county
Lodging
Since 1869, Victorian castle resort Mohonk Mountain House has presided over Mohonk Lake in New Paltz, surrounded by 40,000 acres of Hudson Valley forest. It's only 90 miles north of Manhattan, yet many worlds apart. The resort's original mission was to offer renewal of body, mind and spirit in a beautiful natural setting, and it has succeeded admirably through the decades. Options for recreation by the season range from ice skating and snowshoeing to fishing, golf and archery.
The resort offers 259 guest rooms, and its 14 meeting rooms range from a Victorian parlor to wood-paneled studies. A new option for private executive retreats is handsome, eco-friendly Grove Lodge, situated in a fern grove within an easy walk of the main resort; it has six guest rooms and the impressive Great Room, with a stone fireplace.
In the lower Hudson Valley, Castle Hotel & Spa is a fairytale Old World vision overlooking the Hudson River in Tarrytown. It sits on 10 tranquil, wooded acres and was built by a denizen of Westchester and New York City society, General Howard Carroll, from 1897 to 1910. It's reminiscent of a Norman fortification you might encounter in Wales, Scotland and Ireland.
The property features 31 guest rooms and suites as well as 4,100 sq. ft. of meeting space, the most spectacular of which is the 1,500-square-foot Great Hall, with its 40-foot vaulted ceilings, original Gothic windows and heraldic motifs. Caramai Ballroom has graceful crystal chandeliers, artistic moldings and other fine accents. More intimate gatherings are perfect for the Library, which features burnished mahogany bookcases and a dramatic panel ceiling.
Another embodiment of the Gilded Age can be found nearby. Tarrytown House Estate, also along the Hudson, is comprised of 19th-century mansions and a contemporary, IACC-certified conference center.
The estate has 212 guest rooms and 30,000 sq. ft. of meeting space, as well as the option to rent out the entire King Mansion, with its 10 Georgian-era guest rooms. Curated team-building activities range from Murder Mystery, where teams compete to investigate a "crime scene," to outdoor adventures, such as hiking, kayaking and a scavenger hunt on the estate's 26 acres of rolling landscape.
Spas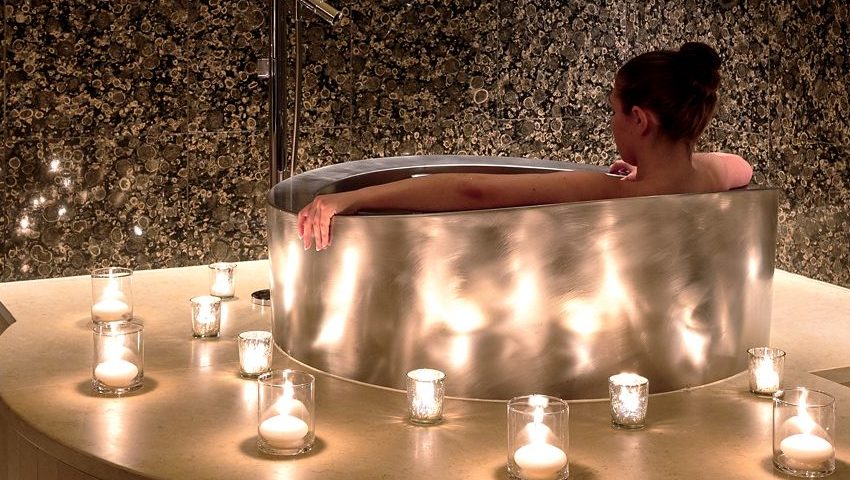 The 8,000-square-foot Sankara Spa is an oasis within the oasis that is Castle Hotel & Spa. A simple, yet sophisticated, design features stone walls and floor-to-ceiling glass looking out onto a sheltered interior courtyard. A full menu of treatments to induce physical and mental wellness includes a signature massage that uses palm strokes, thumb pressure and traditional techniques to relieve and heal muscular pains. A detoxifying Matcha Facial protects skin against sun damage and aging.
With the area's largest destination spa, The Ritz-Carlton New York, Westchester always appears on "best Westchester spa" lists. Its luxury pampering includes Synergy Spa Salon, for a full suite of beauty services; wellness treatments using seasonal ingredients; Japanese soaking tubs; and a rooftop indoor heated pool. The hotel amply reflects the upscale ambience of its brand, with 146 well-appointed guest rooms and more than 26,000 sq. ft. of meeting space, plus private event space at Kanopi, located on the 42nd floor.
In-room massage is the ultimate indulgence at Tarrytown House Estate, or it can be enjoyed in a dedicated massage room. In addition to the standard repertoire, other massage options for bliss and relaxation are designed to promote prenatal, sports and sleep health.
Cuisine
Fine dining rivalling any U.S. city can be found in Westchester, and the restaurant that sets the pace is Blue Hill at Stone Barns, in Tarrytown, where the hyper-local dining includes a tour of the grounds where ingredients for the daily menu are gathered. Blue Hill is within an 80-acre working farm and education center—Stone Barns Center for Food & Agriculture—and its creator, Dan Barber, has been called an "experimental food activist." There are no menus; instead, guests are served a multitaste feast with themes such as "Wild Things" and "Root Cellar." A private dining room with views to the herb garden seats 14 guests, and events on the grounds can host up to 260 people.
Superstar chefs Anthony Bourdain and Marcus Samuelsson are among luminaries who have graduated from The Culinary Institute of America (CIA) in Hyde Park, and dining at its acclaimed The Bocuse Restaurant—named for France's most famous chef—is a breathtaking experience. The restaurant is elegant and sleek. The service and presentation are polished. The menu provides a culinary journey through France, utilizing the latest cooking techniques, prepared and served by student-chefs overseen by CIA instructors. Private dining is offered for groups of 10 to 50 people, or you can do a buyout of the entire restaurant.
North Salem's Purdy's Farmer & the Fish is set on a picturesque 18th-century homestead where 4 acres are farmed without chemicals (fertilizer is made with seaweed and left-over fish parts), and the harvest goes straight to the kitchen. There's a farm shop next to the restaurant, where honey harvested on the premises is sold, along with just-picked fruits and veggies.
A Purdy's co-owner has a wholesale fish business, so East Coast seafood stars on the menu. Think Spinney Creek Steamers—local clams in white wine and spices—and New England Pan Roast, with codfish, shrimp, clams and scallops. Farmer & the Fish does group events on and off premises, large or small. It will even help source a local barn or other event space. Classic BBQ, Lobster Boil and Pig Roast menus are available.