Sponsored by Visit Marina del Rey
A closer look at some of the area's vibrant live-performance venues
Greater Los Angeles is the second-largest urban region in the United States. The Los Angeles metropolitan area and the County of Los Angeles are two of its largest areas, with the County of Los Angeles being the most populous county in the United States. It's no wonder, then, the area is rife with diverse attractions and activities—from popular sites such as Universal Studios and Disneyland to numerous museums and historical interests, many thousands of miles of parks and beaches—and perhaps most famously, a rich and powerful niche in the world of entertainment.
Los Angeles
Los Angeles might be best-known for its legendary film and television history, celebrity homes and Hollywood glitz, but the city also has a long and storied musical past, and its live music and performing arts scene continues to thrive. Many of its glorious, historic theaters have been revived and are still in use, and it has its share of hotels with storied pasts.
Spaces to Sing About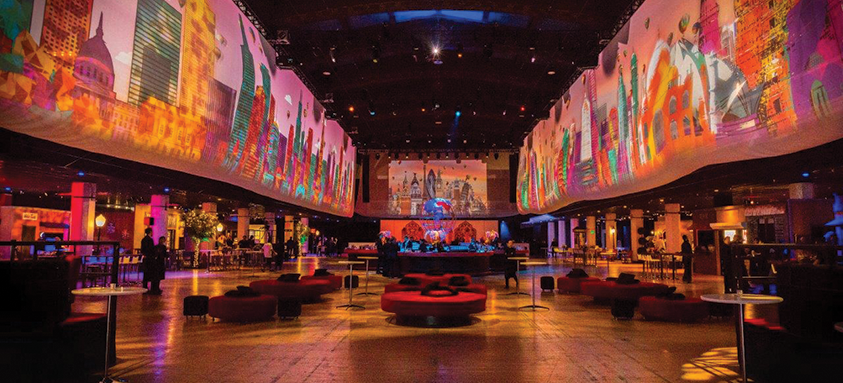 Shrine Auditorium (full name Al Malaikah Shriners Ancient Arabic Orders Mystic Shrine), a Los Angeles Historic-Cultural Monument, has many stories to tell. Built in 1906 by Al Malaikah Shriners as their home base and clubhouse, as well as a civic center, the original auditorium was destroyed by fire in 1920. A new building, complete with an expo hall, opened six years later as Shrine Auditorium and Expo Hall, and became the center of entertainment in Los Angeles. A seating capacity of 6,300 made it the largest theater in the United States at the time.
The Shrine was a movie theater for a short while, and over the years, it has hosted innumerable events, such as the Academy Awards, American Music Awards and Grammys—and it has acting cred. The venue's interesting architecture made it a favorite filming location for a time, most famously as a stand-in for New York's Hippodrome Theater in the 1933 production of King Kong.
Scores of notable performers, including Elvis, the Grateful Dead, Puff Daddy, Bruce Springsteen, Velvet Underground, Jimi Hendrix, Ray Charles and Frank Sinatra—who made his last televised appearance there on this 80th birthday—have graced its stage through the years. It's also the site where Michael Jackson's hair notoriously caught fire during the filming of a commercial in the 1980s.
Still one of the largest theaters in North America, the theater at Shrine Auditorium houses 6,300 people total and features four opera boxes, an orchestra pit, dressing rooms, state-of-the-art sound and lighting, and the largest proscenium-style stage in North America.
The adjacent expo hall—billed as one of the most versatile venues in North America—provides an additional 54,000 sq. ft. of flexible, bilevel event space for 5,000 standing and 2,200 seated. Even more room can be found outside: The palm-tree lined space holds up to 8,000 and features a red-carpet area—perfect for attendees who are ready for their close-ups.
Smaller groups will fit right in at Fonda Theater, which tells a classic Hollywood tale of glamorous beginnings, decline, reinvention and a stellar comeback. Originally known as Carter De Haven's Music Box, the venue opened in the Roaring '20s as one of Hollywood's first legitimate theaters. It presented revues, musicals and plays (and was used as a broadcasting studio in 1936) for two decades. After a long period as a movie theater (1945–1977) under several owners and names, the venue closed until 1985, when it reopened as Fonda Theater (after actor Henry Fonda) for live productions such as Glengarry Glen Ross and Driving Miss Daisy.
Restored to its original Spanish Style Splendor in the early 2000s, the Fonda's most recent incarnation hearkens back to its roots as a live entertainment venue, selling out concerts for a variety of performers, such as The Rolling Stones, Pearl Jam, Stevie Wonder, Black Eyed Peas, Radiohead and Alabama Shakes.
The 31,000-square-foot theater also serves as a meeting and event space for up to 1,200 people (630 theater seating, 306 banquet style; 250 in the rooftop lounge; and 155 standing balcony). Features include a professional quality stage, sound and lighting, a private VIP balcony with bar, a grand ballroom, two dressing rooms and a customizable marquee to make your event shine.
Another stunning relic of the 1920s is the newly rediscovered Belasco Theater, a Los Angeles Historic-Cultural Monument. Founded in 1904 and built as a legitimate playhouse, the Belasco officially opened in 1926 with the stage production of Anita Loo's comedy, Gentlemen Prefer Blondes. It has a colorful and diverse history as a burlesque theater, performing arts center, playhouse, church and a backdrop for films (such as Swordfish and Memoirs of a Geisha), television shows and celebrity events. Humphrey Bogart graced the stage in its heyday.
Now primarily a live music venue and nightclub, the Belasco hosts music acts such as The Head and the Heart, Doug E. Fresh, Blues Traveler, Coldplay, Imagine Dragons and Ginuwine.
The Belasco offers groups plenty of room options. The main theater can accommodate 1,500 standing and 900 seated (including balcony), and it provides a reconfigurable stage and full sound and lighting capabilities. It also boasts the largest sound system in Southern California, three bars, reconfigurable booths and two separate patios. The ballroom, with its own private entrance, is anchored by a 218.5-square-foot stage and offers a dance floor. It accommodates 500 standing and 300 seated.
Paying homage to its speakeasy past, the basement lounge features its own dance floor, an elevated stage, a fully accessible bar and a storied bridge. It can accommodate up to 250 seated and 500 standing. Intimate groups of up to 100 can cozy up in the Vintage Bar and Lounge. Complete with its own private entrance, it offers a two-story bar, three plasma-screen televisions and a second-story mezzanine lounge for extra seating.
Classic Hotels and Up-and-Coming Hot Spots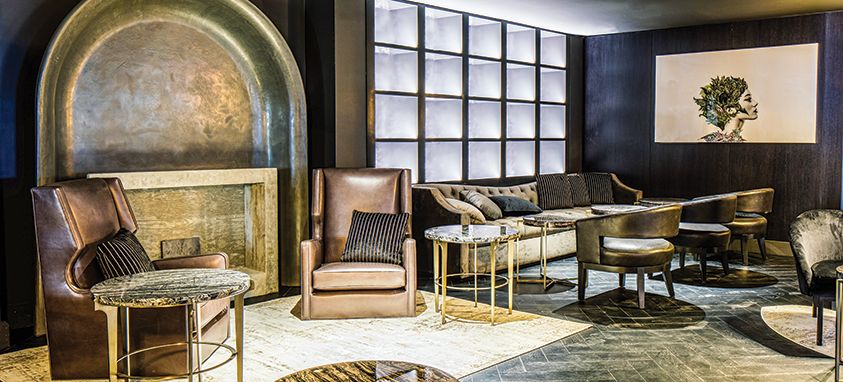 If walls could talk, the Highland Gardens Hotel would probably have a lot to say. Located just off Hollywood Boulevard, the family-owned, boutique hotel was designed and built in the 1950s for entertainers and Hollywood celebrities, as well as visitors. Its 70 rooms and suites have seen their share of legends, such as members of the Rat Pack, Siegfried and Roy, and The Moody Blues. Also, 1970s up-and-coming rock stars such as Jimi Hendrix, Jim Morrison, Janis Joplin and Jefferson Airplane made it their second home when it was Landmark Motor Hotel. Of all its many stories, Joplin's probably is its most well-known—she died in room 105.
Another hotel with a storied background, Mayfair Hotel, located in Westlake, was transformed in 2018 with a four-year, multimillion-dollar makeover. The new look and feel pays respect to its Jazz-Age origins, when it hosted the after-party for the first Academy Awards. It exudes old-Hollywood glamour, including a secret, speakeasy-style bar. Rotating art, a communal writing room and a calendar of varied musical events lend a creative feel. Guest rooms include one- and two-bedroom accommodations, as well as studios, suites, penthouses, and "loft" bedrooms, which have queen-size Murphy beds.
A short walk to Los Angeles Convention Center, The Mayfair welcomes groups. It offers flexible meeting space, including two boardrooms and a historic ballroom that can be configured to suit your event. The Garden Gallery seats 28 and the cozy Library Bar (with piano) can be rented to small groups. The property also has a private, glass-enclosed patio for intimate gatherings and a podcast room for groups who want to record. A new pool terrace and fitness center are on the way.
Downtown Los Angeles has been transforming in recent years, and several new hotels have been popping up in the new "place to be." One such property, Firehouse Hotel, opened in April. Originally built in 1927, it operated as a firehouse until 1980, when it was decommissioned. The distinctive, boutique hotel offers nine uniquely styled rooms, each named after a different color.
At 8,800 sq. ft., it is well-suited for small groups, but can accommodate larger groups on the extensive covered patio, which runs the length of the building. A private dining room, formerly the firemen's handball court, seats 28 for dinner and hosts 60 people standing. Groups of 35 can enjoy the Southern California weather on the fire pit patio, which can be combined with the bar to hold an additional 50 people.
Several new properties are slated to open during the next year, including Proper Hospitality, which plans to debut this fall at the site of Case Hotel. The 13-story hotel is located on Broadway Corridor and was originally built in 1924. The luxury property will have 148 guest rooms and suites, a historic library lounge and event venue, a rooftop pool with deck and cabanas, as well as a restaurant-bar-lounge; two destination restaurants, and 14,000 sq. ft. of meeting and event space.
Keep your eyes peeled for AccorHotels' Fairmont Century Plaza, due to open at the site of the landmark Century Plaza Hotel in Century City in 2020. The redeveloped five-star property will boast 400 guest rooms and 63 luxury residences, a swanky rooftop pool, a world-class 14,000-square-foot spa, shops, a 24-hour fitness center and 23,542 sq. ft. of highly flexible, indoor function space.
Pasadena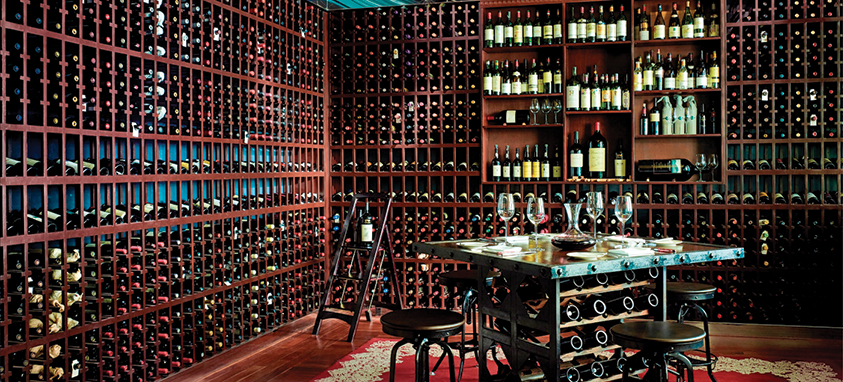 Pasadena is perhaps most widely known for the Tournament of Roses, which includes the famous Rose Parade and Rose Bowl football game, but the City of Roses—located approximately 10 miles northeast of downtown Los Angeles—also offers myriad cultural institutions and events. Year-round festivals, concerts, Pasadena Symphony and Pops, and a lively performing arts scene add to the city's vibrancy.
Spaces to Sing About
Built in 1932 and listed on the National Register of Historic Places, Pasadena Civic Auditorium has welcomed millions of patrons across Southern California and beyond for nearly a century. Inspired by Mediterranean Revival architecture, the 2,997-seat theater has appeared in films and television shows (Alias, NCIS, American Idol, America's Got Talent), hosted entertainment awards and presented many Broadway musicals, ballet performances, symphony orchestras and concerts. Michael Jackson debuted the "moonwalk" there in 1983.
Planners will find multiple meeting space options at The Civic. The main floor has 1,880 fixed seats with 98 installable orchestra pit seats, while the loge seats 560 and the upper balcony can accommodate 459, for a total capacity of 2,997. The Gold Room on the second floor can host up to 300 guests for smaller meetings or dinner parties. The 17,000-square-foot historic exhibition hall, home to Pasadena Ice Skating Center from 1976 to 2011, was renovated and reopened as an exhibition space in 2014. It maintains its classic architecture, mixed with modern amenities.
The infamous Rose Bowl, well-known for its annual football game, isn't just for sports events. Music fans flock to the venue to watch superstars such as Taylor Swift, U2, Beyonce, Jay-Z and The Rolling Stones perform. Music festivals, such as the annual Arroyo Seco Weekend and the brand-new, upcoming Pasadena Daydream, a one-day music festival headlined by The Cure (Aug. 31), set up camp there every year.
It's also a perfect place for meetings and events. With 10 acres of indoor and outdoor space, there is no shortage of room inside and out for groups large, small or in between. Indoors, the luxurious Loge Lounge and well-appointed Club Lounge provide expansive views, and the 32,000 square foot indoor-outdoor Blue Moon Club can hold up to 1,000 people. Press boxes, suites and even locker rooms offer more room inside, while a rose garden, wine garden, golf course, open green and the stadium field itself provide a breath of fresh air.
Smaller groups looking for a more contemporary space will find it at Boston Court Performing Arts Center. The sophisticated, modern facility was born in 2003 from philanthropist Z. Clark Branson's desire to give back to the Pasadena community, which fostered his lifelong love of the arts. It presents more than 100 theatrical and musical performances per year, as well as rotating visual art exhibits to complement its theatrical and musical presentations. According to Visit Pasadena, the center is "dedicated to creating and presenting works that are innovative, diverse, vital and adventurous in an intimate setting."
Groups can make use of the main stage, which seats 99 people theater-style and includes state-of-the-art audiovisual equipment, or flexible Branson Performance Space, which holds 80 seated, concert style or 100-plus, standing. The light-filled lobby is an ideal setting for pre-event cocktails, breakouts and lunches.
Classic Hotels and Up-and-Coming Hot Spots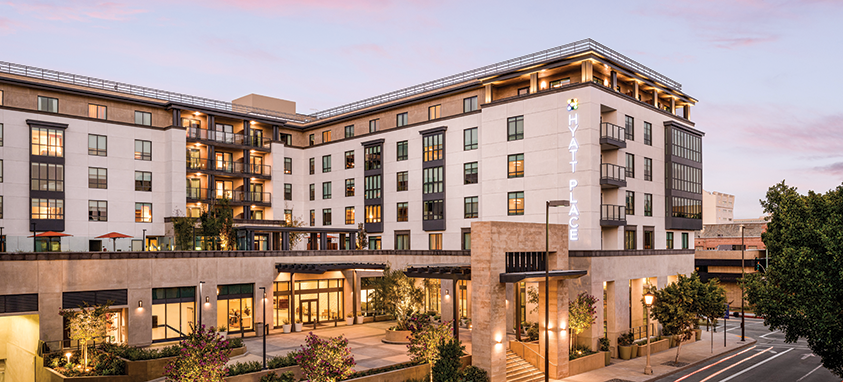 The Langham Huntington, a historic property originally opened in 1907 by a Civil War veteran, has weathered many changes in its 112 years in operation. It's had eight names and several owners, survived numerous renovations and demolitions, and appeared in more than a dozen films and television shows, including The Parent Trap and Murder, She Wrote.
The iconic landmark remains stately and graceful, despite the storms. It maintains the splendor of its glory days through its 379 classically furnished guest rooms, 38 suites, eight private cottages and two-bedroom, two-story penthouse suite. Large groups can spread out in the 50,000 sq. ft. of indoor and outdoor meeting space, featuring 21 elegantly decorated meeting rooms, an 11,220-square-foot ballroom and lush gardens. Attendees can enjoy live music while networking over cocktails and bites in the stylish Tap Room.
After undergoing a series of multimillion-dollar renovations, Hotel Constance Pasadena, located on historic Route 66 in the central business district, unveiled 30 brand new rooms, a rooftop pool and bar, new meeting space and a fitness center, in April. The lifestyle boutique hotel is a perfect blend of classic elegance and modern sophistication. Its exterior has been carefully restored in keeping with the original 1926 design, while the interior has been transformed to an ultra-modern look and feel, giving it a clean, charming appeal.
Groups can enjoy Pasadena's beautiful weather from the new rooftop pool and bar, adjacent to naturally lit meeting rooms. Two boardrooms—295 sq. ft. and 305 sq. ft.—can each seat 10. Three flexible spaces are available for groups of 25 to 200, depending on room and configuration. The hotel is within walking distance of shopping, restaurants and myriad cultural interests.
Hyatt Place Pasadena opened in December 2018. The 189-room hotel features a casual atmosphere and enhanced food-and-beverage options. Located in the heart of downtown, it is walking distance to Old Town Pasadena and Pasadena Convention Center, with many shops, restaurants and entertainment options from which to choose.
Spacious guest rooms and suites provide separate spaces to sleep, work and play, so they feel like small apartments; 28 offer city views. Three separate, flexible meeting spaces totaling 2,814 sq. ft. can accommodate up to 60 people total. Daily breakfast, a 24/7 market, a 24-hour gym, a business center and a heated outdoor pool provide plenty of extras.
Soul-Soothing Marina Del Rey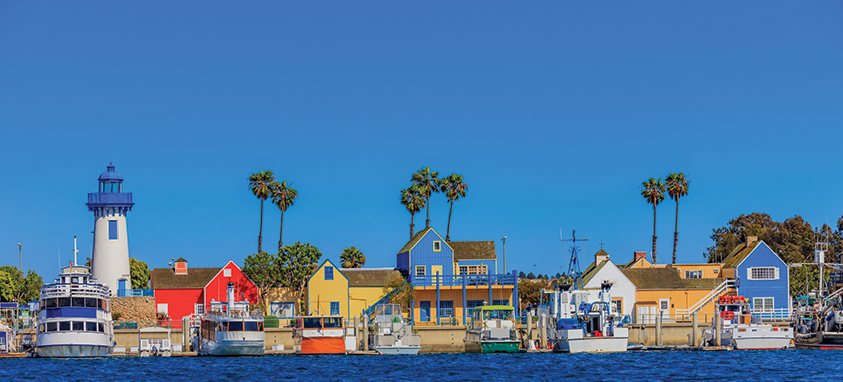 Marina del Rey is home to North America's largest man-made, small-craft harbor. Bound on all sides by the city of Los Angeles, the seaside haven is a recreational respite for active visitors and outdoor enthusiasts.
It is popular for its water-based activities, such as paddleboarding, kayaking, cruises and yacht charters, as well as its beach. Marina Del Rey has its share of restaurants, nightlife and entertainment off the water. Here are a few places for groups to nosh and imbibe, away from the hustle and bustle, while taking in some tunes.
Family-owned The Warehouse Restaurant opened in 1969. Owing to its location, the building is framed by real wharf posts, and is composed largely of wine and whiskey barrels, shipping crates, nautical rigging, fishing nets and weathered lumber from abandoned shipyards.
​Located waterside, The Warehouse is known for its beautiful marina views and great people-watching. Famous for its steaks, it also serves a variety of seafood dishes, pizza and pasta. The restaurant can accommodate 497 people, and large groups are welcome, so it's a great spot for lunch meetings, post-meeting happy hours, dinners and networking while catching the sunset. A variety of live musical acts performs at least four days a week.
Award-winning Sinder Lounge at the Marina del Rey Marriott exudes a relaxed, SoCal, coastal vibe in a sleek, contemporary style overlooking the water. The varied, all-day menu features California cuisine and includes small plates as well as full entrees, such as skirt steak tacos and grilled salmon. It's ideal for relaxed breakfasts, lunch meetings, or pre- or post-event mingling, as well as for sipping craft cocktails outside by the fire at the end of a long meeting day. Live music—from jazz to acoustic guitar, small ensembles and piano—can be heard Friday nights in the lobby.
A standout among bar-and-grills, Marina Bar and Grill at the Hilton Garden Inn dishes out fresh California fare influenced by the flavors of Mexico. Dinner specialties include a stuffed hamburger and blackened Mahi and the varied breakfast menu features steak rancheros and a breakfast burger. Attendees can get together in the lounge for a lively happy hour break and then relax by the fire on the patio for a meeting wrap-up. Friday nights feature live music.