Divers in Riviera Maya
Mexico's East Coast is an amazing outdoor playground
The eastern coast of Mexico, with its warm climate, fabulous beaches and many amenities, is a world-renowned hot spot for meetings and tourism. Many groups hold their gatherings in the Cancun area, which was built for tourism, but an increasing number have been gravitating elsewhere along this beautiful coastline, including Riviera Maya, which extends some 100 miles from Punta Brava, just below Cancun, to Punta Allen.
Cancun, Playa del Carmen, Cozumel and Tulum and the newly developing Playa Mujeres—all in the state of Quintana Roo—offer outstanding beaches, hotels, restaurants and meeting spaces. They also feature outdoor activities galore, including a vast array of water sports, including swimming, snorkeling, scuba diving, ziplining, kayaking, hiking, parasailing, jet skiing and wind surfing. Other allures are hiking and visiting stunning natural land attractions. These activities are available through local tourism specialists, and many also are either available at (and can be arranged off-site by) properties where groups stay and meet.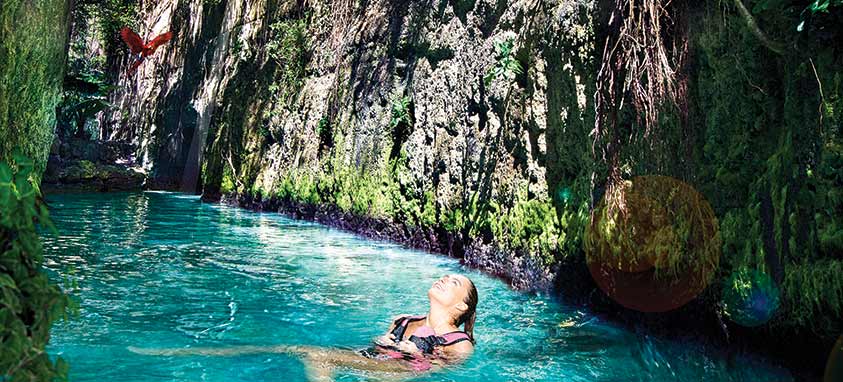 Experiencias Xcaret Group is a leader in offering exciting adventures in the area. In 1984, architect Miguel Quintana Pali acquired a large tract of land in Riviera Maya to build his home. While clearing the site, he discovered that it was riddled with limestone pits called cenotes and underground rivers. He changed his plans.
In association with the Constandse brothers—Oscar, Marcos and Carlos—Quintana Pali created a park where everybody could enjoy the natural beauties of the region. Since Xcaret (pronounced Sh-car-ret) opened in 1990, it has been a main attraction in the Cancun-Riviera Maya area. Experiencias Xcaret Group subsequently opened additional theme parks in the area—Xoximilco, Xenotes Oasis Maya, Xplor, Xenses and Xel-Ha. The company has been at the forefront of socially responsible, sustainable recreational tourism.
While there is considerable overlap in the activities offered in Quintana Roo's cities and towns, they offer distinctly different vibes, ranging from the busyness and luxury of Cancun to the slow pace and hipster style found in Tulum. These differences are readily apparent to visitors, so planners need to find the location most suitable to their group.
Here's a rundown of some of the top outdoor adventures and lodging/meeting places for groups traveling to Mexico's East Coast.
Cancun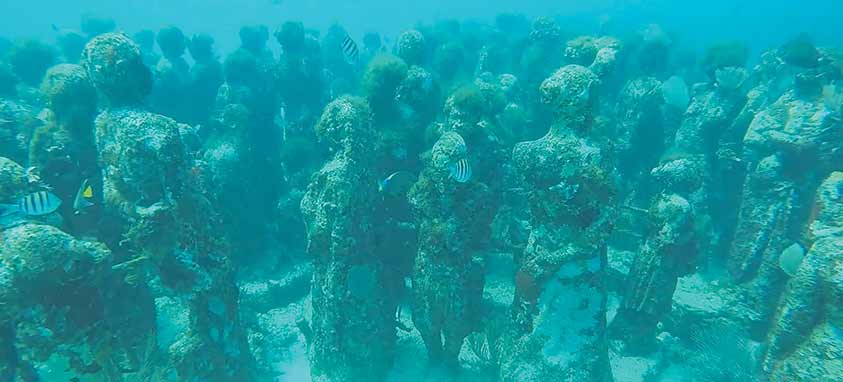 When planners think of Cancun, they typically envision miles of luxury resorts packed between the lagoon and Caribbean Sea that feature high-end restaurants, sugar-sand beaches and exciting nightlife. The "other" Cancun is a bustling Mexican hub packed with markets, authentic taco joints and clubs spinning salsa and reggaeton. The beaches and hotels offer plenty of water sports, and a great variety of other outdoor options are also available.
Thrilling Outdoor Adventures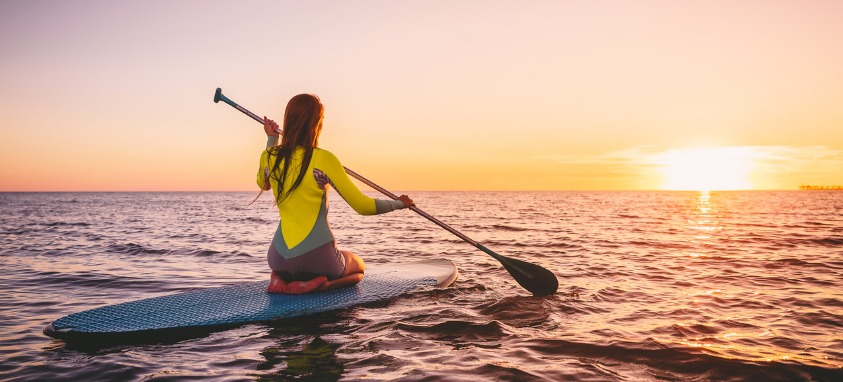 Cancun boasts more than 25 water sports centers, all of which use environmentally sensitive technology to protect the environment by minimizing fuel-related contamination. Aquaworld Cancun, a PADI Dive Center that provides scuba classes, also offers fishing excursions, dive trips and other water sports and activities, including swimming with dolphins. Day trips to nearby Isla Mujeres are very popular and fun. During the summer, when whale sharks migrate to the waters north of Cancun, tours offers groups a chance to swim in the open sea with these gentle giants. Groups can also enjoy The Skyrider, featuring Aquaworld's version of parasailing.
Groups can experience the magical underwater world of the Great Mesoamerican Reef—the second-largest coral barrier in the world—during snorkeling trips, which are offered by many tour operators. Because the reefs are shallow, snorkeling in Cancun is the perfect alternative to scuba diving. Snorkelers can enjoy the beauty of the reefs close-up and are treated to breathtaking views of amazing corals and vividly colored fish.
Sailing is the best way to explore the turquoise-blue waters around Cancun. Groups can take a trip organized by a local tour operator or choose to charter a sailboat or catamaran. Sunset and booze cruises are among the available outings.
In 2009, Museo Subacuatico de Arte (Underwater Museum of Art), the largest underwater museum of contemporary art of its type, was created in the Mexican Caribbean. Groups can take a tour in a glassbottom boat and see museum pieces such as Icebreaker and The Speaker, as well as a fragment of the coral barrier. Turtles, angel fish, parakeet fish and elkhorn coral are some of the wonders that can be enjoyed on the tour. Certified divers and future divers are allowed to enter the underwater museum after taking a class.
In Xoximilco Park, less than a half-hour drive south of Cancun, groups board colorful Mexican gondolas on which they enjoy a Mexican fiesta featuring traditional music, food and other cultural highlights. Private events and tours can be arranged.
Unlike the other offerings from Experiencias Xcaret, Xenotes Oasis Maya is an experience, not a park. It is a tour that includes stops at four different cenotes along Ruta de los Cenotes, a road that stretches inland from Puerto Morelos (south of Cancun) and connects many cenotes. During the tour, groups have an opportunity to zipline, kayak, swim, snorkel and rappel into cenotes.
Fabulous Properties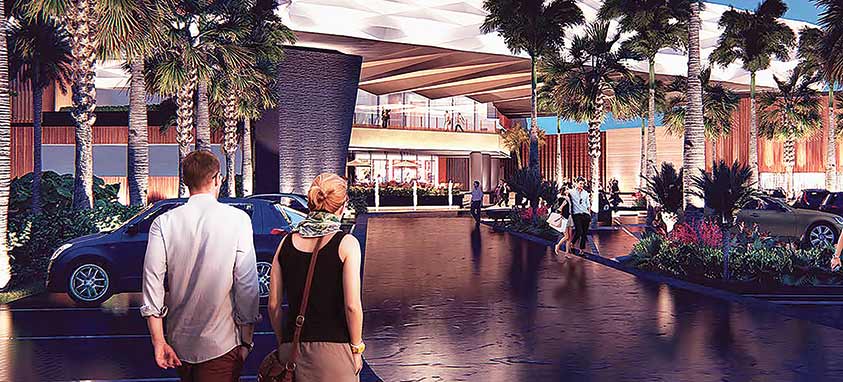 Many of Quintana Roo's leading resorts, hotels and other meeting places are in Cancun.
Cancun International Convention Center, a 20-minute drive from Cancun International Airport (CUN), provides 152,847 sq. ft. of meeting space. It is surrounded by 4,000 hotel rooms, restaurants and white-sand beaches.
Boasting a Mexican spirit and a Mayan soul, Nizuc Resort & Spa* in Nizuc has 274 guest rooms, six restaurants and the first Espa-branded spa in the Mexican Caribbean. It also offers pool activities, snorkeling, paddleboarding, kayaking, a yacht excursion, tennis and yoga. The resort boasts 11,600 sq. ft. of meeting space that includes an artfully designed ballroom and panoramic ocean views.
The beach-side Grand Fiesta Americana Coral Beach Cancun* is just a two-minute walk from Cancun International Convention Center. The resort features snorkeling, scuba diving, parasailing, paddleboarding, kayaking, motorized sports such as jet skiing and windsurfing, and land excursions, including jungle and mangrove tours. Grand Fiesta provides 602 guest rooms and more than 80,000 sq. ft. of meeting space, including the 15,351-square-foot Grand Coral Ballroom and 20 breakout rooms.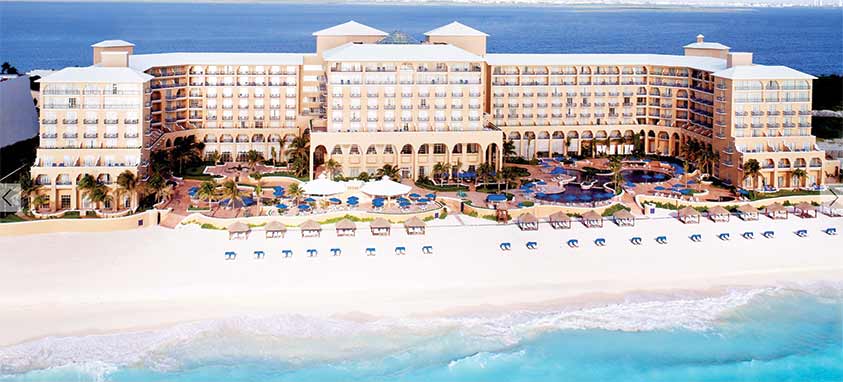 Overlooking the azure waters of the Caribbean, The Ritz-Carlton, Cancun is set along one of Mexico's top beaches. Guests can help baby turtles find their way to the ocean (in season), start the morning with yoga on the beach and work on their tennis serve. The 365-room property has a 27,000-square-foot conference center and a 11,200-square-foot ballroom.
The 601-room Hard Rock Hotel Cancun features the brand's signature rock 'n' roll vibe plus a freestyle pool, two swim-up bars, a spa, a fitness center, basketball, tennis and 16,408 sq. ft. of meeting space.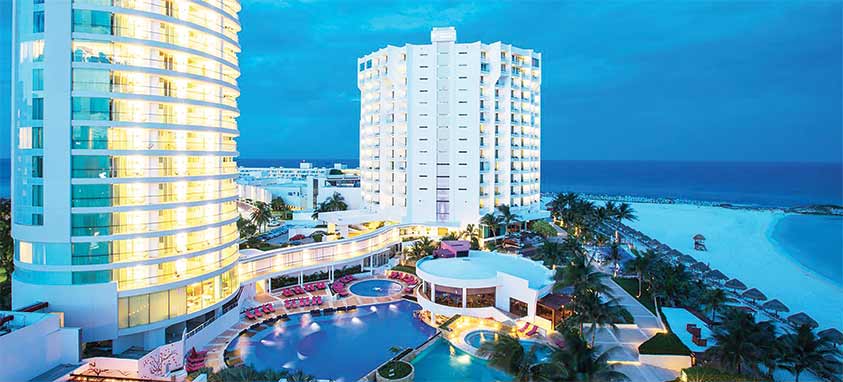 Krystal Grand Cancun, a 395-room, all-inclusive property, is nestled on a pristine stretch of white-sand beachfront on the tip of Punta Cancun. Among the amenities are four heated pools (including an adults-only Altitude Club infinity pool), beach volleyball and football, aqua aerobics, motorized water sports, yoga, Pilates and a Mayan astronomy class. Renovated in 2017, it has 8,000 sq. ft. of meeting space.
The beachfront Paradisus Cancun, a Melia property, offers luxurious amenities including a nine-hole, par-3 golf course and four lavish pools. It has 678 guest rooms and 24,984 sq. ft. of meeting space.
Iberostar Cancun will soon be debuting the new adults-only, all-inclusive Iberostar Cancun Star Prestige, a tower that will be a standalone property within the broader complex. The 13-story tower will be in a beachfront location and have 156 suites, all of which will boast ocean views.
The all-inclusive Moon Palace Golf & Spa Resort, a Palace Resorts property, has 2,049 guest rooms and 266,592 sq. ft. of meeting space. It also features a water park with a FlowRider Double Wave Simulator—which creates two lanes of waves Underwater Museum of Art and pumps thousands of gallons of water over a riding surface—and a 27-hole, Jack Nicklaus signature golf course.
Lined by three beaches alongside the world's second-largest coral reef, the 436-room Club Med Cancun Yucatan offers an extensive array of water and land sports and a variety of other outdoor activities. The totally revamped resort center features a new main pool and lounge area. Club Med has 5,000 sq. ft. of meeting space.
The chic Haven Riviera Cancun Resort & Spa opened between Cancun and Riviera Maya in October. The property offers three pools, 16 exclusive swim-out pools, daily beach walks, jogging and bike trails, a tennis court, beach volleyball, yoga, water aerobics and water spinning classes, and a scuba diving clinic. Haven Riviera has 333 guest rooms and 1,894 sq. ft. of meeting space.
An all-inclusive beachfront resort, Hyatt Ziva Cancun* has a beach, three infinity pools and rooftop tennis courts, along with 547 guest rooms and 16,000 sq. ft. of meeting space.
Live Aqua Beach Resort Cancun, an all-inclusive, adults-only property, features 371 guest rooms, a beach, a pool and 16,000 sq. ft. of meeting space.
The 502-room Fiesta Americana Condesa Cancun is an all-inclusive Posadas property located near the midpoint of Cancun's Hotel Zone. It features a host of outdoor activities, including swimming, sandcastle-building, kite-making and scuba diving. It also has 20,000 sq. ft. of meeting space.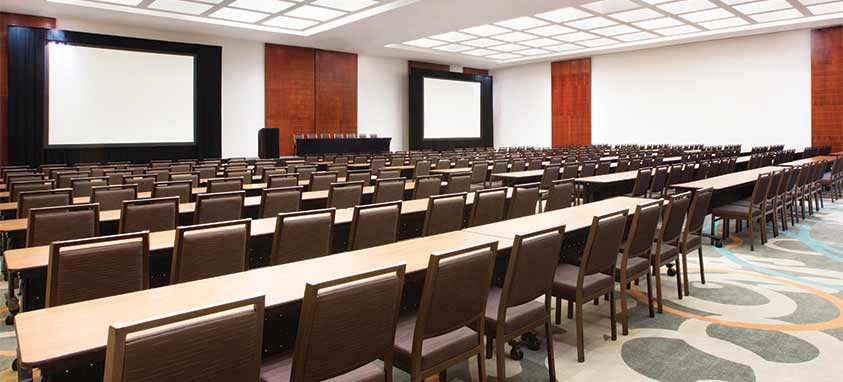 The 354 guest rooms at The Westin Resort & Spa, Cancun feature stunning ocean or lagoon views from private balconies. The property, which provides 28,233 sq. ft. of meeting space, also has pools, a private white-sand beach and a new FlowRider surfing simulator. Groups can participate in daily iguana feedings.
Oleo Cancun Playa, an all-inclusive boutique resort, opened last year on a site formerly occupied by Yalmakan Hotel. The Antelier de Hoteles property features an art garden, a beach, a pool and a tennis court, along with 168 guest rooms.
Palladium Hotel Group was scheduled to open two properties—673-room Grand Palladium Costa Mujeres Resort & Spa and 473-room TRS Coral Hotel—in November in its complex in Costa Mujeres, a 30-minute drive from Cancun. The complex features three freshwater swimming pools, snorkeling, kayaking and tennis at Rafael Nadal Tennis Center. It also has 16,146 sq. ft. of meeting space.
Playa Mujeres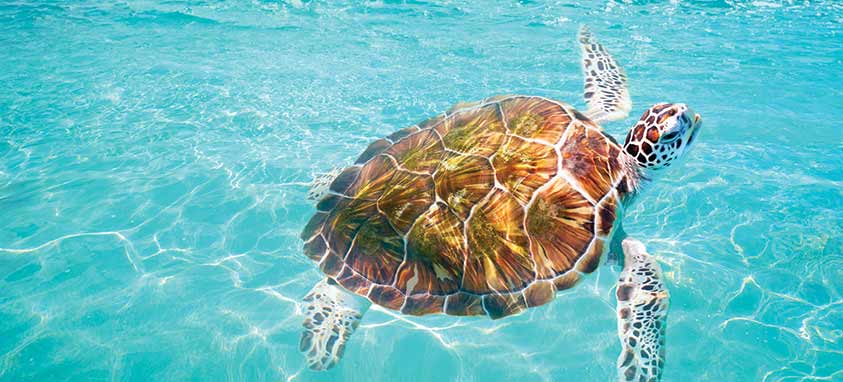 Playa Mujeres is a growing area located north of Cancun, close to Puerto Juarez. It has high-quality resorts with fabulous views of the island and Cancun Hotel Zone, and direct access to Isla Mujeres.
Thrilling Outdoor Adventures
Groups can travel on a luxury catamaran to the picturesque island of Isla Mujeres. During the trip, they enjoy excellent views of the crystalline waters of the Caribbean and stop to snorkel to see the fabulous life beneath the water's surface. The island is renowned for its incredible coral reefs and varied marine life, making it an ideal spot to unwind.
It's best for groups to explore the island at their own pace. Highlights include stunning Playa Norte Beach, Garrafon Natural Reef Park, the impressive Punta Norte lighthouse and a sculpture park overlooking the ocean, at the southernmost point of the island.
Fabulous Properties
The AAA Four Diamond Dreams Playa Mujeres Golf & Spa Resort, located 10 miles north of downtown, is set along a private stretch of beach. It offers 65,000 sq. ft. of swimming pools, a water park and complimentary green fees at adjacent Playa Mujeres Golf Course. The resort's Delphinus Dolphin Habitat features an interactive program that enables groups to observe dolphins close-up in the ocean. Built in 2016, the resort has 502 guest rooms and 20,886 sq. ft. of meeting space.
Secrets Playa Mujeres Golf & Spa Resort is an adults-only property featuring stunning ocean views, 424 guest rooms, 12,000 sq. ft. of meeting space and access to the activities and programs at Dreams Playa Mujeres.
Atelier is set to open two properties in December beside the aquamarine waters of the Caribbean. Atelier Playa Mujeres will have 422 guest rooms and Estudio Playa Mujeres will include 173 rooms. The complex will feature an art walk, a shared 18-hole golf course by Greg Norman, water sports and tennis. A convention center will provide 48,437 sq. ft.
Playa del Carmen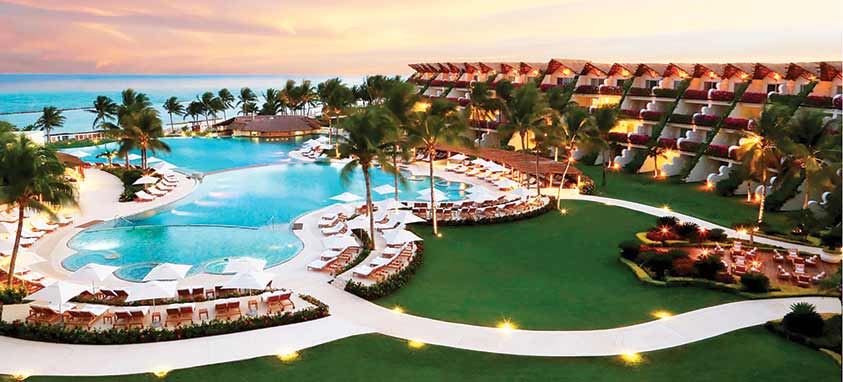 One of the liveliest places in Riviera de Maya, Playa del Carmen has stunning beaches and plenty of water sports. It's one of the best diving regions in the area, with excellent reefs relatively close to shore. It also has a variety of lodging options, ranging from large resorts to boutique hotels.
Thrilling Outdoor Adventures
A 14-minute drive from Playa del Carmen, Xenses Park features several scenarios that take participants to a fantastic world where visitors' perception are challenged. Highlights include a nonsensical Mexican town that tests their balance and a tour of different ecosystems in pitch-black darkness. Xenses offers a package deal in which groups experience the park and visit the Mayan ruins near Tulum.
Xplor Park, a natural eco-adventure park located adjacent to Xenses Park, features 14 ziplines, amphibious vehicles and underground rivers with stalactites and stalagmites created over millions of years.
Located just south of the other two theme parks, Xcaret Park is an ecological park with natural underground rivers, botanical gardens, swimming and snorkeling. The park is filled with Mexican and Mayan flavor and includes a butterfly pavilion, an aviary, an aquarium and places where groups can view flamingos, manatees, spider monkeys, jaguars and more.
Groups visiting the park can also swim with dolphins, float down a lazy river, swim in underground rivers, climb a small Mayan ruin and visit a traditional cemetery. Xcaret's night show is a celebration of Mexican and Mayan history, sport, dance and music. The park holds annual events, including a Day of the Dead festival and the re-creation of an ancient Mayan ocean-crossing to the island of Cozumel.
Aventuras Mayas, based in Playa del Carmen, offers tours and excursions on the Yucatan Peninsula. The company's options include a visit to Tulum, ziplining excursions, cenote rappelling and snorkeling on the Mesoamerican Barrier Reef System.
Fabulous Properties
The all-inclusive Hotel Xcaret Mexico has 900 guest rooms, divided among different buildings, or "casas." Each casa is represented by a universal element, based on Mayan culture—spiral, wind, water, earth and fire.
From late July through early December, groups can watch baby sea turtles hatch and take their first steps into the sea on the hotel's beach. Other activities include yoga, beach and pool volleyball, football and water aerobics. The property features swim-up guest rooms, transportation to the many local parks and trips to Chichen Itza, Tulum, Coba and cenote areas.
AAA Four Diamond Secrets the Vine Cancun is bordered by the clear waters of the Caribbean and white-sand beaches. Yoga, beach and pool volleyball, football and water aerobics are available. It has 497 guest rooms and 17,000 sq. ft. of meeting space.
Marriott Cancun Resort (450 guest rooms, 10,505 sq. ft. of meeting space) and JW Marriott Cancun Resort & Spa (447 guest rooms, 20,236 sq. ft.) have pools and offer jet skiing, as well as a variety of beach activities and excursions.
Since 2014, Grand Hyatt Playa Del Carmen Resort has been hosting guests in a five-story, Mayan-style building. It features 314 guest rooms with spectacular views of the sea; recreational options that include swimming, boating and golf; and 14,944 sq. ft. of meeting space.
BlueBay Grand Esmeralda is an all-inclusive property surrounded by lush jungle, mangrove swamps and outstanding views of the Caribbean Sea. It has a private beach, three swimming pools, a golf club, two tennis courts and a volleyball court. The property provides 979 guest rooms and 12,266 sq. ft. of meeting space.
The Mayacoba resort development features several properties, including Andaz Mayacoba Resort Riviera Maya, which features a pool and El Camaleon Golf Club at Mayakoba, with an 18-hole golf course designed by Greg Norman. The property has 214 guest rooms as well as 14,000 sq. ft. of indoor meeting space, and lawn and terrace areas for outdoor functions.
The 906-room Paradisus Playa del Carmen offers activities including volleyball, Pilates, spinning, swimming, water aerobics and water volleyball. It also provides a 25,000-square-foot convention center.
The all-inclusive, 1,264-room Hard Rock Hotel Riviera Maya is a lively property that features a private, white-sand beach, an exclusive salt-water snorkeling area, five pools, Woodward—a 29,000-square-foot shrine to lifestyle sports—and access to an 18-hole Robert von Hagge course. It also provides 87,018 sq. ft. of meeting space.
The 448-room Unico 200 870 Hotel Riviera Maya* is an all-inclusive, adults-only resort that has three swimming pools, scuba diving, golf and tours of local cultural attractions. It includes 16,000 sq. ft. of meeting space, including an 11,603-square-foot ballroom.
A 20-minute drive from Playa del Carmen, Barcelo Maya Grand Resort* consists of five hotels. Four of them—Barcelo Maya Beach, Barcelo Maya Caribe, Barcelo Maya Colonial and Barcelo Maya Tropical— have a combined 2,004 guest rooms, 16 restaurants, seven pools, two theaters, two discos and 40,000 sq. ft. of meeting space.
Guests of one hotel can use facilities at other properties. A wide array of outdoor recreational options is available on land and water. The 630-room Barcelo Maya Beach property offers seven swimming pools and water sports. Meeting space includes the 12,000-square-foot Chichen Itza Ballroom.
Situated along the coast where the Caribbean Sea meets the Yucatan jungle, Grand Velas Riviera Maya features two indoor and three outdoor pools, as well as snorkeling, kayaking and boogie boarding. The 539- room property has 30,000 sq. ft. of indoor meeting space, including two grand salons and flexible breakout rooms. It also boasts stunning outdoor venues, including a terrace and garden overlooking lush mangroves and the peaceful coastline.
Cozumel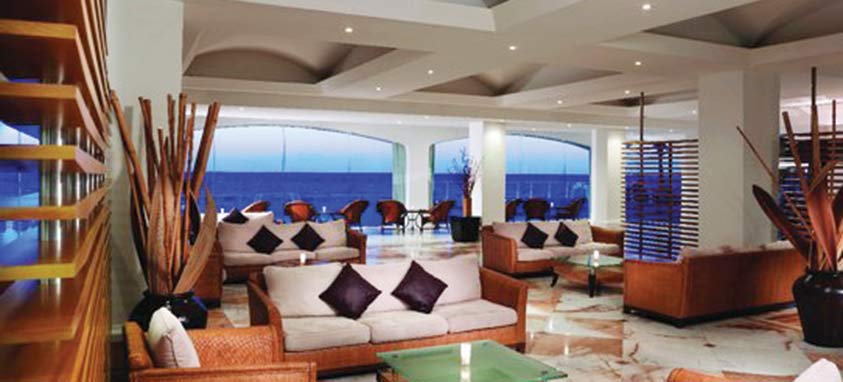 A 12-mile boat ride from the Riviera Maya mainland, Cozumel is a very prominent cruise port, drawing more than 1 million cruisers each year. So, large crowds can be found, particularly on the island's west coast (between the cruise piers and downtown San Miguel, the main hub). Some areas, such as downtown San Miguel, have no beaches, but there are many of them on the island. The east side is much less developed and offers some outstanding, quiet beaches.
Thrilling Outdoor Adventures
Mexico's largest island, Cozumel can easily be reached from the mainland by ferry. Cozumel offers world-class scuba diving, extraordinary snorkeling, parasailing, jet skiing and horseback riding.
Many tours are available. At Playa Mia Grand Beach Park, groups can explore the cultural sights and sounds of Mexico with tours celebrating tequila, chocolate and other local flavors. They can swim along Cozumel's coral reefs during a snorkel tour and plunge down the 200-foot-long Twin Twisters water slides.
Fabulous Properties
Cozumel Palace, located on the west side of the island, features three outdoor pools, snorkeling, scuba diving, swimming with dolphins, and beach and pool volleyball. The all-inclusive property has 169 guest rooms and 800 sq. ft. of meeting space.
The 220-room InterContinental Presidente Cozumel Resort & Spa boasts two swimming pools, a putting green, and a half-mile of private beach. A dive shop outfits groups for scuba, snorkeling and fishing adventures. Renovated in 2016, the resort offers 1,996 sq. ft. of meeting space.
The shore at Hotel Cozumel & Resort features a beautiful natural reef formation, where guests can enjoy spectacular snorkeling and shore diving. Swimming and kayaking are also allowed at the property, which has 174 guest rooms.
Tulum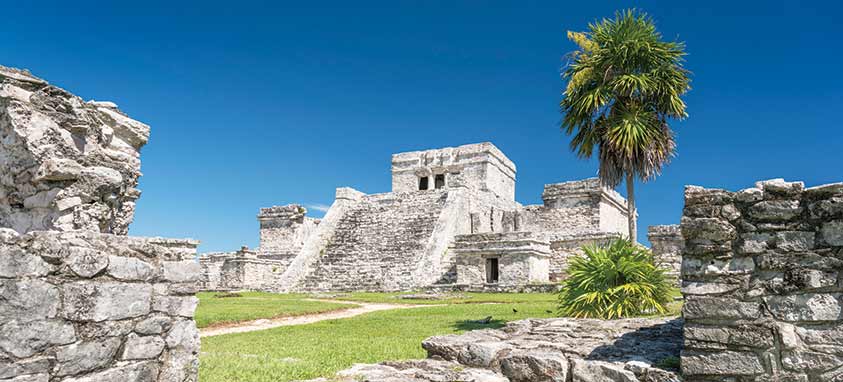 Tulum's main claim to fame is its proximity to the remains of a famous pre-Columbian, walled city, one of the most famous Mayan archaeological sites. It also features beaches with soft sand, neon aquamarine waters and towering palm trees. Tulum Pueblo, the town center, is where locals congregate, but most visitors remain near the coastline, which features beachfront, bungalow-style hotels.
Thrilling Outdoor Adventures
A trip to the 13th-century walled city is a must for groups. It sits on a towering cliff, with spectacular views of the Caribbean Sea. Centuries ago, the area provided access to fishing boats for the Mayans. Today, the ruins include El Castillo (pictured), built as a watchtower, and Templo de las Pinturas, with a partially restored mural. Groups should allow about an hour to visit the site.
Coba, located just northwest of Tulum, is another major Mayan archaeological site. It has not yet been fully excavated and lies deeper in the jungles. It features pyramid-shaped temples with views of the surrounding jungle. Local tourism businesses offer trips to Coba.
Several areas just north of Tulum feature outdoor adventures. Xel-Ha Park, an 18-minute drive north from the town, is set along the ocean. Its rivers, lagoons, caves and jungle parks make it a natural playground for many activities, including snorkeling amid hundreds of fish, swimming in cenotes, swimming with dolphins and bike-riding.
Akumal is a quiet, laid back community of private villas and condos that is a 25-minute drive north of Tulum. It has several prime snorkeling locations, including Yal Ku Lagoon on the north end of the city.
Fabulous Properties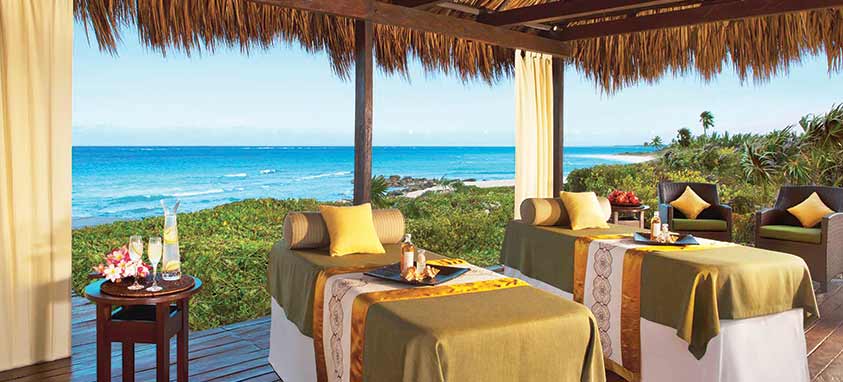 Grand Bahia Principe Tulum offers water sports in a pool and in the ocean—next to its white, sandy beach—as well as 36 holes at nearby Riviera Maya Golf Club. The resort has 978 guest rooms.
Set on a secluded stretch of white-sand beach, Dreams Tulum Resort & Spa (pictured) features 44 acres of lush gardens, Riviera Maya Golf Club, a pool, and snorkeling and other water sports. Groups can watch the release of sea turtles from the beach to the ocean from July through September. The resort has 432 guest rooms and 12,000 sq. ft. of meeting space.
Smart Meetings Related Posts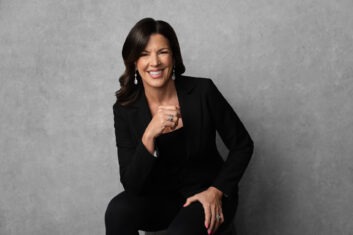 The 2nd annual Smart Meetings Catalyst Awards celebrates the agents of change who propel the meetings industry forward. Take a look at this year's winners!