New and renovated meeting venues take Mid-America to the top of the charts
Music strikes an elemental chord: We listen, we hum its melodies and respond to its rhythms. The genre may be individual, but the appeal is universal.
It's part of the cultural fabric of the places we live and work in, play and visit. Many of these places enjoy a long legacy of music traditions, particularly in the middle of the country, where the foundation of uniquely American music spread from its origins in the Deep South and took root, then was transformed into new genres by creative musicians making it personal—a phenomenon that continues today.
Looking beyond the historical, the live music scene in Mid-America is alive and well. The energy of blues, jazz, rock, indie, alt, folk, country, hip hop—from local up-and-coming artists to national headliners—is part of an experience that planners seek for their meeting destinations, along with the buzz of new and renovated properties.
Here we take a look at 12 cities that, like veteran musicians, are quick to embrace the new, while keeping their core fresh.
Taking it from the top…
Illinois
Chicago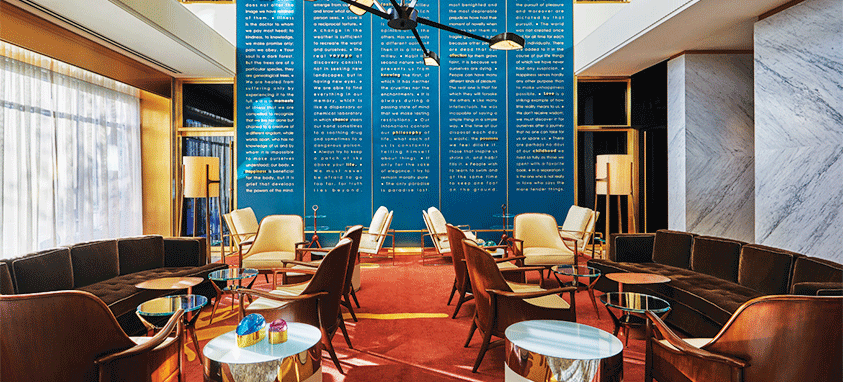 Chicago is—and has always been—a music city, from its early adaptation of Mississippi Delta blues to the eclectic style that defines the urban landscape today. As part of this rich legacy, the city has also played an influential role in genres such as gospel, jazz and house.
Just as the music keeps evolving, so does Chicago's hospitality industry. Brand new is Marriott Marquis Chicago, which is connected to McCormick Place by covered skybridge, with 1,205 guest rooms, 93,000 sq. ft. of meeting space and two 25,000-square-foot grand ballrooms. Creative re-imagining of historic properties include LondonHouse Chicago (452 guest rooms, 25,000 sq. ft. of meeting space), a luxury property overlooking the Chicago River, and Viceroy Chicago (180 guest rooms; 3,600 sq. ft.), which kept the property's original brick and terra cotta facade, but extended it with a glassy, 18-story tower.
Making a splash in the Chicago market is Cambria Hotels, a new upscale boutique brand from Choice Hotels. Cambria Chicago Magnificent Mile (216 guest rooms, 3,000 sq. ft. of meeting space), features tech-focused amenities and a rooftop lounge.
Fresh after a multimillion-dollar renovation, Wyndham Grand Chicago Riverfront (334 guest rooms; 16,000 sq. ft.), includes a new grand ballroom and outdoor terrace, while Hyatt Regency Schaumburg (30,000 sq. ft.) expects to complete a full refresh to all 468 guest rooms in 2018. The landmark Hilton Chicago (1,544 guest rooms, 234,000 sq. ft.) also completed its full renovation last fall.
Later in 2018, the hotel scene goes off the charts with the addition of Hotel Julian (218 guest rooms), Hilton's triple-branded property in McCormick Square (Hilton Garden Inn, Hampton Inn by Hilton and Home2 Suites by Hilton), with a collective 466 guest rooms, and ultra-chic Nobu Hotel Chicago (119 guest rooms), backed by Robert DeNiro.
The 10,000-seat Wintrust Arena, which opened to fanfare last September, sits next to McCormick Place and provides a new option for exhibition space as well as home court for DePaul University basketball.
Peoria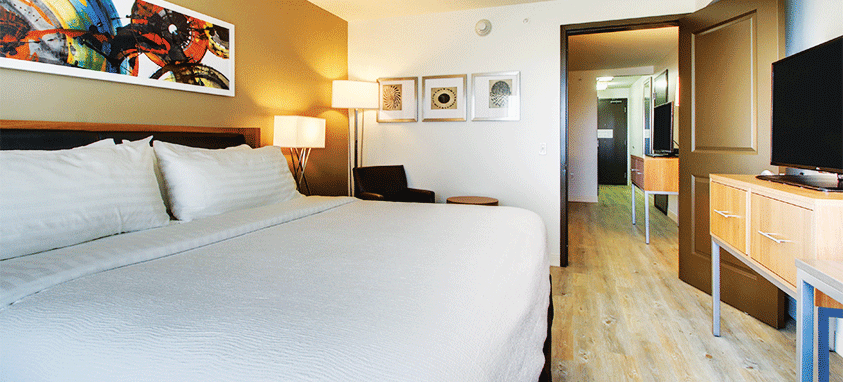 Heavy guitar-oriented pop/rock, classic pop and country all "play" in Peoria as the city's live music scene continues to evolve.
So, too, has the hospitality sector in Peoria, which now offers two new hotels that provide meeting space. Holiday Inn Hotel & Suites Peoria at Grand Prairie is the hallmark hotel on the upscale Grand Prairie property, offering 113 guest rooms and 6,000 sq. ft. of flexible event space in the Grand Prairie Ballroom. Holiday Inn Express & Suites East Peoria-Riverfront, next door to Bass Pro Shop, has 95 guest rooms and a 325 sq. ft. space, ideal for small meetings or trainings.
Indiana
Indianapolis
From cabaret to jazz to independent and up-and-coming acts, Indy's music scene covers the spectrum. So does the hospitality news for this bustling city—the largest in the state. Currently in progress, the West Elm Hotel at Bottleworks is part of a mixed-use redevelopment of the historic Art Deco Coca-Cola bottling plant on Massachusetts Avenue, a hot spot for dining and nightlife. The 136-room hotel is slated to debut in 2019.
Recently opened is Ironworks Hotel Indy, an industrial-chic boutique property with 120 guest rooms and three conference rooms. Updates also include major renovations of Embassy Suites by Hilton Indianapolis Downtown (360 guest rooms, 10,000 sq. ft. of meeting space) and Indianapolis Marriott Downtown (650 guest rooms, 40,000 sq. ft.), both of which are connected to Indiana Convention Center.
Michigan
Detroit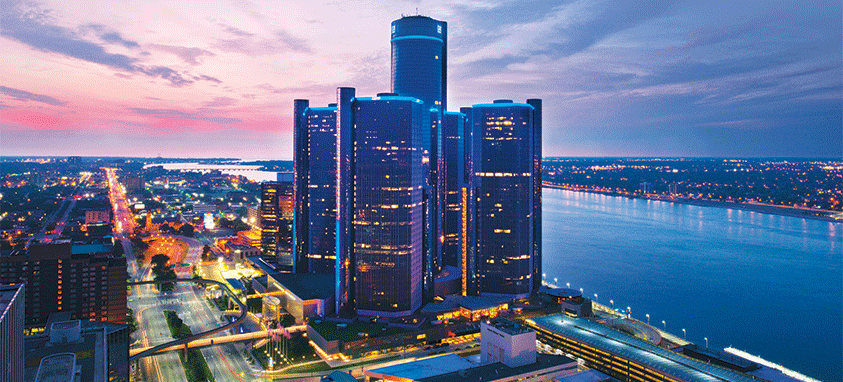 "As the birthplace of both the Motown and techno sounds, music has always been an important part of the Detroit story," says Dave Beachnau, senior vice president of sales, marketing and sports for Detroit Metro Convention & Visitors Bureau. And over the years, the city has enjoyed a continuous parade of No. 1 hit songs. Today, however, it has been recognized by Lonely Planet as one of 2018's top 10 cities for travel, the only continental U.S. city on the list.
All the more reason to take a look at the city's new and reimagined hotels. Already open are Aloft Detroit at The David Whitney, an architectural gem where floors one through nine have been repurposed for the hotel (136 guest rooms, 11,000 sq. ft. of meeting space); and Detroit Foundation Hotel (100 guest rooms, 3,000 sq. ft.), in the historic Detroit Fire Department headquarters. A major renovation recently updated the Detroit Marriott at the Renaissance Center (1,246 guest rooms, 100,000 sq. ft.)
Coming later this year are a $20 million transformation of Detroit's Wurlitzer Building (circa 1926) into a 100-room hotel, Element Detroit at the Metropolitan Building (110 guest rooms.), The Shinola Hotel (130 guest rooms) and West Elm Hotel (120 guest rooms).
On another note, the expansion of Suburban Collection Showplace is on track for completion mid-year, adding another 200,000 sq. ft. of event space (for a total of 600,000 sq. ft.). The 124-room Hyatt Place Detroit Novi is connected to this complex.
Traverse City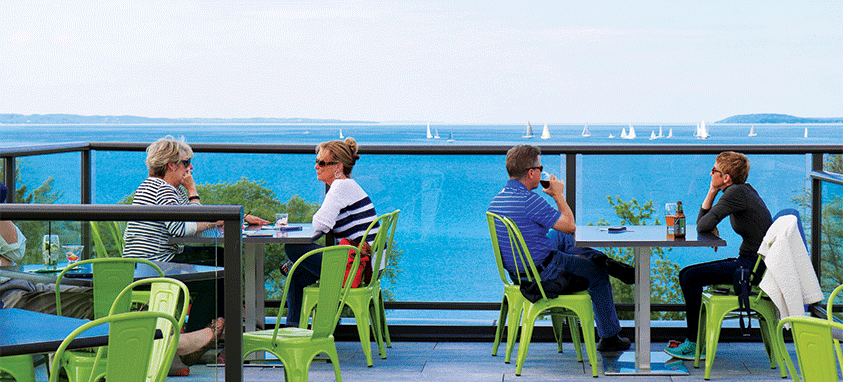 Live music is flourishing in Traverse City, with styles that range from indie/folk rock to country. Popular local performers are making their mark at home—and branching out to high-voltage stages, including TV's The Voice (Joshua Davis, Lauren Duski) and national music festivals.
There's much here to inspire planners, starting with the 51-room Baywatch Resort, a new beachfront resort located on a private sugar-sand beach on Lake Michigan. Hotel Indigo Traverse City, in the heart of downtown and adjacent to Grand Traverse Bay, recently brought its boutique hotel chic to the city's vibrant Warehouse District. It features 107 guest rooms and 5,500 sq. ft. of meeting space, complemented by a rooftop bar with a view of the bay. Adding to the meetings options, Park Place Hotel (140 guest rooms; 12,000 sq. ft.) is in the process of building a new conference center, scheduled to open in June 2018.
Minnesota
Minneapolis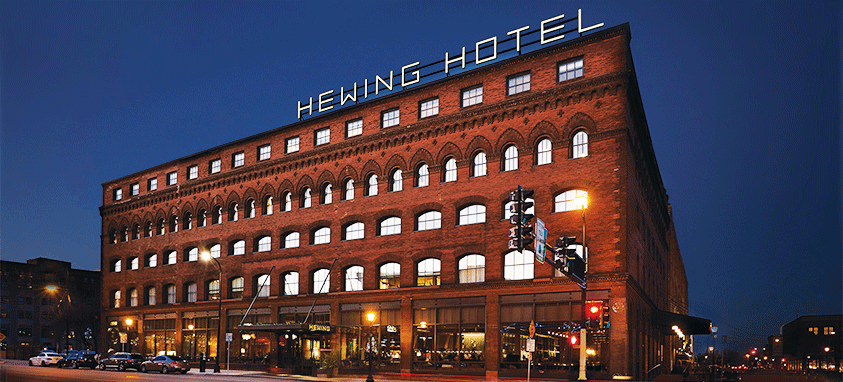 Some say that even before legendary pop genius Prince made it famous, the roots existed for his Minneapolis Sound—a gutsy combination of rock, R&B, funk and new wave. Today, while the times and the performers have changed, the city is still a music hub, with exciting new genres and a new class of breakout artists.
The good news for planners (on a different, but similar front): Whatever your meetings genre, you'll find a good fit in Minnesota's largest city. Take National Flute Association, which recently brought its annual meeting (3,000 attendees) to Minneapolis. In addition to the ease in getting there and getting around, Kris Mayo, the association's convention director, cited another pertinent reason to chose the city—sound issues.
All her meetings are performances of flutes and flute music. "The real selling factor was the auditorium in the convention center—great engineering marvel that it is," she says. They were able to convert three pods in the back of the main auditorium to accommodate the group, and there were no sound bleeds between the spaces. "We were able to use them concurrently," she says.
Minneapolis' meeting options work equally well for other reasons, including a flurry of new properties to book: AC Hotel by Marriott Minneapolis Downtown (245 guest rooms, 1,419 sq. ft. of meeting space); the independent Hewing Hotel (124 guest rooms, 9,000 sq. ft.), a former farm implements warehouse with exposed timber and brick; Embassy Suites Minneapolis Downtown (290 guest rooms, 15,000 sq. ft.), directly connected to Minneapolis City Center; and Radisson Red (164 guest rooms, 1,000 sq. ft.).
Under construction, but scheduled to open this year are the luxurious Elliot (165 guest rooms); Marriott's Moxy Minneapolis Uptown (124 guest rooms), which features a vinyl listening lounge; and West Elm (120 guest rooms), a new addition to the expanding boutique brand.
Missouri
Kansas City
Just as Kansas City has its own rich musical heritage—from blues to jazz and its own distinctive mix of the two—the city's hospitality industry offers a range of distinctive properties.
For starters, take Loews Kansas City Convention Center Hotel (800 guest rooms, 60,000 sq. ft. of meeting space), which broke ground in January and is scheduled to have its grand opening in early 2020. The meeting and event space will connect directly to the convention center via a new connector bridge.
This year will see significant upgrades and expansion of the lodging infrastructure, as well. Coming soon is completion of the renovations to all 983 guest rooms at Kansas City Marriott Downtown (100,000 sq. ft. of meeting space), connected to Kansas City Convention Center, and the openings of Hotel Indigo Kansas City Downtown (118 guest rooms, 1,100 sq. ft.) and 21c Museum Hotel Kansas City (120 guest rooms).
St. Louis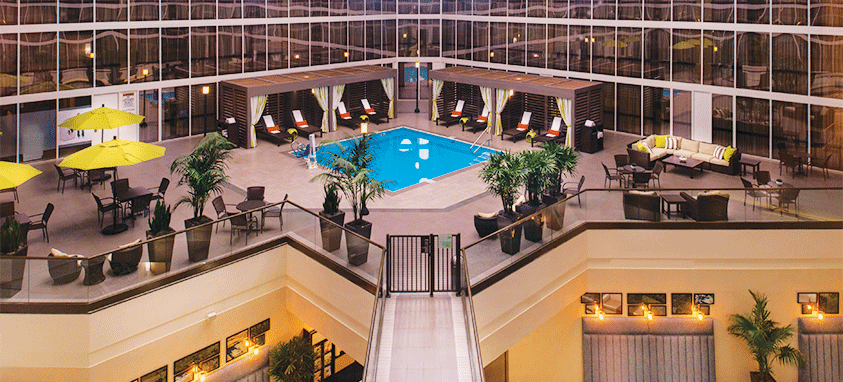 Blues are still big time in St. Louis, where live music keeps its legacy alive any night of the week. Its own historic style—closely related to jump blues and ragtime—is often said to be the musical gateway to jazz, rock, country and hip hop.
Speaking of gateways, St. Louis' Gateway Arch will wrap up a $380 million transformation on July 4 this year. Among its key features are a new park over the highway that connects it to the city (for the first time), a 46,000-square-foot museum space expansion and 11 acres of new park that include 5.4 miles of pathways.
Two convention center hotels—Marriott St. Louis Grand Hotel (917 guest rooms, 55,000 sq. ft. of meeting space) and Courtyard St. Louis Downtown/Convention Center (165 guest rooms, 1,144 sq. ft.)—recently reopened after renovations and rebranding. Holiday Inn St. Louis Downtown-Convention Center (293 guest rooms, 14,000 sq. ft.), close to America's Center, recently renovated as well.
Construction is underway for another trio: Fairfield Inn & Suites St. Louis St. Charles (137 guest rooms), Hotel Saint Louis, part of Marriott's Autograph Collection (140 guest rooms), and Hotel Indigo St. Louis at the Arch (86 guest rooms). St. Louis Union Station is adding 48 train-themed guest rooms, for a total of 587.
Also, take note of Live! By Loews, a $65 million hotel project in Ballpark Village, across from Busch Stadium, set to open in 2019. It will feature 216 guest rooms and 17,000 sq. ft. of meeting and event space that includes an outdoor event terrace.
Ohio
Cincinnati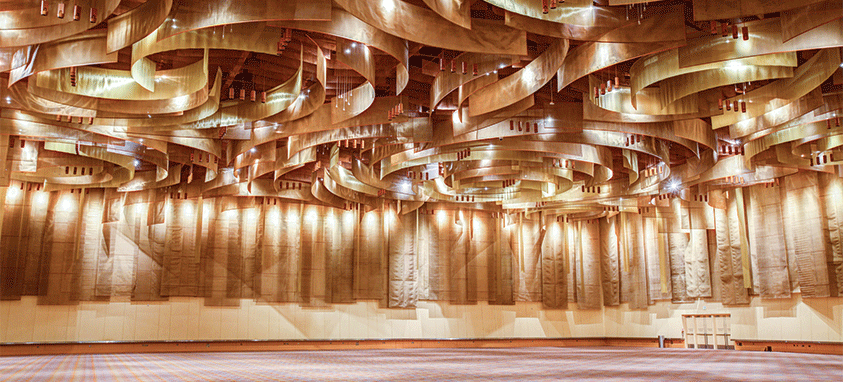 Now experiencing a vigorous live music renewal, Cincinnati was an early music capital due to one now-incredible reason. In the 1930s, WLW-AM was the first radio station in the United States to broadcast at the maximum power of 500,000 watts, which quickly made Cincinnati a hotbed for artists who wanted their music heard around the country.
Today, the city is a hotbed for the meetings industry, with two notable properties opening last year: AC Hotel Cincinnati at The Banks, in the riverfront entertainment district (171 guest rooms, 1,304 sq. ft. of meeting space), and Hyatt Place Cincinnati/Sharonville Convention Center (125 guest rooms, 2,240 sq. ft.), adjacent to the facility, in the prime business district.
Add to that three high-wattage hotels opening in 2018: The Lytle Park Hotel, An Autograph Collection, redeveloped and rebranded, in downtown (106 guest rooms); The Summit, a Dolce Hotel (239 guest rooms), with an 11,000-square-foot terrace and garden area; and The Cincinnatian Hotel (146 guest rooms), rebranded and reopening after joining Hilton's Curio Collection.
Plans for the expansion of Duke Energy Convention Center, which already boasts the largest ballroom in the Midwest, and a convention hotel are in the works. According to Mike Laatsch, chief operating officer of Cincinnati USA Convention & Visitors Bureau, a consensus has been reached with community leaders and elected officials on the various elements needed to improve and expand the convention district's infrastructure. "Beginning to activate elements of that plan will be a key focus in 2018," he says.
Cleveland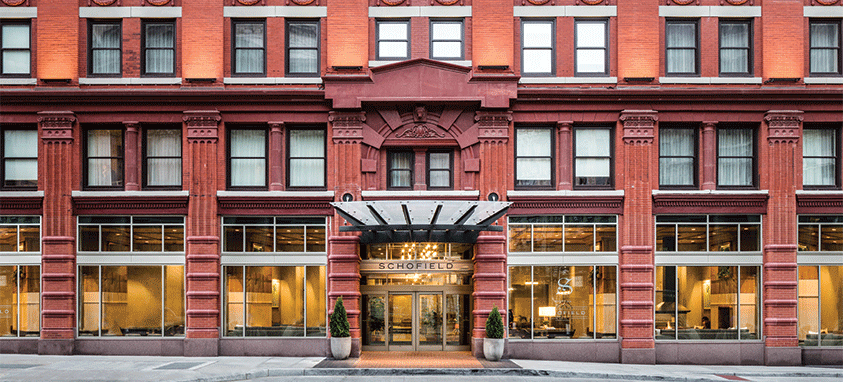 In Cleveland, where the term "rock 'n' roll" was coined, you don't rest on your laurels—you just keep rockin', whether it's the Rock & Roll Hall of Fame and its yearly, star-studded inductees or keeping the city on the charts for planners.
For meetings, downtown is anchored by Huntington Convention Center of Cleveland, with its 365,000 sq. ft. of space. The area is hopping with the addition of Hilton Cleveland Downtown and the ever-popular hall of fame—both of which were major components of the 2018 North American Breweries Annual Sales Meeting. Last fall, it attracted 700 employees and wholesaler partners from 41 states, according to Lauren Christopher, associate public relations manager for Labatt Family, North American Breweries. Cleveland's central location in the Great Lakes region (its core market) was a big factor in choosing the city, she says, as were the off-site options. The group was immersed in everything Cleveland, with a visit to the Rock & Roll Hall of Fame, FirstEnergy Stadium and Punch Bowl Social (a 27,000-square-foot dining and entertainment center), along with bars and restaurants, she says, adding that attendees enjoyed getting the "full Cleveland experience."
Other new properties include The Westin Cleveland Downtown (484 guest rooms, 20,000 sq. ft. of meeting space), the sleek and stylish Metropolitan at the 9 (156 guest rooms, 22,154 sq. ft.) and Drury Plaza Hotel (189 guest rooms, 3,900 sq. ft.). Fresh from massive renovations are The Kimpton Schofield Hotel (122 guest rooms, 3,800 sq. ft.) and Renaissance Cleveland Hotel (491 guest rooms, 59,888 sq. ft.), joined by the total transformation of The Ritz-Carlton Cleveland (206 guest rooms; 19,000 sq. ft.), a luxurious Midwest landmark.
Wisconsin
Madison/Lake Geneva/Wisconsin Dells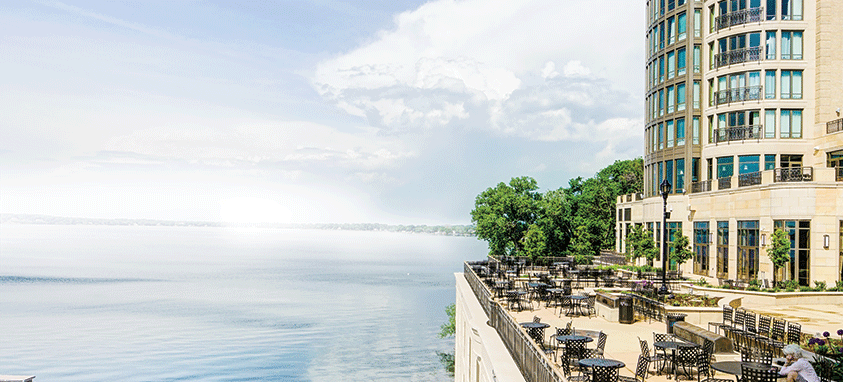 As you would expect with a large college population, live music—of every stripe—is an essential part of daily (nightly) life here. This means a constant stream of music, both indoors at clubs and event centers, and outdoors at concerts and festivals.
According to Greater Madison Convention & Visitors Bureau, there is also a constant stream of new and improved accommodations. Brand new offerings are AC Hotel by Marriott Madison Downtown (165 guest rooms, 924 sq. ft. of meeting space), located one block from Capitol Square and topped with a city-view restaurant and lounge, and Hyatt Place Madison/Verona (136 guest rooms,1,532 sq. ft.), 10 miles from downtown. The Tru Madison (106 guest rooms) is set to open shortly.
Keeping the beat, numerous properties recently underwent extensive renovations: the rebranded Best Western Premier Park Hotel (213 guest rooms, 14,000 sq. ft. of meeting space), the only hotel on Capitol Square; Radisson Hotel Madison (153 guest rooms, 8,100 sq. ft.); and DoubleTree by Hilton Hotel Madison (163 guest rooms, 5,000 sq. ft.). Sheraton Madison Hotel (17,500 sq. ft.) completely renovated its 239 guest rooms in 2017 and expects lobby renovations to finish in April.
In other news, The Edgewater (200 guest rooms, 15,000 sq. ft. of meeting space) is celebrating AAA Four Diamond status, the only hotel in Madison with the designation. It plays host to many events throughout the year.
Both Lake Geneva and Wisconsin Dells have on-going lodging updates, from an extensive renovation of The Villas at Grand Geneva and 29 new villas (609 total) at Hampton Inn & Suites at Wisconsin Dells Lake Delton (100 guest rooms), plus a new hotel choice, and the complete renovation of Woodside Dells Hotel & Suites (50 guest rooms), in Wisconsin Dells.
Milwaukee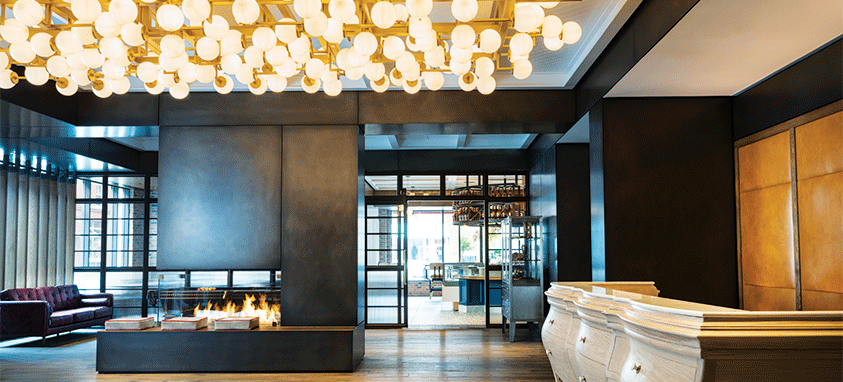 While Milwaukee doesn't have a "signature sound," the city does have a lively music scene: a mix of genres that's both eclectic and diverse (jazz, rock, indie rock, alternative, mainstream and hip-hop).
Feeding its equally diverse hospitality offerings, several hotels opened in 2017, including The Westin Milwaukee (220 guest rooms, 9,000 sq. ft. of meeting space), which connects to U.S. Bank Center and the 833 East building, and Homewood Suites Hotel by Hilton Milwaukee Downtown, a re-imagination of the historic Button Block (94 guest rooms, 585 sq. ft.). Slated to open in 2018 is Hyatt Place Milwaukee (150 guest rooms; 2,000 sq. ft.) in the Brewery area. This overlooks the new $524 million, multipurpose Wisconsin Entertainment and Sports Center, home to the NBA's Milwaukee Bucks, that is also scheduled to open this year.
These build on other recent openings, such as The Kimpton Journeyman (158 guest rooms, 7,000 sq. ft. of meeting space) and SpringHill Suites Milwaukee Downtown (155 guest rooms, 1,840 sq. ft.), which is tied to the city's skywalk system and links to the Wisconsin Center. Notable renovations include Marriott Residence Inn Milwaukee Downtown (131 guest rooms, 1,900 sq. ft.) and Doubletree by Hilton Hotel Milwaukee Downtown (243 guest rooms, 6,000 sq. ft.).
In Nebraska and South Dakota, the Beat Goes On
Locals know that among the most atmospheric venues for music near Nebraska City, Nebraska, is the all-new Lied Lodge & Conference Center, on 260 acres of natural beauty known as Arbor Day Farm, a National Historic Landmark. In addition to fireside piano in the lobby, the fully renovated hotel and meeting facility offers 14,000 sq. ft. of meeting space, 15 meeting rooms and 140 guest rooms and suites.
Not far away, Arbor Lodge State Historical Park is the original estate of J. Sterling Morton, founder of Arbor Day. The showpiece of this 72-acre park is the historic mansion, with its 52 rooms and family artifacts, where events can be held where Sterling and his wife, Caroline, issued their challenge to people everywhere to plant trees, in 1872.
The cascades of the Big Sioux River provide the background beat in Sioux Falls, North Dakota, America's 46th most populous state. But that's not the only locally famous sound there—the South Dakota Rock and Roll Music Association Hall of Fame in Sioux City celebrates musicians who rocked the scene in the Upper Midwest of the '70s and '80s.
For meetings, Sioux Falls Convention Center (more than 100,000 sq. ft. of meeting space) and Denny Sanford Premier Center, a multi-use arena that can seat 13,000 for events, are the primary venues.
5 Top Music Museums in the Midwest
While important music museums can be found throughout the United States, there's a not-so-surprising cluster located in the Midwest, given the area's long history of jazz, blues and multiple spin-offs of rock 'n' roll. For planners and their music fans, there's also the possibility of holding private events in them.
Cleveland: Rock & Roll Hall of Fame and Museum
As WJW radio disc jockey Alan Freed both coined the term "rock 'n' roll" and was one of its foremost promoters, it's only fitting that Cleveland is host to this I. M. Pei-designed museum. Its exhibits celebrate the entire history of the genre, not only the annual list of glittering mega-stars who get inducted into the hall of fame. rockhall.com
Detroit: Motown Museum Home of Hitsville U.S.A.
In its heyday (1959 to 1972), Motown Records produced more than 180 No. 1 hits worldwide in its signature style. The small museum, which is situated in two connected houses, includes the legendary Studio A, where careers and gold records were made. Plans are underway for a $50 million expansion that will close the museum for construction from October 2018 until April 2019. motownmuseum.org
Indianapolis: Rhythm! Discovery Center
Aching to play a hi-hat cymbal? Take a seat at a drum set? You can find your rhythm here, at the Rhythm! Discovery Center, a unique drum and percussion museum founded by the Percussive Arts Society in 2009. Its unique exhibits feature not only historic artifacts, but also hands-on percussion instruments that draw from cultures around the world. Performances feature local and national performing groups. rhythmdiscoverycenter.org
Kansas City: The American Jazz Museum
Located in the city's Historic 18th & Vine Jazz District, this museum celebrates jazz as an American art form through the music and performers that brought it to life in the 1920s, '30s and '40s. There are interactive exhibits, memorabilia and more than 100 recordings, and two live jazz venues—The Blue Room jazz club, and Gem Theater, a 500-seat performing arts center. americanjazzmuseum.org
St. Louis: National Blues Museum
This museum, which opened in 2016, pays tribute to the blues music that was the foundation of virtually all American music, from its origins in the Deep South to the jazz, folk, country, pop, rock and rap music of today. It showcases the genre with interactive exhibits, live performances, radio broadcasts and much more. nationalbluesmuseum.org