Chef Hugo Ortega at Hugo's, Houston
Houston and Galveston offer two worlds, only miles apart
Houston is America's fourth-largest city. It's a little bit Southern, a little bit Western and a whole lot international. This city reaches for the sky, with its roots in big oil, and is actually a melting pot of peoples, cultures, nationalities and languages. In fact, nearly 150 languages are spoken there, representing more than 70 countries.
Accordingly, there's a Texas-sized conglomeration of cuisine, culture and customs representing all those nationalities, which makes Houston a delightful surprise for folks who expected to find only cowboy hats and boots with suits. As anyone who sees its skyline for the first time would attest, Houston's all grown up now, and it wears its multicultural mantle with great pride.
Galveston wears a different type of mantle—that of a historic town filled with colorful old buildings that have been repurposed to house restaurants, museums, playhouses—and very creative meeting spaces. More than most historic towns in this country, however, Galveston is also blessed with a subtropical climate and topography, and 32 miles of beautiful beaches along the Gulf of Mexico.
Galveston is small-town and proud of it, with a tradition of down-to-earth hospitality and a casual, friendly ambience common to attractive beach towns.
Houston: An Ethnic Rainbow and a City on the Move
You might be amazed to hear that "diversity" may be the single-best word to describe Houston. One out of every four residents is foreign-born, and more than 70 countries are represented.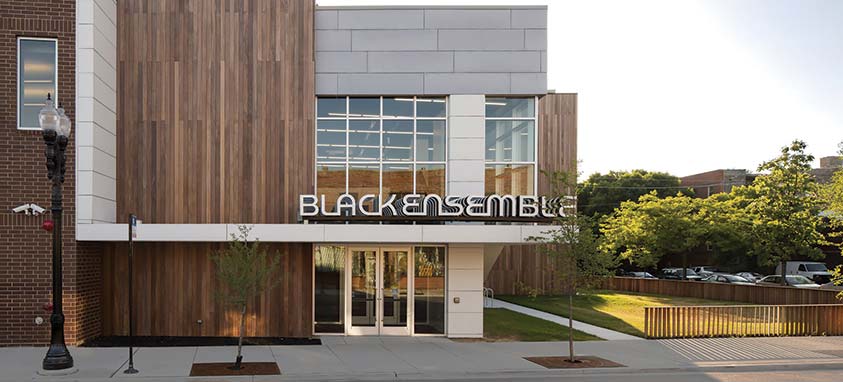 This city's diversity is manifested not only in the wonderful ethnic restaurants all over town, but also in museums, cultural centers and performing arts centers, such as the The Ensemble Theater (African American), Czech Center Museum Houston, Talento Bilingue De Houston (Latin cultural center) and Gite Gallery (African art).
Many of these facilities have meeting space. The Ensemble Theater, for example, has five meeting/event spaces, accommodating up to 400 people. Czech Center Museum Houston has dining space for 250 in one beautiful Baroque room, and 75 in another. Talento Bilingue De Houston offers a 300- seat theater and gallery space. Gite Gallery, too, has some event spaces, amid stunning galleries of African art.
A Foodie Mecca
Many of the city's 10,000 restaurants feature cuisines of the more than 70 countries. This culinary diversity is one of the reasons Food & Wine recently called Houston "the newest capital of great food."
This city now has the second-largest Asian population in the United States, trailing only Los Angeles. It even has its own Chinatown, which is bursting with great spots to sample Asian treats. Houston has become a foodie mecca, and you can find cuisine from just about anywhere there, along with hard-working emigrant families establishing interesting new eateries.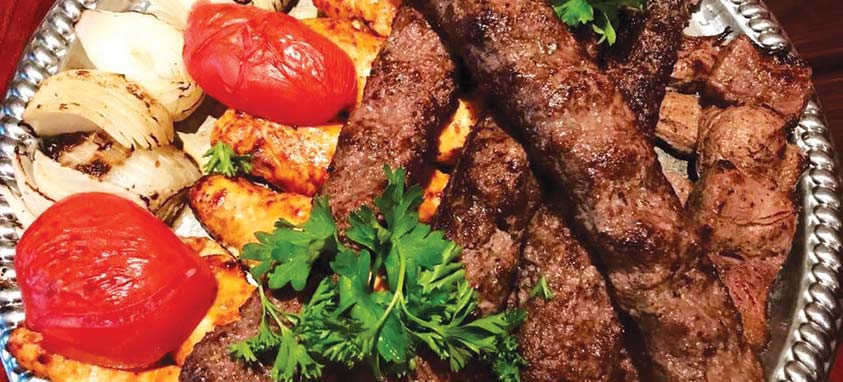 For Persian specialties such as kabobs, you might try Avesta Persian Grill. For French, and what some say are the best crepes in town, try Melange Creperie. Asia Market, a grocery store with seats for only 20 lucky people and a reputation as a little gem, is said to have some of the best traditional Thai in town.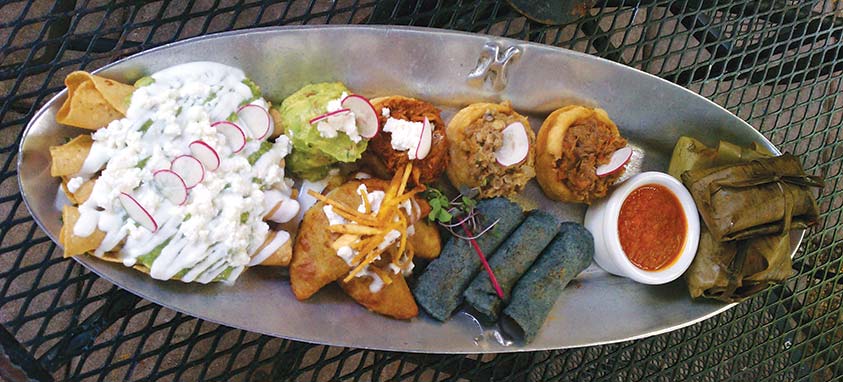 If your group's "got a hankering for" dial stops at "Middle Eastern," many locals will recommend Aladdin Mediterranean Cuisine, for its warm bread (pulled out of the oven right in front of you) with hummus and Mediterranean salad. This being Texas, Mexican food is very popular, and Hugo's is a local favorite with a colorful atmosphere.
It would be a mite remiss not to remember that this is the Lone Star State, and good ole barbecue still occupies a kingly throne in the hearts of Houstonians. One of the best barbecue joints in town has the rather unlikely name of Pizzitola's.
Entertainment Galore
Food alone, however, does not a great city make. And Houston has a lot more to brag about than ethnic foods and cultures.
Interested in taking your attendees to see diverse performing arts groups? One good choice is productions staged by Samskriti, which offers cross-cultural works based on Indian culture. The Ensemble Theatre, established in 1976, is one of the largest African-American theater companies in the United States. Asia is represented in the performing arts, as well, with colorful Japanese singing and dancing performances occasionally staged at local venues with the assistance of Nao Kusuzaki, a longtime star with Houston Ballet.
It's good to remember that Houston still cherishes the part of its soul that is Old West. Nowhere is this soul more evident than at the annual Houston Livestock Show & Rodeo, a three-week-long celebration of all things Western that last year attracted 2.6 million people, 33,000 volunteers and scores of famous entertainers. It's the biggest livestock show and rodeo in the world, and a delight for locals and visitors alike.
For the other 49 weeks of the year, though, Houston is focused mostly on the future. It's made a dramatic rise among the great cities of the world in fields such as medicine, energy and aerospace. It has the largest medical center in the world, and one of the largest ports. The diverse array of booming industries helps account for the population that's come there from around the globe.
Houston now has a population of 2.3 million people. Its beloved Astros won the World Series in November, providing a big lift to the region after Hurricane Harvey. The nationally televised games, only two months after the storm, displayed vividly the indomitable spirit of residents there, and their Houston Strong motto. Planners should keep in mind that downtown wasn't affected much by the storm.
Convention Center Area Upgrades
One sign of this spirit is the recently completed $175 million upgrading of Avenida Houston, the entertainment, dining and nightlife district surrounding George R. Brown Convention Center, affording meeting attendees the opportunity to do business and have fun in the same place.
The convention center itself has been upgraded, as well. Recent improvements include the addition of five new restaurants, a new grand entrance and The Avenida, an event-friendly plaza space. Inside the center, the word "connectivity" now has a new meaning: Five previously separate convention halls are now interconnected with a single concourse.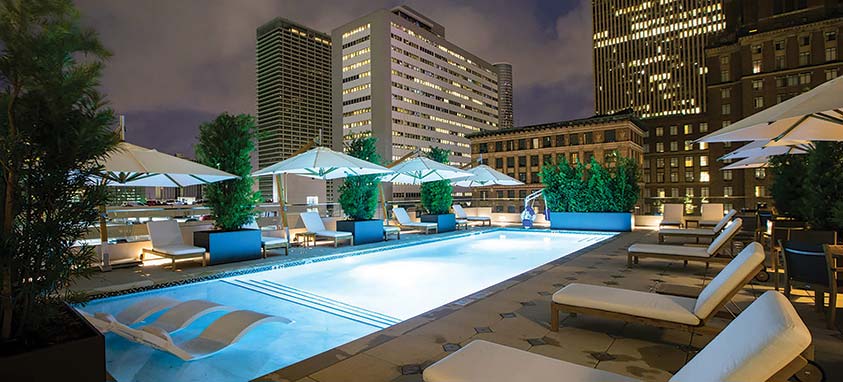 Another sign of Houston's "can do" spirit was the December 2016 opening of the 1,000-room Marriott Marquis Houston, with 153,724 sq. ft. of meeting space and a connection to the convention center. At Rice University, Moody Center for the Arts opened last year, with galleries, classrooms and meeting space for 300. Hotel Alessandra opened in October, with 223 guest rooms and 5,000 sq. ft. The Post Oak at Uptown Houston, which opened last month, is just steps away from the renowned Galleria and adjacent to River Oaks District. It offers 250 guest rooms.
Many new hotels are coming later this year, among them Hyatt Place Hotel, in an old telephone company building, with 150 guest rooms and 800 sq. ft. of meeting space, and InterContinental Houston Medical Center, with 353 guest rooms and 11,800 sq. ft.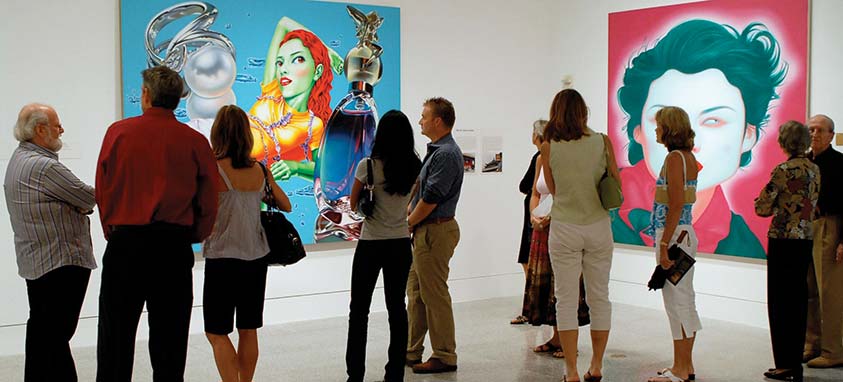 The Museum of Fine Arts, Houston, with meeting/ event spaces for up to 2,500, will be completing a $450 million renovation project early next year.
Burgeoning Downtown Development
With Houston's exciting growth in recent years, new attention is being paid to the downtown area, where so much business, dining and entertainment are focused. Downtown Houston already has nearly 7,500 hotel rooms, ranging from convention hotels to boutique and historic lodgings.
This is all part of the gigantic puzzle that's being put into place in the city, piece by piece…a puzzle that will re-shape Houston not only physically, but also as a place to live, work and play.
In fact, nearly $3 billion in new construction projects has recently been completed or is currently underway downtown. Among these projects are 16 residential properties, seven hotels, three high-rise office buildings, a new campus for High School for the Performing and Visual Arts, and the improvements to the convention center.
The secret of any thriving downtown is people living there, patronizing existing businesses and luring new ones. There are currently about 65,000 residents in Greater Downtown Houston, and that number is expected to more than double in the coming years.
It's not as if downtown Houston isn't already thriving, however. It's a dynamic business center with a workforce of some 150,000 employees, occupying 50 million sq. ft. of office space.
Reinvigorating Old Buildings
Another measure of successful cities is what they do with their old buildings. The saying, "Everything old is new again" is appropriate for this ever-morphing metropolis, which is vigorously renovating older buildings and repurposing them for today and tomorrow. For example, the 102-year-old Samuel F. Carter Building has been transformed into JW Marriott Houston Downtown, with 328 guest rooms and 14,711 sq. ft. of meeting space. This building is actually a local icon, and was the tallest structure in the city when it was built.
Another historic building that's been vacant for many years also recently opened downtown. The Melrose Building, constructed in 1952, was Houston's first modern skyscraper, and it's listed on the National Register of Historic Places. Today it's Le Meridien Houston Downtown, with 255 guest rooms and 9,000 sq. ft. of meeting space.
Post Oak Boulevard is now being redeveloped into a pedestrian-friendly corridor lined with shops, restaurants and residences, and big changes should be obvious by the end of the year. The Museum of Fine Arts Houston is undergoing a $450 million expansion, due for completion next year. This museum is filled with interesting art and has event space for up to 400 seated, and 1,000 standing.
Already opening in phases is Grand Texas, 630 acres of shopping, entertainment and dining options that will include the biggest theme park in Texas. Much to the joy of native Houstonians, a city landmark, Sunset Coffee Building, has recently reopened after years of neglect. The building first opened in 1910, on the site where two brothers decided to start a town named after Gen. Sam Houston. The renovated building now serves as a recreational and cultural center.
Cheryl Clark, CMP, is manager of meeting planning for the Catonsville, Maryland-based Institute for Operations Research and Management Science. In October, she brought 6,000 attendees from all over the world to Houston for its annual meeting. She's now a fan.
"We met at the convention center, Hilton Americas and the Marriott Marquis, all of which are interconnected," Clark says. "The convention center was one of the best I've seen, extremely user-friendly. The downtown was great…very exciting, with restaurants and attractions, and a lot to do. And I was very impressed by the Visit Houston people, who couldn't do enough for us. The hotels were great. This was our first time in Houston…and I'd go back in a heartbeat!"
Houston's heartbeat is beating stronger than ever. It's Houston Strong.
Galveston Offers a Great Mix for Planners and Attendees
Galveston Island is different. It's a tropical island that's easily accessible—right in the backyard of one of America's largest cities. It offers beachfront facilities—many of which are available for meetings or events—and one of the largest collections of well-preserved Victorian architecture in the country. It also offers the attractions of a much larger city, in places such as Bishop's Palace, Moody Mansion, 1877 Tall Ship Elissa and an amusement park overlooking the Gulf.
Top Meeting Venues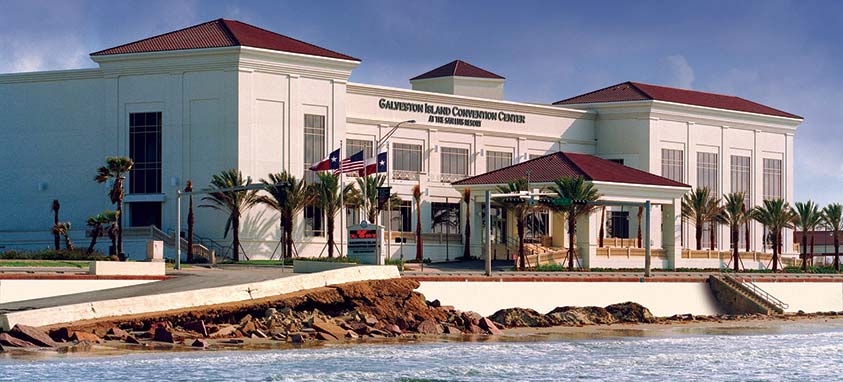 Galveston Island Convention Center is situated at The San Luis Resort, Spa & Conference Center, which means attendees can stay where they work. The resort has 700 guest rooms in three properties and 60,000 sq. ft. of meeting space, and the convention center offers an added 140,000 sq. ft. along with dramatic views of the Gulf of Mexico.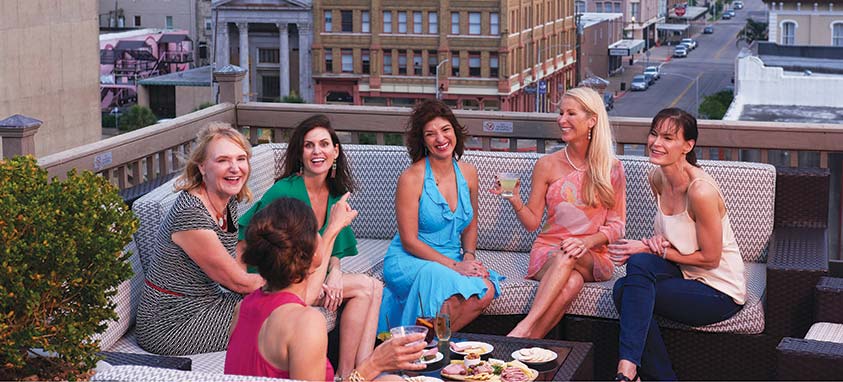 Galveston may not be a big city, but it has some big goings-on for meeting planners. Hotel Galvez & Spa, with 224 guest rooms and 13,231 sq. ft. of meeting space, is finishing up a $300,000 renovation of its pool area and bar. The Tremont House, a prestigious Wyndham Grand property with 133 guest rooms and 16,000 sq. ft., has just added 14 extended-stay suites at the historic Berlocher Building across the street.
The Moody Gardens attraction completed a $37 million renovation on its Aquarium Pyramid in May 2017, to go with the 436 guest rooms and 103,000 sq. ft. at Moody Gardens Hotel, Spa & Convention Center.
New Interactive Experience
Galveston Historical Foundation will debut yet another new island attraction in 2019 with its Galveston Flood experience at The Depot on Market. This interactive experience will put guests in the middle of The Great Storm of 1900 (the deadliest storm in U.S. history), and follow the lives of people who lived on the island at that time. In addition, a $19.5 million beach-nourishment project added 4 miles of new beaches and new facilities for beachgoers.
Becky Bunte, CAE, deputy executive director of the Austin-based Texas Association of School Business Officials, brought more than 1,000 attendees to Galveston in June for its annual conference.
"We picked Galveston Island because we wanted a great meeting place that was also familyfriendly, so our people could bring their families," Bunte says. "And many of them ended up doing just that. Galveston was great! Our attendees loved the Moody Gardens Hotel, because they thought it was a great place for networking.
"The Moody Gardens amusement park was literally right outside our doors. The support from the CVB [Galveston Island Convention & Visitors Bureau] was unbelievable. Our post-meeting surveys about Galveston were significantly better than the average on our surveys."
Houston Stayed Strong, and Galveston Dodged a Bullet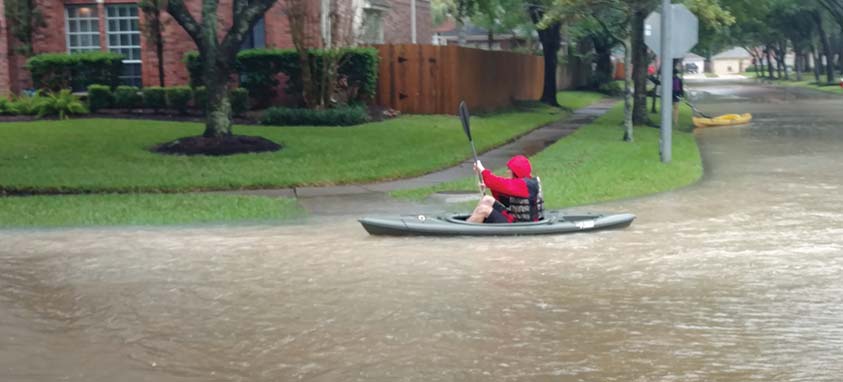 Who could possibly forget the frightening images we saw coming out of Houston the last week of August?
But Houston—and the meetings industry there—have recovered nicely.
First, it's important to note that, contrary to some reports, 90 percent of downtown was not damaged by flooding. In fact, as tragic as the flooding was, only about 25 percent of the city was affected. Within a week of Harvey, just about all downtown hotels were functioning normally.
Other than Harvey, 2017 was a banner year for Houston. It hosted Super Bowl 51, celebrated its first World Series win and had a record-setting year in convention sales. Visit Houston booked a record number of room nights for future conventions, with 429 conventions and meetings, and 802,852 room nights, up from 765,401 in 2016. Many of these meetings are first-time bookings, thanks in large part to recent improvements in the city's meetings infrastructure and planned future improvements.
Among the upgrades is renovation of George R. Brown Convention Center and activation of Avenida Houston district around it. Also, many new restaurants and hotels were added, among them the 1,000-room Marriott Marquis Houston to complement the 1,200-room Hilton Americas-Houston, both of which are connected to George R. Brown Convention Center. This gives Houston two major convention center hotels, and provides meeting planners with more options.
Fortunately for Galveston Island, its meetings industry was not really affected by Hurricane Harvey, and the island and its infrastructure did not see any substantial damage. In fact, Galveston's hotels served as refuge for first responders and relief organizations that used the island as a convenient base from which to get to Houston.
All major hotels and attractions have been open since the week after the storm, and scheduled meetings continued as planned. Galveston even picked up a few new meetings that had originally been scheduled in areas impacted by the storm.
---
Steve Winston is an award-winning writer who has traveled extensively and writes for national and international magazines.