Preparing a mint julep
Celebrated kitchens and cocktails in two storied cities
Just this side of heaven lie the rolling hills of Kentucky, where hot browns and fried chicken are usually served with a decadent slice of renowned Derby Pie. Quite often, you'll find a bourbon cocktail less than an arms-length away.
In the Bluegrass state, among endless horse farms and world-class distilleries, there's a distinctive brand of culture that has elevated traditional cuisine into prime events. With unique local flavors, some have endured the test of time—hence, the iconic mint julep.
There's more on the horizon as others take notice, including the popular television series, Top Chef, which was filmed in Kentucky earlier this year for the upcoming season. This is one of many nods to just how electrifying the food scene has become in the Bluegrass State.
Masters of blending old and new, Kentuckians are plating up some seriously appetizing fare. A most celebrated dish among locals and visitors is the Hot Brown, an open-faced sandwich served on toasted bread, topped with country ham and turkey, and smothered in a cheesy Mornay sauce. Add some bacon, tomato and maybe a sprinkling of parmesan cheese, then broil and enjoy piping hot.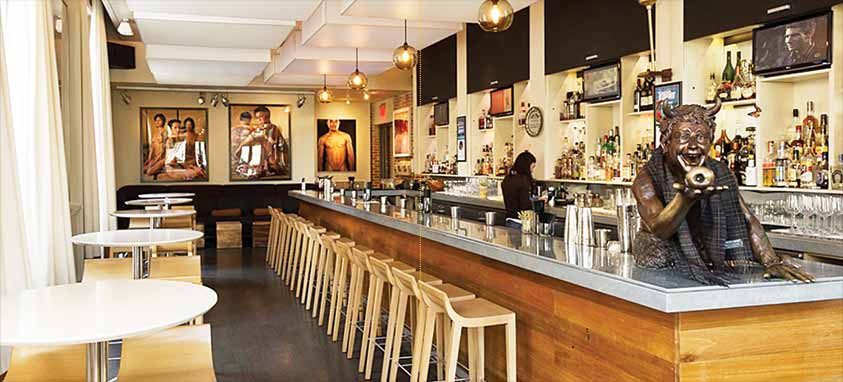 The epitome of comfort food, the hot brown was created in 1926 at The Brown Hotel in Louisville as a late-night supper for socializers. There's even a Hot Brown Hop, a culinary trail that identifies locations for this scrumptious meal. Throughout the agricultural landscape, diners can also expect meals prepared with an array of fresh vegetables, apples and beer cheese, often served with spoonbread—and of course, a splash of bourbon.
U.S. Congress has even recognized the importance of bourbon to American culture by declaring it America's Native Spirit in 1964, ensuring the spirit must be produced in the United States to be considered a true bourbon. In a state where 95 percent of the world's bourbon is made, it's no surprise to find it added to the most delectable recipes. To satisfy a sweet tooth, try bourbon balls, made with chocolate, pecans and bourbon, and rolled into bite-size balls, or a slice of Derby Pie, a chocolate and walnut tart in a pastry crust.
Honoring its heritage, staples such as cracklins with pimento cheese and side dishes slathered with bourbon butter were featured at the 2018 Kentucky Derby. Bourbon caramel creme brulee rounded out the extensive menu for revelers as they savored "the greatest two minutes in sports."
By putting a sophisticated spin on traditional fodder, the culinary scene has simply escalated, making Kentucky a food haven with upscale takes on the likes of salt-cured country hams and game meat, enhanced with modern ingredients and cooking techniques. These are becoming signature dishes that represent a contemporary twist to storied Kentucky kitchens.
Lexington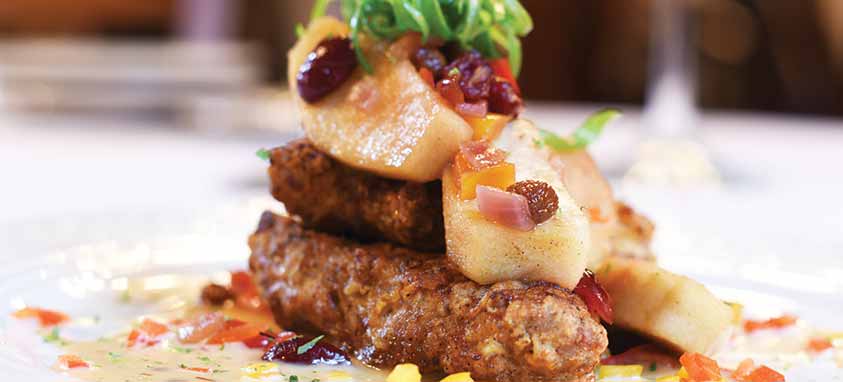 In the hub of bluegrass country sits the Horse Capital of the World—Lexington. With an equine count of well over a quarter-million, Keeneland Race Course, Kentucky Horse Park and horse farm tours remain major attractions. While Lexington residents are proud of the enchanting metropolis' history, they are just as excited about its future.
Tucked amid pristine pastures and bourbon distilleries are fine-art museums, galleries and venues with pieces by local craftsmen, as well as a couple hundred antique shops. Visitors may appreciate the driving, biking and walking tours, and celebrated architecture as an idyllic backdrop for sophisticated dining options, from urban to avant-garde.
It's not just meeting planners that are sold on Lexington. Foodies are also following suit and taking a seat to sample the local culture on a plate.
A Taste of Generations Past
Ever had burgoo? This famous, spicy stew is typically prepared using several meats and plenty of vegetables. Connoisseurs of the hearty dish claim the best burgoo should be thick enough that a spoon remains vertical when in the stew. Burgoo is to Kentucky what gumbo is to Louisiana—cooked in huge kettles for large crowds, particularly at political and social events. In Lexington, the place to get introduced to burgoo is Keeneland Race Course, known for having a superb recipe.
For some of the best Southern fried chicken in the state, Merrick Inn delivers in a big way, and also features pecan-crusted pork chops and that ohso- tasty hot brown. Named for a winning thoroughbred, the Merrick has generous accommodations for groups of 10 to 62 for dining and events.
Another local favorite is Corto Lima, a new Latininspired eatery and creation of chef Jonathan Lundy, a James Beard semifinalist. Entrees range from barrel- smoked pork tacos to feijoada, a pork and black bean stew served with crispy collards and rice. Never leave the table without sampling the guacamole or sipping a margarita. Corto Lima can graciously host up to 50 guests for private dining events.
The Summit at Fritz Farm, a mixed-use development, now boasts chef Quita Michel's Honeywood. The acclaimed chef remains true to the region, serving heirloom and locally sourced cuisine transformed into fine dining. Enjoy a cocktail made from your choice of more than 50 bourbons or select from the award-winning wine list. Snack on a savory sweet potato beignet or the popular Four O'Clock, a sharable platter with almonds, cheese salad, buttermilk biscuits and shaved ham.
For ravenous appetites, head straight to dinner for thin-cut pork chops with apple butter pork jus and creamy grits, or the wildly popular vegetarian beetloaf with tomato gravy. Honeywood was recognized in the Zagat guide article, "30 Most Exciting Food Cities in America 2017," and can host up to 40 guests for private events.
Across from Lexington Center is Saul Good Restaurant & Pub, which offers casual fare but decidedly serious taste appeal. Kick back with a Basil Bourbon Smash, served on the rocks with bourbon, simple syrup, fresh basil, lemon and orange. Satisfy your appetite with a generous plate of spicy fried chicken with a Belgian waffle, drizzled with fragrant maple syrup. For a unique variation, the Thai pizza is made with peanut sauce, chicken, carrots, bean sprouts, cilantro, peanuts and lime. The restaurant has a well-appointed private dining space with a fireplace and downtown view that can comfortably accommodate up to 50 guests. This is also a lovely room for meetings.
"What better place to convene than Athens of the West—Lexington, Kentucky?" says Jeff Johnson, with the Society for Healthcare Volunteer Leaders. "I believe our conference here was so successful because of our strong network of hospital support across the Commonwealth with KHA [Kentucky Hospital Association], the Lexington business community, the support of VisitLex [Lexington Visitors Center] and value/cost to our membership."
When the Night Falls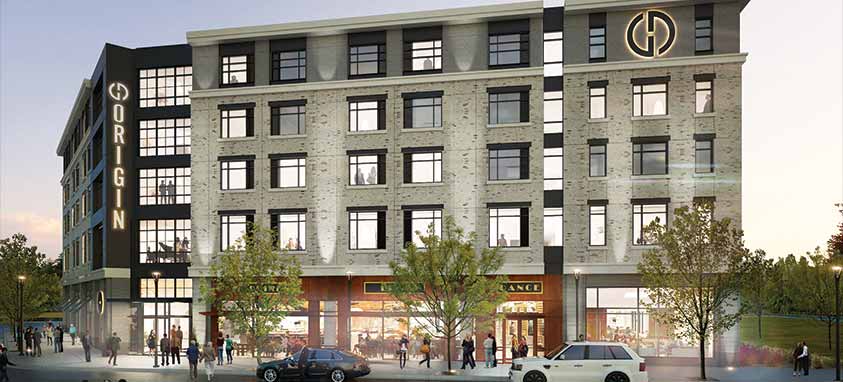 As more visitors find their way to Lexington, new properties and upgrades are evident throughout the city.
The Sire Hotel Lexington (previously Gratz Park Inn) is on the National Register of Historic Hotels and has been completely renovated. It reopened in the spring with 41 guest rooms. In early 2019, Origin Hotel will open a second location at The Summit at Fritz Farm, celebrating the revered equestrian history with 120 guest rooms and event space.
Currently undergoing a multimillion-dollar redesign and new space is The Campbell House Curio Collection by Hilton, scheduled for completion in spring. It will boast more than 22,000 sq. ft. of upgraded function space and 250 reimagined guest rooms, making it one of Kentucky's most elegant hotels.
Marriott will be opening two downtown locations in late 2019—Lexington Marriott City Center, with 230 guest rooms, and Residence Inn Lexington City Center, with 230 guest rooms and a rooftop pool. Both properties will be located across from the new Lexington Visitors Center and a block from Lexington Convention Center.
Once the world's largest distillery, the historic James E. Pepper Distillery reopened this past summer with indoor/outdoor meeting and event space and private tours of the working distillery. Attendees enjoy the revitalized distillery district, with food trucks, dining, shopping and entertainment in places such as The Burl, a new music hall featuring local and national talent. The distillery is just a 20-minute walk from downtown.
Louisville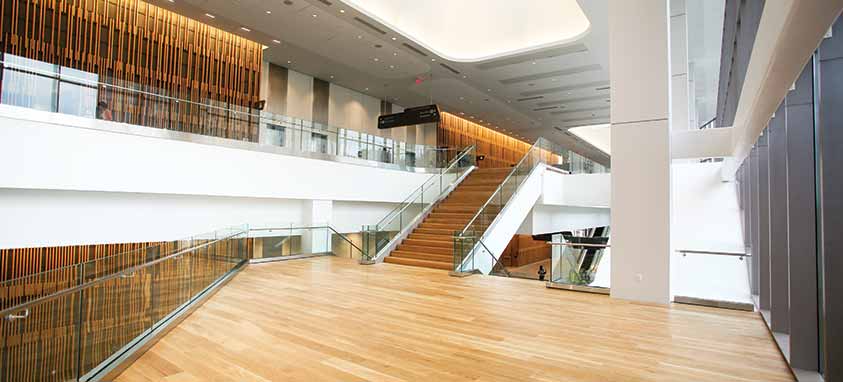 Kentucky Derby. Hot brown. Derby Pie. Louisville has raised the bar on many levels with its authenticity and vitality for culture, entertainment and cuisine.
In a city with an officially designated libation—the Old Fashioned—you can expect nothing less than old-fashioned hospitality to match. Some interesting sites include Louisville Slugger Bat Museum & Factory, caverns with underground ziplines and legendary Churchill Downs.
Word is out that Louisville is a meeting mecca. With the completion of a $207 million expansion and renovation, the striking Kentucky International Convention Center (KICC) reopened in August with 200,000 sq. ft. of contiguous function space, a 40,000-square-foot, column-free ballroom, 52 meeting rooms and a conference theater with 175 tiered seats.
Dave Dougherty, executive director of National High School Athletic Coaches Association, recognized the value of Louisville during a recent gathering of his group there. "People were so gracious and truly wanted our experience to be the best!" he says. "While the city had many, many wonderful things to offer visitors, it was the people in Louisville that reflected so positively on our visit there."
Boasting more than 2,500 restaurants with numerous James Beard nominees, Louisville is the Culinary Capital of Bourbon Country, and is also known as Bourbon City. By embracing Korean, Vietnamese, French, Italian and other influences, tastes meld to form a unique flavor.
"It's one of the best foodie small towns in America," Bon Appetit raves. "Louisville is one of the seven up-and-coming foodie towns in America," Zagat says. And Southern Living declared it "one of the top 10 tastiest towns."
Stepping Up to the Plate
"Louisville has always been a place where we respect tradition and embrace progression, and you often see that in our restaurants," says Jessica Dillree, marketing communications manager for Louisville Convention and Visitors Bureau. "And with bourbon distilleries returning to downtown Louisville, it's easy to drink local in addition to eat local, as our cocktail scene has never been stronger."
For a sampling, check out the Urban Bourbon Trail to enjoy live music and sample bourbon-infused meals and cocktails designed from a selection of no less than 50 varieties of Kentucky's signature spirit at each stop. New distilleries downtown include Old Forester Distillery and Rabbit Hole, with Michter's Distillery opening in early fall. All are walkable from KICC.
"Louisville's rich tradition in Southern food and the rising popularity of bourbon have fueled a food renaissance," Dillree says. "We were recently named one of America's Favorite Cities for Food by Travel & Leisure and attribute this to how our outstanding chefs and restaurants are able to embrace, enhance and elevate our local food traditions."
A culinary staple there is the Benedictine—a cucumber and cream cheese spread concocted by a local caterer and cookbook author more than 100 years ago. The spread is used as tea sandwich filling, a dip and even for stuffing potatoes. The Hot Brown is famed in Louisville, as well.
Restaurants thrive in this foodie-rich environment. Commanding a presence on Historic Whiskey Row is the casual Doc Crow's Southern Smokehouse & Raw Bar, serving American-Southern cuisine and the classic (but tart) Mint Julep Lemonade. Start with a platter of raw oysters with bourbon mignonette. When you're ready to get serious about dinner, try the Smokehouse Sampler with pulled pork, beef brisket, and chicken or ribs. Save room for The Wilbur Sundae! Doc's signature brown butter praline ice cream is covered in cinnamon pork rinds and candied bacon, topped with a bourbon cherry and a splatter of maple syrup. The restaurant can accommodate up to 85 for private dining.
The 8Up Elevated Drinkery & Kitchen is perched on the roof of Hilton Garden Inn Downtown. Panoramic views are available with indoor dining or al fresco. Partake in a classic throwback cocktail such as bourbon and Coke as you devour pimento cheese hush puppies and feast on applewoodgrilled pork chops with bourbon mustard sorghum sauce, or cauliflower steak with peppers and citrus sumac creme fraiche. For dessert, bourbon creme brulee is a winner. The establishment has a private room for 25 seated guests and another for 40 seated. It also accesses the historic and elegant Henry Clay Building around the corner, with formal ballrooms for 400 guests and a boardroom seating up to 50 and accommodating 75 for receptions.
For a unique communal experience, Porch Kitchen & Bar delivers big with design and comfort food. Presenting a front-porch atmosphere that encourages mingling, every seat has a window view of busy Jefferson Street. Located in Louisville Marriott Downtown, the Porch recently opened with an extensive classic- American menu. Sip on a Porch Bacon Bloody as you decide between the lump crab hush puppies with sweet corn, jalapeno and citrus aioli, or fried chicken and waffles with bourbon maple syrup. Leave room for a warm slice of bourbon butter cake with candied pecans. The Porch Kitchen & Bar can seat up to 250 guests and has several private dining rooms, with additional hotel meeting and dining space available.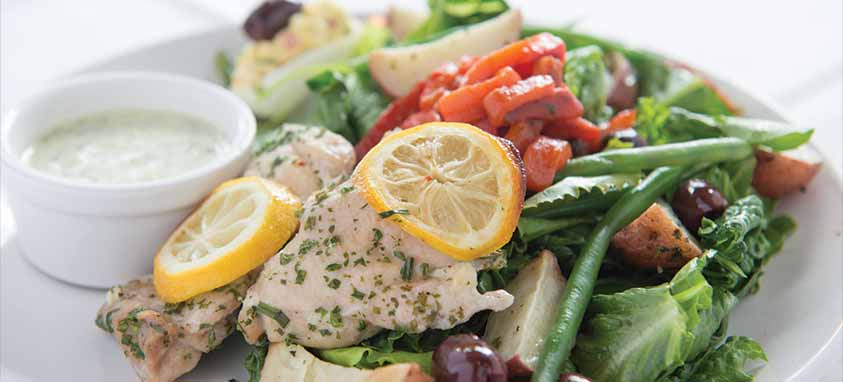 Lilly's Bistro, a farm-to-table, white-tablecloth bistro, serves cocktails such as Noah's Monna, made with Noah's Mill bourbon, and Lilly's Vieux Carre, a blend of brandy, rye, Benedictine, vermouth and Lilly's bitters. Chef Kathy Cary, nominated for a James Beard Award, serves a seasonal menu—updated every two weeks—that explains the popular Farmer's Plate. Whet your appetite with cornmeal fried oysters, then enjoy coulotte steak with roasted fingerling potatoes. Caramel cake or bourbon ball ice cream provide a perfect ending. Lilly's is a local favorite for celebratory events and can host smaller private groups.
Tucking in for the Night
A AAA Four Diamond hotel, the completely refurbished Louisville Marriott Downtown now offers 591 spacious guest rooms, 25 suites, more than 50,000 sq. ft. of flexible function space, and the Porch Kitchen and Bar. The hotel has garnered a 2018 TripAdvisor Certificate of Excellence Award and adjoins KICC.
In the spring, The Omni Louisville added 612 guest rooms and 70,000 sq. ft. of function space downtown. With 133 guest rooms, The Homewood Suites by Hilton Louisville Downtown opened as an extended stay facility. The European-style AC Hotel Louisville Downtown opened in May with 152 guest rooms, four suites and 2,629 sq. ft. of meeting space.
Kentucky has managed to flawlessly merge diverse culinary offerings with fine bourbons to become an unexpected but delightful foodie destination. See you at the table!
Traditional Kentucky Recipes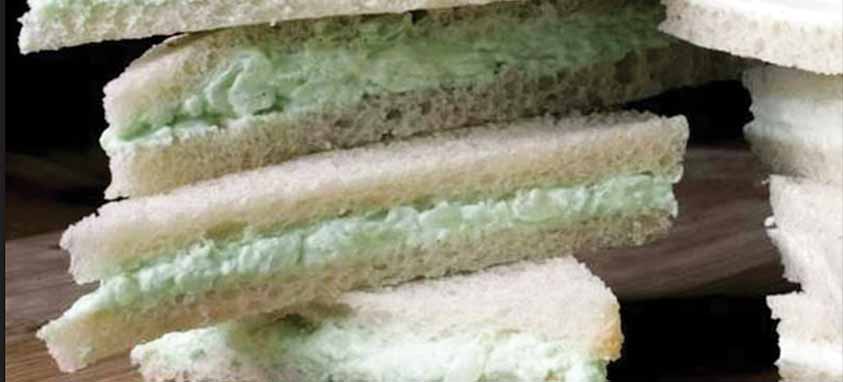 Jennie Benedict's Benedictine
8 ounces of cream cheese, softened
3 tablespoons cucumber juice
1 tablespoon onion juice
1 teaspoon salt
A few grains of cayenne pepper
2 drops green food coloring
To get the cucumber juice, peel and grate a cucumber. Then, wrap with a clean dish towel and squeeze juice into a dish. Discard pulp. Do the same for the onion. Mix all ingredients with a fork until wellblended. (Using a blender will make the spread too runny.) Serve as a dip or a sandwich filling. (Recipe courtesy of kentuckytourism.com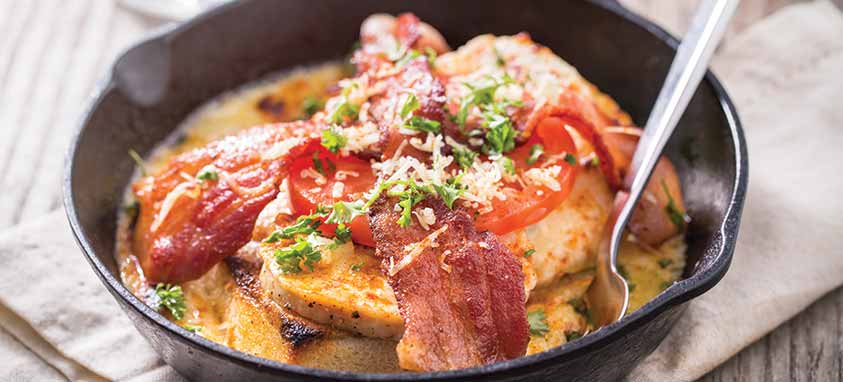 The Legendary Hot Brown
1 1/2 tablespoons salted butter
1 1/2 tablespoons all-purpose flour
1 1/2 cups heavy cream
1/4 cup Pecorino Romano cheese, plus extra for garnish
Pinch of ground nutmeg
Salt and pepper
14 ounces thick-sliced roasted turkey breast
4 slices of Texas toast (crusts trimmed)
4 slices of bacon
2 Roma tomatoes, sliced in half
Paprika
Parsley
In a two-quart saucepan, melt butter and slowly whisk in flour until combined to form a thick paste, or roux. Continue to cook roux for two minutes over medium-low heat, stirring frequently. Whisk heavy cream into the roux and cook over medium heat until the cream begins to simmer, about two to three minutes. Remove sauce from heat and slowly whisk in Pecorino Romano cheese until the Mornay sauce is smooth. Add nutmeg, salt and pepper to taste.
For each Hot Brown, place one slice of toast in an oven-safe dish and cover with 7 ounces of turkey. Take the two halves of Roma tomato and two toast points and set them alongside the base of turkey and toast. Pour half of the sauce over the dish, completely covering it. Sprinkle with additional cheese. Place entire dish under a broiler until cheese begins to brown and bubble. Remove and cross two pieces of crispy bacon on top. Sprinkle with paprika and parsley and serve immediately. (Recipe courtesy of The Brown Hotel)
---
Mona L. Hayden is an independent writer and an award-winning photographer. She publishes Louisiana Road Trips magazine.