Riding on a float checks all the bucket-list incentive boxes
What could be a more memorable group experience than riding in a New Orleans Mardi Gras float? OK, that was a rhetorical question because the answer is that there is nothing like donning a sparkling costume, armed with thousands of colorful beads, then rolling down St. Charles Street flanked by chanting crowds.
That is why, when Marriott CRN offered a slot in the Lundi Gras parade as part of super Krewe of Orpheus, the answer was, "Laissez les bon temps rouler!" (Let the good times roll!) But only so I could share the experience with the Smart Meetings community, of course.
Following are insights gleaned from atop a rougarou (werewolf) float—so you can plan your own Big Easy event or Fat Tuesday-themed gathering.
Long Live Pageantry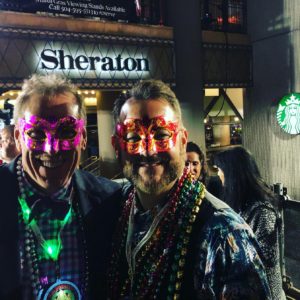 Krewes have been rolling through town and exciting crowds since 1857. Some 136 years later, Grammy- and Emmy-winner Harry Connick Jr. named his procession Orpheus as an ode to "rhythm, rhyme and revelry" and decreed that it would be the first one open to "all men and women of good character and spirited personality." To this day, it is the most diverse group of 1,300 riders, with no restrictions on gender, race, religion or orientation. Call it the ultimate inclusive meeting.
Like the other 80 parades that roll each year over a period of two weeks, including the kickoff on Feb. 1 with Intergalactic Krewe of Chewbacchus, every detail drips with tradition. The magic starts at Mardi Gras World, where Blaine Kern (Mr. Mardi Gras, to you) works his magic by crafting elaborate floats adorned with massive papier-mache flowers and expressive Styrofoam-based props in the months leading up to the festivities.
📍 Smart Tip: These huge, whimsical creations and their parts can be the backdrop year-round for tours and events at River City Venues complex, which includes a stylized Southern mansion and riverboat access.
Colorful costumes and masks put everyone in a celebratory mood. A signature color scheme with ribbons and accessories get strangers talking. For Mardi Gras, purple represents justice, green represents faith and gold represents power.
An Authentic Experience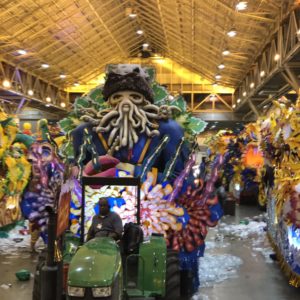 Mardi Gras is not a passive activity. Everyone gets into the action with costumes, collecting of "throws" and lots of king cake and Sazerac. In fact, Magazine Street is home to a new experiential event space dedicated to that traditional rye-whiskey and bitters concoction invented in the city. Sazerac House is part three-story museum, part distillery and all about creating a sense of place for guests during buyouts.
During Mardi Gras, what behavioral scientists call The Endowment Affect turns rational people into desperate beggars for strings of plastic valued because they were caught in midair after plaintive cries of, "Throw me something, mister!"
When float riders lock eyes with someone on the street through the slits in their glitter-masks, throw a string of blinking beads and get a thumbs-up and a smile, a real connection is made—if only for an instant. Then it is on to the next throw.
Visitors and residents alike flock to balls, where royal courts are ruled by monarchs for a day. Connick brought friends to lead the Krewe of Orpheus parade and perform with him on stage at Orpheuscapade, a black-tie party at the end of the line. Actor and designated-monarch Bryan Cranston embraced the spirit, proclaiming, "New Orleans is all about celebrating life and the human experience, enveloping music and culinary adventures." He was joined by actors Charlie Day and Mary Elizabeth Ellis.
Scott Jernstrom, complex director of sales and marketing for New Orleans Marriott (85,877 sq. ft. of meeting space and 1,333 guest rooms) and Sheraton New Orleans (110,000 sq. ft. and 1,110 guest rooms), says people are the common denominator of both Mardi Gras and events: "This is a relationship business, and everyone needs to be focused on the experience." His properties comprise The French Quarter Connection. Both front the parade route and offer VIP viewing opportunities and special packages.
It's About Pacing Yourself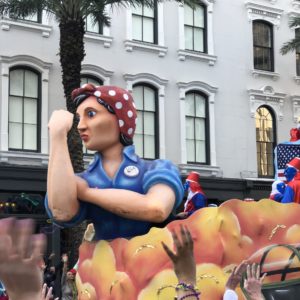 Riders know that even though the Mardi Gras tradition is about celebrating excess before the deprivations of Lent, the secret to getting to the end of the day with enough beads—and focus—to enjoy the ball at the parade's end is to pace yourself. It really is a marathon.
Floats are loaded with bags of beads, plush animals and a crowd favorite—light-up toys. Although the mounds of beads cost thousands of dollars and are piled up everywhere on the float, riders quickly learn to wait to have the attention of the intended recipient—to conserve ammo and avoid hitting anyone in the face.
Eventually, floats parade through the formal dinner, where men wear tuxedos, women have donned their sparkliest gowns (and most comfortable tennies) and everyone is covered in blinking plastic accessories. These festivities take place in New Orleans Ernest N. Morial Convention Center, which is getting ready for its own unmasking this summer after a $557 million renovation that will bring a new 7.5-acre pedestrian park and hotel to the 1.1 million-square-foot space. Saving some of the good stuff for last makes for a warm welcome.
It's All for a Good Cause
Wild as they may be, the festivities are about more than collecting the best throws. The Krewes are actually philanthropic organizations that raise thousands of dollars for charities, and the overall event generates more than $1 billion in spending in the tourist-focused city.
Event gifting was fun and practical, letting guests know organizers felt their pain. Sheraton New Orleans left thoughtful boxes of king cake, pain reliever and eye medication as room drops. For this bucket-list adventure, attendees got to take home their costumes and lasting memories of an epic adventure.