Puerta del Sol, Madrid, Spain
Madrid is safe, green and culturally rich
After dark, the streets of Madrid bustle with locals and tourists strolling from tapas bars to restaurants and flamenco clubs before heading to their homes and hotels in the wee hours.
Even grandmas and grandpas can be seen walking after midnight. It's one of the safest cities in Europe, and attendees feel comfortable in the evenings, enjoying nightspots and mingling with Madrilenos in places such as Puerta del Sol square.
Madrid Marriott Auditorium Hotel & Conference Center
Madrid boasts direct air connections, a veritable explosion of new and renovated hotels and whopping-big, state-of-the-art facilities for major conventions.
"Over a million delegates attended 12,000 meetings in Madrid in 2014, and continuing now in 2016, hundreds of meeting planners are receiving support, collaboration and logistic or promotional aid from the Madrid Convention Bureau," says Juan Carlos Beneyto Benavides, head of corporate and incentive travel at the convention bureau. "Americans choose Madrid based on the efficiency of transportation, such as high-speed trains and worldwide air connections, and incomparable meeting facilities."
Multinational corporations are drawn to the city's massive convention venues. Producing more than 500 fairs and congresses annually at Feria de Madrid, show organizer IFEMA offers more than 2 million sq. ft. of expo space, including two convention centers.
This year, the World Air Traffic Management Congress attracted nearly 7,000 attendees and it has rebooked through 2022. CPhl Worldwide will bring some 34,000 professionals to Madrid in October, and IFEMA will host 10,000 at the 2017 World Dental Congress.
Museum Tours & Venues
Beyond the busy convention floors, intimate gatherings and smaller meetings are legendary in the historic heart of Spain. Private guided tours and social events take place against a lush setting of art and architecture in the Golden Triangle of Art along tree-lined Paseo del Prado. The area is anchored by three world-famous stars of the city's more than 40 museums—Museo del Prado, Museo Thyssen-Bornemisza and Museo Nazionale Centro d'Arte Reina Sofia.
Museo del Prado is Spain's major art museum and includes masterpieces by Goya, Velasquez, El Greco and dozens of others. Thyssen-Bornemisza features expressionist and impressionist art, and offers private tours, banquets for 300 and receptions for 800. Exhibiting contemporary art and 20th-century works, including Picasso's iconic Guernica, Museo Nacional Centro de Arte Reina Sofia is a favored venue for elegant receptions and black-tie dinners. More than 400 people can be accommodated in the formal gardens, on the rooftop terrace and in the largest of three auditoriums.
Among several companies specializing in private, guided museum tours, Context Travel arranges for art historians to introduce groups to treasures such as Sorolla Museum, a lesser-known house of galleries filled with luminous expressionist paintings. Popular with incentive groups, Cellar Tours follows its guided museum visits with Spanish wine tastings and tapas lunches.
A Hotel Renaissance
NH Collection Madrid Paseo del Prado
After visiting Museo del Prado, many corporate groups head across the street to lodging and meetings at the 114-room NH Collection Madrid Paseo del Prado, a newly refurbished five-star property in a 1904 Neo-Baroque palace, with views of the spectacular circa-1784 Fountain of Neptune. Up to 120 people can convene there, enjoy tapas created by a Michelin-starred chef and stroll around the Salamanca neighborhood.
NH Collection Madrid Eurobuilding
The 412-room, four-star NH Collection Madrid Eurobuilding is near Municipal Conference Center. It encompasses a convention center with 35 function rooms and has Europe's largest multimedia vault screen, projecting 3-D images, photographs and videos. The hotel underwent a complete remodeling in 2014, and is now the site of Diverxo, the only Michelin three-starred restaurant in Madrid.
In 2017, 500 members of the Association for the Study of Biology of Reproduction will meet at the new Novotel Madrid Center. Adjacent to El Retiro Park, it is the largest Novotel in the world, with a whopping 790 rooms and 25,000 sq. ft. of function space. Madrid Marriott Auditorium Hotel & Conference Center, another high-rise property and the largest Marriott in Europe, has remodeled its 869 rooms and 56 meeting spaces in the onsite Principe Felipe Congress Center; free shuttles are offered to IFEMA trade shows and the airport.
Meeting & Incentive Properties
Iberostar Las Letras Gran Via, Madrid
Among the dozens of meeting and incentive hotels that have recently opened and reopened, the four-star 302-room Hotel InterContinental Madrid has modernized 24,370 sq. ft. of event space, including a 6,100-square-foot ballroom and a breezy terrace for groups of up to 150. World Travel Awards named the InterContinental Spain's Leading Business Hotel in 2014 and 2015.
Eurostars Madrid Tower Hotel is near Municipal Conference Center and located on the bottom 31 floors of the 770-foot-tall, architecturally dramatic SyV Tower. The hotel sports 473 rooms, 26,910 sq. ft. of meeting space and the largest column-free ballroom in Madrid. Views of the city and the Guadarrama Mountains are dazzling from Volvoreta restaurant and Panoramic salon, a popular spot for cocktail receptions.
Spain-based Iberostar Hotels & Resorts has opened its first hotel in Madrid, in the Gran Via neighborhood. Located in a circa-1917 building. Iberostar Las Letras Gran Via has 103 guest rooms and meeting space for up to 250. On the rooftop garden terrace, a gentle mist keeps guests cool as they linger under the stars.
Slated for 2018, the 141-room W Madrid will boast a rooftop bar and two meeting rooms.
---
Karen Misuraca is the founder of DeepCultureTravel.com.
---
A City of Trees, Parks & Gardens
Madrid, centered on a plateau more than 2,000 feet above sea level, is one of the highest capitals in Europe. It's full of gardens and boasts 617,000 acres of parks, making it the second greenest space of any city in the world. In a grand new plan, city-center parks, urban gardens and green roofs are being added, and the leafy, linear Parque del Manzanares along the Manzanares River will be extended.
Casa de Campo, also on the riverside and five times the size of New York City's Central Park, is a magical world of forests and meadows, and features an amusement park and a zoo. Within the park, the sprawling Recinto Ferial convention center hosts large fairs, conventions, expos and concerts in such venues as Crystal Palace and Madrid Arena, which handles audiences of 10,000. The 215,000-square-foot Glass Pavilion boasts a 660-seat theater.
Just behind Museo del Prado is El Retiro Park, the green heart of the city where Madrilenos and meeting-goers relax in the formal gardens and stroll around the lakes and promenades. Exhibitions are held in the elaborate, Victorian-era Glass Palace and Velazquez Palace. Across the street from the museum, Royal Botanical Garden, founded in 1755, is a glorious venue for group events, from receptions in the Bonsai Greenhouse to parties in the Garden Square for Peace and presentations for up to 400 in the 18th-century Villanueva pavilion.
Jardines de Sabatini (pictured) is a huge, neoclassical garden at the Royal Palace featuring three terraces, elaborate fountains and statues of Spanish kings. When theatrical and musical shows aren't taking place, the garden is available for private receptions of up to several hundred people.
Dating from 1674 and restored in 2001, Convent of Boadilla, located on the outskirts of the city in a grove of century-old oaks, is popular for corporate parties for up to 600 in airy cloisters and for gala meals and meetings in the greenhouse.
---
Daytrips, Food & Flamenco, Madrid-style!
Within an hour's drive of the city are myriad cultural and historic destinations, including six UNESCO World Heritage Sites, which make for perfect getaway spots.
It takes a full day to see the glories of the Spanish Golden Age at El Escogial, a monastery built by Charles V in the 1500s, It includes royal tombs and chapels, the Palace of the Hapsburgs, an architecture museum and a gallery with works by El Greco, Titian, Rubens and Veronese.
Royal Palace of Aranjuez, another World Heritage Site, was built by Philip II at the confluence of the Tajo and Jarama rivers. It was later rebuilt and decorated to the hilt by a succession of kings, and now houses a vast array of Rococo, Elizabethan, Chinese and Moorish treasures. Three enormous gardens feature woodlands, grand promenades and floral displays; royal barges are on display at nearby Faluas Museum..
An hour's drive from city center, the D.O. Vinos de Madrid wine region attracts corporate groups for private winery visits, tastings and gourmet meals. A visit there can be combined with stops at historic Chinchon, Aranjuez or Alcala de Henares. Custom tour companies Vinophoria and Viator provide multilingual guides, transport and complete itineraries.
At least one flamboyant flamenco performance is a must on every convention itinerary in this city, known as the Capital of Flamenco. Options range from grand productions in historic theaters to intimate song and dance recitals in smaller nightclubs and restaurants. One of the oldest tablaos (places where flamenco is performed) in the city, Corral de la Moreria, is world-famous for top singers, guitarists and dancers, and offers restaurant and performance bookings for up to 70 people.
The flamenco troupe at Candela bar performs nightly and offers lessons. Decorated in vibrant tiles and murals, Villa Rosa (pictured)—a century-old flamenco bar on Plaza de Santa Ana—combines popular dance shows with traditional Spanish cuisine.
Meeting-goers can sample Madrid's famous tapas during guided trips to restaurants and authentic taverns in the romantic La Latina neighborhood and other areas. During the Tapas and Fine Wine Tour of Madrid, Walks of Spain takes groups on easy daytime and evening walking tours led by a Madrileno wine connoisseur. Groups visit a private cellar, a tapas bar in a cave, Mercado de San Miguel and several eateries famous for Spain's jamon, olives, cheese, savory small plates and vino.
Smart Meetings Related Posts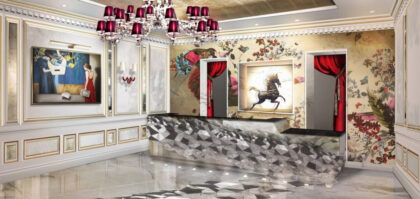 Hotels around the world are incorporating art into the visitor's experience with private art collections, galleries and installations.