Expanding on a modern classic
Coordinates
The largest city in Oklahoma is a vibrant mesh of Native American and Western culture, old and new. While maintaining a sense of classic Oklahoma City Midwest charm, the destination still manages to leverage technological advances to make everyone feel welcome. A modern, glass-faced convention center, with an adjacent luxury hotel and 70-acre park will have meeting professionals running to the city like never before. Check out what's going on in OKC.
OKC's New Convention Center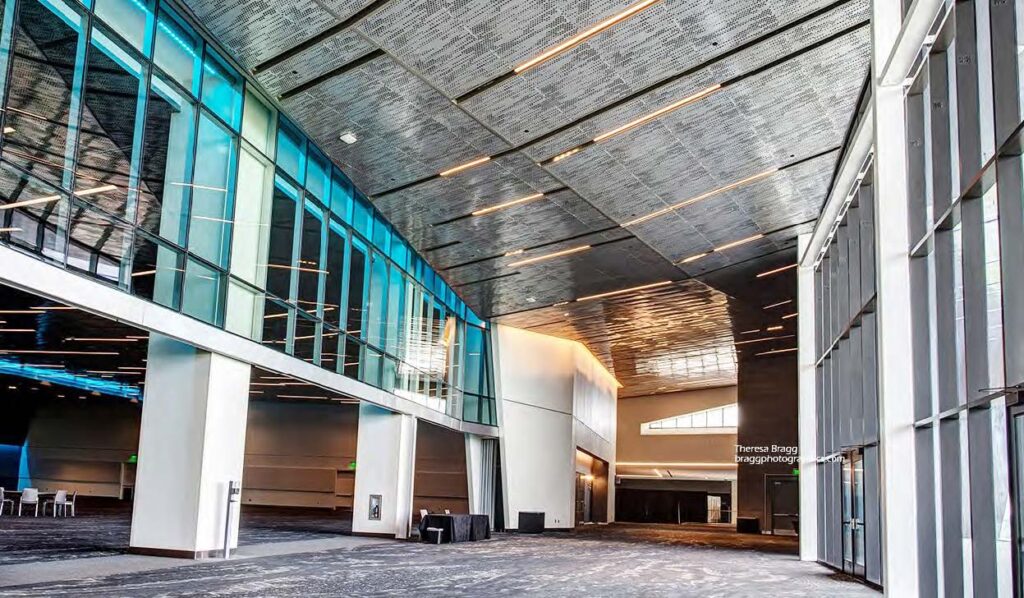 Oklahoma Convention Center complex is the latest addition to the city, offering not only 500,000 sq. ft. of space, including a 200,730-square-foot exhibit hall, but a park which sits across the street and 17-story hotel steps away.
Phase one of Scissortail Park is open, 40 acres of the park's 70. Once the park's remaining 30 acres are completed in 2022, it will connect the city's downtown to the Oklahoma River and provide visitors recreational activities, including concerts, walking and cycling trails, picnic sites and outdoor education experiences. Omni Convention Center Hotel next door is equipped with its own 76,000 sq. ft. of event space indoors and more than 4,000 sq. ft. out in the fresh air. The rooftop pool deck features private cabanas and sliding glass doors for year-round comfort.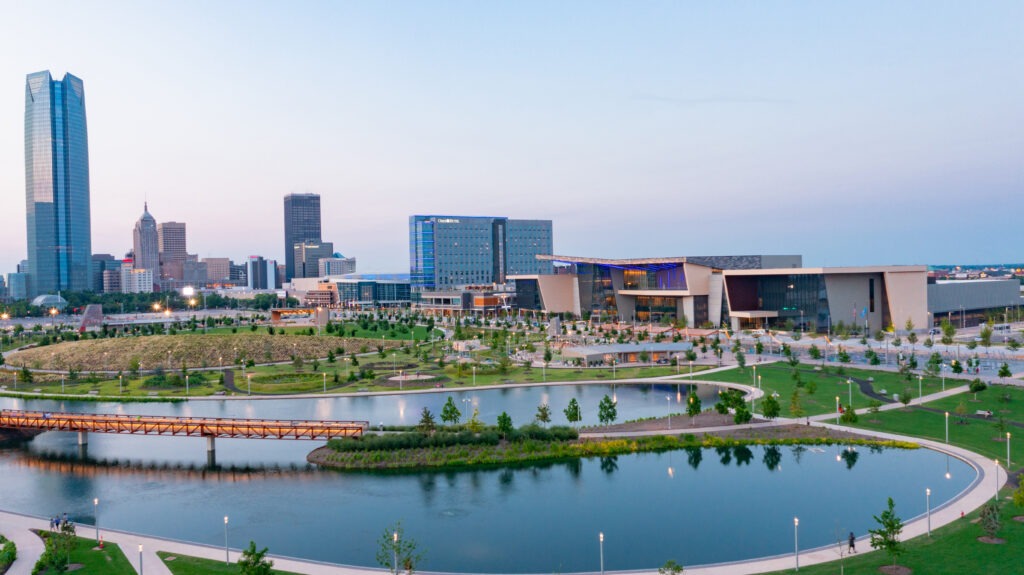 New and Noteworthy
Ten minutes away from Scissortail, Champion Convention Center underwent an imaginative refresh last year. In 35,000 sq. ft. of total event space, its largest space can accommodate up to 1,500 people. Next-door neighbor, Hilton Garden Inn Oklahoma City Airport comes with 161 guest rooms and 1,586 sq. ft. of meeting space, across three meeting rooms.
Read More: Plan the Perfect Meeting in Rapidly Evolving Oklahoma City
Enduring Favorites
Skirvin Hilton Oklahoma City has been serving visitors for more than 100 years, with 225 guest rooms and 18,500 sq. ft. of meeting space, and on opposite ends of its grand lobby, Red Piano Lounge and Park Avenue Grill. Sheraton Oklahoma City Downtown Hotel's location places guest near a plethora of dining and entertainment with a short walk to Oklahoma Convention Center. A total of 29,837 sq. ft. of event space and 396 rooms await.
21c Oklahoma City sits in the former location of a Ford Motor Company factory, listed on the National Register of Historic Places, and doubles as a contemporary art museum guests can navigate on their own or meet in the lobby at 6 p.m. for guided tours. The 135-room property boasts more than 14,000 sq. ft. of meeting space. Just inside Embassy Suites by Hilton Oklahoma City Northwest sits 216 guest rooms and 20,221 sq. ft. of meeting space, as well as The Local Kitchen & Tap.
The Essentials
3rd largest city in land area in the U.S.
14 districts make up Oklahoma City
4% of all businesses are small businesses
1935: the year OKC introduced world's first paid parking machine, the Park-O-Meter
Accessibility
Non-stop flights to major U.S. cities, such as San Francisco, Las Vegas and Orlando fly out of Will Rogers World Airport (OKC). Inside, passengers will find some of Oklahoma's finest musicians, showcased through the airport's live music program. An $89 million terminal expansion, along with a renovation of 43,473 sq. ft. will soon add four new airline gates, a security checkpoint and lounge space.
Local Secrets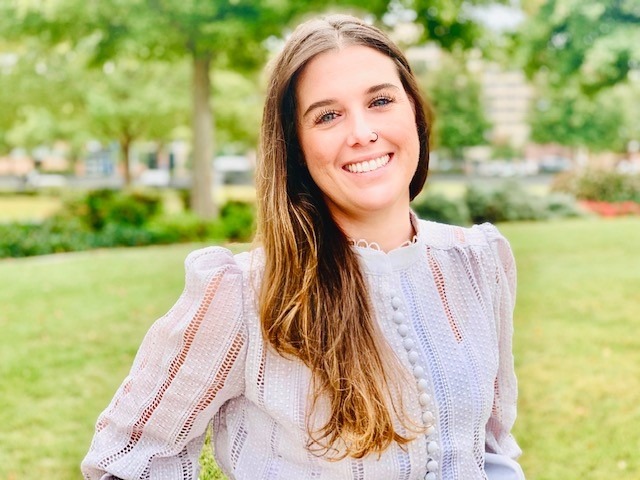 Camp Trivera is an urban camp tucked away in OKC's wooded expanse. Established in 2020, it is the United States' first STEM camp for girls. The facility offers activities such as indoor rock-climbing, camp-side s'more making, canoeing and STEM team building. Brittany Ward, Camp Trivera's business development manager, suggests giving Trivera's customizable and team-bonding corporate picnics a try.
Read More: Team Building Made Adventurous
Surprise and Delight
Arts are foundational in OKC. tell the tale of various epochs of the human experience in the area.
Day or night, dining under the curved glass arch in Hall of the People at First Americans Museum (FAM) atrium is a memorable experience. The signature 125,000-square-foot building designed by Johnson Fain on the south bank of the Oklahoma River is composed of a circular spiral mound representing "procession of life from a garden of origins", a 90-ft. tall promontory with views of the city and the heavens and a promontory walk with "sky terraces" for storytelling, repose and contemplation. The museum also houses Thirty Nine Restaurant, an homage to the 39 tribes in the state.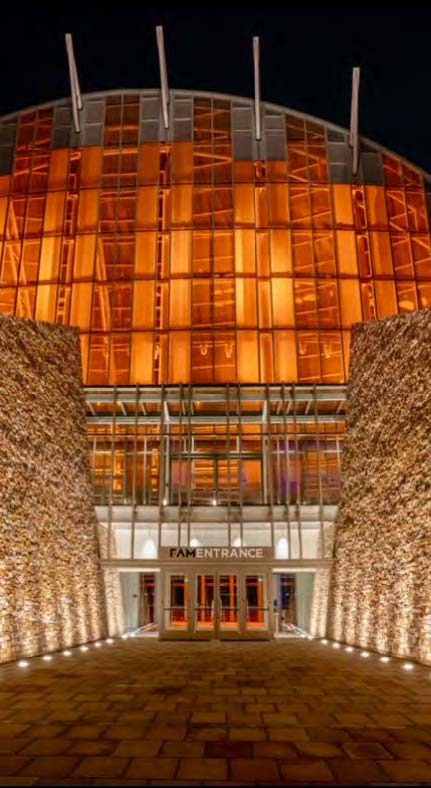 National Cowboy Museum, founded in 1955, collects, preserves and displays artifacts from the era of the American West. Meetings in Sam Noble Special Events Center, the S.B. "Burk" Burnett Board Room and Western States Plaza ground the program in a history of adventure.
The new 54,000-square-foot Oklahoma Contemporary Arts Center is a stunning modern backdrop for visual and performing arts, including the art of meeting as it doubles as an inspiring event space. The campus features a theater and dance studio for live performances. Architect Rand Elliott calls the undulating aluminum skin design "folding light" and an attempt to capture the ever-changing luminescence of the landscape.