Flipper photo by Philip Parker – Memphis Convention & Visitors Bureau
They're 210 miles apart and boast fascinating, colorful histories all their own. Nashville and Memphis, Tennessee, also have a good deal in common, including tremendous musical traditions. Some music spots have attained worldwide fame, including Country Hall of Fame & Museum and Grand Ole Opry in Nashville, and Sun Records and Beale Street in Memphis. Plus, both cities offer a lively culinary scene and outstanding transportation, lodging and meeting options.
"Nashville has always taken center stage for its accessibility, authenticity, hospitality and world-class talent," says Kay Witt, chief sales officer for Nashville Convention & Visitors Corp. "Getting here and getting around couldn't be easier. The city is within 600 miles of 50 percent of the U.S. population."
Memphis has recently become a strong destination in its own right, largely a the result of an ongoing $2 billion-plus downtown development project.
"Memphis brings people together," says Kevin Kane, president and CEO of Memphis Convention & Visitors Bureau. "Its music, food and authenticity mix a soulful mojo you just can't feel anywhere else, like the head-to-toe sensation of walking on Beale Street, with its neon lights; the thrill of chasing music legends at Graceland, Sun Studio and Stax Museum of American Soul Music; and the awe of standing where history was made, from Civil War and Civil Rights sites to the mighty Mississippi River."
Perhaps best of all, groups can sample some of the top features and attractions free of charge or at minimal expense. Here's a rundown of some of the top cost-saving experiences, all free unless noted otherwise.
Nashville
Nashville is the capital of Tennessee and the county seat of Davidson County. Its population grew by 6.7 percent to 644,014 from April 2010 to July 2014, making it the state's second-largest city.
The city is located on Cumberland River in the north-central part of the state. Nashville is a center for health care, publishing, banking and transportation industries, and boasts several colleges and universities. Most famously, it's a giant of the music industry, earning it the nickname Music City.
Nashville offers plenty of free options for visiting groups, including live music 365 days each year, tours, and admission to art galleries and parks, among other things.
Attractions
The Music City Walk of Fame on Nashville's Music Mile is a tribute to figures from all genres who have made a significant contribution to the music industry, and who have a connection to Music City. The 70 Walk of Fame inductees include Elvis Presley, Emmylou Harris, Little Richard, Dolly Parton, Roy Orbison, Jimi Hendrix and Hank Williams, Sr. A free induction ceremony is held every year at the downtown Walk of Fame Park, which is always open.
Galleries throughout downtown host receptions and art openings on the first Saturday of every month. More than 1,000 people attend the event, dubbed First Saturday Art Crawl, which features local and world-renowned artists and artwork. Participating venues along Fifth Avenue of the Arts and upstairs in the Historic Arcade all welcome community members and visitors. Most galleries serve free wine and other refreshments.
"Art galleries open their doors from 6 to 9 p.m. for art lovers and browsers," Witt says. "Enjoy contemporary art, wine and hors d'oeuvres as you stroll among the galleries spanning every aspect of the art world in Nashville."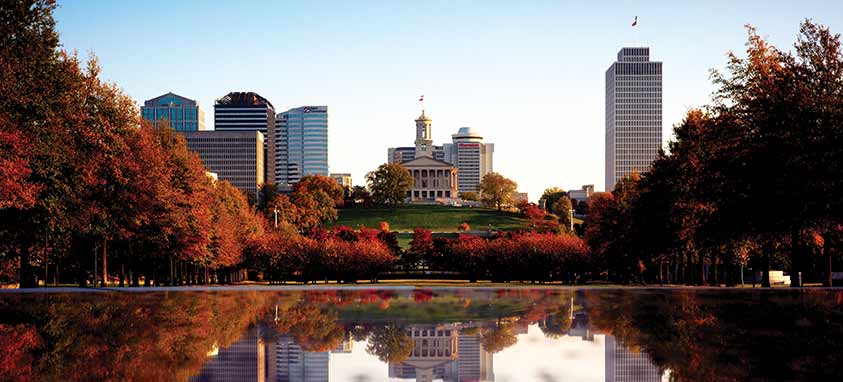 Located in the shadow of the Capitol in downtown Nashville, Bicentennial Capitol Mall State Park is one of the city's most popular attractions. Tour Tennessee via the park's 200-foot granite map of the state, a walkway featuring its 95 counties, 31 fountains representing its major rivers and an extraordinary wall depicting its history.
Every Wednesday from April through November, park tours are offered to explore the natural, cultural and historical resources of the area and the state. No advance sign-up is necessary for the tours, except for groups of 25 or more.
Live Music
One of the city's top music attractions doesn't cost a dime. Nashville's Honky Tonk Highway, located on Lower Broadway, is a row of exciting honky-tonks pumping live music into the streets from 10 a.m. to 3 a.m. You never know who you'll see in these Lower Broadway clubs. Willie Nelson, Gretchen Wilson, Kris Kristofferson, Dierks Bentley and other stars began their careers on this street, so one of the performers you see on stage just might be the next big thing.
As part of its mission to bring classical music to everyone in middle Tennessee, the Nashville Symphony annually presents its Free Community Concerts series. All concerts are conducted by Nashville Symphony Assistant Conductor Vinay Parameswaran, and groups are welcome.
Arrington Vineyards hosts Music in the Vines—what it calls "the best and most affordable night out in middle Tennessee"—every year from April through November on Fridays, Saturdays and Sundays. Music in the Vines is a live outdoor jazz event featuring local groups in the vineyard's courtyard. Guests are admitted free of charge to enjoy the grounds while listening to great music and enjoying award-winning wines.
Walking & Biking
Nashville has rapidly become a much better place for walkers, runners, hikers, mountain bikers and equestrians. The city has 75 miles of greenways and trails (including paved, off-street and multi-use trails), plus more than 150 miles of paved and unpaved trails in local parks. The Metro Greenways Commission is in the midst of an ambitious plan to build 3 to 5 miles of trails per year.
Centennial Park, the city's premier park, is located on West End and 25th Avenue North. The 132-acre park features an iconic Parthenon replica (modeled after the original in Athens, Greece), a one-mile walking trail, an exercise trail, sand volleyball courts, Lake Watauga, Centennial Art Center, historical monuments, an arts activity center, a sunken garden, a band shell, an events shelter and a dog park. Centennial Park is open daily from dawn to 11 p.m.
Memphis
Memphis is situated in the southwestern corner of Tennessee on the fourth Chickasaw Bluff, south of the confluence of the Wolf and Mississippi rivers. Memphis had a population of 656,861 in 2013, making it the largest city in the state, the largest on the Mississippi River and the 23rd largest in the United States.
The River City is the home of three Fortune 500 companies (FedEx, AutoZone and International Paper), and is a major hub for commerce in the transportation and shipping industries. The city is also known for its music and food. Blues, jazz and rock 'n' roll spill out from the clubs along Beale Street, and restaurants are world-renowned for barbecue and soul food.
Attractions
The Riverwalk atMud Island River Park is an exact scale model of the lower Mississippi River from its confluence with the Ohio River at Cairo, Illinois, 954 miles north of the Gulf of Mexico. Twenty cities are mapped along the Riverwalk, and concrete wedges are used to depict the main rivers flowing into the Mississippi. The Riverwalk spans five blocks, and historic markers provide plenty of information about the history of the river and its people. It's open from April to October.
The Center for Southern Folklore, located on Main Street downtown, is a private non-profit organization dedicated to documenting and celebrating the people, music and traditions of the region. Full of outstanding music, arts and crafts by local artists, the center frequently offers live music events and storytelling sessions, and has an affordable soul food menu. No fee is charged to visit the center.
The Art Museum of the University of Memphis features permanent collections of Egyptian and West African art, as well as changing exhibits of contemporary art. The museum is now closed because it is undergoing significant HVAC work that will enhance the protection of artifacts and art objects, but is scheduled to reopen in spring 2016. Free tours will be available.
Live Music
In 1909, W.C. Handy and his band moved to Memphis, where they started playing at clubs on Beale Street. It's where he penned "Memphis Blues," one of the first blues songs. Beale Street is now one of the most famous streets in the United States, not only because of its rich blues history, but also because of its abundance of neon signs that advertise three blocks of live music, nightclubs, restaurants and museums.
Attendees can also peruse A. Schwab Dry Goods Store, catch the Beale Street Flippers (a popular acrobatic group) twirling down the street and see hundreds of motorcyclists during Bike Night, held every Wednesday during the summer.
Built in 1936 and recognized as the site of Elvis Presley's first professional rock 'n' roll show, Levitt Shell is an outdoor performing arts pavilion located in the heart of Midtown's Overton Park. Levitt Shell uses the power of live music to bring the entire city together.
Every year, it stages more than 50 free concerts and events—with music ranging from classical to blues, gospel, country and rock—all made possible by community support.
Walking & Biking
Jimmy Ogle, a walking encyclopedia of Memphis history and lore, offers free walking tours of downtown Memphis every Tuesday from early April to mid-November. Each tour focuses on a particular area, such as Mud Island or Beale Street.
"His boundless enthusiasm makes one of his walking tours a fun, free way to learn more than you thought possible about the history, architecture, people and trivia of Memphis," Kane says.
Shelby Farms Park Conservancy consists of 4,500 acres, making it one of the largest urban parks in the United States. Guided walking tours introduce attendees to the history of the park, and to the plans and amenities that are shaping its future, including a new visitor center and amphitheater. Interpretive, docent-led programs can be customized to accommodate groups. Free guided tours are available, though a $25 donation is suggested for groups of 10 or more.
Until recently, Memphis didn't have much to offer bicyclists. Over the last couple of years, however, it has added an amazing proliferation of places for bike riding. The future is looking even brighter for the city, with bike lanes and trails being added, extended or connected to existing ones. Check out memphiscyclist.com for a list of lanes and trails.
"With more than 60 miles of bike lanes, off-road trails and protected pathways, bike routes are the perfect way to get around in Memphis," Kane says. "Designed for recreational and commuter riders of all skill and ability levels, plan your bike ride along the Mississippi River, down the Greenline or through a city park by using our free Memphis bike map."
Wrapping Up
Groups meeting in Memphis and Nashville almost invariably want to experience some of the outstanding attractions that charge admission fees. But planners can complement these attractions by choosing from the great variety of free options—and simultaneously cut expenses.
---
Hatch Show Point
One of the oldest continuously operating print shops in the United States, Hatch Show Print opened in 1879 and still attracts art lovers, music lovers and collectors. It offers collectible artwork promoting performers ranging from Hank Williams to Bruce Springsteen, all made with old-school letterpress printing processes.
Hatch Show Print is in the Fifth Avenue lobby of the Country Music Hall of Fame and Museum building. It's open every day except some holidays. The shop consists of four spaces:
–A large print shop where visitors can watch posters roll off the presses.
–A store with wall space to display the 100-plus posters created by the print shop available for purchase.
–Haley Gallery, featuring historic restrikes of original posters from the Hatch collection, as well as master printer Jim Sherraden's monoprints—contemporary interpretations and celebrations of the classic wood blocks of Hatch Show Print.
–Hatch Show Print Space for Design, a classroom and workshop space offering visitors and clients a chance to learn through demonstrations, hands-on printing and programs.
The shop designs and prints 500 to 600 different posters per year and provides artwork for diverse projects, such as an art book on photography and a book on food packaging for a U.K.-based entrepreneur.
---
Country Music Hall of Fame and Museum
Besides the free attractions and activities, Memphis and Nashville offer world-class options that require a fee, but are well worth it. Country Music Hall of Fame and Museum adds a strikingly modern touch to the Nashville skyline and offers one-of-a-kind experiences.
Situated at the epicenter of the city's rapidly growing core, a block from the popular honky-tonks of Lower Broadway and across the street from Bridgestone Arena and Music City Center, it recently unveiled a $100 million expansion. This doubled its size to 350,000 sq. ft. of state-of-the-art galleries, archival storage, classrooms, retail stores and special-event space with spectacular downtown views.
The museum's core exhibition, Sing Me Back Home: A Journey Through Country Music, immerses attendees in the history and sounds of country music, including its origins and traditions, and the stories and voices of many of its honored architects. The story is revealed through artifacts, photographs and text panels, with a rich overlay of recorded sound, vintage video and interactive touchscreens. The museum also features several limited-engagement exhibits.
Groups of 15 or more receive admission discounts and group tours can be arranged. The museum also has 17,800 sq. ft. of event space, including a new 10,000-square-foot event hall.
---
Peabody Duck March
In 1933, Frank Schutt, general manager of The Peabody (now The Peabody Memphis), and a friend, Chip Barwick, returned from a weekend hunting trip in Arkansas. They had consumed a little too much Jack Daniel's Tennessee sippin' whiskey and thought it would be funny to put some of their live duck decoys (it was legal then for hunters to use live decoys) in the Peabody fountain. Three small, English call ducks were selected, and they became wildly popular. Five North American Mallard ducks soon replaced the original ducks.
Seven years later, Bellman Edward Pembroke, a former circus animal trainer, offered to help deliver the ducks to the fountain each day and teach them the now-famous Peabody Duck March. Pembroke became the Peabody Duckmaster, serving in that capacity for 50 years until his retirement in 1991.
Ducks still visit the lobby fountain at 11 a.m. and 5 p.m. each day. The march is free and open to everyone.
---
Major Meeting Venues
Memphis
FedEx Forum

 Downtown facility; six meeting spaces provide 12,500 sq. ft.; can accommodate groups of up to 2,000; staff assists with planning, coordinating and catering events and meetings. q
Fogelman Executive Conference Center & Hotel
Premier meeting and event facility on University of Memphis campus; accredited by the International Association of Conference Centers; 133 guest rooms; 30,500 sq. ft. of meeting space, including grand ballroom that can accommodate 1,000.
Hilton Memphis
27-floor round, glass-tower hotel; located in the heart of East Memphis business district, close to Beale Street and Memphis International Airport (MEM); 405 guest rooms; 30,000 sq. ft. of event space, consisting of 19 meeting rooms.
Madison Hotel
AAA Four Diamond luxury hotel; features cool urban design and high-end sophistication; 110 guest rooms; Eighty3 restaurant; custom-built gym; 4,833 sq. ft. of meeting space.
Memphis Cook Convention Center
Downtown facility adjacent to Main Street trolley; connected via walkway to Sheraton Memphis Downtown Hotel; 350,000 sq. ft. of space, including 31 meeting rooms; column-free exhibit hall has more than 125,000 sq. ft. of space; 28,000-square-foot ballroom.
River Inn of Harbor Town
AAA Four Diamond property overlooking Mississippi River, near downtown; upscale boutique hotel combines charm of Old South and intimate European style; three restaurants; banquet hall; 2,000 sq. ft. of meeting space.
Sheraton Memphis Downtown Hotel
Connected to convention center; 600 guest rooms; Crossroads Tavern and Grille; indoor heated pool; fitness center; 16,000 sq. ft. of meeting space, including 4,600-square-foot Heritage Ballroom.
The Peabody Memphis
AAA Four Diamond, Forbes Four Star property; 464 guest rooms; Peabody Duck March has occurred daily since 1933; Feathers Spa opened in October; more than 80,000 sq. ft. of meeting space, including 16,000-square-foot grand ballroom.
The Westin Memphis Beale Street
Downtown property; 203 guest rooms; Bleu restaurant and lounge; business center; workout/fitness studio; golf course; 9,000 sq. ft. of meeting space, including nine meeting rooms.
Whispering Woods Hotel & Conference Center
Located just outside Memphis on 175 wooded acres; lakeside retreat setting; 180 guest rooms; complimentary continental breakfast; business center; outdoor pool; 47,000 sq. ft. of meeting space, including 24 meeting rooms and ballrooms.
Nashville
Gaylord Opryland Resort & Convention Center

Nestled in a bend of the Cumberland River; 2,882 guest rooms and suites; 9 acres of indoor gardens and waterfalls; 600,000 sq. ft. of meeting space, including exhibit hall, which offers more than 260,000 sq. ft. within 152 meeting rooms.
Hilton Nashville Downtown
AAA Four Diamond hotel near Country Music Hall of Fame and Museum and Music City Center; 330 guest rooms; business center; 17,800 sq. ft. of meeting space.
Hutton Hotel
High-tech, eco-friendly luxury boutique hotel in West End; 247 guest rooms; Forbes Four Star 1808 Grille blends Southern cuisine with global flavor; Java Bar; 13,600 sq. ft. of meeting space, including 7,000-square-foot Vista Ballroom.
Loews Vanderbilt Hotel Nashville
Adjacent to Vanderbilt University in Midtown; near Country Music Hall of Fame and Museum; 340 newly renovated guest rooms; 24,000 sq. ft. of meeting space.
Millennium Maxwell House Hotel Nashville
Near the center of downtown; distinct Southern vibe; spectacular views of city; free transportation to Nashville International Airport (BNA); 287 guest rooms; 25,000 sq. ft. of meeting space.
Omni Nashville Hotel
Across from Music City Center and connected to Country Music Hall of Fame and Museum; 800 guest rooms; Kitchen Notes restaurant; 5,000-square-foot Mokara spa; fitness center; rooftop swimming pool; more than 80,000 sq. ft. of meeting space.
Renaissance Nashville Hotel
Situated in the heart of downtown; connected to Nashville Convention Center; 673 guest rooms and suites; two restaurants; fitness center; indoor heated pool; 71,184 sq. ft. of meeting space, including 25 meeting rooms and ballroom that accommodates 2,500.
Sheraton Music City Hotel
Downtown property; second-largest freestanding hotel in Nashville; 410 guest rooms; spa; fitness center; indoor and outdoor pools; 32,000 sq. ft. of meeting space divided among 24 spaces.
Sheraton Nashville Downtown Hotel
Located in the heart of the business district; 482 guest rooms with city views; Adagio Spa and Speaker's Bistro; 25-story chandelier; 24-hour fitness facility; indoor pool; 25,000 sq. ft. of meeting space, including 19 rooms.
The Hermitage Hotel

AAA Five Diamond and Forbes Five Star property housed in 1910 Beaux Arts building across from Tennessee State Museum; 122 guest rooms; AAA Four Diamond Capitol Grille restaurant; spa; 5,400 sq. ft. of meeting space, including nearly 5,000-square-foot ballroom.
Union Station Hotel
Historic 1900s railway station turned luxurious hotel in the heart of Nashville; part of Marriott Autograph collection; 125 guest rooms; fine dining at Prime 108 Restaurant and Lounge; business center; fitness center; 12,000 sq. ft. of flexible meeting space.