The arts and meeting planning meld in the Garden State
There's a parallel to be drawn between meeting planning and arts and crafts. Not only do both require loads of mental firepower, but, as each creates something magical from almost nothing—a sorcery in itself—they necessitate tapping into your most creative self.
As artists create experiences on physical surfaces, you might say,  meeting professionals create experiences in physical space.
And just as a blank canvas leaves itself open to new opportunities, New Jersey offers itself to meeting professionals to provide one-of-a-kind experiences.
Atlantic City
Hotels and F&B
It's well-known humans are naturally drawn to shiny objects. If you have lingering doubts about that, take a look at Borgata Hotel Casino & Spa.

Once the glittering property has fully pulled you in, you'll find that coming here, with its more than 2,000 guest rooms and 106,000 sq. ft. of event space, including the 18,000-square-foot Water Club and 11,200-square-foot Premier Nightclub, was a solid choice. Made even better by live music and comedy shows and 17 F&B options, including Bread + Butter, Borgata Beer Garden and Izakaya by Michael Schulson.
Or take the group outside at Harrah's Resort Atlantic City. The property's veranda is a great option for cocktail receptions. Just inside awaits the attached 100,000-square-foot Waterfront Conference Center. Harrah's is being upgraded as part of a $400 million investment being put into Caesars Entertainment's Atlantic City locations; other properties include Caesars Atlantic City Hotel & Casino and Tropicana Atlantic City.
Expect musical memorabilia and musically themed venues throughout Hard Rock Hotel & Casino Atlantic City's 2,000 guest rooms and more than 150,000 sq. ft. of meeting space, from Slash's handwritten lyrics to Elvis' all-black motorcycle. For those gatherings that range into the thousands, the 7,000-capacity Hard Rock Live at Etess Arena may be just what the meeting planner ordered.  

Following the selling of Bally's Atlantic City by Caesars Entertainment, the new owners made the decision to revamp the hotel's 1,200 guest rooms and casino over the next five years. Bally's AC is home to 12 F&B options, including Jerry Longo's Meatballs & Martinis, the only restaurants with indoor blackjack, and the new deli-style Water Dog. Bally's and the connected Claridge-A Radisson Hotel combine for 200,000 sq. ft. of meeting space.
Off the Boardwalk, The Seed: A Living Beer Project is a local brewery that opened October 2020. It exemplifies the attitude toward the beer-making process shared by Sean Towers and Amanda Cardinali, the couple behind the project—that it's always living, changing and evolving. The space has a welcoming, airy feel to it, accompanied by copious numbers of plants throughout. The brewery can be bought out for up to 83 guests.
Bar 32 feels like childhood all over again, if drinking at an early age wasn't illegal. Mixing what many would call two of the most tempting vices, chocolate and cocktails, under one roof makes for fun post-meeting winding down. Bar 32 shares the newly redeveloped Tennessee Avenue (also known as The Orange Loop) with Italian- and cocktail-serving Rhythm and Spirits and Tennessee Avenue Beer Hall; these latter two are available for buyouts.
The Art of AC
Atlantic City is a leader in sharing its artistic efforts with visiting groups. Atlantic City Arts Foundation, for example, created the 48 Blocks Mural Tour in 2015 to breathe liveliness and vivacity back into the city and show off this project to guests in town. The program now has upwards of 60 murals, most which are creations by artists in the Tri-state Region.
Guided group tours at Noyes Arts Garage of Stockton University take attendees around the facilities, studios and galleries of local and emerging artists; they may even catch an artist at work. Noyes can serve as a venue for cocktail parties. Hands-on workshops can also be arranged.
WheatonArts houses Museum of American Glass, one of the largest collections of American glass in the world, including the first glass bottles made in the United States. Groups can participate in demonstrations, programs and workshops in the art of glassmaking, ceramics and flameworking. In the museum's hands-on, one-on-one Make-Your-Own Experiences, which includes glass fusing and flamework, visitors can form molten glass into their own piece of art.
Hudson County
Hotels and F&B
Envue, Autograph Collection by Marriott, in Weehawken, sits right along the Hudson River across from Manhattan. This means exquisite views while your group dines at the property's NoHu Rooftop Bar + Restaurant. Within Envue's more than 27,000 sq. ft. of space is Skyline, its panoramic 15,000-square-foot outdoor venue.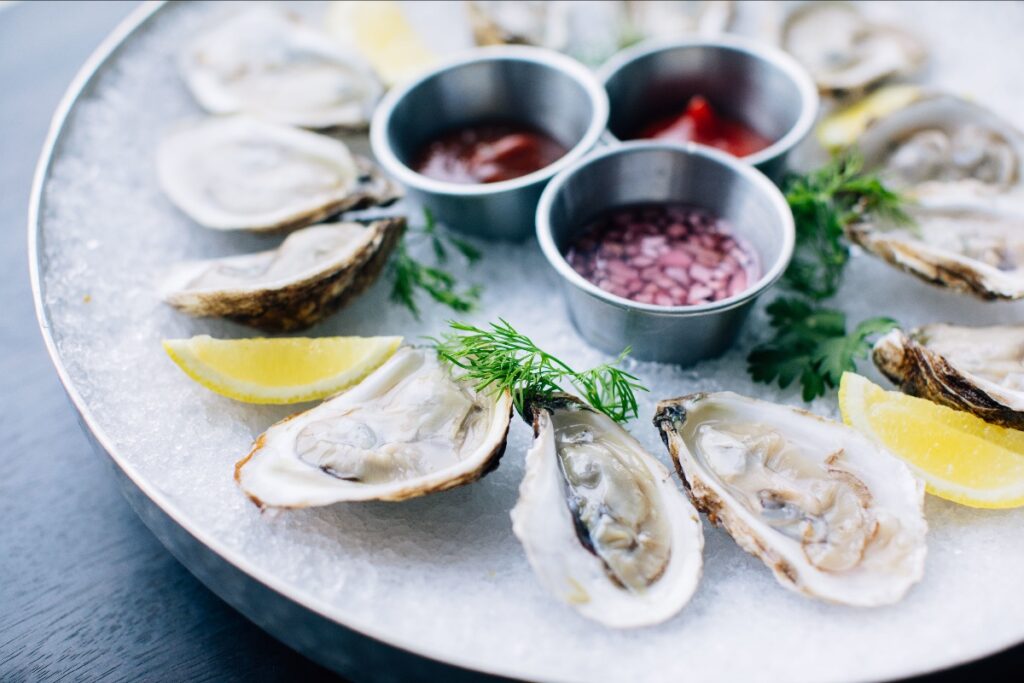 The 258-room Hyatt House Jersey City is ideal for extended stays, and it also boasts more than 33,000 sq. ft. of meeting space, including the terrace lounge and RoofTop at Exchange Place, which serves gorgeous views at no extra charge. Close by, you'll find The Westin Jersey City Newport, with 410 guest rooms and 20,227 sq. ft. of naturally lit meeting space.
It's as modern as modern gets at W Hoboken. The 200-room, green-centric property serves up a cozy 8,819 sq. ft. of meeting space and five breakout rooms, including Lulu's Outdoor Patio and Halifax, the property's Northeast-inspired restaurant. Living Room, W Hoboken's lively lobby, is just the space for post-event cocktails and has weekly live music, as well.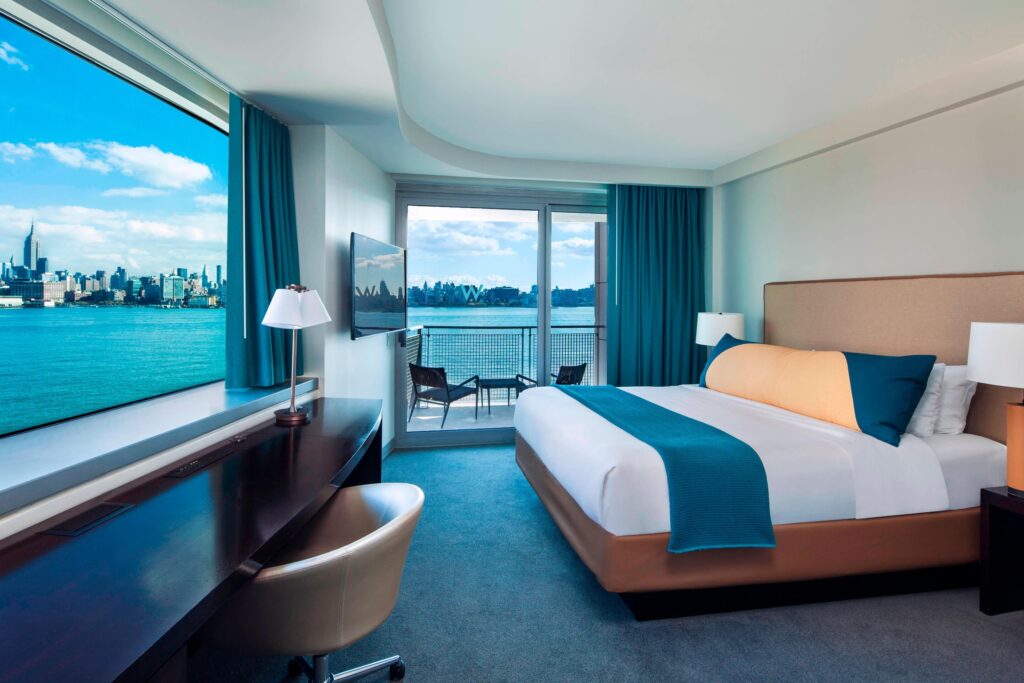 In East Rutherford is the 427-room Hilton Meadowlands, which houses just under 30,000 sq. ft. of meeting space, including the 11,520-square-foot Diamond Court Ballroom, the second largest in New Jersey. It's just five minutes from MetLife Stadium, home of NFL's New York Giants and New York Jets, which can host groups as small as 20 in the stadium clubs to as large as 2,000 indoors or 10,000 out on the field.
Finding your Inner Craftiness
Do your attendees have any painting chops? They can find out at ArteVino Studio in Hoboken. BYOB art classes and private corporate events are on offer. Art Mango, another paint-and-sip studio in Jersey City, leads painting parties for up to 70 participants at a location of your choice.
DIY Uncorked in Hoboken offers a variety of wine and craft workshops at which private groups can create a decorative mirror, wine rack, Mason jar sconces and more. All this while enjoying a few drinks—a recipe for constructive team building if there ever was one. It's BYOB, but Hoboken Vine has a wide selection of craft beers and wines and is only a call away.
At Issyra Art Gallery in Hoboken, groups can do more than admire the artwork of artists of Central and West Africa. Issyra hosts live djembe drum classes and West African drum and dance classes.
After the fun, attendees could wash up with soap they've created at Handmade Soap Coach's soap-making class. In this two-hour activity, groups choose two projects from the list of many, including tie-dye soap, lip gloss, body scrub, blended bath and body oil.
Fall-centric Farm FunPick your own blackberries, raspberries, tomatoes, potatoes and more at Alstede Farms in Chester, about an hour's drive west of Hoboken. Farm tours let groups navigate the acreage via hay wagon, and see orchards, greenhouses and farm animals on the family-owned farm; customizable educational tours are available for groups of 20 and more. Two venues, Harvest Hall and an outdoor area, can host up to 500.
Cherry Grove Farm is a dairy farm situated in Lawrenceville, not far from Princeton and Trenton. Cheesemaking is Cherry Grove's sweet spot, and hour-long pasture walks, private guided tours and cheesemaking classes can give your group all the details, as well as highlighting native plants and pollinators, and sustainable farming practices. The farm can host private events for up to 30 people; for nature-centric team building, trails surround the farm. At Cecil Creek Farm in Mickleton, about an hour from Atlantic City, five- or eight-course private dinners for up to 14 people can be had right where most of the organic goodness is grown.
In addition to cows, goats, rabbits and donkeys, Doyle's Farm in Central Jersey's Flemington is home to many team-bonding activities, such as egg collecting, apple pressing demonstrations and pumpkin picking, following by a lunch or dinner (BYO) with colleagues.
Here's one your attendees may not have imagined doing: taking alpacas on a walk. At Bluebird Farm Alpacas in Peapack, west of Newark, take your group for a tour of the farm to learn about these South American mammals (often confused with llamas) and why their wool is so highly coveted. Afterward, attendees can take an alpaca for a stroll using a halter and lead line. For those who love the experience the most, Bluebird even offers adoption.