Sunrise Sunrise over the Rio Grande, Bandelier National Monument
You could call New Mexico the "Land of Enchantment" and leave it at that. After all, it does have magical, rose-colored deserts and snow-capped peaks, where ski buffs flock to world-class slopes. And let's not forget the Rio Grande, tied for fourth-longest river in the United States and a mecca for white-knuckle rafting. Or the pueblos that predate Columbus, providing a vivid reminder of the state's rich past. But there's so much more. New Mexico is the fifth-largest state in the nation (121,589 square miles) and the sixth-least-populated (2 million people). That leaves a whole lot of open space to explore.
To the north is the landscape that inspired Georgia O'Keeffe's colorful paintings. It is a mecca for hikers and assorted outdoorsmen, creative types of all stripes and, thanks to a rich culinary tradition, food enthusiasts. On the 175-mile Santa Fe Trail, you can still trace wagon-wheel ruts left by pioneers traveling from Missouri to Santa Fe.
History beckons in southern New Mexico, home to the Old West. Billy the Kid was really a kid here, and 13th-century Indians carved cliff-side dwellings into what is now Gila Cliff Dwellings National Monument. For an awe-inspiring look at hunter-gatherers, head to Bandelier National Monument, where a trail leads past petroglyphs and masonry walls built into a cliff.
Food is another reason to visit New Mexico. Order a traditional dish at any restaurant and the chef inevitably will ask, "Red, green, or Christmas?" That's local lingo for what kind of chile—hot, hotter or both? A secret little known to outsiders is that it's the same chile, just picked at different times.
In New Mexico, you can drink local beer in most cities. The state boasts some 30 microbreweries and brewpubs, most in and around Albuquerque. For wine enthusiasts, there's the New Mexico True Wine Trail, with dozens of wineries to explore.
But the joys of New Mexico aren't limited to superb food and terrain. Many of its cities provide an array of hotels and resorts for groups that want to immerse themselves in art, culture and the shadow of history. Here is what you will find in these cities.
Albuquerque
Despite its 300 years of history and colorful blend of cultures, Albuquerque is a cosmopolitan city, where you'll find performing arts and world-class restaurants mixed with indigenous influences. Where else would you see a gentleman rancher wearing handtooled cowboy boots watching Madame Butterfly in a majestic music hall?
What To Like: "We chose Albuquerque because of the friendly people, meeting venues and diverse cultures that we know our members will appreciate," says Amy Stinger, CMP, senior manager of conference planning for Catholic Charities USA. "The beautiful country and outdoors will certainly bring an added benefit to our meeting."
One of the most beloved destinations is Old Town, where ancient Indian and Spanish cultures come to life through old churches, charming shops and historic piazzas. Browsers can spend a day in the boutiques and galleries that sell local goods and global wares. Indian Pueblo Cultural Center and Petroglyph National Monument offer a glimpse of ancient Southwestern customs and art.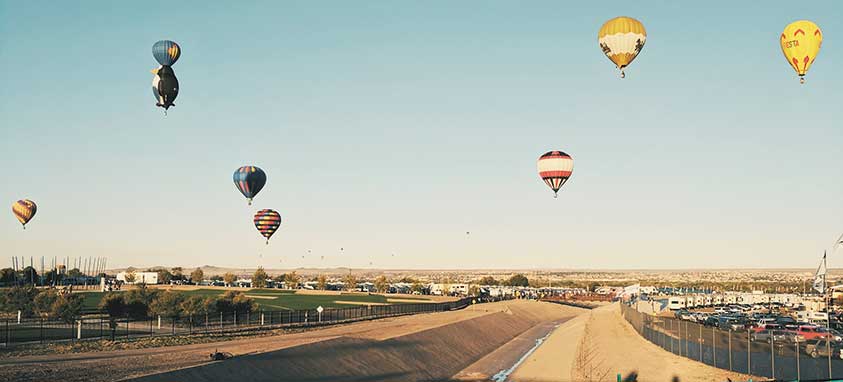 Albuquerque International Balloon Fiesta
What To Do: Albuquerque hosts numerous events, but one that stands out is Albuquerque International Balloon Fiesta, attracting tens of thousands of spectators each year to watch hundreds of colorful balloons float across the sky. A tradition for four decades now, the festival is nine days of balloon launches, from dawn patrol to mass ascension, all starting at a launch area the size of 54 football fields.
North America's longest tramway is also in Albuquerque, making a 2.7-mile ascent to the 10,378- foot peak of the Sandia Mountains for panoramic views of Rio Grande Valley. Come twilight, visitors marvel at city lights sparkling in the valley below.
If you're a race-car fan, put pedal to the metal and head to the 13,000-square-foot Unser Racing Museum, where Al Unser pays tribute to his family's four generations of racers and the sport of motor cross. Race and pace cars are on display, along with the sport's history and memorabilia. Jerry's Garage is an exhibit area by day and rental venue for up to 250 by night.
Where to Stay: The landmark 188-room Hotel Albuquerque at Old Town, blends history with contemporary comfort in the heart of the Old Town district. In addition to an on-site restaurant and outdoor swimming pool, the hotel provides more than 62,000 sq. ft. of indoor and outdoor meeting space.
Isleta Resort & Casino takes takes scenic to new heights with 201 guest rooms swathed in a glass tower overlooking the desert, more than 60,000 sq. ft. of meeting space and an award-winning Eagle Golf Club.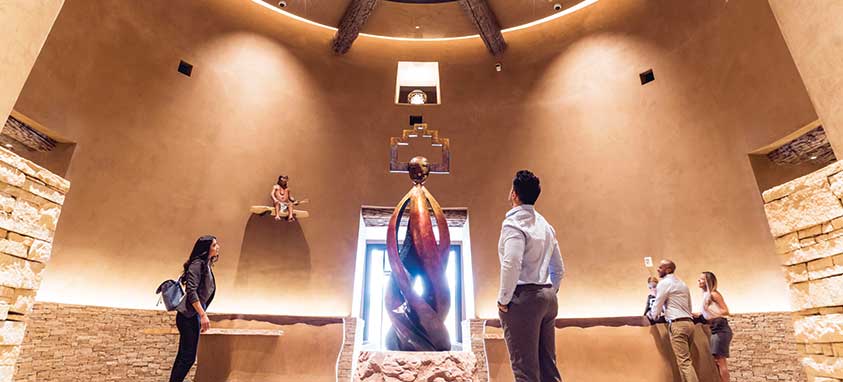 Lobby at Hotel Chaco, Albuquerque
New to Old Town is Hotel Chaco, inspired by Chaco Canyon, a UNESCO World Heritage Archaeological site. Hotel Chaco is a 118-room boutique hotel doubling as a gallery for original Native-American art displayed on the walls. Meeting space includes a venue for 60, a terrace suite for 100, plus shared space with Hotel Albuquerque at Old Town.
AAA Four Diamond Hotel Andaluz in downtown Albuquerque is on the National Register of Historic Places and recognized as one of Conde Nast Traveler's Top Hotels in the Southwest. With 107 guest rooms and some 7,000 sq. ft. of event space, it can easily host up to 150 guests.
Convening: Paying tribute to the town's love of hot-air ballooning is Anderson-Abruzzo Albuquerque International Balloon Museum, one of the most awe-inspiring aviation museums in the nation. Exhibits trace balloon and aviation history to 1783, while the museum itself is a mind-boggling piece of architecture with panoramic views of the Sandia Mountains. Groups can host events spaces including 3,350 square-foot Pugash Hall and the 3,342-square-foot Sky Lounge.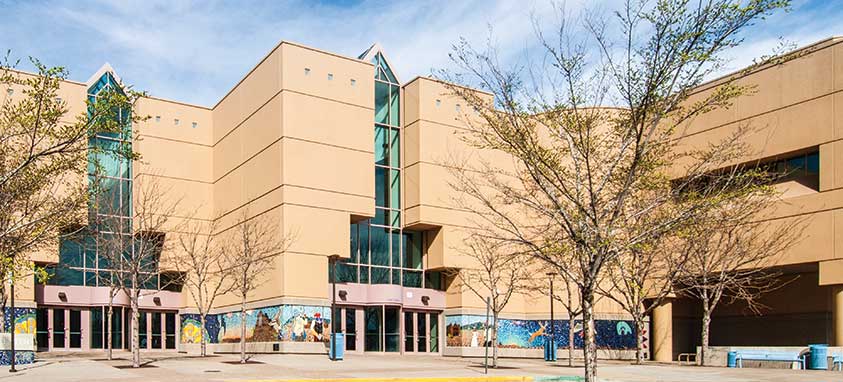 Albuquerque Convention Center
Albuquerque Convention Center has 270,000 sq. ft. of meeting and exhibit space, which includes a $23 million renovation to its ballrooms and kitchen. Kiva Auditorium seats 2,300.
Santa Fe
Santa Fe is a city like no other. Steeped in art and history, its stature as a premier destination keeps on growing, thanks partly to beautiful scenery, a pleasant climate and the rare quality of abundant fresh air in an urban environment.
Set in the Sangre de Cristo foothills, Santa Fe was founded in 1610 as a Spanish colony and is now considered New Mexico's crown jewel. The heart of the city is The Plaza, surrounded by adobe landmarks that house shops, galleries and restaurants.
"We had heard Santa Fe was magical," says Mark Holland, associate director of Rocky Mineral Law Foundation. "We had a large constituency from Texas and Colorado that wanted to meet here. That was in the late 1980s. We've been holding a convention in Santa Fe every four to five years since."
What To Like: Art lovers won't have to go far in their creative pursuits. Santa Fe Artists in Residence is an art experience connecting visitors with New Mexico artists in 16 participating hotels. Guests get a front-row seat to watch artists as they go about their creative work. Meet-and-greet wine receptions can be arranged.
History buffs will love Santa Fe's layered past, preserved in old sites and surroundings. Examples include Mission San Miguel, a Spanish Colonial church, first built between 1610 and 1628 and considered to be the oldest church in the country; and The Cathedral Basilica of St. Francis of Assisi, one of Santa Fe's most celebrated landmarks, built in 1869 in the French Romanesque style.
What To Do: Museums abound in Santa Fe. Besides Georgia O'Keeffe Museum, featuring the artist's iconic New Mexican landscape paintings, there's El Rancho de las Golondrinas, a 200-acre living history museum dedicated to the heritage and culture of 18th- and 19th-century New Mexico. Onsite buildings date to the early 1700s.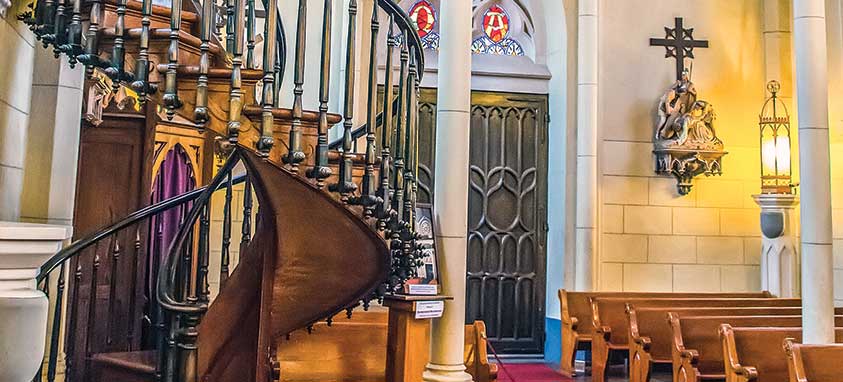 Loretto Chapel, Santa Fe
Loretto Chapel is a former Roman Catholic church that is now a museum known for its unusual helix-shaped spiral staircase. The Palace of the Governors, built in 1610, is an American treasure representing three different architectural styles, and chronicling the history of Santa Fe and New Mexico. Performing arts fans should head to Santa Fe Opera, one of the nation's premier opera companies.

La Fonda on the Plaza, Santa Fe
Where To Stay: Flip a few coins when choosing a hotel in Santa Fe, because wherever you end up, you will almost certainly win. Set on the oldest hotel property in the United States is 180-room La Fonda on the Plaza, which was a popular stop for trappers, politicians and merchants traveling the Santa Fe Trail. The current hotel was constructed in 1922 and features handcarved beams, stained-glass skylights and a 25- foot cathedral ceiling. La Fonda also offers 20,112 sq. ft. of meeting space, including the elegant Lumpkins Ballroom.
Steeped in Southwestern history is 182-room Drury Plaza Hotel, showcasing architecture and design inspired by the Spanish missions of New Mexico. Most rooms come with fireplaces and balconies, and some have sliding barn doors separating bedrooms and living areas. The LEED-certified hotel provides 20,000 sq. ft. of flexible meeting and banquet space.
Old World charm and New World amenities set the tone for the 157-room La Posada de Santa Fe, tucked on several acres in the heart of the city. The resort has an award-winning spa, a heated outdoor pool and flexible meeting space for 300, plus teambuilding activities that include tequila tastings and s'mores by the fire.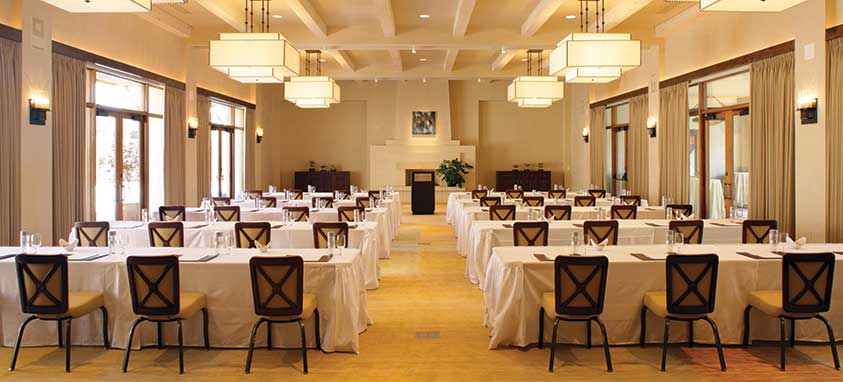 Four Seasons Resort Rancho Encantado Santa Fe
Other not-to-miss hotels are AAA Four Diamond Eldorado Hotel & Spa, boasting 219 guest rooms, a rooftop pool and 22,000 sq. ft. of event space, including the largest ballroom downtown; and spiffy Four Seasons Resort Rancho Encantado Santa Fe, situated in a spectacular desert setting, with 65 guest rooms and meeting space for 200.
Convening: In addition to hotel facilities, Santa Fe has the 72,000-square foot Santa Fe Community Convention Center, with 40,000 sq. ft. of event space. The newly renovated Site Santa Fe, an 34,000-square-foot restored beer warehouse, recently reopened after a yearlong restoration with a flexible auditorium for 200 and a sky mezzanine for 150.
Night owls will want to check out the new Casa Espana, an 18th-century fur trader's home furnished as a private home, with eight rooms accommodating up to 300 people.
Las Cruces
What To Like: Set on the edge of Chihuahuan Desert, the City of the Crosses is the cultural and historical crossroads of the Southwest, boasting some 350 days of sunshine every year. It is the second-largest city in New Mexico and one of the fastest-growing in the nation.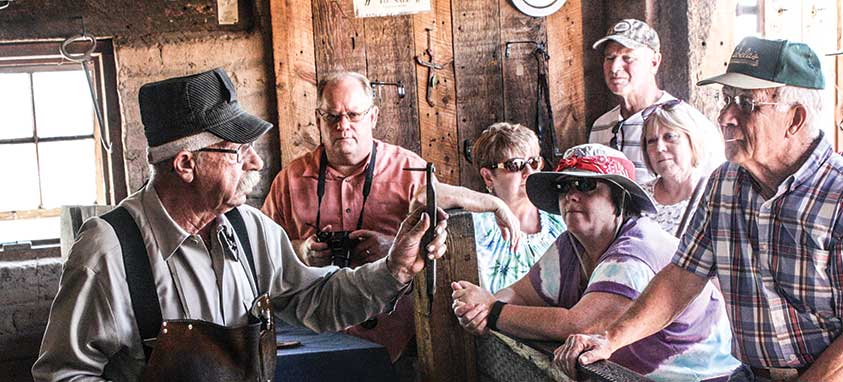 Blacksmith at New Mexico Farm and Ranch Heritage Museum, Las Cruces
A good place to start a visit is the interactive New Mexico Farm and Ranch Heritage Museum, a 47-acre site that brings the 4,000-year history of farming and ranching in New Mexico to life. Guests can watch water dowsing, blacksmithing, quilting and cow-milking. The museum has 24,000 sq. ft. of event space.
The Museum of Nature and Science, where groups can gaze up to the stars, out to the desert and down to see fossils. The Railroad Museum is for rail rovers, riders and readers. Located in an old train depot, the museum showcases a 1890s wooden caboose and a room devoted to intriguing model trains and railroads.
What To Do: Lace up your hiking shoes for a taste of the outdoors. Organ Mountains-Desert Peaks National Monument covers more than 500,000 acres surrounding the city. Desert trails take hikers past more than 243 intriguing petroglyphs and archeological sites. Mesilla (Little Tableland) is the most visited historical community in Southern New Mexico. From the Civil War to the trial of Billy the Kid, Mesilla has been a prominent part of local history.
New Mexico's newest state park, Mesilla Valley Bosque State Park, sits on the western bank of the Rio Grande in Las Cruces. The city is also home to a growing wine industry. Tipple a glass, and then taste some of the country's best Mexican food and see for yourself why Las Cruces has earned the title of Chile Capital of the World.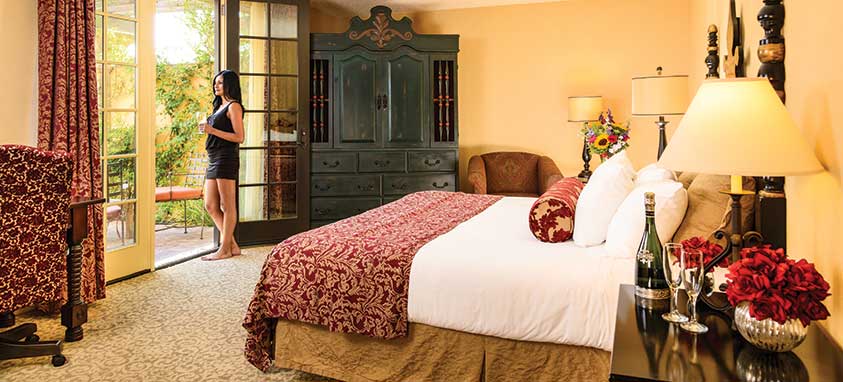 Hotel Encanto de Las Cruces
Where To Stay: With more than 3,000 guest rooms and 128,000 sq. ft. of event space, there's something for everyone in Las Cruces. One standout is Hotel Encanto de Las Cruces, a luxury resort overlooking the Mesilla Valley. Built in the Spanish Colonial style, the hotel features 204 guest rooms, 10,000 sq. ft. of flexible indoor meeting space and 25,000 sq. ft. of outdoor meeting venues.
Intriguing Taos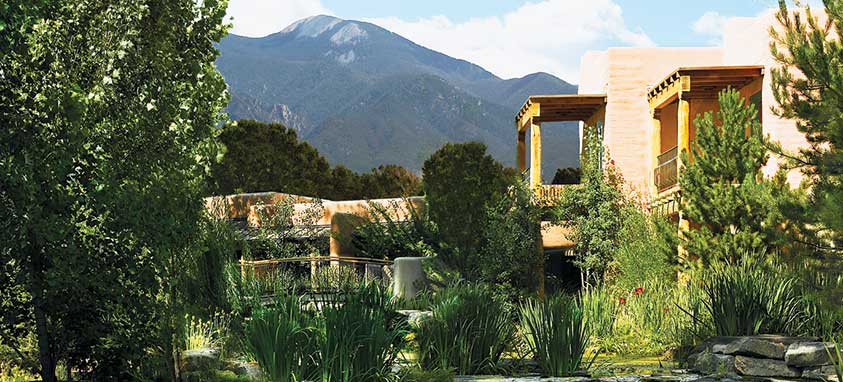 Taos is the go-to destination when you need a break from city life. Settled in 1540 by Spanish colonists and known as an artist colony, it's the oldest continuously inhabited community in the United States.
Visitors won't be bored. Between galleryhopping, strolling historic Taos Plaza and taking to the slopes, there's plenty to do. Want to be outdoors? Head to Taos Ski Valley, with 13 lifts and more than 1,000 acres of terrain. If your tastes tend to the historical, check out Taos Pueblo, a UNESCO World Heritage Site and National Historic Landmark inhabited for 1,000 years.
The historic San Francisco De Asis Mission Church, made famous by Georgia O'Keeffe and Ansel Adams, is a must-see. Or, make the 8-mile jaunt northwest of town to Rio Grande Gorge Bridge, spanning 650 feet and offering breathtaking views of the surroundings.
You won't find mega-resorts, but Hotel La Fonda de Taos (La Fonda is Spanish for "the inn") has a stellar location on Taos Plaza. A gathering place for artists and writers for more than 100 years, it boasts the famed D.H. Lawrence Forbidden Art collection and a 700-square-foot conference center with a huge kiva fireplace.
Three blocks away sits 84-room El Monte Sagrado Living Resort and Spa (pictured), surrounded by mountains and high desert. It has a 2,400-square-foot ballroom with hand-carved doors and Italian crystal chandeliers, and several smaller meeting rooms.