Brooklyn Bridge, with Manhattan in background
New York is Trending Greener and Better Than Ever
From the peace and quiet of Upstate to the hustle and bustle of Manhattan, the Empire State adds style to any gathering. New York is where trend-watchers go to find that signature touch for a gala or retreat. With some of the best airlift in the world, it is easy to gather the movers and shakers in any industry.
This fall, classic properties have announced dramatic renovations while newcomers are wowing with eye-opening views. Spoiler alert: Rooftop patios are popping up all over, and green is the new "it" color as sustainability is woven into the buildings and operations of some of your favorite ballrooms.
Consider this your trend report for all things New York.
Upstate New York
Residents of the "big city" used to flock north to escape the trappings of work. Then, some of them put down roots and started businesses, or were lured by growing industry offering a better quality of life for their employees. From Tech Valley and the stately homes of the Capital District to the natural beauty of Western New York, meetings in the "other" cities of New York offer distinct style options that aren't available anywhere else.
Related: New York Hotel Aims to Give Big Lift to Meetings Industry
Western New York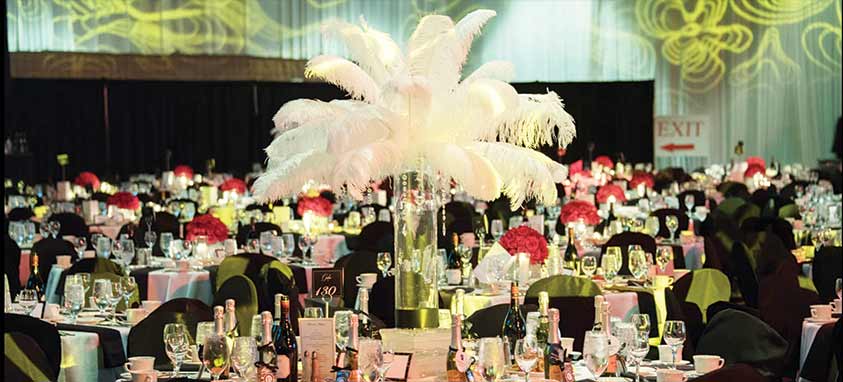 On the shores of scenic Lake Ontario, the cities of Rochester and Brockport lure with fresh air and affordable spaces. The lower price tag belies the big-city amenities, however. Rochester Riverside Hotel's 460 guest rooms and 30,000 sq. ft. of meeting space are a gateway connected to Joseph A. Floreano Rochester Riverside Convention Center's 100,000 sq. ft. of exhibit and entertaining spaces. A short drive from New York State Thruway, The RIT Inn & Conference Center recently renovated its 10,000 sq. ft. of meeting space to accommodate groups as large as 500 attendees, and has 304 guest rooms and two restaurants.
Outside the breezeways of the conference centers, Rochester is home to innovative spaces that will spark attendee imaginations. The Strong National Museum of Play puts visitors in touch with everything from early dolls and board games to the latest video games. Or, add a visual spin with a visit to George Eastman Museum in the Eastman Kodak founder's home, which today houses a display of the history and art of photography. It also includes a 500-seat movie theater that can be rented for events.
Capital District
Discover Albany boasts 400 years of history in the state's capital city. A heritage of offering hospitality to all in need of shelter is visible in the stately architecture of Scotia's The Historic Glen Sanders Mansion, with its soaring, 5,000-square-foot ballroom and Saratoga Springs' The Gideon Putnam, which features 12,000 sq. ft. of indoor and outdoor event space inside a state park. One attractive accessory in Saratoga Springs is access to Saratoga Spa Golf Course and Roosevelt Baths & Spa (famous for rejuvenating natural mineral baths), a self-contained conference center and proximity to an expanded Saratoga Springs City Center (32,000 sq. ft. of meeting space).
An hour south of Albany and north of New York City, in the Hudson Valley, Mohonk Mountain House, a secluded Victorian castle, has been welcoming travelers for more than century. With plenty of memorable settings for meetings and award-winning catering, this historic property has become a popular retreat for team-building and corporate events.
Smart tip: Ask about the new Grove Lodge for an executive stay.
Eastern New York is also an ideal place to combine gazing at fall foliage with a craft brewery tour that features local ingredients and local characters in equal measure.
New York City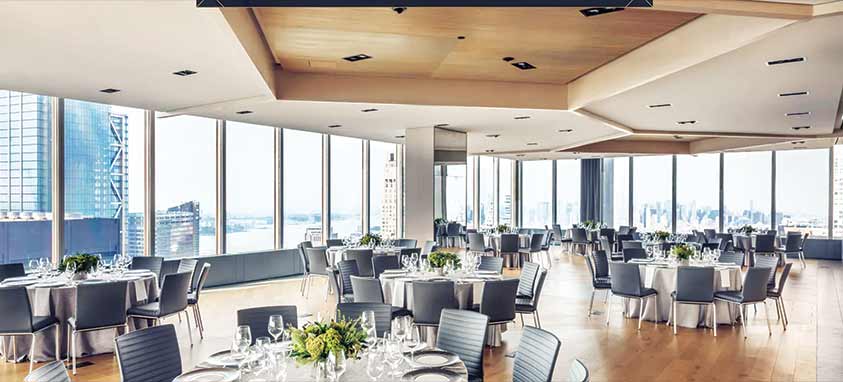 From where NYC & Company President and CEO Fred Dixon sits— in the front row watching a parade of plans for new group venues making their debut—2019 looks like a move back to abundance. An array of innovative, high-rise projects sporting sweeping views will take center stage (e.g., Manhatta and Bay Room, the restaurant and event space from the founder of Gramercy Tavern that serves up panoramic views 60 stories above the Financial District).
At a press conference at The Museum of Modern Art, Dixon announced that more than 117,000 new hotel rooms are expected in his city by the end of 2019. He called it "the most active hotel development pipeline in the country." With occupancy levels ranked as one of the highest in the nation—88 percent on average—Dixon welcomes the influx. After 40 consecutive months of increasing room demand, visitors are showing no signs of turning their backs on the most populated city in the United States. In fact, Dixon estimates a record 38 million room nights will be booked by this year's end to accommodate 65.1 million visitors—many of them in groups.
Hudson Yards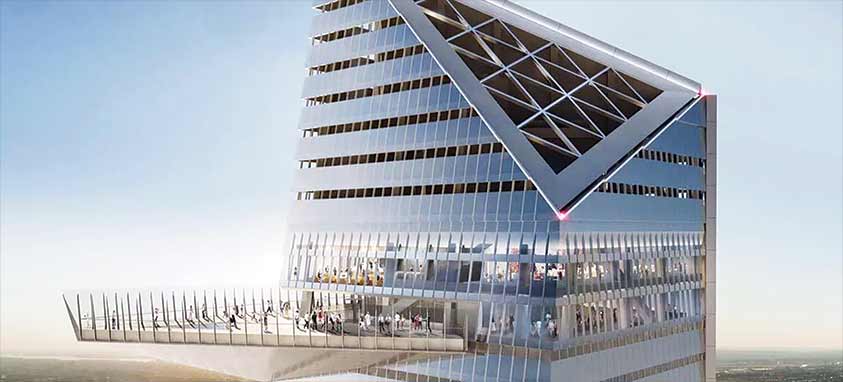 "Next year will be monumental for New York City, ushering in a new era of immersive meeting experiences," said Dixon in an October interview with Smart Meetings.
One reason why is Hudson Yards. The first glass-sheathed buildings in the $25 billion, 1 million-square-foot development on the city's West Side have already thrown open their doors. When complete, it will be the largest private real estate project in the history of the United States, and will include an Equinox luxury hotel, 16 dining experiences and a flagship Neiman Marcus store.
"Meeting planners will increasingly choose to Make It NYC, thanks to thoughtful planning at Hudson Yards, including a new subway station," Dixon said. An extension of the 7 Subway Line makes getting from Hudson Yards to Times Square a short, 10-minute ride.
A particularly eye-catching address is 30 Hudson Yards, which will house the highest observation deck in the Western Hemisphere. At 1,100 feet tall, the 7,500-square-foot outdoor viewing area will hang 65 feet out from the 100th floor. Meetings in the sky—and at the still-to-be-named 5,800-squarefoot restaurant and bar located on the fifth level of The Shops & Restaurants at Hudson Yards—will be catered by internationally known chef Dan Doherty, who will work with London-based Rhubarb, caterers for Royal Albert Hall and Royal Ascot Racing Club.
Bound to be a stand-out as one of the most transformative spaces on the meeting circuit is The Shed, a multidiscipline arts center housed in a new, 200,000-square-foot building with a telescoping outer shell that can be expanded over the plaza to provide a 120-foot-high, temperature-controlled hall. When the shell is nested over the fixed building, the 17,000-square-foot plaza will transform into an open public space that can be used for outside programming with access to The High Line, the famously successful walking park invented on a former railroad trestle.
As part of a focus on giving visitors opportunities to experience open spaces, an interactive artwork made up of 2,500 copper-colored steel steps and a mile of pathways called The Vessel will perch in Public Gardens, inviting closer inspection. Groups can dine in the 80 landings woven into the lattice sculpture and become part of the arts landscape.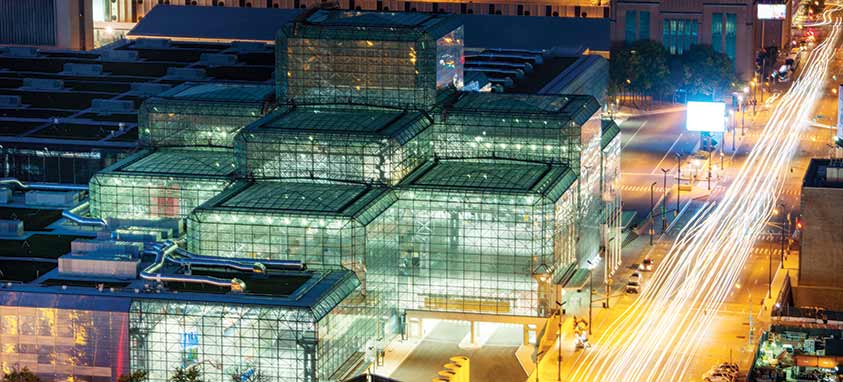 Nearby, Javits Center is in the throes of a $1.5 billion, 1.2 million-square-foot expansion that will nearly double the already massive meeting inventory and include a 55,000-square-foot ballroom and rooftop terrace for up to 1,500 people with views of the Hudson River. Planners are reserving space now for the opening in 2021.
Staten Island
There will soon be 1.4 million reasons for the 22 million people a year who take the Staten Island Ferry for a glimpse of the Statue of Liberty to hang out on the far shore. Empire Outlets New York City plans to open the only outlet destination in any of the boroughs. It will boast 100 shops, including a Nike outlet and a 190-room boutique hotel with a rooftop lounge featuring—you guessed it—unbelievable views of Manhattan.
The 1.4 million-square-foot shopping and dining destination anchored by a glowing orange wall and fountain park offers planners multiple levels of platforms for looking at the world from a new vantage point.
Seaport District
When Hurricane Sandy rampaged through Seaport District in 2012, it swamped many of the buildings in the historic riverfront attraction. Now, only a few years later, tacky T-shirt shops and forgettable food options have been replaced by an upscale shopping and dining destination topped by a five-story-tall, 65,000-square-foot event space known as The Rooftop. Paired with a 43,000-square-foot Level 4 directly below, this is fast becoming the concert destination on the East River.
For a nautical perspective, Hornblower Cruises & Events can treat corporate groups to floating dinner and brunch meetings from Pier 40 in the West Village or Pier 15 at South Street Seaport.
Whatever your group, you can find your personal meetings style in the state of New York.