Niagara Falls
Make the most of New York State meetings any time of year
Shopping for a meeting destination is like shopping for a wardrobe: Certain clothing items are more appropriate during specific times of year, as are host cities. In places such as New York, which experiences all four seasons, people rotate their wardrobe depending on the time of year, and planners can rotate locales within the state.
A destination's weather pattern can set the tone for the experience. So, too, can utilizing annual events or festivals as a backdrop to your meeting. Taking advantage of a magical setting such as New York City during the holidays, for instance, could even encourage a higher attendance rate.
Flip through your calendar pages as you travel with us through the state of New York in winter, spring, summer and fall.
Winter in New York City
New York City is a melting pot, welcoming and embracing visitors from all over the globe for conventions and vacations. If you tune out the chiming bells of St. Patrick's Cathedral, sirens and honking taxi horns, you'll hear the languages of the world spoken everywhere you go. Nowhere is this more true than in the "cities" within the city, such as Little Italy and Chinatown.
New York City welcomed 6.2 million meeting and convention delegates in 2017. As of January 2018, there were approximately 116,000 hotel rooms, and 137,000 guest rooms are projected to be in the inventory by the end of 2020.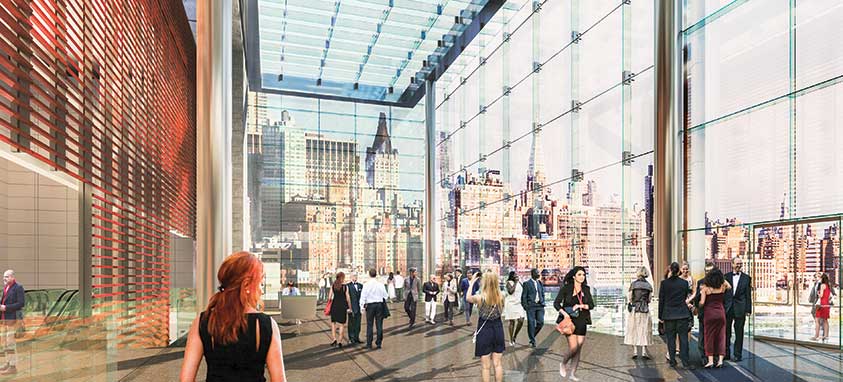 For trade shows, conventions and corporate meetings, Jacob K. Javits Convention Center is the place to go. Priding itself as the "Marketplace for the World," nearly 40,000 companies select Javits as their venue annually, making it the busiest convention center in the United States.
It currently offers 102 meeting rooms and 760,000 sq. ft. of exhibition space. A $1.5 billion expansion project broke ground in March 2017 that will add 1 million sq. ft. by 2021, including a 500,000-squarefoot exhibition hall, a rooftop terrace, meeting rooms and a 55,000-square-foot ballroom, which will be the largest in the Northeast.
The kickoff to the holiday season is marked by the annual Macy's Thanksgiving Day Parade, as depicted in the classic film Miracle on 34th Street. Macy's Herald Square offers exclusive experiences for conventions, such as VIP shopping parties during breaks or before store openings, group tours and pop-up shops at the convention center or hotels. Who can resist a picture on Santa's lap?
The jolly old fella also sets up his workshop at Radio City Music Hall for the signature Christmas Spectacular, starring the world-famous Rockettes. Host a Rockettes Private Party, which includes dancing with the kick-line, a reception in the Roxy Suite, a behind-the-scenes tour, tickets and gift bags. The 5,900-seat music hall, as well as the Grand Foyer and Grand Lounge, can also be rented.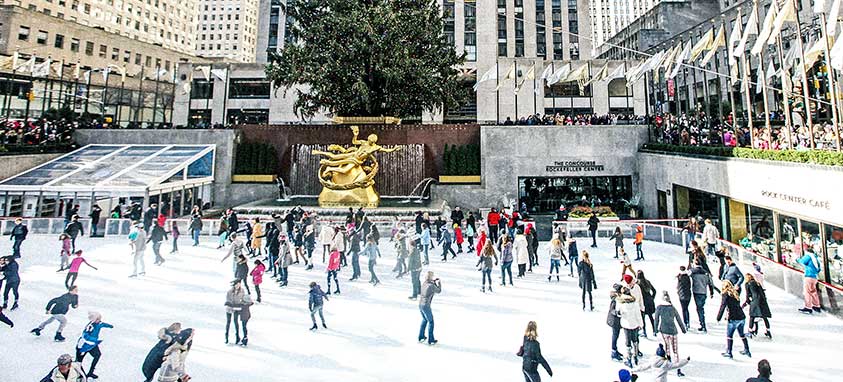 Deck your meeting hall with the magic of New York City during the holiday season. The Rockefeller Center holiday tree and ice rink — which can be rented for parties of up to 150 skaters—is surrounded by 119 flags, some representing members of the United Nations. Sixty-five stories above the famous plaza, Rainbow Room, inside NBC's headquarters at 30 Rock, has 4,464 sq. ft. of event space and can fit 500 guests for a buyout of the entire floor. Outside, the venue's 3,300-square-foot 630 Loft & Garden, which is partially tented in the winter, has a reflecting pool and aerial views of the magnificent tree.
Take the jingle bell walk up Fifth Avenue to enjoy the department store window displays. Triumph Hotels' six properties in Manhattan offer complimentary, year-round walking tours that are guided by Streetwise.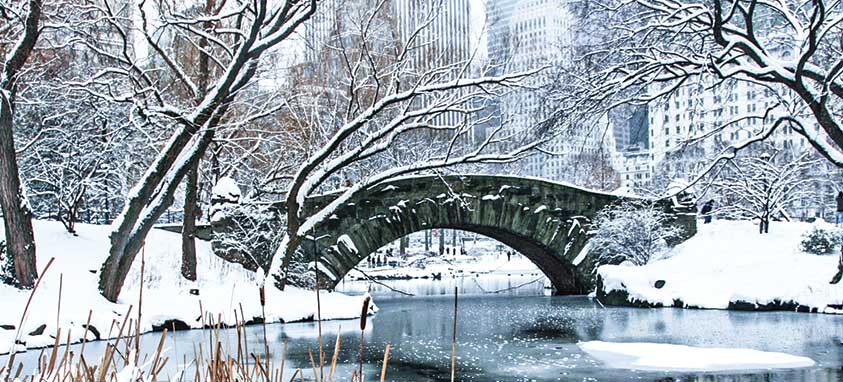 Before entering Central Park, stop in at The Plaza, the hotel seen in Home Alone 2: Lost in New York. To commemorate the film's 25th anniversary, fans can "Live Like Kevin" and dine on a throwback '90s menu at Todd English Food Hall. The Plaza has 20,352 sq. ft. of meeting space and 282 guest rooms.
"Groups visiting the five boroughs in the winter can experience the excitement of the festive holiday season right through the best value period of the year, in January and February," says Fred Dixon, president and CEO of NYC & Company. "Post-holidays, the hotel rates are the lowest, lines for museums and attractions are shorter, and NYC & Company's signature program offers delegates added value, with two-for-one tickets and prix-fixe menus."
More than 42 million people stroll through the gates of 843-acre Central Park annually. Event planners flock like the pigeons to Tavern on the Green, an iconic venue for holiday parties. It houses 21,653 sq. ft. of beautiful indoor/outdoor event space.
Guests can practice their figure eights inside Central Park at the 30,800-square-foot Wollman Rink, available to buy out for up to 2,000 guests. There's 18,500 sq. ft. of indoor/outdoor space for corporate gatherings. Or, skate across town to Overlook, the 3,400-square-foot private event space overlooking Bank of America Winter Village at Bryant Park. While you meet, peer through floor-to-ceiling windows as skaters perfect axels and salchows on the 17,000-square-foot rink below.
Elevate your event above the concrete jungle at The Empire Hotel rooftop, near Lincoln Center. The 8,000-square-foot indoor/outdoor space can fit 350 guests. It offers 241 guest rooms.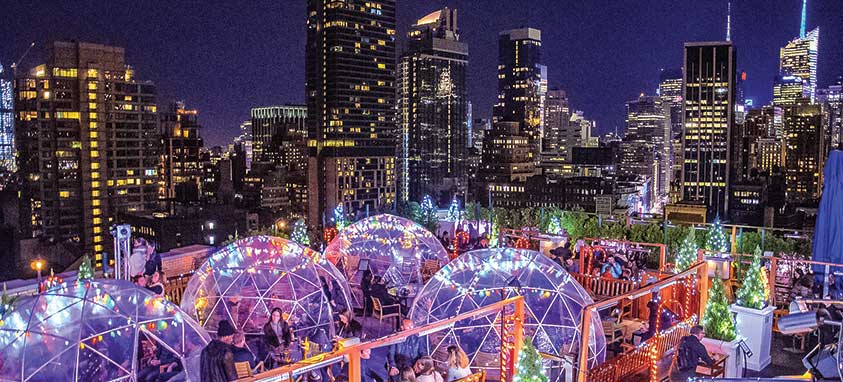 At 230 Fifth Rooftop Bar, keep toasty inside heated igloos while sipping cocktails. The venue offers 33,000 sq. ft. of event space, six meeting rooms and an unobstructed view of the Empire State Building.
Enjoy the best views of the skyline during a meeting afloat with Hornblower Cruises & Events, which has a fleet of six charter yachts that can take you past the Statue of Liberty. The landmark is the first thing immigrants of an earlier era saw when arriving by ship in New York Harbor, truly making it a global symbol of the American dream.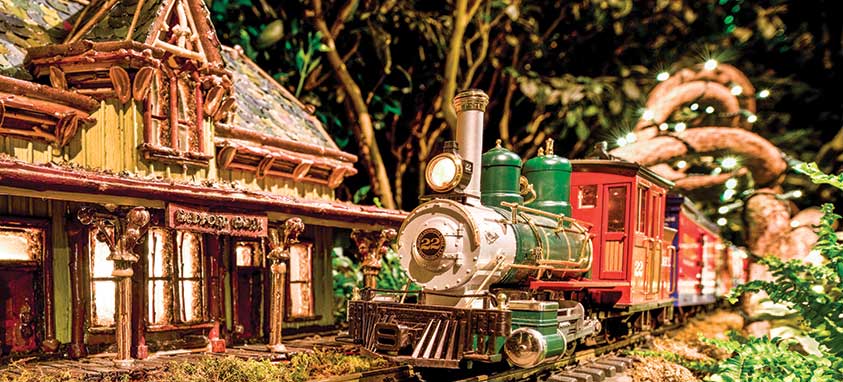 Subways and railroads are the go-to mode of transportation, and during the holidays, miniature trains chug in the Bronx at The New York Botanical Garden for its annual Holiday Train Show. The garden has a 430-seat lecture hall, banquet space for up to 1,000 guests inside a glass-enclosed crystal palace, classrooms for breakout sessions and team-building activities for attendees with green thumbs.
Head south to another of the boroughs, Brooklyn, for renovated meeting space at New York Marriott at the Brooklyn Bridge. Its 18,000-square-foot ballroom was recently redesigned, and it has a total of 47,397 sq. ft. of event space and 667 guest rooms.
Spring in Niagara Falls
In winter, Niagara Falls dips to such frigid temperature that the waterfall has been known to freeze to a standstill. It's as if Elsa from Frozen pays New York a visit and turns Niagara into her kingdom of Arendelle. In spring, the famous falls are flowing freely again, filling the air with a fine mist. Consider including a poncho in swag bags with your event branded on it.
Sharing a border with Canada, Niagara Falls certainly is a global meetings destination. Niagara is comprised of three falls—Horseshoe on the Canadian side, and American and Bridal Veil on the United States side. Established in 1885, Niagara Falls State Park is the oldest state park in the United States, and is open 365 days a year.
Observation Tower never closes, but the view is especially magical at night, when the American Falls are lit up. The park's Top of the Falls Restaurant is the only eatery to overlook the falls. It's open seasonally beginning in May, and offers meeting space and group catering.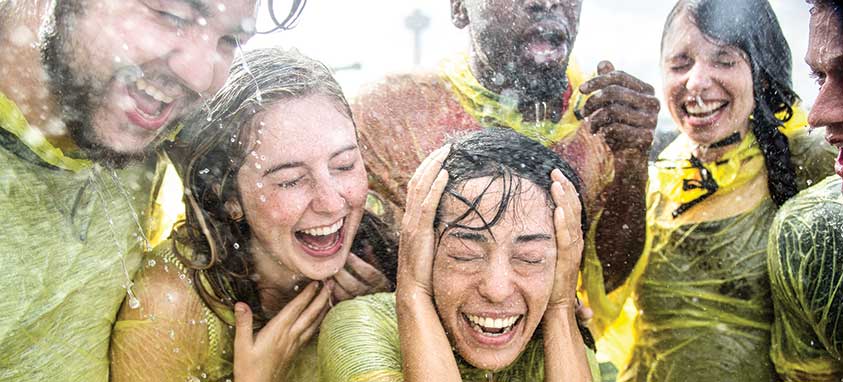 Soak in views of the cascading water by foot, sea, air, wire or wheels. Group ticketing is available to Cave of the Winds, where visitors descend into Niagara Gorge and walk on a boardwalk to Hurricane Deck, where they'll experience tropical storm-like conditions produced by the crashing Bridal Veil Falls. The World Changed Here Pavilion opened in November. It is an interactive exhibit that teaches visitors the historical significance of Niagara Falls.
Since 1846, visitors have been getting up close and personal to the falls aboard the Maid of the Mist ferryboat fleet. If you prefer a bird's eye view (and a drier experience), Rainbow Air Helicopter Tours, which opens April 1 for the 2018 season, operates 40 or more daily flights at peak.
Bring your passport, because WildPlay Element Park is on the Canadian side, but its MistRider Zipline gives you an exhilarating look at the American Falls from 220 feet in the air, zooming over the rushing water at up to 40 mph. Or, sightsee at your own pace on Niagara Scenic Trolley, which allows guests to hop on and hop off.
"Certainly, spring, summer and fall are very popular seasons for us, as people are drawn from around the world to witness and feel the power of Niagara Falls and experience the downpour on the Maid of the Mist," says Stephen McCorkell, capital facilities manager for the New York City region. "But winter is such a remarkable, magical time for us. The falls transform into massive, beautiful ice forms, which slowly shift and creak like frozen thunder, while the mist gently covers everything in sight, creating a dreamlike, pillowy, marshmallow landscape."
We don't endorse riding down Niagara Falls in a barrel—as many daredevils have—but you can enjoy sipping from a barrel at 22 wineries along Niagara Wine Trail USA.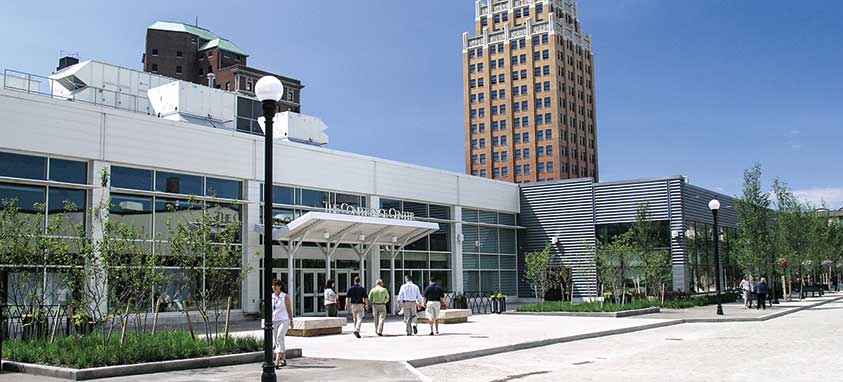 Within a three-block radius of the 116,000-square-foot Conference and Event Center Niagara Falls, meeting professionals will find more than 1,000 hotel guest rooms. With 8,671 sq. ft. of meeting space, Sheraton Niagara Falls is directly adjacent to the conference center and offers 392 well-appointed guest rooms.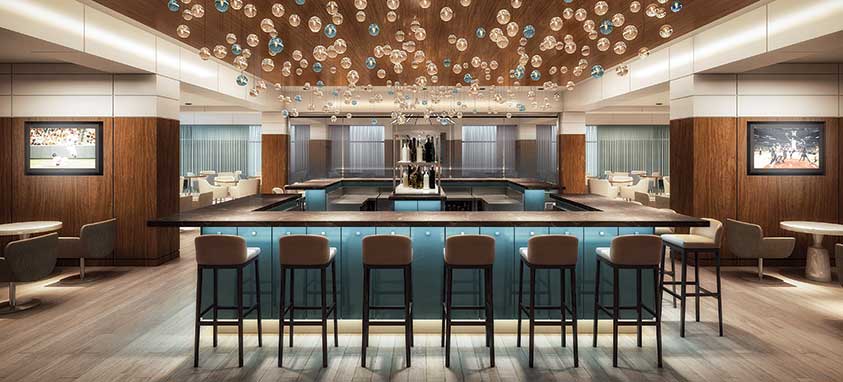 Of all the hotels in the region, Seneca Niagara Resort & Casino is the only AAA Four Diamond property and has the most meeting space—more than 36,000 sq. ft.—along with 604 guest rooms. The hotel with the next greatest capacity is DoubleTree by Hilton Hotel Niagara Falls New York, with 16,000 sq. ft. and 192 guest rooms.
Buffalo, the Queen City, was ranked as the friendliest city in America by Travel & Leisure readers in 2017. The magazine's annual survey also rated it as the second-most underrated city and third-best foodie destination. Buffalo Niagara Convention Center totals 110,000 sq. ft. of meeting space, and is connected to Hyatt Regency Buffalo Hotel and Conference Center, which boasts 23,479 sq. ft. of meeting space and 396 guest rooms.
Summer on Long Island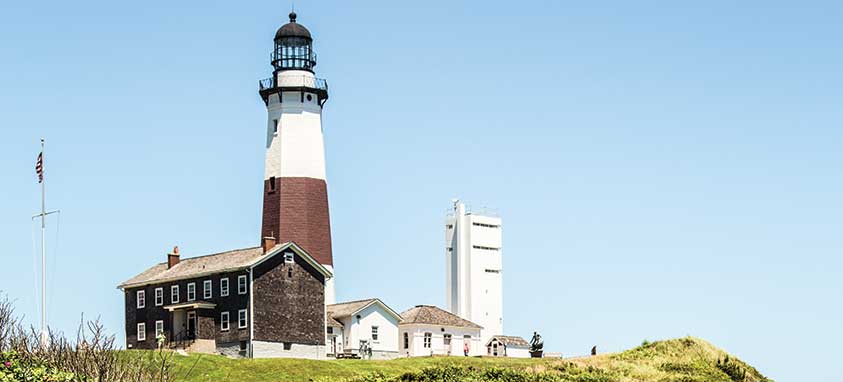 Summer, when Manhattan's elite venture to the Hamptons, is Long Island's time to shine. Some of the most prestigious meeting space can be found at Gurney's Montauk Resort & Seawater Spa, the only four-season resort in the area with access to a 2,000-foot private beach. It has the only indoor seawater pool on the continent, 25,000 sq. ft. of meeting space and 146 guest rooms.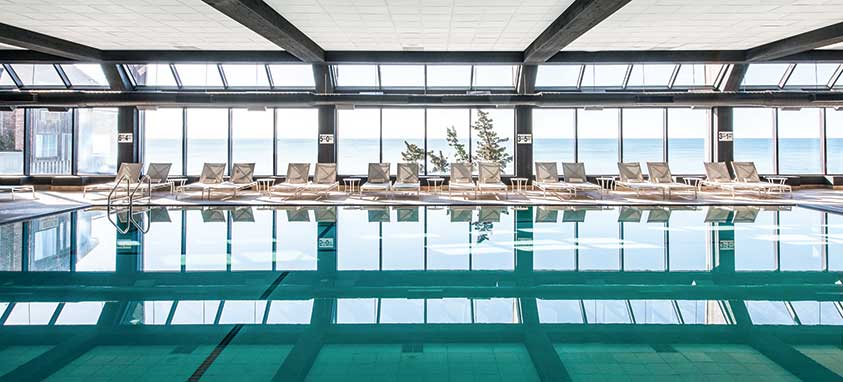 "Long Island is a year-round destination with endless offerings, including our notable beaches, award-winning vineyards, historic legacy and Gatsby- style mansions on the Gold Coast," says Jamie Claudio, Discover Long Island's vice president of marketing and sales. "More than 18,000 guest rooms and 1.5 million sq. ft. of meeting space provide planners with plenty of options."
Expansive meeting facilities are located on college campuses. Summer recess is a perfect time to book them. Stony Brook University's 124,000-squarefoot Charles B. Wang Center has breakout rooms, lecture halls, a theater, a lobby, chapel and a tranquil Chinese garden. The 135-room Hilton Garden Inn Stony Brook, located on campus, offers more than 3,600 sq. ft. of meeting space.
Hofstra University in Hempstead—which hosted U.S. presidential debates in 2008, 2012 and 2016— welcomes 10,000 events annually. Mack Student Center has 20 flexible spaces and can accommodate up to 400 guests, but the campus also has options for groups of up to 15,000 people.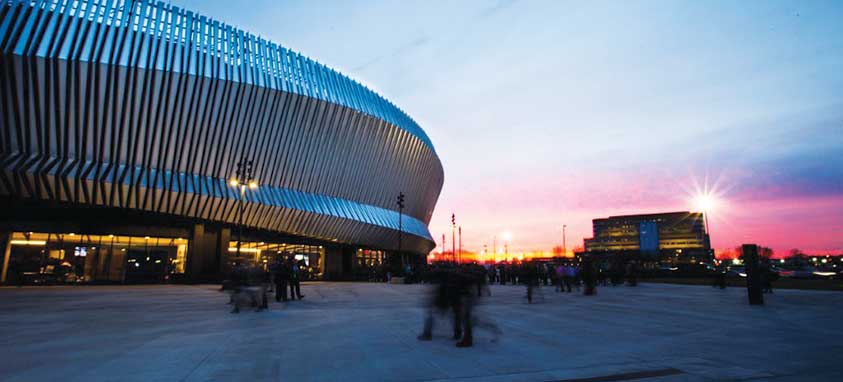 Across the street is NYCB Live, home of Nassau Veterans Memorial Coliseum, in Uniondale, which re-opened in spring 2017 after undergoing a $165 million renovation. The 416,000-square-foot arena is a popular venue for concerts, sports and expos.
Get cookin' at NYIT de Seversky Mansion, where you can challenge attendees to face-off in the NYIT Cast Iron Chef competition, modeled after Chopped and Iron Chef America.
Many catering halls and hotels can accommodate meetings in Long Island's Nassau and Suffolk counties. In the western county of Nassau, the AAA Four Diamond The Garden City Hotel offers 25,000 sq. ft. of meeting space and 269 guest rooms.
Fox Hollow-Restaurant, Catering & Hotel in Woodbury is a member of the International Association of Conference Centers. The luxury property has a garden that changes seasonally, 145 guest rooms and 13,000 sq. ft. of meeting space.
Just over the Suffolk County border, historic Oheka Castle in Huntington has 23 acres of The Great Gatsby-era greatness and 32 guest rooms. Dress in your finest flapper costume and party with up to 400 of your closest friends like it's the 1920s. It allows planners to put on spectacular fireworks displays and is a popular venue for celebrity weddings.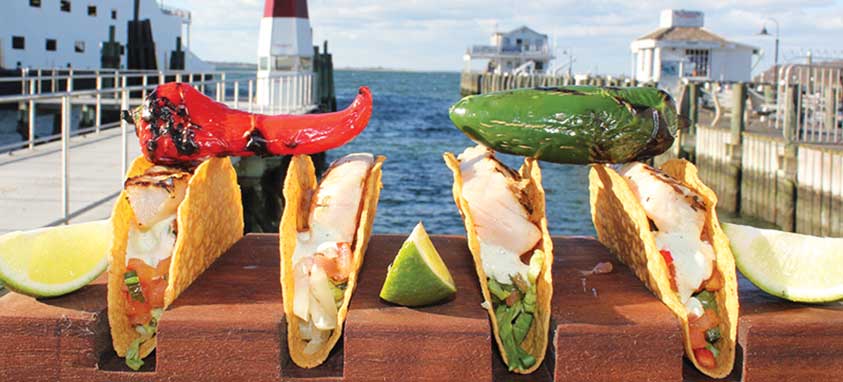 In Port Jefferson, which has ferry service across Long Island Sound to Connecticut, Danfords Hotel, Marina & Spa underwent a mega-renovation last year, debuting an expansive new deck that can accommodate up to 300 attendees. Four new guest rooms will be added this year, bringing the count to 90. There's more than 12,000 sq. ft. of meeting space and a 100-slip marina, where massive yachts are docked.
Farther out in Riverhead, meet with a porpoise at Atlantis Banquets & Events. The catering hall is part of Long Island Aquarium, where you can host an event for up to 650 sea-loving guests, surrounded by marine life and a living coral reef, or in its new 5,310-square-foot Sea Star Ballroom, overlooking the Peconic River. Hyatt Place Long Island/East End is within easy walking distance and has 100 guest rooms and 17,000 sq. ft. of meeting space.
If this gets you in the mood to take a dip in the pool, take your group to Splish Splash in Calverton, one of the nation's top-ranked water parks. Two new slide attractions will open Memorial Day weekend, and a catered lunch can be hosted at the new Picnic Grove.
Satisfy your group's need for speed at RPM Raceway in Farmingdale for a fun go-kart outing. Make a pitstop at its 12,400 sq. ft. of meeting space. Full venue buyouts are available, or you can rent a private track by the hour.
The East Wind Long Island is a great retreat in Wading River, located in the heart of Long Island's wine country. Its conference center offers planners 30,000 sq. ft. of meeting space and 50 guest rooms. Budget some "me" time at the 10,000-square-foot spa.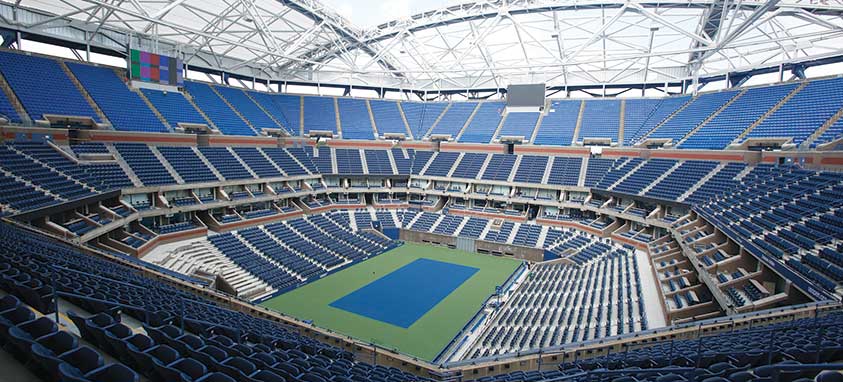 Every summer, the world comes together for the U.S. Open Tennis Championships in Flushing Meadows. Though in Queens, you don't have to go over a bridge or through a tunnel to get there from Long Island. USTA Billie Jean King National Tennis Center has several private event spaces, including the new, 20,000-square-foot rooftop bar, The Overlook at the U.S. Open. Entertain up to 400 guests during matches with a chef-curated buffet and the signature Honey Deuce cocktail. Group ticket packages are also available for day and evening sessions and grounds passes.
Fall in the Adirondacks
The crisp red, orange and yellow leaves in the Adirondacks are a sight to be seen. So was one of the most global events in all the world, the Olympic Games, in Lake Placid. In fact, this scenic resort village had the honor of hosting them twice, in 1932 and 1980.
Make your meeting as memorable as the historic Miracle on Ice at Conference Center at Lake Placid, where Olympic heritage is frozen in time. With more than 90,000 sq. ft. of flexible meeting space, including two 20,000-square-foot exhibition areas and 12 breakout rooms, you can host a trade show in the rink where Team USA defeated the Soviet Union in the 1980 hockey matchup.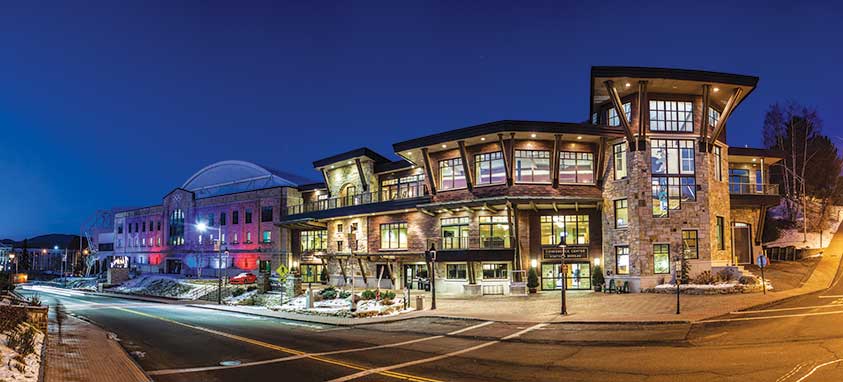 More than 1,000 hotel rooms are within walking distance of the conference center. The five largest resorts in the village are Crowne Plaza Lake Placid (249 guest rooms, more than 30,000 sq. ft. of meeting space), Golden Arrow Lakeside Resort (165 guest rooms, 5,700 sq. ft.), High Peaks Resort (177 guest rooms, 10,000 sq. ft.), Whiteface Lodge (96 guest suites, 9,400 sq. ft.) and Mirror Lake Inn Resort & Spa (130 guest rooms, more than 6,000 sq. ft.).
Receptions can be held atop the 120-meter ski jump tower at nearby Olympic Jumping Complex. Afraid of heights? A new 1,800-square-foot event space, Intervale Lodge, recently opened at its base, where guests can watch ski jumpers and freestyle aerialists practice death-defying stunts.
At Olympic Sports Complex, remember this line from the movie Cool Runnings: "Feel the rhythm, feel the rhyme, get on up, it's bobsled time!" Hop in a bobsled to slide down the track with a professional driver and brakeman. Or, swoop face-first down the skeleton track at 30 mph. If it's not cold enough for ice, these activities are converted to wheels. For nonadrenaline junkies, enjoy a serene round of golf on Lake Placid's five courses, where former President Bill Clinton has been spotted teeing off.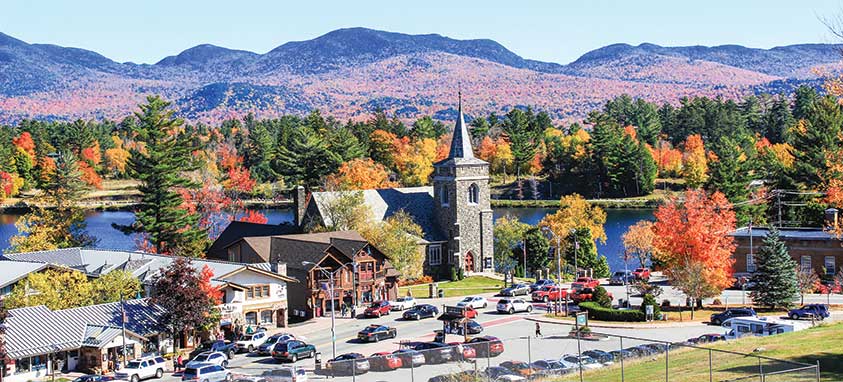 "In Lake Placid, a day of successful meetings ends with shopping on our quaint Main Street, a round of golf at one of our area courses, dining alfresco or indulging in a spa service at one of our world-class resorts," says Sarah Wheeler, director of sales for Regional Office of Sustainable Tourism Lake Placid. "And although Lake Placid is beautiful in any season, the foliage is positively breathtaking in fall."
Nature is at its finest in the Adirondacks. A boat ride around Lake Placid lets you marvel at the mountain backdrop as well as astounding mansions. Or, take a hike through High Falls Gorge, where you will pass by four waterfalls.
About an hour-and-a-half outside of Lake Placid is Lake George. The "Queen of the American Lakes" has more than 9,000 hotel rooms in season and more than 200,000 sq. ft. of meeting space. The Sagamore Resort is a lakefront property located on a 70-acre island in Bolton Landing. It has 52,000 sq. ft. of indoor-outdoor event space, 390 guest rooms, exquisite cuisine, golf, tennis, fishing and boat tours of the Adirondacks aboard The Morgan.