Make this season of the year count
It may be your favorite, but whatever your sentiment is about the fall season, it's difficult to deny the beauty this time of year. In New York State, it's really something special. In addition to the wonderful sweater-cozy weather and apple-picking opportunities, not to mention new, renovated and long-standing hotel properties, there is still more seasonal fun for your group to engage in.
Rochester and Syracuse offer a versatile selection of team-building experiences and meeting spaces to get down to business, from single-digit room properties—if the goal is to keep it low key— to thousands of square feet of meeting space with city views—if the plan is to go big.
Rochester
Rochester was recently named the No. 2 Most Neighborly City in the United States by Neighbor, based on data around things such as charitable giving, neighborly acts and community well-being. As a meeting professional, there's nothing more friendly than taking your group to one of the nation's friendliest places. If you plan it right, your attendees will also gain insight into what keeps the smiles and good acts coming.
Hotels
Courtyard Rochester Downtown is the city's most recent opening. At 122 rooms, it may not be the most robust, but its convenient placement less than a mile from the 100,000-square-foot Joseph A. Floreano Rochester Riverside Convention Center could make it the perfect choice. Also featured at Courtyard Rochester is 1,472 sq. ft. of space designed to get the job done quick and easy, and Bistro, a restaurant specializing in American fare.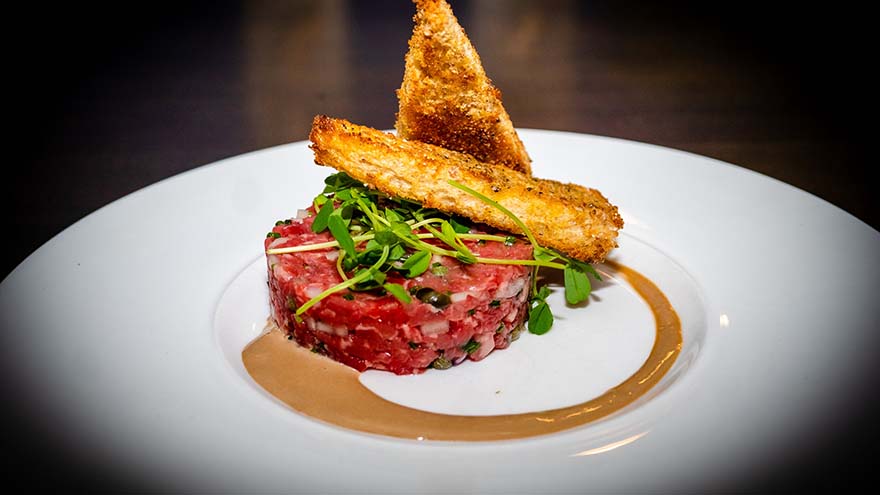 Strathallan Hotel & Spa, a Doubletree by Hilton features 157 guest rooms, two dining options and more than 12,000 sq. ft. of meeting space. Its F&B options, Char Steak & Lounge and Hattie's, the property's ninth-floor rooftop bar, are sure to provide that perfect downtown experience. The ninth floor also features a 3,300-square-foot space, a cigar patio and 360-degree views of the city.
Just next door is the property's smaller and just-as-charming companion, 7 on Strath. It has six recently renovated rooms to offer—and each suite comes with a full kitchen, perfect for extended-stay and intimate business functions.
For a taste of the early 20th century, there's The Inn on Broadway. Built in 1929 as the University Club of Rochester, this cozy 25-room property offers four venues; the most roomy, The University Club Ballroom, seats 150 guests. The property also boasts an award-winning bar and lounge, and Tournedos Bakery, the property's in-house bakery, which creates tempting dessert and pastry options throughout the day.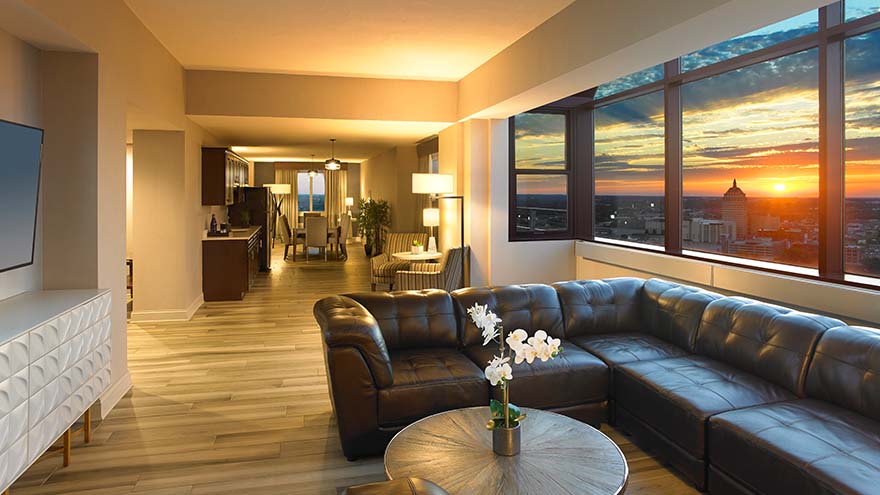 The newly renovated, 341-room Hyatt Regency Rochester is one of the larger hotel properties in the area, featuring 17,000 sq. ft. of meeting space. If your event needs even more space, a sky bridge connects to the Floreano Convention Center. Corso-Center City Italian and Cocktails serves up Italian favorites and libations while providing exceptional views of the city's skyline at no extra charge.
Looking to give your group that getaway feel? The 234-room Woodcliff Hotel & Spa, in Fairport, 9 miles east of Rochester, will give you what you're seeking. This property is perfect for small to midsized groups. Woodcliff offers your classic amenities, such as golf, spa and salon treatments, as well as Horizons Restaurant & Lounge, which features "composed entrees" like braised short ribs and soba noodles. This, along with 10,000 sq. ft. of meeting space, can be yours for meeting.
DIYs and Ghostly Group Stays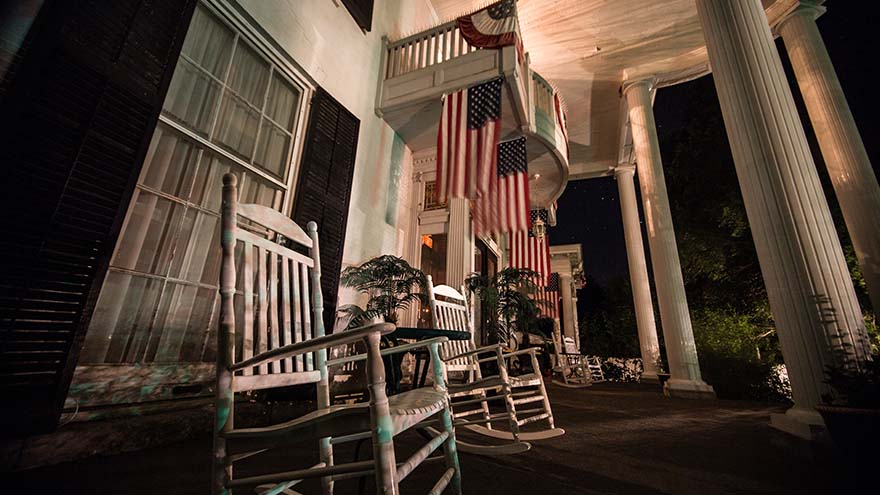 Halloween may have just passed, but the ghost stories don't stop at Haunted History Trail of New York State in Finger Lakes, a 45-minute drive from Rochester. Seasonal tours such as Public Ghost Tours of Albany, Saratoga Ghost Tours and visits to Sleepy Hollow are among the spooky options. Haunted History Trail offers packages such as two-night stays, one-night group stays, a paranormal activity tour and self-guided investigations.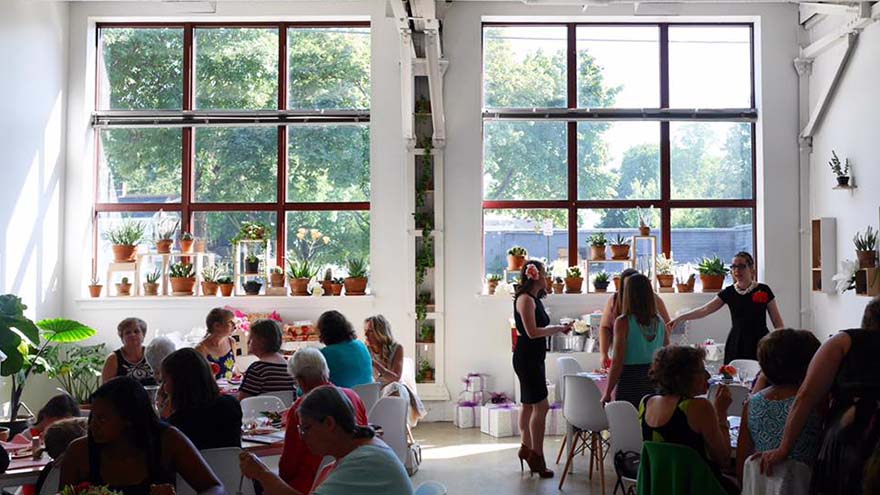 DIY classes—outdoor, indoor or online—are offered in abundance at Rochester Brainery. From beauty and styling to fitness and health, to planting, gardening and flower arranging, cooking and cocktails… the choices go on and on. This place fully owns the phrase "does it all." Space for business meetings in Green Room and Gallery Room—for up to 104 people—is available, as well.
You can get 11 different kinds of apples at The Apple Farm in Victor, 18 miles southeast of the heart of Rochester. They're ready to be purchased at the Apple Farm shop or, for the adventurous and team building, pick your own in the orchard; preservative-free cider is also on offer. Event space is available to spend even more time on the farm. Another U-pick option, Rochester's Whittier Fruit Farm, features 32 varieties of apples, including SweeTango and Honeycrisp.
Go Where the Island is Long
Somewhere far away from Upstate, there is a place that sits in the open sea, a 30-minute train ride from New York City. This magical place is home to 1.5 million sq. ft. of meeting space and more than 18,000 guest rooms, ranging from beachfront to inland country properties. This place is called Long Island.
When not meeting in one of its many venues, Long Island offers many locations to dine your heart out, and with a maritime culture that goes back more than 400 years and 100 active farms, the seafood and farmers' bounty is as local (and tasty) as it gets.
Long Island's wide-ranging experiences are nothing short of vast. You can delve deeply into the area's history via home tours of U.S. presidents the likes of George Washington and Teddy Roosevelt and discover the area's role in the Revolutionary War, and in that same day—if your group has the energy—hit the waters, in the form of cruises and charter boats or scuba diving, and seal and whale watching. Of course, that's just the beginning: all the more for you and your group to explore.
Syracuse
Festivals. Parks. Seasonal F&B. Apple and pumpkin picking. Breweries all over. Syracuse is a fall season's paradise. Whether you're meeting in Syracuse proper or a city down the way, you'll be sure to find a property and awesome autumnal activities for you group.
Hotels
In the center of Syracuse, Collegian Hotel & Suites, Trademark Collection by Wyndham is equipped with 159 rooms, 8,500 sq. ft. of meeting space and Salt Restaurant & Bar, where your attendees can get your classic breakfast or American comfort lunch or dinner. Its location in the middle of the Syracuse action makes it easy to access city and outdoor adventures, such as seeing American art pieces at Everson Museum of Art, strolling through Onondaga Lake Park or attending events at New York State Fairgrounds.
Another property in Syracuse's heart is Oncenter Convention Complex, boasting more than 200,000 sq. ft. of space in the form of theaters, arenas, exhibition and meeting space. Savor Catering, Oncenter's exclusive caterer, offers standard and custom menus.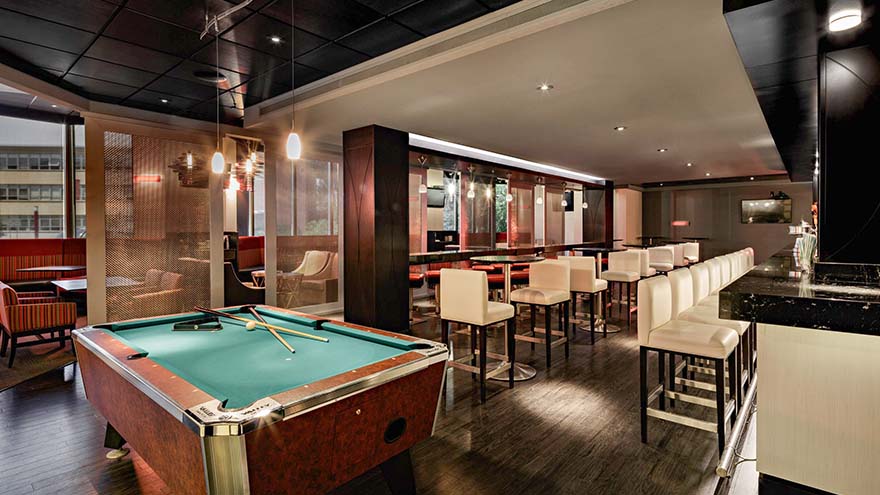 Right on Syracuse University's campus is Sheraton Syracuse University Hotel & Conference Center. The property has 8,870 sq. ft. of meeting spaces across six event rooms, as well as three F&B options, including Sitrus on the Hill, a sports bar and cocktail lounge that features live music; and Rachel's Restaurant, which serves eclectic fare from around the region. Crowne Plaza Syracuse, in downtown, offers more than 12,500 sq. ft. of event space. Accompanied by Weighlock Lounge, the property's bar.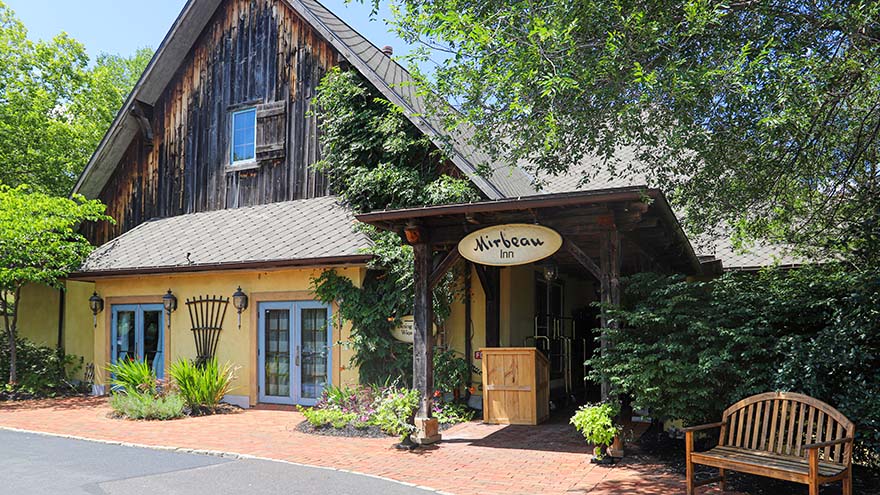 Mirbeau Inn & Spa in Skaneateles is one for tight-knit groups. With 26 rooms, four cottages (each housing four guest rooms), meeting space for up to 180 people in 7,440 sq. ft., and a spa, this property has been designed with peace and tranquility in mind. French-inspired creations are what attendees will receive at The Bistro & Wine Bar; there's also an outdoor bar at The Aqua Terrace.
The casual-style DoubleTree by Hilton Hotel Syracuse, offering 250 guest rooms and 21,848 sq. ft. of meeting space over 17 options, is located in East Syracuse. Seasons Tavern and Bar, the property's main dining offering, features local and international dishes. Seasons Patio, an extension of the tavern, can be used for outdoor events and private functions, weather permitting.
Seasonal Imbibes
Apples upon apples are for the picking at Beak and Skiff Apple Orchards in Lafayette. Located 1 mile from the orchard, 1911 Distillery is where apples are turned into ciders, wines and spirits of all kinds. The 1911 Tasting Room & Tavern is how your group will get the chance to taste what it's all about.
Brian's Landing is southeast of Syracuse in Jamesville. Lobster and crab cakes, and the famous prime rib sandwiches, draw patrons from all around the area, but this time of year, so do Pumpkin Spice Martinis and fall sangria.
Tully, south of Syracuse, is home to Onco Fermentations, a brewery that serves on-tap and bottled beers, in addition to ciders and wines. This time of year, don't miss the Pumpkin Pie Latte Milkshake IPA.
Heritage Hill Brewhouse at Palladino Farms, southeast of Syracuse in Pompey, serves up an authentic New York food experience in addition to its brews. Heritage Hill offers three venues for group gatherings: Private View Pavilion for up to 35 people; The Sunset Barn, accommodating up to 130; or the entire brewhouse.
Crazy Daisies in Syracuse is a different kind of greenhouse, offering garlands, handmade wreaths, centerpieces, kissing balls and more. Wreath and centerpiece workshops—dubbed Greens Classes—are offered, as well. Or book your own private garden party—snacking and drinks included! The F&B options feature fall-centric cocktails, such as the Pumpkin Spice White Russian and an Apple Pie Mule, which pair nicely with the small plates and pizza.
Get Away to Mohonk Mountain House
About 90 miles north of New York City is a very special destination that takes guests far, far away from the hustle and bustle of the city. Fairytale-castle-like Mohonk Mountain House (pictured) in New Paltz, in New York's Hudson Valley, is surrounded by 40,000 acres of forest. Guests will find 259 luxury guest rooms, including a six-bedroom lodge and five cottages (three two-bedrooms and two three-bedroom), plus outdoor activities, such as 85 miles of hiking trails, archery and fly fishing, and 16 treatment rooms at the spa.
In addition to the property's 7,499 sq. ft. of event space, the resort also offers team-building activities like tricycle polo, scavenger hunts and ropes courses. Finish the day with dinner in the main dining room, which features incredible views of the Catskill Mountains and great food. Carriage Lounge, offering cocktails and small bites, and Lakeview Lounge, Mohonk's breakfast diner, are also on offer.
Resources
Discover Long Island
Ulster County Tourism
Visit Rochester
Visit Syracuse