Pennsylvania Offers a Treasure Trove of Attractions for Groups
As one of the country's oldest states, Pennsylvania has a long and fascinating history and diverse population, with customs and dialects that give each region a distinct flavor. It's at once old and new, and its landscapes are as varied as the people in its 59 cities.
Perhaps that's what makes it a treasure trove of unique attractions. From beautiful farmland and parks, natural wonders and outdoor adventures to diverse museums, historic sites and modern thrills, groups have myriad opportunities to delve deep into the state's rich and vibrant culture. Here's a sampling of some of the top options.
Philadelphia
It's no secret Philadelphia is rife with history, and the City of Brotherly Love certainly has its share of noteworthy historical attractions and venues. But it's also a very modern and innovative city with a wealth of experiences—and natural beauty—to offer.
Enticing Attractions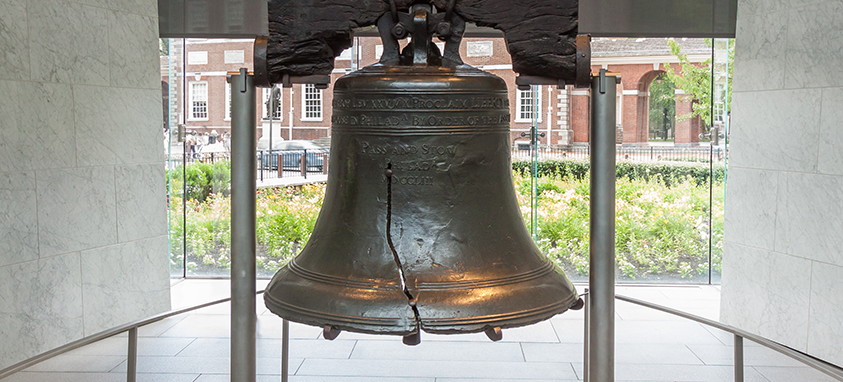 It goes without saying: The Liberty Bell, an international symbol of freedom, is a must-see when in Philadelphia. Groups can marvel at the 268-yearold national icon up close at Liberty Center, located at Independence National Historical Park. Other exhibits include historical documents and images, as well as video and educational displays pertaining to the history of the bell and the American Revolution.
Independence Hall, one of Philly's most visited attractions, is just across the street. It operates group tours most days. Attendees will have the chance to see original printed copies of the Declaration of Independence, Articles of Confederation, and U.S. Constitution.
Smart fact: The Liberty Bell was originally known as the State House Bell. It acquired its current name from slavery abolitionists in the 1830s.
Groups can take in some of the best views of the city from the 57th floor of One Liberty Place at One Liberty Observation Deck. The 360-degree views give attendees a bird's-eye perspective of several local landmarks, such as The Ben Franklin Bridge, City Hall and Philadelphia Museum of Art.
Semiprivate space on the deck is available for up to 75 people—perfect for cocktail receptions, networking or post-event gatherings. Groups of up to 275 can take over the deck for up to four hours.
After seeing the city from above, attendees can pose for selfies or Instagram-worthy group shots in front of a giant sculpture of Ben Franklin before checking out #TheRealPhilly exhibit on the ground floor of the building.
Fairmount Park, a National Historic Landmark, is an attraction in itself, and it is home to several others— such as The Rodin Museum and Shofuso Japanese House and Garden—that arrange guided group tours, as well as several historical mansions.
The park is also home to America's first zoo, as well as Boathouse Row, Philadelphia Museum of Art, several music centers and public art. Its natural beauty consists of 2,052 acres of green, as well as rolling hills, trails, bodies of water and gardens. Three environmental centers and a wildlife refuge center help conserve the park's essence.
Groups can get permits to rent park space for off-sites, team picnics and team-building activities. Several of the park's facilities, museums and other attractions can be rented for events.
Smart tip: Catch a Victorian-style trolley for group tours of the Colonial-era mansions dotted throughout the park.
Attractive Accomodations
Loews Philadelphia Hotel sits in the former Philadelphia Savings Fund Society building, designed in 1932 by visionary modernist architects William Lescaze and George Howe. It was the city's first skyscraper and the first International Style building in the United States.
The T-shaped building brings maximum light into the hotel's 569 guest rooms and 12 suites. The 47,000 sq. ft. of flexible meeting space includes 22 meeting rooms, suites and parlors, as well as three ballrooms. The hotel's industrial yet elegant restaurant, Bank & Bourbon, houses a private dining room suitable for 70 people.
Groups can sample a variety of bourbons during an intimate tasting and enjoy the true flavors of Philly through Flavor, Loews Philadelphia's culinary experience, and network over light bites and cocktails at the bar. Attendees can team up for a round of golf at Scotland Run, one of the top courses in the country, located just 30 minutes from the city. Shoppers will find several blocks of retail right outside the hotel's front doors. A spa and salon are on the way.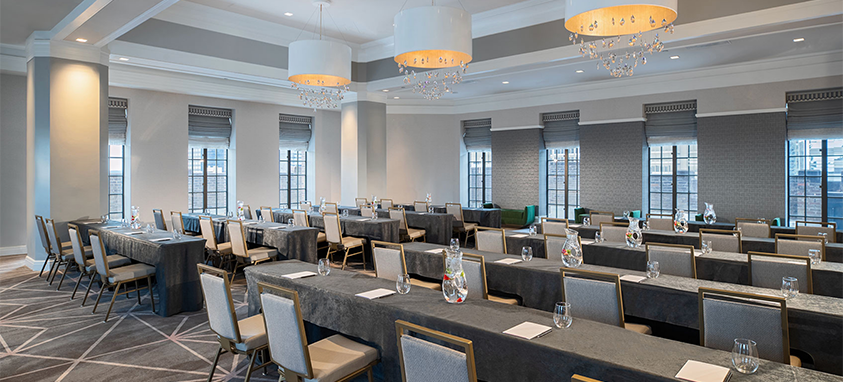 Kimpton Hotel Palomar provides groups with an urban retreat in the heart of Philadelphia. Located near the city's upscale Rittenhouse Square neighborhood, the 230-room, Art Deco property was once the Architects Building, built in 1929.
Many of the guest rooms provide stunning city views and each of the four suites includes a soaking tub. The 6,000 sq. ft. of meeting space is divided among three floors and includes six meeting rooms, a 1,750-square-foot ballroom and American Institute of Architects Library—perfect for receptions and breakouts. Two private dining rooms in the hotel's Square 1682 restaurant can serve up to 250. Full-restaurant buyouts are available.
Attendees can unwind with in-room spa services, connect over a glass of vino during a hosted wine hour in the hotel's Living Room, and stay healthy with Kimpton's wellness options, including a 24- hour fitness center, complimentary hotel bikes and in-room yoga mats.
Hershey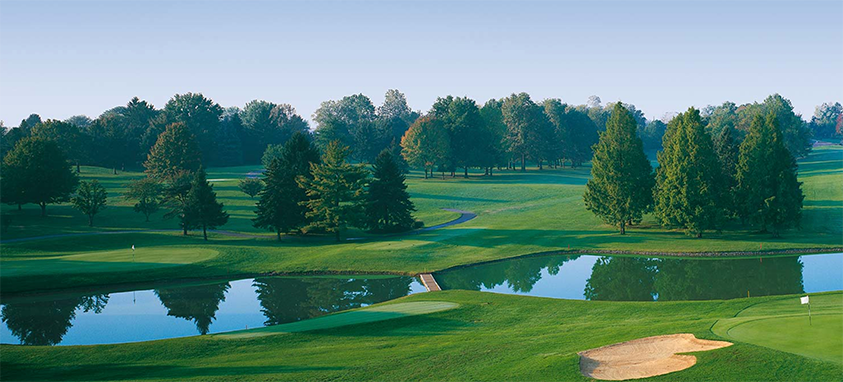 Groups can't help but indulge when in the Sweetest Place on Earth. The unincorporated community, originally created in 1907 for Milton Hershey's Chocolate Factory workers, is still steeped in the company's history. While many of its attractions are tied to its founder, the town offers much more than chocolate.
Enticing Attractions
Hershey Gardens opened in 1937, satisfying Milton Hershey's request to "create a nice garden of roses." The once-small rose garden has since blossomed into 23 acres of botanical beauty, complete with a variety of plants, trees, insects and flowers. Set in a lush indoor-outdoor landscape of ponds, fountains and green paths, Hershey Gardens provides a relaxed yet invigorating place to meet.
While there, groups can take a self-guided tour of the grounds or book a tour to learn about the heritage of the gardens and get a closer look at the flora. Attendees can walk through 11 themed gardens—including historic Hershey Rose Garden, where it all began, and hang out with hundreds of butterflies from all over the world in Butterfly Atrium, open year-round. The tropical-themed atrium also includes a water feature and colorful, exotic plants, and it is one of only 25 tropical butterfly atriums in the country.
The venue hosts educational programs and seasonal horticultural exhibits throughout the year. Teams can learn sustainable gardening techniques or experience an active bee hive—complete with more than 10,000 European honey bees (behind glass). The BugZone displays unique insects from around the world, and blooming art exhibits are often on display.
Events and meetings are welcome inside Milton and Catherine Hershey Conservatory or outside, in the gardens. Butterfly Atrium can be reserved for private group visits during events.
Smart tip: Be sure to take in the view of Swan Lake and surrounding rose bushes from the glass doors at the back of the conservatory building.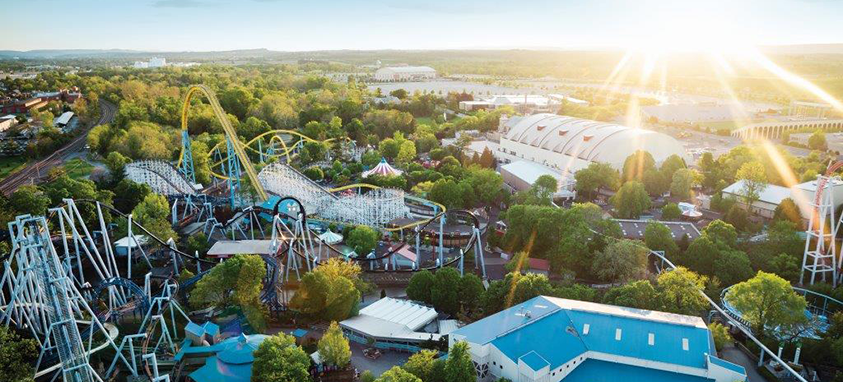 A trip to Hershey doesn't seem right without a visit to Hersheypark. It offers more than 70 rides, including 14 roller coasters and water park adventures, as well as attractions such as Hershey's Chocolate World, year-round entertainment, dining, shopping, games and seasonal events. Also providing plenty of meeting space, Hersheypark is an ideal destination for off-sites, retreats, corporate picnics, team bonding experiences, group excursions, "bizcations" and "bleisure" activities.
Hershey's Chocolatetown, a chocolate lover's year-round paradise, will sweeten the experience when it opens in summer 2020. It promises more attractions, such as Candymonium, the park's 15th (and "longest, tallest, fastest, sweetest") roller coaster, the largest full-service themed restaurant in Hersheypark and a 10,000-square-foot flagship store. It will add 23 acres to Hersheypark's 120 acres.
Attractive Accomodations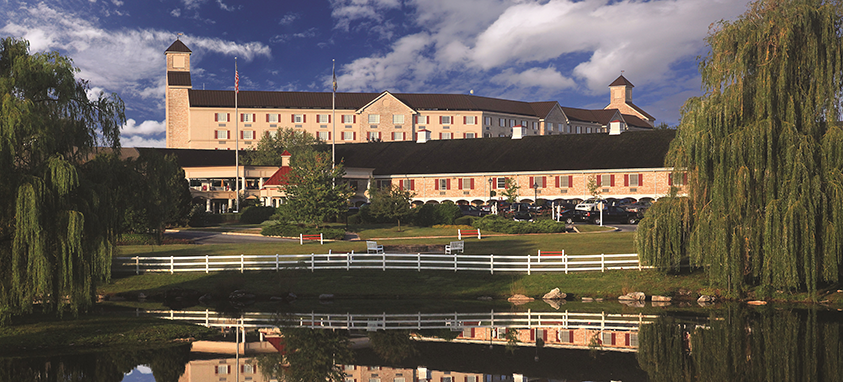 Hershey Resorts provides three distinctive properties for meetings and events: Hotel Hershey, Hershey Lodge and Hershey Country Club, offering a total of 125,000 sq. ft of meeting space.
The historic, 276-room Hotel Hershey, a Forbes Four Star Hotel, sits above the town atop Pat's Hill, with panoramic views of the gardens and Hershey Valley below. Built by Milton S. Hershey during the Great Depression, the resort-hotel was designed in an elegant Mediterranean style and continues to provide a luxurious resort experience for guests.
The palatial property offers 25,000 sq. ft. of flexible meeting space; 20 meeting rooms, many with abundant natural light, to accommodate up to 450 people; outdoor event space; three restaurants; a lounge; a coffee shop; and a poolside cafe. Accommodations include newly renovated guest rooms, large suites and 10 private cottages—each with four to six guest rooms and sweeping views.
There are plenty of things for groups to do at Hotel Hershey, with its indoor pool, outdoor pool with 14 cabanas available to rent and four golf courses. Team-building activities include Chocolate Challenge, Odyssey Ropes Course and Build a Bike for Charity. Falconry Experience gets attendees up close with powerful falcons.
The spa features Hershey-inspired treatments, such as Whipped Cocoa Bath, Chocolate Bean Polish and Cocoa Facial Experience.
Pennsylvania's largest convention resort, Hershey Lodge combines a warm and homey vibe with luxury accommodations. The full-service resort provides 665 chocolate-inspired guest rooms; 100,000 sq. ft of flexible function space, including Great American Hall, billed as the region's largest and most advanced meeting space; 35 meeting rooms for 10–2,000 people; four restaurants; a poolside cafe; and a coffee shop.
Amenities include Hershey Waterworks, a 30,000-square-foot indoor pool and a 24-hour fitness center. Attendees who stay at Hershey Lodge are welcome to experience any of the activities offered at Hotel Hershey, as well as exclusive Hershey's Dark Chocolate treatments at MeltSpa by Hershey, located downtown.
Hershey Country Club is both a clubhouse and a meeting and event venue. The property provides 12,472 sq. ft. of meeting space among six rooms, ranging from 570 to 4,400 sq. ft. Keystone Ballroom boasts panoramic views of the east and west golf courses, while the adjacent Jay Weitzel Room is ideal for smaller meetings. The all-season Picard Grand Pavilion is perfect for banquet-style events.
Altoona
The largest city in Blair County, Altoona is on the eastern slope of the Allegheny Mountains. It has a unique history as a railroad town, as well as its share of natural wonders and man-made thrills.
Enticing Attractions
An homage to the area's connection to trains, Allegheny Portage Railroad National Historic Site provides a fascinating journey into the history of the area, a tribute to railroading and a closer look at the development of transportation. There are no formal tours, but groups can wander the grounds on self-guided excursions.
The visitors' center presents an in-depth video and provides background information, and there are daily historical programs and demonstrations throughout the park. Lemon House and Engine House No. 6 Exhibit Shelter are open to groups daily.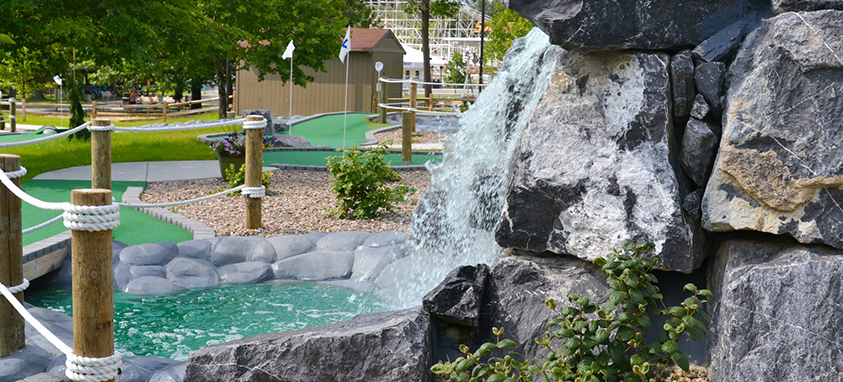 Lakemont Park has been entertaining Altoona residents and Blair County locals with amusements—such as Leap the Dips, the oldest roller coaster in the world—and activities since 1894. Recently reimagined, the park continues to offer thrill rides on Leap the Dips and other coasters; recreational options, such as brand-new mini golf courses, batting cages, go-karts, pedal boats, volleyball and The Island Waterpark; snack shacks; and plenty of events, such as Holiday Lights on the Lake.
The park provides lots of green space and pavilions for company picnics, off-sites and team-building exercises. Planners can reserve lawn space with stages for events, and attendees can 2019stretch their legs along trails and pathways. Park services provide amenities such as group catering and group rates for some activities.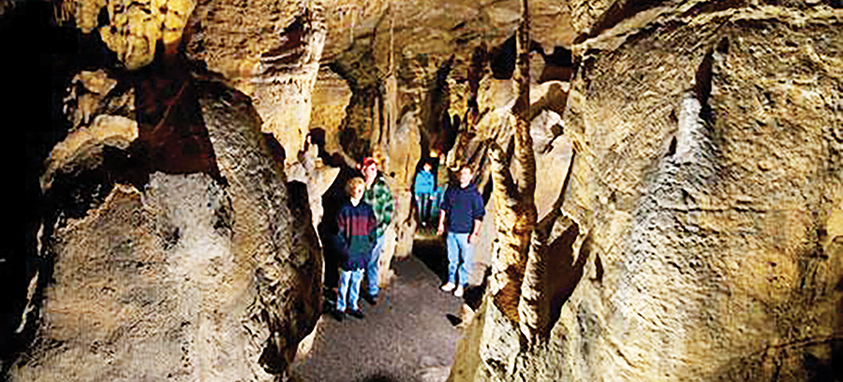 Drive about a half-hour east of Lakemont Park, along Highway 22, for an engaging tour of Lincoln Caverns and Whisper Rocks, in operation since 1931. The caves are host to a stunning array of natural formations, such as crystals, stalactites and flowstones. Look for Frozen Niagara, one of the largest examples of flowstone in the Northeast, at 90 feet long and 110 feet high.
After touring Lincoln Caverns, groups return above ground to Whisper Rocks, featuring a gorgeous multiroom cave with many small passageways. Educational tours for groups of five to more than 20 occur daily, all year long (by appointment only in winter months). Ongoing geology programs, Discovery Days and events such as BatFest add to the experience.
The site welcomes groups for meetings, off-sites, team building, company picnics and corporate events. Two large picnic pavilions can hold 50 and 100, respectively, and the education center accommodates 115. Event space can be reserved free of charge for groups registered for tours.
Smart Tip: The Backlight Adventures tour is a must-do for groups of 10–32.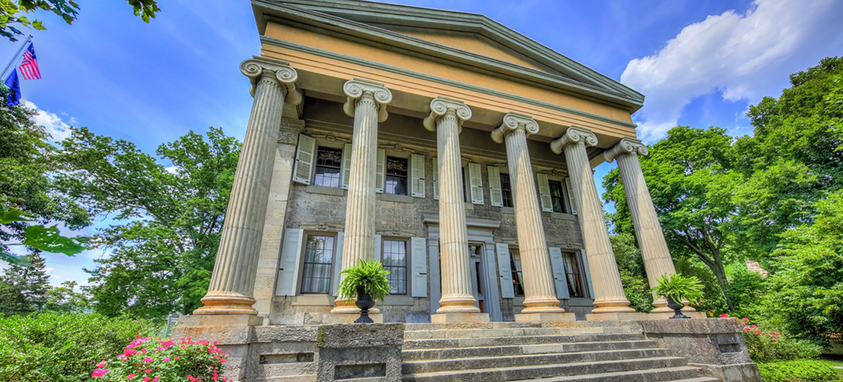 As the former home of the Bakers, Baker Mansion shares the story of the family, who settled in the area in 1836 and became forces in the iron-making industry during the industrial era.
As home to the Blair County Historical Society, the venue provides a wealth of knowledge about Blair County and the Alleghenies through its many events, programs and exhibits.
Planners will find 3,750 sq. ft. of historical space for hosting almost any type of event. Space includes a large foyer, back porch, front patio, dining room and large outdoor area with a stage in the backyard.
Attractive Accomodations
The Grand Hotel, Blair County's only full-service hotel, features six meeting rooms totaling 5,962 sq. ft. of space, including four ballrooms and a courtyard. The grand ballroom holds up to 550 people and can be modified three ways. The hotel has 117 guest rooms, a pool and on-site catering.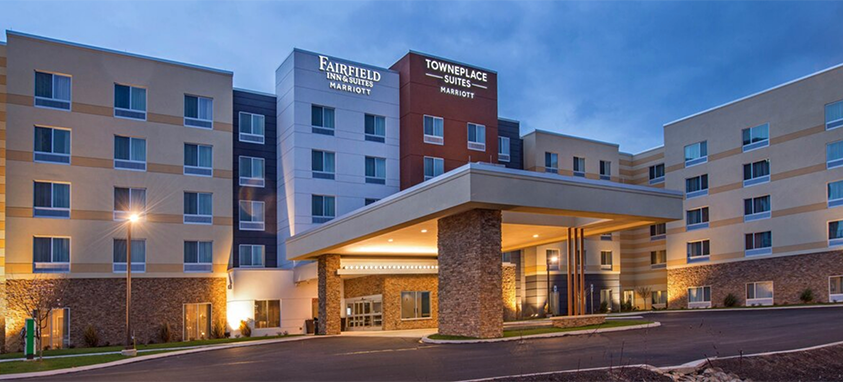 Marriott International's dual-branded Fairfield Inn & Suites and TownePlace Suites provides a combined 197 rooms and 1,000 sq. ft. of meeting space. The hotels share an indoor swimming pool, a fitness center, an outdoor patio with a fireplace and barbecue grills.
Courtyard by Marriott, with 105 guest rooms and 425 sq. ft. of meeting space, is adjacent to Blair County Convention Center, which provides nearly 50,000 sq. ft. of space in its 11 meeting rooms, making it a flexible option for groups large and small.
Meet, Stay and Play at Pennsylvania's Finest Casino Resorts
If you're planning to meet, stay and play all in one place, Pennsylvania is home to several casino-hotels with plenty of space for groups of all types and sizes. Here are a few top picks.
Some 14,000 sq. ft. of trade show and event space, 12,000 sq. ft. of meeting space and 3,000 sq. ft. of prefunction space await groups at the 282- room Wind Creek Bethlehem.
After trying their luck at some of the 200 table games and 26 poker tables, attendees can find "me time" in Steel Magnolia Spa and Salon, or spend their winnings at one of several retail outlets on site. Three bars, a lounge and an event center mean no one will ever get bored.
Mount Airy Casino Resort is in the beautiful Pocono Mountains, a few hours from Philadelphia. Attendees can try their luck at more than 70 table and more than 1,800 slot games, and place their bets against some of the best players in the region. Those who would rather kick back can sip cocktails and listen to live music at Pia's Lounge, relax by the pool or indulge in a spa treatment. Group outings can be arranged at the 6,500-yard, 18-hole golf course.
Groups of up to 1,200 can take a break from playing to meet in the 20,000-square-foot meeting/convention center and ballroom. The hotel houses 268 guest rooms.
Valley Forge Casino Resort boasts 479 guest rooms and suites, as well as 100,000 sq. ft. of meeting space, including five ballrooms ranging in size from 3,000 to 8,865 sq. ft. that can host 50–600 people. A 54,000-square-foot event center can host up to 3,000 in a variety of configurations and 39 versatile meeting rooms are located throughout the venue. Private dining for groups at Revolution Chop House is also available.
Attendees can escape to Valley Beach, the venue's 20,000-square-foot "oasis," featuring an outdoor bar, a food truck and live entertainment on weekends. Hotel guests can lounge on the sandy beach. Private cabanas are available for rent.
Smart Meetings Related Posts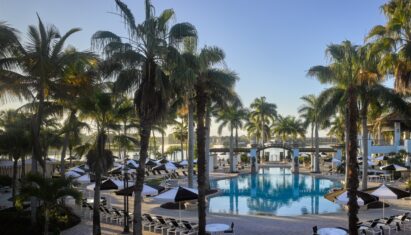 Curabitur aliquet quam id dui posuere blandit. Vivamus magna justo, lacinia eget consectetur sed, convallis at tellus.