Pennsylvania offers memorable experiences inside and out
Pennsylvania earned the nickname Keystone State because it was situated in the middle of the original 13 colonies. Today, the state still unlocks adventure on the East Coast. It packs the fifth-largest population of any state into a compact space, giving planners easy access to a vast array of activities for meetings of all sizes.
Looking to combine historical culture with outdoor activities, and still take advantage of the best urban offerings? Pennsylvania is the place.
Any conversation about Pennsylvania begins with a look back into its fascinating history. Pennsylvania's story is also the common tale that unites all Americans. From the Liberty Bell in Philadelphia to the fields of Valley Forge and Gettysburg, groups can immerse themselves in American history there like nowhere else. In Western Pennsylvania, Pittsburgh beckons, equidistant from New York City and Chicago, and a model for urban rejuvenation.
But the joys of Pennsylvania aren't limited to its two big cities. In the northeast, the outdoor playground of the Poconos lies just two hours by car from Manhattan. It is home to 150 lakes, seven adventure parks and countless quaint bed and breakfast retreats.
In the west, Laurel Highlands provides comprehensive resorts and spas for groups to sequester themselves in the shadow of American history.
Finally, returning to the Eastern seaboard, the towns of Hershey, Lehigh, Bethlehem and Allentown prove that Pennsylvania isn't just about chocolate and steel. It boasts one of the largest convention center resorts in the Mid-Atlantic.
Greater Philadelphia is Humming
James Portner, chief concierge at The Ritz-Carlton, Philadelphia, can barely contain his excitement as he talks about his city. "Autumn is a great time to visit Philadelphia!" he says. "Aside from the usual Independence Hall, Liberty Bell and Betsy Ross, there are great concerts, from Lady Gaga to Katy Perry, to Jay-Z, to Billy Joel. The Phillies are in town, plus Eagles football—all great activities for groups to attend together."
The usually warm months of September and October also provide prime opportunities to get groups outside for team-building before winter comes.
"Spruce Street Harbor Park, the new park at Delaware River Waterfront, is a great city park that everyone needs to check out," Portner says. "There are handmade hammocks and floating barges with food and drink service—even a floating beer garden."
Of course, Philly is still all about history. The Museum of the American Revolution, which opened in April, conveys the intricate story of the American Revolution with its extensive collection of artifacts, letters, diaries and artworks. Costumed interpreters lead groups of up to 15 on 60-minute tours, bringing key galleries to life.
Philadelphia's Fishtown neighborhood is known for its booming artisanal scene and relaxed, hipster vibe. A new Made in Philly Tour allows attendees to experience the craft of Philadelphia's local brewers, distillers, coffee roasters, artists and entrepreneurs in a neighborhood originally built on manufacturing and industry.
Fishtown is also home to Urban Axes, billed as "America's first indoor competitive axe throwing facility." The venue hosts group tournaments for corporate gatherings and team-building events for eight to 80 people. Note: You bring your own (beer, wine and food). Planners would be advised to schedule the distillery tour after the axe throwing.
Just 18 miles from Philadelphia, Valley Forge makes for an ideal—and historical—day trip. Groups of 10 or more can sign up for discounts and guided tours of the site of George Washington and his army's long winter quarters. Valley Forge also contains more than 20 facilities with at least 2,000 sq. ft. of meeting space. For big groups, the newly renovated 100,000-square-foot convention center at Valley Forge Casino Resort makes for an ideal place to stay and play.
MAJOR MEETING VENUES IN PHILADELPHIA

Hyatt at The Bellevue
172 smoke-free guest rooms; 30,000 sq. ft. of conference space; professional meeting concierge; seven-story atrium in The Conservatory.

Le Meridien Philadelphia
202 guest rooms; six meeting rooms, totaling 7,000 sq. ft. of space; Amuse restaurant and bar.

Loews Philadelphia
581 guest rooms; health club with steam room and sauna; attractive conference center with 21 meeting rooms.

Philadelphia Marriott Downtown
1,408 guest rooms; 92,000 sq. ft. of meeting space; 72 meeting rooms; grand ballroom holds up to 4,500 guests.

The Ritz-Carlton Philadelphia
301 guest rooms; 10 Arts Lounge, with happy hour; Aqimero restaurant serves regional cuisine; 26,000 sq. ft. of meeting space, with 18 meeting rooms.

The Westin Philadelphia
294 smoke-free guest rooms; Winthorpe & Valentine pub serves three meals; meeting room.

MAJOR MEETING VENUES IN VALLEY FORGE

Radisson Valley Forge
325 smoke-free guest rooms; casino; 10 meeting rooms; 100,000 sq. ft. of flexible conference space.

Sheraton Valley Forge Hotel
Located in King of Prussia; 180 guest rooms; 25,000 sq. ft. of conference space.

Valley Forge Casino
154 guest rooms; seven restaurants and three lounges; 10 meeting rooms; 100,000 sq. ft. of flexible conference space.

MAJOR MEETING VENUES IN GETTYSBURG

Gettysburg Hotel
119 sleeping rooms; historic hotel established 1797; six meeting rooms; 9,000 sq. ft. of flexible meeting space.

Wyndham Gettysburg
248 guest rooms; sleek, modern design; 17 meeting rooms; 60,000 sq. ft. of conference space. conference space.
Pittsburgh on the Move
The joke going around town is that if Andy Warhol lived in New York City today, he would consider moving to Pittsburgh. The iconic pop artist's hometown, which he famously escaped for the big-city lights, is now the leading light of regentrification. This one-booming U.S. city has again become very much worth a visit.
To experience the fall foliage, groups should start with the three rivers that flow into downtown—the numerous bike paths teem with rewarding views. Healthy Ride is Pittsburgh's local bike share option, with 50 stations and 500 bikes available.
Naturally, The Andy Warhol Museum is a must, and Carnegie Museums of Science and Art in the downtown area provide a compelling glimpse into Pittsburgh's previous glory days.
In 2015, Zagat rated Pittsburgh the No. 1 restaurant city in America. The Strip District neighborhood is beloved by locals—it's fun and funky, with ethnic eateries and river views. After dinner, consider arranging for a tasting at Wigle Whiskey. Along with distilling premium whiskey and experimental spirits, Wigle offers groups an hour-long private tour of Pennsylvania's whiskey history. Swirl, sniff and sip!
Frank Lloyd Wright's majestic Fallingwater house is at the top of any art and architecture lover's list. This National Historic Landmark stretches completely over a 30-foot waterfall, and was featured on the cover of Time magazine in 1938. Just a quick day trip from Pittsburgh, groups of 20 or more receive discounts and special tours. Planners are advised to inquire at least six weeks ahead.
MAJOR MEETING VENUES IN PITTSBURGH

DoubleTree by Hilton Hotel & Suites Pittsburgh Downtown
342 guest rooms; fitness center; nearby kayaking; 10 meeting rooms; 12,000 sq. ft. of meeting space.

Fairmont Pittsburgh
185 guest rooms; 24-hour fitness; spa and sauna; 12,000 sq. ft. of conference space.

Kimpton Hotel Monaco Pittsburgh
248 guest rooms; The Commoner and Biergarten restaurants; culinary team serves an authentic, locally focused, ingredient-driven menu made to pair with robust selection of local beers and craft spirits to complete the American tavern feel; six meeting rooms; 11,300 sq. ft. of conference space.

Renaissance Pittsburgh Hotel
300 smoke-free guest rooms; located in historic 1906 Fulton Building; 10 meeting rooms; 10,000 sq. ft. of meeting space.
Laurel Highlands' Woodsy Resorts
Sometimes, groups want to ignore external stimuli to focus inward. Western Pennsylvania, just a 90-minute flight from New York City and Chicago, has become a hotbed of relaxing spa and full-service resort development.
The luxurious Nemacolin Woodlands Resort recently made extensive town-home renovations in homage to President George Washington, who began his military career on the area. They also just opened their second Pete Dye-designed golf course, Shepherd's Rock. Groups can also make use of the Jeep Off Road Driving Academy and Fat Bird Superflye, offering a ropes course and canopy tour, sporting clays and paintball.
Seven Springs Mountain Resort, the state's largest ski resort, has undergone extensive renovations to all hotel lodgings. Teams can take in the spectacular scenery via horseback or Segway tours, or go tubing during summer months. The 60,000 sq. ft. of customizable meeting space provides venues for everything from keynote addresses to breakout rooms.
History buffs can visit Fort Ligonier, a reconstructed French and Indian War fort that recently opened its Center for History Education. The new facility features 5,200 sq. ft. of meeting space with interactive equipment and outdoor patio seating.
The Poconos: A Stone's Throw from the Big Apple
The Laurel Highlands isn't the only mountain getaway in Pennsylvania: The Poconos begin their ascent just 75 miles from New York City and cover four counties of natural beauty.
Proximity to New York City and a pristine natural environment make the area the perfect off-site venue for a day meeting or overnight, according to Sean Strub, owner of the historic Hotel Fauchere in Milford.
"Our new corporate meeting facility is designed for small meetings in a historic setting, with state-of-the-art technology and facilities, and exceptional cuisine," he says. "As a member of Relais & Chateaux, the Hotel Fauchere is culinary-driven." The hotel's Delmonico Room pays homage to the original New York restaurant, founded by original hotel owner Louis Fauchere.
The hotel is in Milford's National Historic District, which contains heritage attractions, shopping and galleries, all within walking distance. Milford is also the north gate to the 70,000-acre Delaware Water Gap National Park, with a network of waterfalls, hiking and biking trails, and canoeing, kayaking and tubing on the crystal-clear Delaware River.
MAJOR MEETING VENUES IN THE POCONOS

Hotel Fauchere
Historic hotel built in 1880; 17 smoke-free guest rooms; three meeting rooms; 1,500-square-foot conference room.

Kalahari Resorts & Conventions
457 guest rooms; five restaurants; full-service spa; 65,000 sq. ft. of flexible meeting space; 25,000-square-foot ballroom.
Chocolatetown, USA
More than chocolate abounds in the "Sweetest Place on Earth." Hershey is an adult playground, with theme parks, a plethora of group meetings options and general merriment for the whole family. To celebrate its 110th year of operation, Hersheypark debuted its latest roller coaster, Hershey Triple Tower, with a colossal 189-foot drop. Group discounts are available for 20 or more.
Legendary Hotel Hershey has renovated the West Tower and rooms, which were added to the historic building in 1977. Iberian Lounge, off the famous Fountain Lobby, received a refresh, as well, making it an ideal locale for groups to meet before or after dinner. Chocolate martinis are highly recommended.
MAJOR MEETING VENUES IN HERSEY/HARRISBURG

Courtyard by Marriott Harrisburg Hershey
128 smoke-free guest rooms; indoor swimming pool and fitness center; three event rooms; 2,400 sq. ft. of meeting space.

Hotel Hershey
276 guest rooms; three golf courses; outdoor event spaces; 20 meeting rooms; 25,000 sq. ft. of flexible meeting space.
Lehigh Valley Steel Towns Bounce Back
When asked about which regions groups would find interesting in Pennsylvania, Robin Tilley of VisitPA said, "Definitely the Lehigh Valley. Bethlehem might be the hippest city in the state right now."
Lehigh Valley includes the fabled steel towns of Allentown and Bethlehem, which are shedding their faded industrial past and embrace their futures as urban must-see destinations.
In December, Bethlehem's 14-acre historic Moravian settlement was awarded one of the coveted spots meriting consideration for UNESCO World Heritage status in 2018, along with Ellis Island, Central Park, the Brooklyn Bridge, and Chicago's skyscrapers.
Also in Bethlehem, don't miss the oldest bookstore in America (and some say the world), Moravian Book Shop, in continuous operation since 1745.
New event spaces are the latest to put Lehigh Valley on the meetings map. Vault 634 is a chic, historic new space in downtown Allentown, inside the former Lehigh Valley Trust Building.
There's nothing cooler for a transitioning destination then turning an abandoned steel plant blast furnace into an arts community and events venue. Bethlehem is home to Steelstacks, a 10-acre campus devoted to the arts on the site of the old Bethlehem Steel. The site has multiple venues for groups.
With its proud and rich history of German and Dutch immigrants, Pennsylvania is one of the oldest brewing regions in the country. It's fitting, then, that the Lehigh Valley was among the first to revitalize its decaying urban core around a craft brewery.
In 1998, Bethlehem Brew Works took over an abandoned department store with little more than a recipe and a dream, and achieved resounding success. Nine years later it expanded, opening Allentown Brew Works, a state-of-the-art venue specializing in business meetings and corporate functions, and able to provide food and seating for up to 400. The original still features two events spaces, for groups of 25 to 125.
MAJOR MEETING VENUES IN LEHIGH VALLEY

Best Western Lehigh Valley Hotel & Conference Center
192 smoke-free guest rooms; nightclub; 13,000 sq. ft. of conference space.

Courtyard by Marriott Allentown Bethlehem/Lehigh Valley Airport
107 guest rooms; indoor swimming poll; 648 sq. ft. of meeting space.

Sands Casino Bethlehem
282 guest rooms; casino; six meeting rooms with more than 12,000 sq. ft. of meeting space; additional 3,000 sq. ft. of prefunction space; 14,000 sq. ft. of trade-show and event space.
Altoona on the Upswing
In the bosom of the Allegheny Mountains, between Pittsburgh and the state capital of Harrisburg, lies Altoona, population 46,500. Compared to more well-known Pennsylvania destinations, it is sometimes overlooked as a meeting location. But it should not be.
Mark Ickes, executive director for Explore Altoona, explains why. "With 550 new hotel rooms over the past two years, as well as our current, award-winning hotels, our capacity to accommodate overnight visitors is at an all-time high," he says. "Altoona's meeting and event venues are versatile, extremely affordable, and include major improvements at two premier venues—Blair County Convention Center and Altoona Grand Hotel.
Ickes notes his city's location along Interstate 99 allows groups to draw attendees from a population of more than 7 million people within a three-hour driving radius.
Classic family-fun attractions include Laguna Splash at DelGrosso's Park, America's only Italian-themed water park; steam locomotive train excursions; and Horseshoe Curve, a National Historic Landmark.
Smart Meetings Related Posts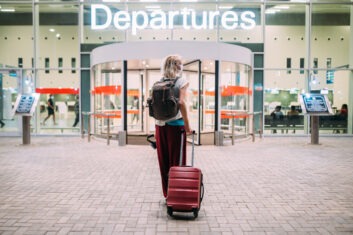 Borders have opened, masks are no longer mandatory and social distancing is not as strictly enforced. Read about the travel trends in 2023 and how corporate events and incentive trips have changed their focus since the pandemic.