A corporate gala at Fillmore Silver Spring, Maryland
A close look at what makes it unique
At one time serving as a bridge between North and South, the Mid-Atlantic has long been a magnet for people of diverse nationalities and cultures. In 1893, Frederick Jackson Turner wrote about the importance of the region in the shaping of American culture. Referring to it as "The Middle Region," Turner wrote, "It had a wide mixture of nationalities, a varied society, the mixed town and county system of local government, a varied economic life, many religious sects. In short, it was a region mediating between New England and the South, and the East and the West…It was democratic and non-sectional, if not national; easy, tolerant, and contented; and rooted strongly in material prosperity. It was typical of the modern United States."
Indeed, much of the United States as we know it was formed in the region. Home to at least five (six if you count North Carolina) of the original 13 colonies, the region is rife with history. From the founding of the United States in Philadelphia with the Declaration of Independence and the nation's first flag, both in 1776, to The Battle of Antietam in Sharpsburg, Maryland, during the Civil War in 1862 and Lincoln's assassination at Ford's Theater in Washington, D.C., in 1865, the Mid-Atlantic has seen its share of ups and downs.
Opinions differ as to what states comprise the region. Some say it stretches from New York all the way to South Carolina; others claim it is made up of only Pennsylvania, New Jersey, Delaware and Maryland. The debates will likely continue, but most authorities agree the Mid-Atlantic consists of parts of New York and New Jersey, as well as Pennsylvania, District of Columbia, Maryland, Delaware and Virginia.
Philadelphia
Ah! The City of Brotherly Love. Arguably the birthplace of the United States (and a city of firsts), Pennsylvania's largest city is known for its rich history. Every year, millions flock to its notable attractions: Highlights include getting an Insta snap in front of the #LibertyBell; walking through Independence Hall, where both the Declaration of Independence and the Constitution were signed; and peeking into Betsy Ross House, where it is said the country's first flag was created.
Philadelphia is also bursting with culture. The city boasts more public art than any other U.S. city: Nearly 4,000 massive murals, embodying the essence its many diverse neighborhoods, adorn its walls. It's also home to several museums, such as African American History Museum—the first institution funded and built by a major municipality to preserve, interpret and exhibit the heritage of African Americans—and Philadelphia Museum of Art, with its iconic steps made famous by Sylvester Stallone's victorious run in the 1976 hit film Rocky. The Rocky statue, which Stallone commissioned in 1980, can still be found there; it's one of the city's top tourist attractions.
But the attractions don't stop there. With such a rich heritage and a diverse population, it makes sense that Philly is home to a number of unique and interesting venues just waiting to be explored.
One-of-a-Kind Venues
The Mutter Museum of the College of Physicians of Philadelphia is once such attraction. Located in the Center City district, less than 1 mile from Pennsylvania Convention Center, The Mutter Museum is one of the most unique and fascinating museums in the city (and perhaps the country). Founded in 1858, its original intent was to display the collection of Dr. Thomas Dent Mutter for the purposes of biomedical research and education.
As part of The College of Physicians of Philadelphia—founded in 1787 and the oldest medical society in nation—the museum is host to a full spectrum of anatomical and pathological specimens (including a section of Einstein's brain) and medical oddities, antique medical equipment, wax models and curiosities.
The New Beaux-Arts style building provides four meeting rooms, an outdoor garden and a rotunda. The first floor contains two meeting rooms (only available weekdays after 5 p.m.) which can hold up to 170 people. Two rooms on the second floor (available during meeting hours) can accommodate 300–400 people.
Want to give your smaller groups a magical experience? Look no further than Philadelphia's Magic Gardens, an immersive, mixed media art environment completely covered with mosaics. Covering an indoor and outdoor space equivalent to half a city block, PMG sparkles with creativity, promise and the bohemian spirit of the neighborhood.
Local mosaic mural artist Isaiah Zagar began his masterpiece on his own property and the two adjoining vacant lots in the early 1990s, using cement, shards of ceramic, bottles, mirrors, found objects, bicycle wheels and spokes, and a hodgepodge of bric-a-brac. When the site faced demolition in 2002, the community stepped in and created the now nonprofit organization, thus saving the space. Philadelphia's Magic Gardens officially opened to the public in 2008.
The 3,000-square-foot space is made up of two indoor galleries and a massive, bilevel outdoor sculpture garden. The venue (indoor and outdoor) can accommodate up to 50 people, so it's ideal for smaller meetings. Located on South Street, with its alternative flair, the venue is in the middle of a diverse mix of shops, bars and cafes.
In the heart of the city, just across from City Hall, is Masonic Temple. Constructed over a period of five years and completed in 1873, it has been called one of the great wonders of the Masonic world. Truly impressive, the design for the interior space took nearly 20 years to complete. Lodge rooms are based on ancient architectural themes.
Founded in 1908, the museum houses a collection of more than 30,000 items, including President George Washington's Masonic apron, two of Washington's handwritten letters and Benjamin Franklin's Masonic Sash, worn in 1782.
One North Broad at the Masonic, the museum's event space, can accommodate 250 guests for a seated dinner with dancing, 300 guests for a seated dinner without dancing and 500 guests for a reception-style event. Each meeting room has its own style and space limitations, and features a working pipe organ.
Top-Notch Hotels
Newly touted as one of the most sought-after destinations in the world, Philadelphia is undergoing a hotel boom, according to Anthony Stipa, communications manager for Philadelphia Convention and Visitors Bureau. "By the end of this year, Philadelphia will have increased hotel room inventory by 20 percent in just two years' time," he says. A 10.9 percent year-over-year increase in room supply is expected by the end of 2019.
One of the newest hotels to make the scene is Aloft Philadelphia Downtown. Adjacent to Pennsylvania Convention Center, the hotel provides 179 guest rooms and 1,200 sq. ft. of meeting space in the restored, historic Liberty Title & Trust building. Nearby Reading Terminal Market, the nation's oldest continuously operating farmers market, is a must-experience; it is home to a vast array of cuisines from around the world, as well as local favorites.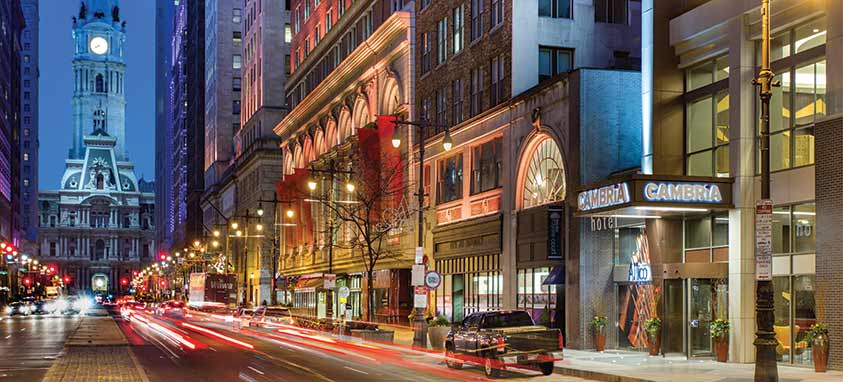 Another newbie, Cambria Hotel Philadelphia Downtown, features 15 floors with 223 guest rooms and more than 1,700 sq. ft. of multifunctional meeting space, a business center and a state-of-the-art fitness center. Its location on the vibrant Avenue of the Arts puts attendees in touch with the city's thriving visual and performing arts scene.
Four Seasons Hotel Philadelphia at Comcast Center will open mid-2019 with sweeping views of the city atop the state-of-the-art Comcast Technology Center. Located on the 48th to 60th floors of (what will become) the tallest building in Philadelphia at 1,121 feet, the hotel will have 219 guest rooms, 15,602 sq. ft. of event space, a luxury spa, an infinity pool, and a restaurant and lounge on the top floor with 360 views of the city, as well as a restaurant on the ground floor.
Washington, D.C.
Located along the Potomac River, Washington, D.C., is unique in that it is not a city or a state, but instead a district established by the U.S. Constitution to serve as the nation's capital. Bordering Arlington and Alexandria in Virginia, and Montgomery County and Prince George's County in Maryland, the district includes land donated by each state when it was first established.
The District is not only home to our federal government: It is also a cosmopolitan place with a rich heritage and unique attractions. Take Congressional Cemetery, for example. With its first burial in 1807 it is among the oldest institutions in the district, and the final resting place for scores of individuals who were instrumental in the founding of the nation (you won't find any presidents here, though). A National Historic Landmark since 2011, the 37-acre cemetery continues to build upon its 200-year legacy.
One-of-a-Kind Venues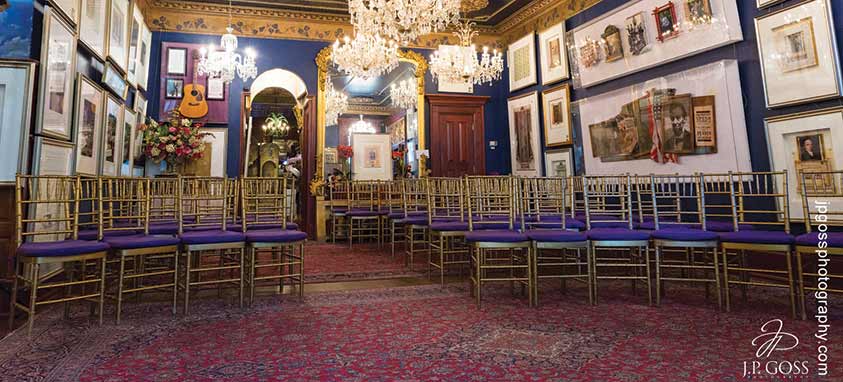 Billed as one of the most unique and creative environments in the world, The Mansion on O Street is not just a distinct venue: It's an experience like no other. Situated on a quiet, tree-lined street in D.C.'s fashionable DuPont Circle—within walking distance of the White House and mere minutes from Lincoln Memorial—the property provides 30,000 sq. ft. of meeting space, including 12 conference rooms, large meeting galleries, unique alcoves for groups of two to 150 and 23 themed guest rooms and suites.
The mansion hosts themed activities and classes (great for team building), and a variety of tours, events, exhibits, treasure hunts and all-inclusive packages. Guests are encouraged to explore more than 100 rooms and try to find any of 70 hidden doors (the museum notes those who find two are "above average").
A venue with a mission, The International Spy Museum recently found a new home at L'Enfant Plaza—just a short walk from National Mall. At 140,000 sq. ft., it has more than doubled its original size. The new space features a lecture hall/theater and an event space with unparalleled views.
The new building features four distinct meeting areas. The landscaped rooftop terrace can host up to 150 for a sit-down meal and 200 for a reception. Combine it with meeting space on the seventh-floor for a large event of up to 700; the ballroom on this floor provides breathtaking, panoramic views from the U.S. Capitol to the Washington Monument and the Potomac River, and includes state-of-the-art technology. Down in the lobby, groups of up to 190 people can network among large-scale artifacts. The Veil, located on the third floor, is ready to host a cocktail reception for up to 100 people or dinner for up to 40 people.
When the meeting day is done, planners and attendees can test their own spy skills through RFID experiences.
Top-Notch Hotels
Washington, D.C., attracted a record 21.9 million domestic visitors in 2018, the ninth consecutive year for tourism growth. In anticipation of another record year in 2019, plans for 17 new hotels are underway around town.
One of the newer hotels in the District is The Conrad Washington D.C. This luxury spot—the sixth Hilton Worldwide hotel—features 360 guest rooms, 20 meeting rooms (including two ballrooms) totaling 32,000 sq. ft., outdoor terraces, art installations and a rooftop bar with unobstructed views of the Capitol. It's just a few blocks away from the White House and the National Mall.
Another Hilton property, The Hilton Washington D.C. National Mall was renovated and rebranded in April. It is the first hotel in Washington to offer exclusively king beds in every guest room. Close to the newly relocated International Spy Museum and the Wharf, this property provides 23,000 sq. ft. of meeting space, including a grand ballroom that can accommodate up to 800 guests, 367 guest rooms and a pool terrace.
W Washington D.C. is also getting a new look, and plans to reopen this summer. A $50 million renovation includes improvements to the hotel's 317 guest rooms and suites and 12,000 sq. ft. of meeting space. The property is adding a new signature restaurant on the ground floor and revamping its POV rooftop bar and lounge.
Montgomery County, Maryland
Located just north of Washington, D.C., Montgomery County combines bohemian sensibilities with affluent luxury; a score of cultural, historical and entertainment options; and a surprisingly large rural footprint—its Agricultural Reserve encompasses 93,000 acres and has been heralded as one of the best examples of land conservation in the country.
You'll find the burial site of writer F. Scott Fitzgerald and his wife, Zelda (St. Mary's Church Cemetery, Rockville), see the bullet that killed Abraham Lincoln (National Museum of Health and Medicine, Silver Spring) and, unless you have a fear of heights, climb the longest (230 feet, Wheaton) and second-longest (212 feet, Bethesda) escalators in the Western Hemisphere.
One-of-a-Kind Venues
Situated in North Bethesda, Strathmore Mansion has been a home, convent and school, and was Montgomery County's first center for the arts. Befitting its hometown of Bethesda, Strathmore continues its mission of nurturing the community through art. The Music Center at Strathmore is a 1,976-seat concert hall and education complex.
Unique, creative meeting spaces offered by Strathmore include the entire first floor, which can accommodate 120 seated and 200 standing; a music room for up to 110 (theater style); a flexible conference room suitable for up to 40 (seated); a library for intimate groups of up to 20 (seated) and a sun porch, which can hold up to 30 (seated, depending on set up). Musicians from the mansion's artist-in-residence program are available to hire for a truly immersive experience.
A serene suburban haven on the shores of the C&O Canal and Potomac Rivers, Rockwood Manor Retreats and Events is comprised of 30 acres of woods and a historic country house dating to the 1920s. The Manor house has stood for nearly a century and has hosted first ladies, international diplomats and thousands of private events throughout its rich history.
The property can accommodate groups of 12 to 80 in six flexible meeting spaces, and the house is available for buy-outs. Rockwood Manor offers custom weekday retreats with exclusive access to all 30 acres—ideal for executive functions and team-building exercises.
Located just outside of Washington, D.C. in Silver Spring's vibrant arts and entertainment district, Fillmore Silver Spring, with its musical legacy and hip setting, can accommodate 25 to 1,100. The venue features advanced lighting and sound, stadium-style tiers on the balcony level and a lounge area.
The venue provides the large Music Hall (accommodating up to 1,200 standing, 400 seated), modeled after The Fillmore San Francisco; Vertigo VIP Lounge (1,212 sq. ft., up to 75 guests) for pre- or post-event receptions; and a balcony (450 standing, 75 seated). Full-space buy-outs are available. All spaces have access to custom menus and cocktails as well as entertainment.
Top-Notch Hotels
Montgomery County is welcoming visitors and meeting delegates with some new and newly renovated hotels, namely three fresh faces in Bethesda.
Bethesda's burgeoning Pike and Rose retail district announced the opening of Canopy by Hilton Washington DC Bethesda North in 2018. The property has 177 guest rooms and 8,700 sq. ft. of meeting space, including a 4,200-square-foot rooftop terrace.
DoubleTree Bethesda—soon to be The Bethesdan, a Tapestry Hotel by Hilton—has completed renovations of its 20 meeting rooms and is scheduled to finish updating its 270 guest rooms and six suites this month. Meeting rooms have been renamed; the 5,658 square-foot ballroom is now The Bethesdan.
Bethesda North Marriott Hotel & Conference Center has also been transformed. Its 455 guest rooms include a 2,000-square-foot presidential suite, 1,000-square-foot vice presidential suite and 12 one-bedroom suites. The property offers 50,000 sq. ft. of flexible meeting space, 17 meeting rooms and 12 breakout rooms. The conference center features two floors of above-ground meeting space, natural light, a 24,000-square-foot ballroom, 12 meeting rooms and a brand-new restaurant.
Altoona, Pennsylvania
Altoona, Pennsylvania, the largest city in Blair County and situated on the eastern slope of the Allegheny Mountains, has a unique history as a railroad town. Founded in 1849 by Pennsylvania Railroad Company as a base for building railroads over the Alleghenies, it became a valuable player for the North and the focus of Confederate forces during the Civil War, due to the high demand for locomotives.
One-of-a-Kind Venues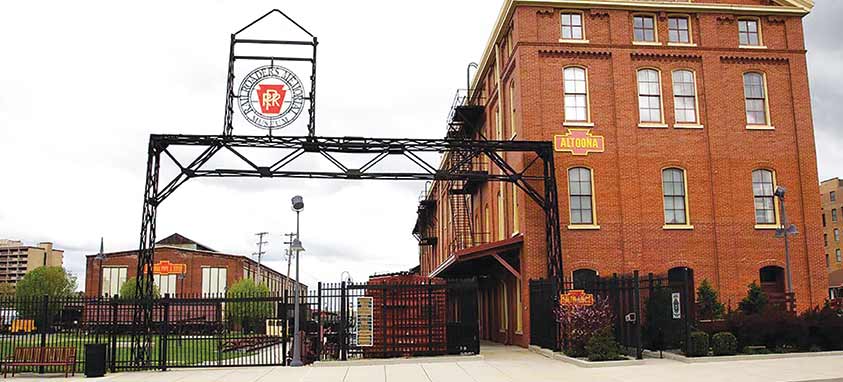 Today, Altoona is experiencing a growth in tourism, due to the city's significant cultural resources—many of which are tied its long history as a railroad hub. The Railroaders Memorial Museum, for example, commemorates and celebrates the significant contributions of the city's railroad builders and their families to American culture and industry. The museum offers six event spaces, including a lobby, theater, bar and museum yard.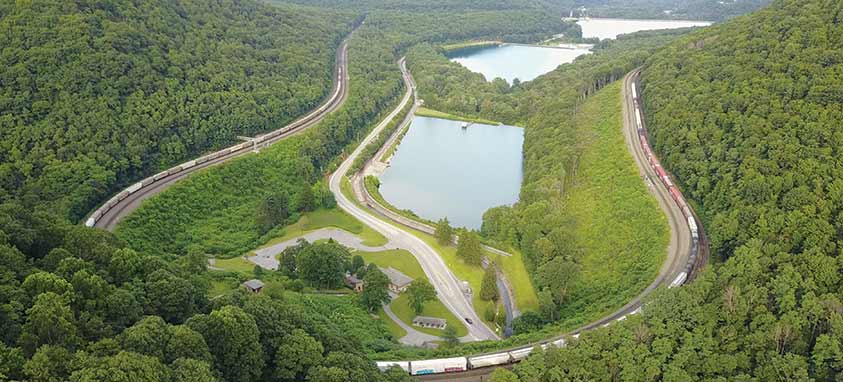 Horseshoe Curve opened in 1854 at the base of the Allegheny Mountains as a more efficient way to move trains up the mountain. An engineering marvel, the curve is 2,375 feet long, with a curvature of 9 degrees, a central angle of 220 degrees, 122 feet of total elevation and a 1.8 percent grade in elevation.
Now a National Historic Landmark, the Curve can accommodate up to 150 people for a courtyard reception and 50 for an event in the museum building. The visitor center holds up to 75 people indoors for standing receptions and 150 in its outdoor seating.
Lakemont Park, dating to 1894, is undergoing a restoration. It will feature a water park, 36 holes of mini golf, paddleboats, go-kart racing, picnic pavilions and new facilities for team-building sessions. The Casino at Lakemont Park provides three flexible banquet rooms totaling 13,000 sq. ft., and the entire facility is available for buy-outs; catering and audiovisual equipment is provided.
Top-Notch Hotels
With 550 new or newly renovated hotel rooms being added to the Altoona market within the past two years, Blair County is "rolling out the red carpet for everyone," says Mark Ickes, executive director of Explore Altoona. "From the 12.5 million expansion of Laguna Splash water park at DelGrosso's Park to expanded train excursions on the Everett Railroad, and the unique outdoor experience of the September 11 National Memorial trail, this is an exciting time for groups to explore a small destination with big adventures in Greater Blair County."
The Grand Hotel, Blair County's only full-service hotel, features six meeting rooms totaling 5,962 sq. ft., including four ballrooms and a courtyard. The grand ballroom holds up to 550 people and can be modified three ways. The hotel has 117 guest rooms, a pool and on-site catering.
Marriott International's dual-branded Fairfield Inn & Suites and TownePlace Suites provides a combined 197 guest rooms and 1,000 sq. ft. of meeting space for up to 80 people. The hotels share an indoor swimming pool, a fitness center, an outdoor patio with a fireplace and barbecue grills.
Courtyard by Marriott, with 105 guest rooms and 425 sq. ft. of meeting space for 40 people, is adjacent to Blair County Convention Center, which provides 40,000 sq. ft. of space in its 13 meeting rooms, making it a flexible option for groups large and small.