'Bama meets in Rocket City
Through the Alabama hills and just a ways down the rushing Tennessee River lies what has become the largest city in the southern state, just barely beating out Birmingham in the popularity race: Huntsville, Alabama. The capital city of Madison County, Huntsville has become a national defense and space flight technology powerhouse, a convention center of the South and garnered a diverse community dedicated to collective success.
The City of Huntsville, the largest governing body in Alabama, created its Office of Multicultural Affairs in 2009 under the guidance of Mayor Tommy Battle. Just this last August, its City Council established Huntsville's Office of Diversity, Equity & Inclusion (ODEI), making deliberate forward steps toward a more holistic representation of the large city's rich and growing cultural diversity.
In Huntsville and Madison County, masks are no longer required, though wearing them in crowded spaces is still strongly encouraged, as it is throughout the state. In the sunny Rocket City, business is back in action, and meetings and events are sky bound.
Meet and Sleep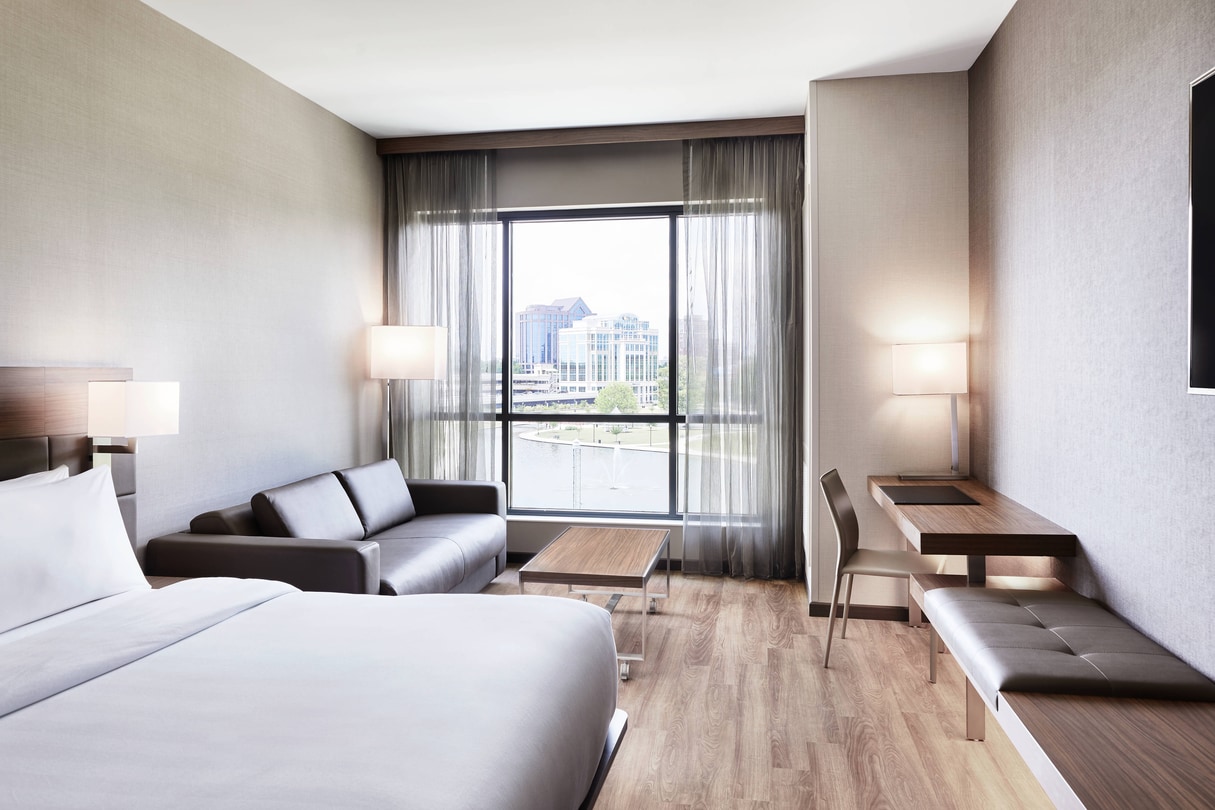 In Huntsville's busy downtown, 106 Jefferson Huntsville, Curio Collection is central to the chatter and bustle. Stepping in, visitors are met with dark, glossy floors and delicate molding across cream walls. The property's meeting spaces total 20,300 sq. ft., 1,800 of which is outdoors. It is also just a short distance from the enormous Von Braun Center's 170,000 sq. ft. of meeting space, including an arena and performing arts complex.
The convention center stretches for 24,000 sq. ft., serving as a dividable banquet, meeting or exhibit hall. AC Hotel by Marriott Huntsville Downtown, also just minutes from Von Braun Center, has 120 guest rooms and well over 3,100 sq. ft. of meeting space. Recently renovated, Huntsville Marriott at the U.S. Space & Rocket Center is one of the largest hotels in the city, with 292 guest rooms and 20,788 sq. ft. of meeting space—plus, it has the added draw of being adjacent to 2,000 rockets.
Eat
Huntsville boasts an assortment of spots for Southern eats and after-hours entertainment. BarVista sits on the second floor of Huntsville's AC Hotel, and its outdoor patio overlooks Big Spring International Park—a refuge of green before a cityscape that flickers on the horizon. For a meal that hits home, Commerce Kitchen, run by the celebrity Chef James Boyce, cooks up locally sourced, Southern-style dishes and seasonal favorites.
Jack Brown's Beer and Burger Joint Huntsville is a local go-to for a beloved American classic. And the elusive (literally) underground bar, catacomb435, gives guests the experience of visiting a still-running 1920s speakeasy. The sign at the entrance reads only the establishment's address, "100 Jefferson Street"—blink and you'll miss it.
Do
Twickenham Historic District has preserved rows of impressive colonial-style houses from the pre-Civil War era. Take a group on a walking tour for a picturesque glimpse into the past, a neighborhood once home to many wealthy businessmen whose allegiance to the Union saved many of the community's buildings despite the destructive winds of wartime. For a group that really aims for galactic-tier ventures, U.S. Space and Rocket Center is a 10-minute drive from downtown and offers astronaut training activities and educational information on the history of what was and still is home to many of America's rocket scientists.
And between the flowering Huntsville Botanical Garden and Monte Sano State Park's thousands of acres of vibrant forestry and wooded waterfalls, spending part of the day amid miles of green space ought to help clear your mind between meetings.
Need to Know
10% of Huntsville's residents are natives of other countries
1958 Redstone Arsenal launched the first American satellite into space
100+ languages spoken
This article appears in the May 2022 issue.