New convention center spurs upgrades in hotel offerings
In mid-December, 400 meeting professionals gathered in the shiny new SAFE Credit Union Convention Center in the heart of Sacramento for the reunion of CalSAE's Seasonal Spectacular. It was the fourth event for the reimagined space, which added 40,000 sq. ft. for a total of 240,000 sq. ft. while creating walking access adjacent to the similarly renovated SAFE Credit Union Performing Arts Center.
An $83 million investment there added seating, improved acoustics and much-needed restrooms. Between the two buildings, a more than 15,000-square-foot outdoor plaza was designed to take advantage of Sacramento's famously warm, Mediterranean climate. Mike Testa, president and CEO of Visit Sacramento, welcomed attendees to the business meetings, education and trade show with the city's message of "Less common; more sense."
The Smart Meetings team was there in force, learning about all the construction that happened while we were away, and sent back this site inspection report.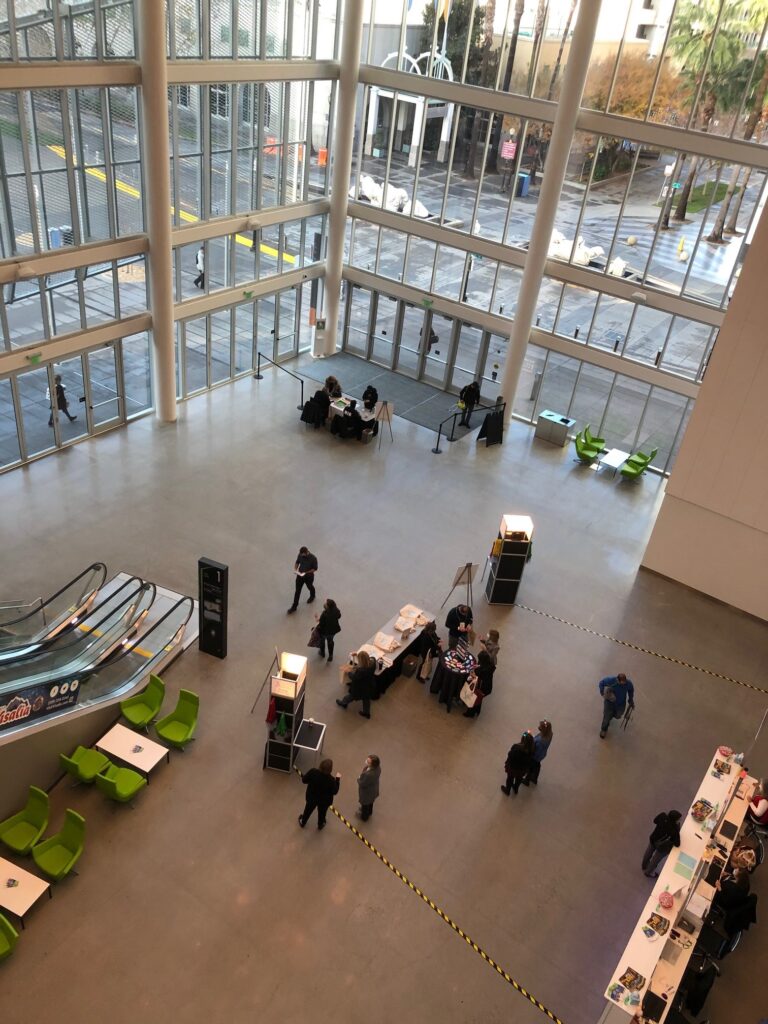 Arrive
Sacramento International Airport (SMF) is the easiest gateway to Northern California. It was recently named fourth-best airport in North America for customer service by Airports Council International and boasts more than 175 nonstop flights a day to 35 destinations. The city has plans to expand terminal space, as capacity is projected to be as many as 10 million passengers a year by 2038.
Read More: Golden Opportunities for California Meetings
The capital city's location halfway between San Francisco Bay Area high rises and Lake Tahoe's mountain peaks makes it a popular, cost-effective place to gather for association, incentive and convention events.
Need to Know
2,000 hotel rooms in walking distance of SAFE Credit Union Convention Center
62 degrees Average February high temperatures
1.5 million acres of farmland surround America's Farm-to-Fork Capital.
Meet and Sleep
The $180 million convention center upgrade ribbon cutting on June 3, 2021, was a long time coming, and just-in-time for a renewed appetite for gathering. Matthew Voreyer, the venue's general manager, called the timing "serendipitous," as the facility didn't have to cancel any groups during the pandemic since they had already planned to be dark. The renovation built up and added abundant natural light to the preconference and lobby spaces.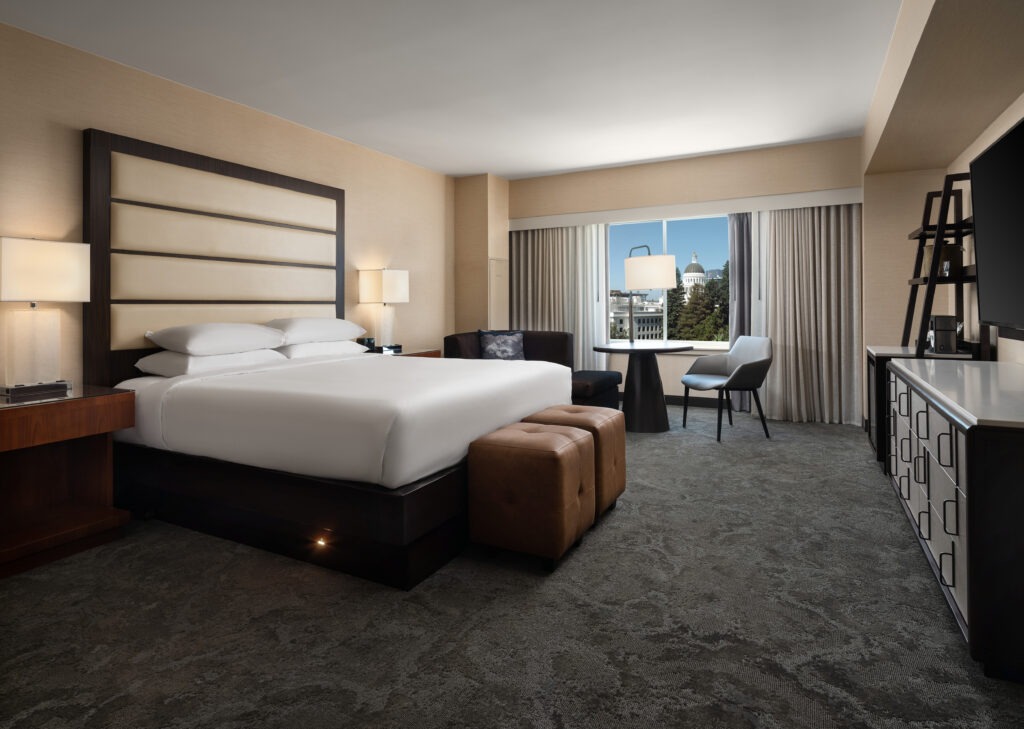 Nearby hotels are upping their game for the influx of guests, made possible by the faster load-in times of the newly reconfigured convention center docks. Hyatt Regency Sacramento, standing sentry between the State Capitol and Performing Arts Center, completed an $8.1 million renovation of 505 guest rooms in June of 2020. Brenda Kirian, director of sales, explained how well the timing worked out. "We planned our renovation (new doors, case goods, carpet, drapes and art as well as 65-inch televisions) to coincide with the Convention Center expansion so there would be little displacement of business. Little did we know that the world was going to close down, and it was actually even better timing than we planned as the contractors could move about the building without disturbing guests! The first guests were able to enjoy new rooms when we reopened."
Next door to the Convention Center, Sheraton Grand Sacramento Hotel General Manager Jeroen Gerrese says the property is part of an early wave of the Marriott brand reimagining its place in the community. New lobby renovations inside the historic Julia Morgan facade will be an even more open, multi-purpose space designed to "make locals feel like guests and guests feel like locals." Inside the 503 guest rooms and 19,300 sq. ft. of meeting space, functional tech, such as adjustable standing desks and sound barriers will make being productive easier.
K Street connects Safe Credit Union Convention and Performing Arts District to Downtown Commons (DoCo), home of Golden One Center, which hosts more than 17,000 people for NBA Sacramento Kings games. Nearby Kimpton Sawyer fills 250 guest rooms and 20,000 sq. ft. of meeting space with medical and corporate events throughout the year. The newest hotel on the urban block is Hyatt Centric Downtown Sacramento, which turned a historic building into 172 guest rooms and 2,500 sq. ft. of meeting space.
Read More: CalSAE Seasonal Spectacular Brought the Festive
Eat
Located in the center of one of the most fertile farm regions in the country was a natural draw for world-class chefs looking for the best ingredients, and affordable housing for staff. It was only fitting when Michelin announced in 2019 that the city will be part of a regional foodie guide. Many of these master chefs create their artworks within steps of the Convention Center. Brasserie du Monde on K Street offers private dining space and dedicated parking. Ella Dining Room and Bar, part of the Selland Family of local restaurants, is a popular group dining venue.
Do
Sacramento is in the fifth year of an annual mural festival that has been adding color to buildings all over town. Wide Open Walls maps the public art, so visitors can take self-guided tours of the larger-than life creations. For those looking to pair their art with unique culinary creations, Local Roots Food Tours has guided explorations highlighting neighborhoods, delicacies and history. These can be tailored to fit the group's preferences and interests.