Paradise Helicopter tour of Hawaii Island
The Aloha State floods the senses with adventure and discovery
It began with a purification ceremony before sunrise. Cross-legged, we sat facing the endless ocean, as wavelets lapped Waikiki Beach in Honolulu. The chant began.
E ala e, ka la I kahikina. (Awake! The sun in is the east.)
I ka moana, ka moana hohonu (At the ocean, the deep ocean)
Pii ka lewa, ka lewa nuu (Climb to the heavens, highest heaven)
kahikina, aia ka la, e ala e! (In the east, there is the sun, arise, awake!)
Our small group entered the water. Some just a little, others in total immersion. As I emerged to dry myself, above green-felted Diamond Head rose the brilliant, fiery orb. I basked in the radiance and warmth, and the sun's mana, or power, was unmistakable and energizing. Now I was ready for these five days in Hawaii, on a whirlwind fam trip hosted by Marriott's Convention & Resort Network (CRN) that would take me to four of the state's islands and 10 hotels and resorts. The CRN is a collection of 100 of the largest convention and resort hotels across the Americas, and across the seven Marriott-owned brands.
I would see so many superb meeting spaces, accommodations, resort and hotel amenities, and glorious oceanfront vistas over those islands and days that it became obvious Marriott's CRN offers something for every meeting planner—including the ability to bundle nearby properties to host larger groups. My learnings from this fam were valuable and substantial.
But for me (and, judging by both the rigorous and anecdotal research we're seeing at Smart Meetings, for attendees at your meetings), my most vivid memories are experiential.
In Proustian flashback, here are glimpses of some of those experiences.
Culinary Evocations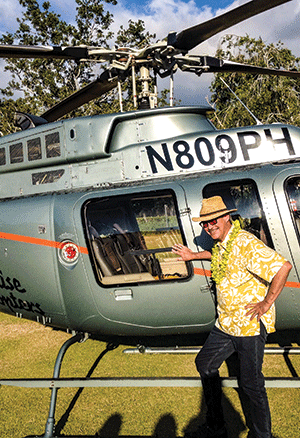 …The scent of truffles on a cloudless Honolulu evening. At The Royal Hawaiian, the stately, 1927 Pink Palace on Waikiki Beach in Honolulu where the mai tai cocktail and Shirley Temple mocktail were born, Azure restaurant chef Shaymus Alwin re-created a tasting menu he first prepared at James Beard House in New York City. As in, an artistic plating of truffle-scented hearts of palm vichyssoise with Kauai shrimp, compressed cucumbers, cauliflower panna cotta and smoked trout roe.
…Smoke and fire next to a centuries-old Hawaiian fishpond. At Waikoloa Beach Marriott Resort & Spa on Hawaii Island, preparations for an alfresco brunch set up just for our group required executive chef Jayson Kanekoa to rise at 3 a.m. Over a mesquite fire, he hung house-cured bacon, sausages, pork ribs and other smoky treats. In small wooden planter boxes preened his "living salad." The setting came to life with chants and drumming by Micah Kamohoalii, Kanekoa's cousin and leader of a famed hula school, and dancing to honor mano (the shark) for driving fish to the shallows for ancient Hawaiians to gather.
Just Do It
…The tinkle of a dancing flea on Diamond Head. Ukelele, in Hawaiian, translates to "dancing flea." Where better for an impromptu performance than Diamond Head Lookout, high above a surfing beach? What better way to get there than on a Segway, an adventure that began on the crowded streets and sidewalks of Waikiki, traversed a park, then charged up the mountain to our mini concert by the Segway of Hawaii tour guide? Along the way, he filled us in on Native Hawaiian lore and sights. By the way, handling a Segway is lealea a me ka oluolu (fun and easy).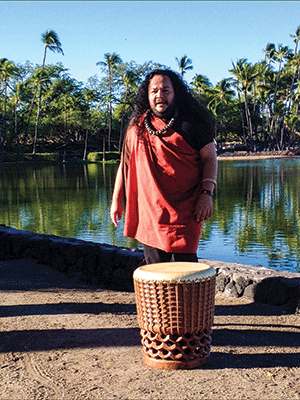 …The rush of air hurtling at 50 mph, Superman-style. Harrison Ford, Johnny Depp and Penelope Cruz had beaten us to it, but there we were, kayaking, hiking, swinging into a jungle pool and then ziplining on Kipu Ranch, a 3,000-acre, privately owned cattle ranch on Kauai where scenes from 75-odd films and TV shows have been shot. Our own heart-stopping action scene came on the newest zipline. At three-quarters of a mile, it is the longest in Hawaii. This space shot begins on a seven-story tower high above a forested valley, then gooooooooooooooooooooooooooes.
…The thwap-thwap-thwap of our chopper as we landed at Sheraton Kona Resort & Spa at Keauhou Bay. Hawaii Island's grandeur can only be completely appreciated by air, and Paradise Helicopters gave us the grand tour—and a royal landing at our resort for that night (where lei greeters awaited on the landing lawn). From the air, we saw a dozen or more waterfalls in hidden, impossibly steep ravines, lava lakes burning bright red, black-sand beaches, macadamia farms, miles of ruggedly beautiful coastline and even a humpback whale. All made the more dramatic by the knowledge that, only the day before, our pilot, Ryan Moeller, had saved the lives of a man and woman clinging to a piece of driftwood and being circled by tiger sharks.