Welcome to a Texas-size selection of innovative meeting destinations to fit even the most advanced planner checklist. If you haven't checked out The Lone Star State lately, you may have missed the influx of bold, new, tech-filled spaces sidling up cozily with classic boots-on-the-ground favorites (although even those have been fitted with modern conveniences, as you will see when you next visit Fort Worth's reimagined stockyards).
From the bright lights of Dallas, quirky music stages of Austin and scenic beauty of The Woodlands to the history of El Paso and San Antonio and the resiliency of Houston, Texas hospitality is legendary. Now there is more of it to love—and almost all of it has high-speed Wi-Fi.
This is your chance to put your feet up, sit back and take a few moments to reintroduce yourself to a place that just may be your next best meeting destination.
Y'all come back now, y'hear?
Dallas: Rich History and Surroundings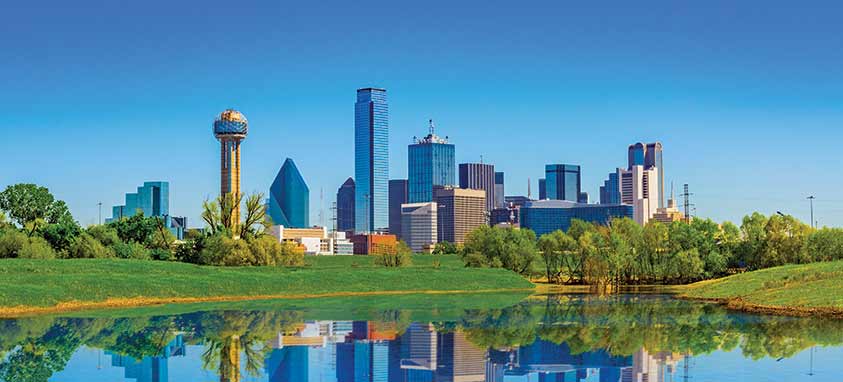 Dallas has many claims to fame: the Cowboys NFL team, eponymous hit TV series Dallas (celebrating its 40th anniversary this year), the country's tallest Christmas tree, original Neiman Marcus and first frozen margarita. In fact, the icy drink that was launched there is so popular that the city recently introduced the Margarita Mile, a cocktail crawl where visitors can savor the flavor of some of the city's best margarita purveyors.
As the ninth-largest city in the United States, Dallas embraces everyone that walks its soil. "Dallas is a wonderful destination for any organization's meeting," says Robert Heard, associate executive director of American College of Emergency Physicians. "Over the last decade, Dallas has transformed itself into a city that offers so much for attendees, from incredible dining venues to unique cultural experiences and great sporting events." My organization is excited to be meeting in Dallas in 2020 and knows the city will deliver on very unique experiences for our attendees."
Meeting Options Update
Kay Bailey Hutchison Convention Center Dallas offers 1 million sq. ft. of exhibit space and easy connection to the 1,001-room Omni Dallas Hotel via a skybridge. Beyond the Omni Dallas, there are some 80,000 hotel rooms in the city and its surroundings.
Most Texans would agree that the go-to hotel in Dallas has always been The Adolphus, built by Anheuser Busch founder Adolphus Busch as Dallas' first luxury property. Set on the original site of City Hall, The Adolphus, with 407 guest rooms, established a rich history from the moment it opened its door in 1912. It has hosted the well-heeled and the well-known, including presidents Warren G Harding and George H. W. Bush, royalty such as Queen Elizabeth II and Prince Philip, and music legends Glenn Miller and Benny Goodman.
Modeled after a German castle, this Beaux Arts hotel has recently put finishing touches on a major revamp that recaptures its grand past, including the reopening of the elegant French Room restaurant, restored to its original European grandeur. Meeting planners will find several event facilities, most notably a 5,300-square-foot ballroom for up to 800.
Another legendary landmark now flying under the Hilton flag is The Statler hotel, wrapping up a whopping $255 million renovation. The Dallas icon reopened in fall 2017, paying tribute to its musical roots (Tony Bennett was a regular there) and Conrad Hilton's original vision for the property. The 19-story structure has 219 apartments, 159 guest rooms and new restaurants. There are nine event facilities, ranging from 250 to 12,437 sq. ft.
Southern charm that is quintessentially Texan can be found at the 195-room, 31-suite Hotel Crescent Court, fresh off a $30 million face-lift. Oozing luxury, it boasts a 22,000-square-foot spa, pool, wine bar and some 19,360 sq. ft. of function space.
Fort Worth: Old Meets New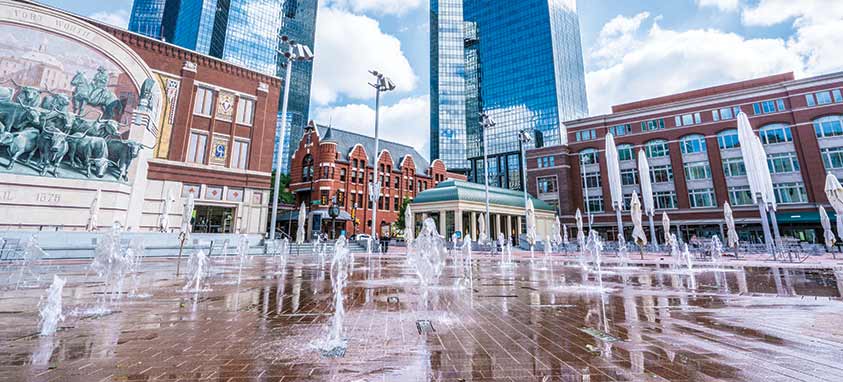 Roughly 17 miles from Dallas/Fort Worth International Airport (DFW), Fort Worth attracts some 9.1 million visitors per year. Built as an army outpost, it's come a long way from protecting settlers on the advancing frontier. Today, Fort Worth is an inviting oasis for visitors, with heritage sites, fine restaurants and one of the most pedestrian-friendly downtowns in the country.
If you're fixin' to have fun, the first stop should be the 35-block Sundance Square entertainment and shopping district for theater, dinner and loads of events. The European-style plaza with its murals and water fountains is a permanent stage for bands, a cigar bar, Texas-style shopping and the first 32-foot-tall Teflon umbrellas in the country.
Beyond entertainment, there's also lots of culture to explore in Fort Worth: 60 percent of America's paper money is printed at U.S. Bureau of Engraving and Printing Western Currency Facility (free tours are available) and Texas Civil War Museum pays tribute to a tumultuous time in the state's history.
Your group can step back in time at Stockyards National Historic District, filled with brick walkways, wooden corrals and lots of icons embodying the flavor of the Old West. Look for custom-crafted cowboy hats and boots, bawdy saloons and a year-round rodeo. Texas Cowboy Hall of Fame is located there, as is the world's only twice-daily cattle drive.
Meeting Options Update
The Stockyards is undergoing a $175 million overhaul, which includes repurposing 200,000 sq. ft. of old horse and mule barns. When finished, the site will be anchored by Hotel Drover, a 200-room, Forbes Four Star boutique hotel, with event space that includes a barn for meetings and parties located at the end of reimagined Mule Alley. Stockyard shops and restaurants should be finished by fall 2019, with the hotel opening set for spring 2020.
Close by but a world away is the city of Arlington, once a road stop off the highway and now arguably the entertainment and sports capital of North Texas. Centrally located between Dallas and Fort Worth, Arlington is home to AT&T Stadium, the Texas Rangers, Six Flags Over Texas and International Bowling Museum and Hall of Fame.
Perhaps the crown jewel of the city is its new $250 million Texas Live!, an entertainment hub with three venues sitting directly across from the first-base gate of Globe Life Park, home to MLB's Texas Rangers. Live! By Lowe's is the flagship hotel that will bring 302 guest rooms to the entertainment district when it opens in 2019. The $150 million hotel will have a rooftop terrace and Grand Event Center has more than 35,000 sq. ft. of event space.
The Woodlands: Beauty Meets Business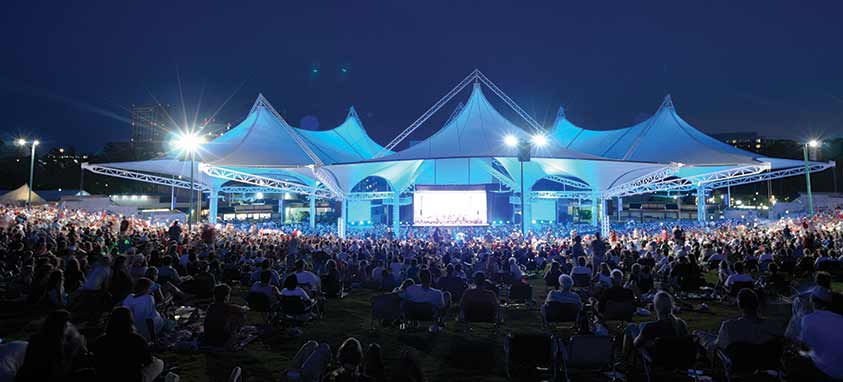 Set amid 28,000 forested acres, The Woodlands has more than 200 miles of hiking and biking trails and is an oasis for those who want a change from busy city life. Your group can use paddleboards and kayaks around Lake Woodlands, ride a Mobike through the township, attend a concert at The Cynthia Woods Mitchell Pavilion and stroll past more than 80 outdoor sculptures and murals, one of the most impressive collections of public art in the country.
Meeting Options Update
For those who want more action, The Woodlands offers some 11 million sq. ft. of shopping, dining and entertainment, accessible by the free Woodlands Trolley.
Meeting planners will find lots to check out at The Woodlands. With 14 properties, there are more than 2,200 guest rooms and 160,000 sq. ft. of venue space.
The Westin at The Woodlands is located on the Woodlands Waterway, close to Town Green Park and Riva Row Boathouse. It features roughly 10,160 sq. ft. of meeting space and a 5,697-square-foot ballroom with one of the fastest hotel internet connections in the country. Two new dining experiences are available: Sorriso Modern Italian Kitchen and Como Social Club Poolside Terrace & Bar.
Raring to go after a $77 million renovation is the 406-room The Woodlands Resort, which offers golf, spa services, swimming, and bike and pedal boat rentals at the lake. Aviator's Landing is the exclusive Club Floor where guest rooms are newly upgraded and include fabulous views and free concierge assistance. The patio at Robard's Steakhouse is ideal for outdoor receptions overlooking the 18th green.
Just wrapping up the final phase of a $2.5 million face-lift, the 70-room Hyatt Centric The Woodlands is a luxury boutique hotel with a chic new vibe that deftly balances business with pleasure.
You won't find any ATMs at Woodforest Bank Club, but you will get your money's worth at the 15,000-square-foot venue, which opened last year. Patrons of the city's performing arts center get first dibs on facility reservations during the season, but it's up for grabs to the public when not in use. In addition to two sweeping floors of seating, three bars, a catering kitchen and an outdoor patio offer plenty of places to meet and connect. Photographs and instruments of artists who performed on the main stage displayed prominently on club walls set the tone.
Another venue with a cultural emphasis is Glade Cultural Center, part museum, part art gallery. Overlooking a tree-lined lake, Glade is home to a permanent collection of pieces by world-renowned artist David Adickes, as well as rotating exhibits. It has 6,000 sq. ft. of event space.
Houston: Showing Texas' True Grit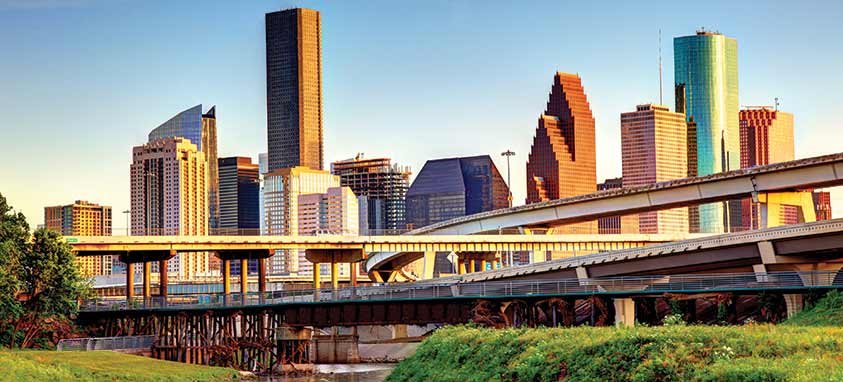 No hurricane is going to keep Houston down. Showing Texas tenacity after a weather-tormented 2017, the city is gearing up for 2,300 more downtown guest rooms in the next few years, with hundreds more slated for the surrounding Galleria, Energy Corridor and Medical Center areas.
"We have numerous reasons for staying in Houston," says Martha Barton, CEM, exhibitor services director for TEES Turbomachinery Laboratory. "Many Fortune 500 companies are located or have branches in Houston, it is easy to get in and out of, you are valued, and it is the Energy Capital of the World, which is the industry we work with. Houston has people who care about your event and want it to succeed, and they strive to make it happen!
"And working with the GHCVB/Houston First Corporation, George R. Brown Convention Center, Hilton Americas and Hyatt Regency is an absolute pleasure. The staffs are professional, reliable and kind. You are received as an important part of their lives and leave feeling you are a part of a warm and caring team, also known as Southern hospitality."
Meeting Options Update
One of Houston's latest unveilings is the luxury, 38-story The Post Oak Hotel, a 10-acre development with 250 guest rooms and a 35,000-square-foot conference facility. Guests can rev up their engines at both the on-site Rolls-Royce showroom and Bentley and Bugatti Post Oak Motors dealership, and then refuel at Texas' first Mastro's Steakhouse.
A landmark for art lovers is Lancaster Hotel, completingamultimillion- dollarrenovationafterflooding from Hurricane Harvey. First opened in 1926, the hotel reopened in August with a redesigned lobby and guest rooms, and a new restaurant and bar. As part of its new beginning, the Lancaster is positioning itself as a destination for art buffs, with plans to showcase the work of some 60 artists.
Another memorable makeover is Hyatt Place Hotel, taking over the former Southwestern Bell Telephone Company building. Investors have pumped $22.8 million into the 150-room project, which will transform the 16-story building into a full-service hotel, complete with ground-level dining, a rooftop cocktail bar, an indoor pool and a fitness center.
Space buffs should abort all other missions and head to Space Center Houston because the 250,000-square-foot NASA visitors' center currently is restoring its historic Mission Control Center to reflect the authentic look and feel of the Apollo 11 mission. The $5 million project is scheduled to be finished in time for the 50th anniversary of the mission on July 20, 2019. The rest of the center remains open for tours, receptions, galas and parties.
Houston also continues to build, revamp and rebuild major properties. After much anticipation, Hotel Alessandra is the new anchor to the mixed-use Green Street development. Twenty stories tall, the narrow tower has 223 elegant guest rooms, 5,000 sq. ft. of event space, an indoor/outdoor deck, and a restaurant and bar. Hotel ZaZa Memorial City also made a debut with 159 guest rooms, including seven specialty concept suites, and more than 11,000 sq. ft. of venue space.
The medical profession will like the location of the 21-story, 353-room InterContinental Houston Medical Center in Texas Medical Center. Opening next year, the hotel will have 11,800 sq. ft. of meeting space and a 7,800-square-foot ballroom.
Also, the new Le Meridien Houston Downtown has feathered its nest in the historic Melrose office building, Houston's first skyscraper. The 255-room hotel has a rooftop pool, an outdoor sun deck, a restaurant and 11,693 sq. ft. of meeting space.
Galveston: Southern Charm and Beachfront Leisure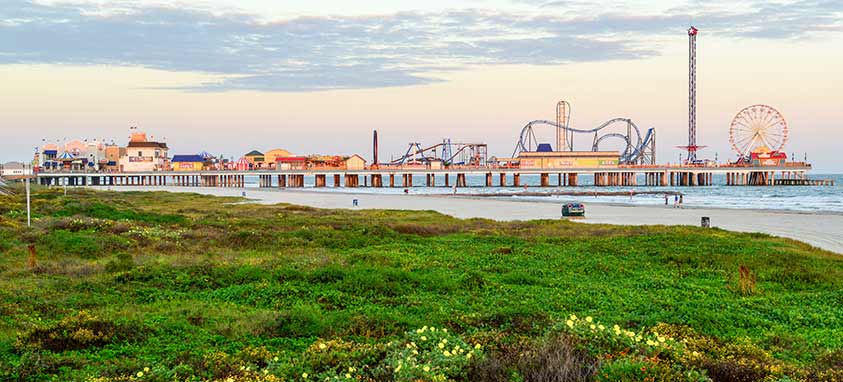 Beaches may not come to mind when you think of Texas, but Galveston is a 32-mile island that serves as a tropical escape. Galveston is just a 50-minute drive from Houston, and its stature as a key meeting destination has grown in recent years.
In the 1800s, early pioneers molded Galveston into a thriving port town of Texas firsts: first post office, first opera house, first hospital, first golf course and first country club. Devastated by a major storm in 1900, Galveston showed true Texas toughness by bouncing back to create a coast town imparting a mix of Southern charm and beachfront leisure. Guests can stroll the Strand and enjoy shopping and dining, or participate in beach activities.
Meeting Option Update
Galveston Island Convention Center at the San Luis Resort, a good bet for large meetings, boasts 140,000 sq. ft. of function space, including a 43,000-square-foot exhibit hall and a 15,500-squarefoot ballroom.
More than 700 hotel rooms are adjacent to the center, 250 of which are part of the AAA Four Diamond San Luis Resort, Spa & Conference Center, with its own 40,100 sq. ft. of facilities. The neighboring 239- room Hilton Galveston Island has 15,000 sq. ft. set aside for functions.
Guests at the 428-room Moody Gardens Hotel, Spa and Convention Center will find lots to keep them busy, including easy access to Aquarium Pyramid (think sea life) and Rainforest Pyramid (home to tropical plants and exotic birds).
The 224-room Hotel Galvez, a 107-year-old, AAA Four Diamond property, is the only historic beachfront hotel on the Texas Gulf Coast. It offers 25,796 sq. ft. of meeting space.
Also nearby are Railroad Museum; Texas Seaport Museum (slated for renovation and expansion in 2019), which offers tours of the Tall Ship Elissa; and beautiful old Victorians paying tribute to Galveston's historic past. Meeting planners staying at Moody Gardens can stake out 103,000 sq. ft. of meeting facilities, including a 15,000-square-foot ballroom.
The historic Grand 1894 Opera House features 11,000 sq. ft. of event space and the 119-room Tremont House has nearly 16,000 sq. ft.
San Antonio: Upgrades Everywhere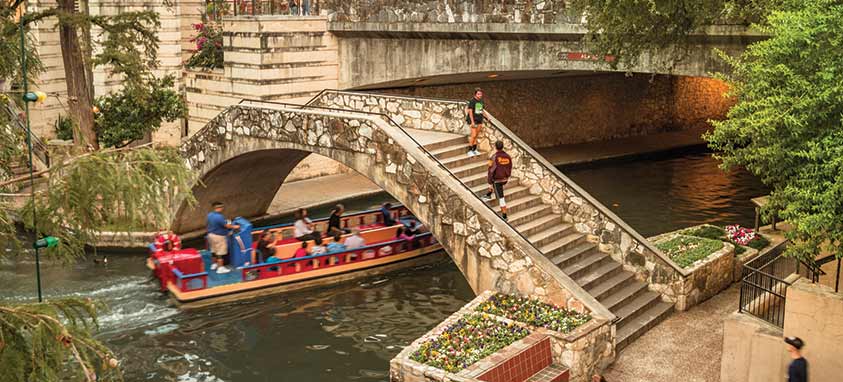 The $325 million expansion of Henry B. Gonzalez Convention Center in 2016 has made San Antonio a much stronger meetings destination due to its ability to host much larger groups. It has also been a catalyst for additional growth throughout the city.
"It was a game-changer, allowing San Antonio to meet the needs of an ever-evolving industry with innovative design, flexible meeting space and advanced technology," says Casandra Matej, president and CEO of Visit San Antonio. "In 2017, we continued to upgrade our facilities with a $60 million investment in the 65,000-seat Alamodome in advance of the Men's Final Four.
"These upgrades, in addition to the major public infrastructure projects such as the River Walk's expansion, the development of San Pedro Creek and improvements at Hemisfair—plus a surge of private development—have expanded San Antonio's capacity for hosting incredible meetings."
Groups have never had a shortage of things to do in San Antonio. The Alamo remains a prime attraction, and other attractions have recently upped their game. The new operator of River Walk barges, Go Rio Cruises, is offering new experiences, including brunch and cocktail cruises. Tautama Racer Water Slide was added at Aquatica, SeaWorld's Water Park; the world's first Wonder Woman roller-coaster opened at Six Flags Fiesta Texas; and The Witte Museum debuted its $100 million transformation, which included more than 170,000 sq. ft. of exhibition space.
Meeting Options Update
Lodging and meeting spaces have been unveiled and renovated at a steady clip. Henry B. Gonzalez Convention Center now boasts four exhibit halls with 514,000 sq. ft. of contiguous space, 86,500 sq. ft. of multipurpose space, the 54,000-squarefoot Stars at Night Ballroom (the largest in Texas), the 39,576-square-foot Hemisfair Ballroom and 72 breakout rooms.
Embassy Suites by Hilton San Antonio Landmark, which opened in the northern part of the city in August, has 203 suites and 11,000 sq. ft. of meeting space, including a boardroom and atrium-style rooms for a variety of functions.
Embassy Suites by Hilton San Antonio Brooks Hotel & Spa opened in May 2017 on the site of the former Brooks Air Force Base. The hotel features 156 suites and more than 20,000 sq. ft. One interesting option for meeting groups is to rent the restored, historic Hangar 9 building, the oldest wooden aircraft hangar of its kind still standing in its original location.
Grand Hyatt San Antonio, located near the convention center, celebrated its 10th anniversary this year by completing a $19 million renovation of its 1,003 guest rooms, lobby, corridors, bar and 115,000 sq. ft. of indoor and outdoor meeting space, which received stylish upgrades and has been modernized with advanced lighting, reader boards and the latest audiovisual elements. The hotel offers 13 indoor and outdoor meeting spaces, with more than 5,200 sq. ft. of balcony space available as well as 29 boardrooms and breakout rooms.
Hotel Valencia recently underwent a $10 million transformation by internationally acclaimed architect and designer Lauren Rottet. "The top-to-bottom renovation incorporates warm, rustic woods; elegant ironwork; and hand-crafted tiles and textiles that reflect the design sensibilities of Spanish Colonial style, a nod to San Antonio's storied past," Matej says.
Public spaces on the second floor were reimagined, and resulted in the addition of Dorrego's, named after Plaza Dorrego in Buenos Aires. The hotel's executive chef, Anthony Mesa, offers an innovative menu inspired by the rich culinary tradition of Argentina.
San Antonio features several other outstanding properties, including two on the outskirts of the city that offer a taste of Texas Hill Country. La Cantera Resort & Spa, situated atop one of the highest points in the city, offers 496 guest rooms, emerald fairways, sparkling pools and 115,000 sq. ft. of meeting space. Hyatt Regency Hill Country Resort & Spa, which blends countryside relaxation and casual elegance, has 500 guest rooms and 100,000 sq. ft.
Other leading properties in the River Walk area are San Antonio Marriott Rivercenter (1,001 guest rooms, 60,472 sq. ft. of meeting space), San Antonio Marriott Riverwalk (512 guest rooms, 17,566 sq. ft.), Hyatt Regency San Antonio Riverwalk (630 guest rooms, 40,000 sq. ft.) and Hilton Palacio del Rio (485 guest rooms, 27,000 sq. ft.).
Austin: More Than Live Music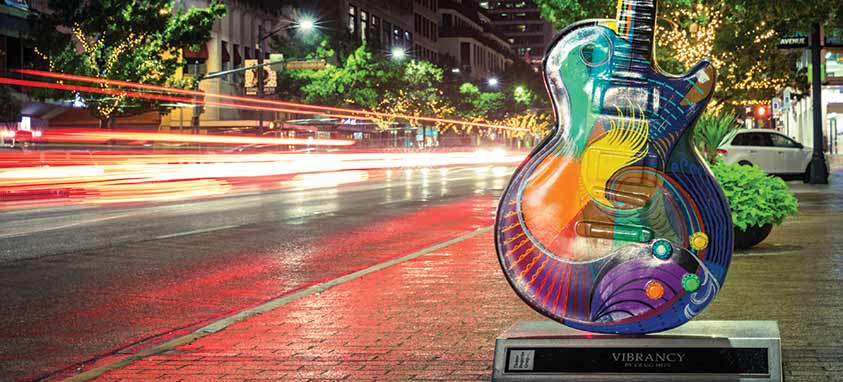 A walk through the terminal at Austin-Bergstrom International Airport (AUS) is enough to confirm that Austin is filled with live music around every corner. However, this growing city is also a tech, foodie, outdoor enthusiast and academic hub drawing corporate, association, regional, national and, now, international meetings to new and expanded hotel properties in the city's core and beyond.
The $350 million airport expansion is bringing a whole new caliber of meeting to the city," said Visit Austin President and CEO Tom Noonan. In addition to adding 175,000 sq. ft. and nine new gates, the LEED Silver-designed plan calls for a "front porch" area with bench seating and runway views. This phase is scheduled to welcome visitors starting in spring 2019, and a third terminal with 32 gates has already been announced for opening in 2040. Many of those flights, dubbed "nerd birds," are shuttling employees directly from their Silicon Valley nests in California to what is known as Silicon Hills, where Facebook, Apple, Amazon and ESO Solutions have a significant presence.
Noonan reports that hotel inventory is now at 12,000 hotel rooms, a necessity for a city of 950,000 people that hosts more than 27 million visitors a year. In November 2019, frequent fliers will be joined by Financial & Insurance Conference Professionals for their annual meeting at Fairmont Austin Hotel.
Meeting Options Update
The hospitality sector has opened its arms to groups with a range of new places to stay and meet. AT&T Hotel and Conference Center on The University of Texas at Austin campus completed a 30,000-squarefoot expansion (for a total of 80,000 sq. ft.) in May that includes a 15,000-square-foot ballroom and 53 meeting rooms.
The city's largest meeting facility, Austin Convention Center features 246,000 sq. ft. of meeting space, divided among five exhibit halls, seven ballrooms and 54 meeting rooms.
The oldest hotel in the city dates to 1886. The stately Driskill Hotel recently completed an $8.8 million face-lift. The property retained the historic marbled grandeur while adding modern amenities.
New to downtown since 2015 is JW Marriott Austin, the largest property in the city and the largest JW in North America, with 1,012 guest rooms and 112,000 sq. ft. of meeting space. The massive lobby columns are made of Texas limestone and the outline of Texas is etched in the bottom of the pool.
Also downtown, Hyatt Regency Austin recently added 14,000-square-foot Zilker Ballroom as part of a $47 million renovation, for a total of 33,000 sq. ft. of meeting space that provides a nod to the city's musical vibe. Closer to Ladybird Lake and with access to Congress Avenue Bridge, also known as "The Bat Bridge," Line Austin opened in July as a 128-room, thoughtfully transformed Radisson with a focus on the art of meeting. The modern, organic space includes room for an artist in residence and a boardroom equipped with an open kitchen so that Kristen Kish, Top Chef winner and the culinary force behind the property's Arlo Grey restaurant, can work her magic.
Located in the spacious Texas Hill Country yet just a 30-minute drive from downtown, Miraval Austin Resort & Spa offers several wellness features as well as 117 guest rooms and more than 20,000 sq. ft. of meeting space.
By mid-2019, the $150 million evolution of Omni Barton Creek in Texas Hill Country will turn the 493- room resort into a retreat destination with a new 14,532-square-foot ballroom. Ribbon-cutting is slated for mid-2019.
El Paso: A City on The Move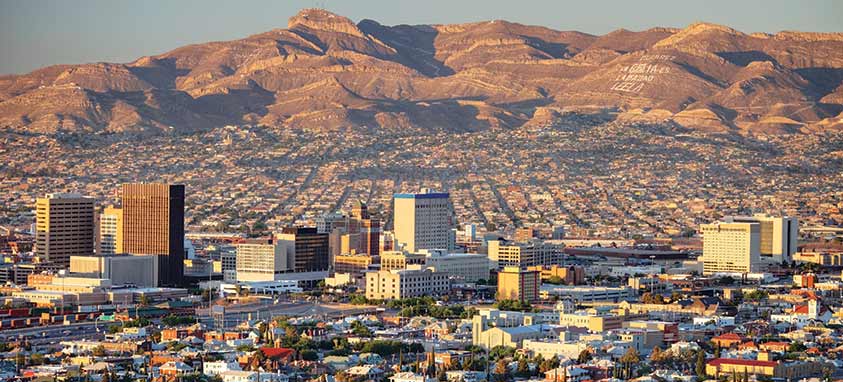 Pulitzer Prize-winning author Cormac McCarthy called El Paso "one of the real cities in America," and it's easy to see why. Located on the banks of the Rio Grande, the city established itself as a frontier town before it was transformed into a commercial hub. Many notable people have left their mark there: It's where Sandra Day O'Connor was born, Johnny Cash was arrested, and Billy the Kid and Pancho Villa made their escapes. Today, it's a fusion of two cultures: American and Mexican, reflected in the art, food and music.
Guests can immerse themselves in 400 years of history along Mission Trail, witness the craft of Western boot-makers and enjoy the city's collection of 13th-to- 18th-century Western European art.
El Paso's downtown has lots to brag about: In the works are a new children's museum, a multipurpose performing arts venue, a Hispanic cultural center, public art projects and the first and only TouchCity Digital History Wall in the United States—all within walking distance of El Paso Convention Center.
Meeting Options Update
One of the newest hotels is the 89-room Aloft El Paso Downtown, a hip destination that's housed in the historic revamped O.T. Bassett Tower. Six meeting rooms are available.
Another newcomer is Hotel Paso Del Norte by Marriott, the $70 million reworking of the former Camino Real Hotel as part of the Hotel Paso del Norte Renovation/Restoration project. Originally built in 1912 as a Marriott the building, it will have 351 guest rooms and 32,035 sq. ft. of function space, including a grand ballroom, a junior ballroom and breakout rooms. Amenities range from a rooftop pool and lounge to a full-service spa and three restaurants. The convention center is within easy access, as are golf, shopping and dining.
Plaza Hotel, a $78 million remake of a former Hilton, recently hung out its shingle as a 131-room luxury boutique hotel with a bar and outdoor terrace.
Smart Meetings Related Posts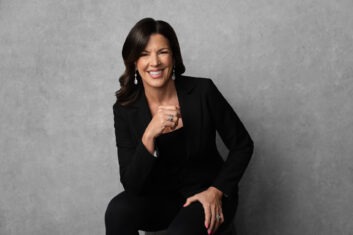 The 2nd annual Smart Meetings Catalyst Awards celebrates the agents of change who propel the meetings industry forward. Take a look at this year's winners!