Experience Tucson's Sonoran Desert Splendor
Tanque Verde Ranch

Overflowing with otherworldly desert beauty and bathed in sunshine 350 days per year, Tucson can't help but enchant groups that appreciate the outdoors. The five mountain ranges that ring the city set it apart as a secluded enclave within the lush Sonoran Desert, a 100,000-square-mile expanse covering parts of Arizona, California and northwestern Mexico. Its mammals, birds and reptiles, in addition to its spectrum of plant life 2,000 species strong, upend the notion of a desert as a barren wasteland. Fortunately, Tucson offers myriad modes of exploration to match its ecological variety.

More: 3 Tucson Events Attendees Will Fall for

"You can go from desert terrain to a forest at an elevation of 9,000 feet within a couple of hours. Trail runners, mountain- and road-bike riders, rock climbers, horseback riders, hikers, spelunkers and even skiers fill their days with endless adventure," says Cindy Aguilar, public relations and communications manager at Visit Tucson.

Throughout Tucson, major meetings properties adeptly showcase the singular setting by not only offering outdoor-oriented group excursions and experiences, but also allowing attendees to mingle with the desert dreamscape in open-air and indoor/ outdoor event venues.

Read on for a primer on the magic of meeting in this outdoor-lover's oasis.
Overland Exploration
The mountain ranges and desert expanses in and around Tucson exert a powerful pull. Hiking and biking, two of the most accessible modes of regional recreation available, lure groups into desert surroundings guaranteed to leave attendees awestruck.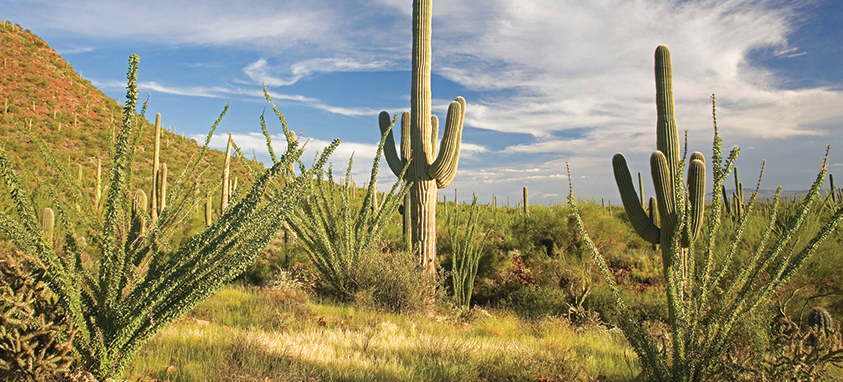 The crown jewel of the region's public lands, 92,000-acre Saguaro National Park, bookends Tucson: The Rincon Mountain District sits about 10 miles east of the city and the Tucson Mountain District lies about 10 miles west. More than 165 miles of hiking trails, divided between the two districts, include flat, easy strolls as well as challenging ridge climbs, giving planners their pick of trails to suit attendees' level of activity.
Saguaro cacti, the headlining attraction of their namesake park, are plentiful in both districts. Cactus gardens adjacent to each visitors center afford easy access to the Sonoran sentinels, which are also found farther afield alongside trails, roadways and overlooks. Time an excursion for the golden hour just before sunset to watch the waning rays set the saguaros aglow.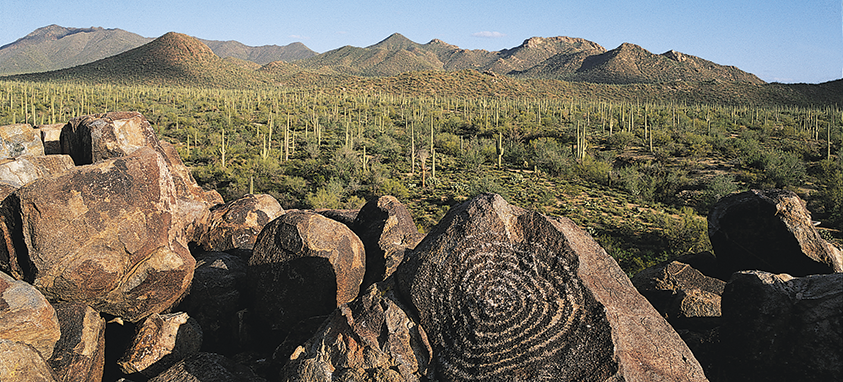 Cooling twilight temperatures also increase the likelihood of spotting wildlife such as javelinas, jackrabbits and Gila monsters—one of the world's two species of venomous lizards, and the only one living in the United States. Any time of day, groups can set out to see remnants of inhabitants long gone. The trail through Signal Hill Petroglyph Area in Tucson Mountain District offers views of many of the site's 200-plus prehistoric Native American petroglyphs, created 550 to 1,550 years ago.
But groups need not rely solely on foot power to quench their thirst for desert scenery. Rincon Mountain District's 8-mile Cactus Forest Loop Drive traverses steep hills and tight turns on its way past scenic vistas, overlooks and trailheads. Bicyclists may also use the loop. Apart from the road, a select few multiuse trails allow mountain biking and horseback riding.
Beyond the national park, Tucson's plethora of hiking destinations include Sabino Canyon Recreation Area, about 15 miles from downtown, and Tumamoc Hill, only 4 miles from downtown, where a paved 3.1-mile path reveals spectacular city views. For help narrowing down the options, planners can turn to the pros. Companies such as Southwest Trekking and Southwest Discoveries offer professional guide services for half-day and full-day hikes in the Tucson area, as well as desert day trips and multiday trips.
Whether they're paved lanes or rugged mountain terrain, pathways for pedalers get plenty of traffic, too. King among them is The Loop, a 131-mile trail system built upon former riverbed access roads and completed in spring 2018. The flat, paved car-free network, also open to pedestrian and equestrian use, connects the Pima County communities of Oro Valley, Marana, Tucson and South Tucson, not to mention the many parks, trailheads, hotels, restaurants, shops and entertainment complexes found along the route. The possibilities for customized outings are limitless. Attendees can pedal their way through a taco crawl, a bird-watcher's scavenger hunt or a tour of historic Tucson neighborhoods.
Groups with a wilder ride in mind will find some of the world's best mountain biking in southern Arizona. Head 14 miles southeast of Tucson to Fantasy Island Mountain Bike Park, where a 19-mile network includes six loops of varying lengths and levels of difficulty, or ride the 5-mile Honeybee Canyon Loop, just north of Oro Valley.
Tucson Bike Rentals and Tours has a fleet of road, mountain and hybrid bicycles—including specialty sizes—waiting to outfit any group's cycling adventure. The company even offers bike pickup for rentals in Tucson, Oro Valley and Marana. Groups opting to stick close to Tucson can make use of the local Tugo Bike Share program.
Overhead and Underground
Plentiful though they may be, ground-level activities only skim the surface of the outdoor recreation options on offer in Tucson. A number of underground caves, rock climbing walls and astronomical observatories await the arrival of groups that want to explore new depths and reach new heights.
Two natural limestone caverns illuminate that which is typically shrouded in darkness, offering groups a dramatic departure from the familiar. Colossal Cave Mountain Park, set 20 miles southeast of Tucson, offers guided tours of a crystal-encrusted tavern reputed to be an Old West bandits' hideout. The arrestingly disordered environment is a visual carnival. Like subterranean snowflakes, no two stalactites, stalagmites or mineral deposits are exactly alike. And no matter how hot it is above ground, in the cave it's always 70 degrees.
The cave itself is only one part of the 2,400-acre park, which also includes scenic La Posta Quemada Ranch, stables, horseback trail rides, a gemstone sluice and, a variety of meeting, dining and gathering spaces available for corporate events. Groups can easily fill a full day here, touring the cave, riding National Mail Stagecoach Route, making friends with adopted desert tortoises, panning for gold and discussing it all during a cocktail reception or seated dinner.
Discovered in 1974 by a pair of spelunking college roommates, the 2.4-mile Kartchner Caverns is the centerpiece of Kartchner Caverns State Park, located about 50 miles southeast of Tucson. In addition to touring the cave, groups can peruse discovery center exhibits, hike the property's four trails and view wildlife.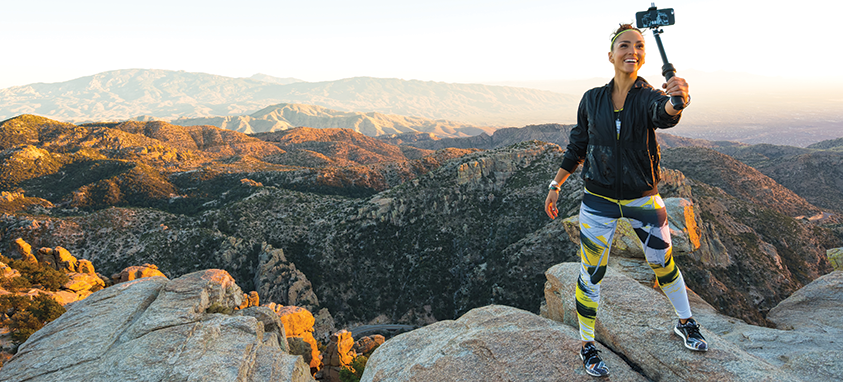 If gazing upon steep Sonoran rock faces activates attendees' Spiderman fantasies, consider a rock-climbing excursion. Mount Lemmon, a 9,157-foot peak in the Santa Catalina Mountains, 45 miles northeast of Tucson, is the region's can't-miss climbing destination. From August to December, climbers reign over the mountain's 1,500-plus climbing routes; many of them close seasonally from January to July to protect the peregrine falcon and bighorn sheep populations. Book a guided climb with Pangaea Mountain Guides or Arizona Climbing and Adventure School, and watch your group rise.
Newbie climbers looking for a safe place to practice can visit indoor rock-climbing facility Rocks and Ropes. Attendees' eyes will register that they're not outside, but their muscles won't. Honing their balance, flexibility, strength and problem-solving skills indoors will tire them out all the same.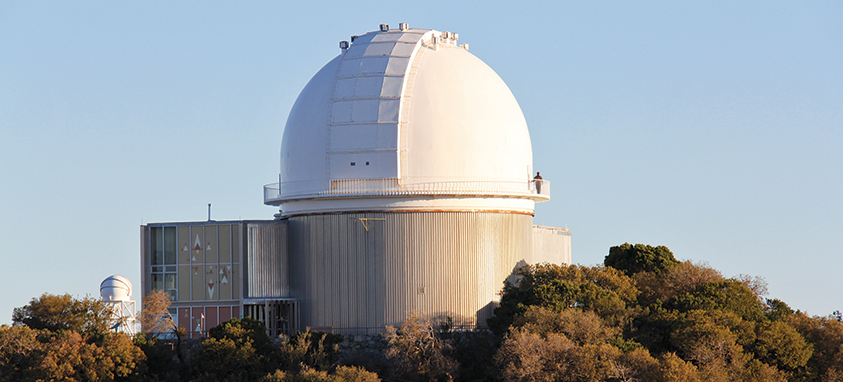 Thanks to its high elevation, exceedingly clear skies and strict limits on light pollution, Tucson boasts ideal conditions for astronomical observation. Home of International Dark-Sky Association and National Optical Astronomy Observatory, the city earns its title of Astronomy Capital of the World. Groups can train their eyes on the sky and learn about the latest in celestial research at facilities such as Kitt Peak National Observatory, which contains the world's largest array of optical and radio telescopes, and Mount Lemmon Sky Center Observatory, located at the summit.
Nancy Reich, director of operations for Association of Universities for Research in Astronomy, knows starry attractions such as these make Tucson a favorite meeting destination. So far this year, she has brought groups of 25 to 100 attendees to Tucson on four separate occasions. The May and June itineraries included visits to Kitt Peak for three tours, a meal and a gift shop stop.
"Attendees loved the hands-on experience and the pure joy of talking to the people running those facilities," Reich says. "Especially in the colder winter months, attendees like to get away to someplace warm. The mountains, desert and scenery are all beautiful. Without a doubt, we will be returning to Tucson multiple times."
Meetings Playgrounds
About 12 miles north of Tucson, just outside the town of Oro Valley, El Conquistador Tucson, A Hilton Resort lies cradled between the Santa Catalina Mountains and Pusch Ridge. Throughout the 250-acre property, the hovering peaks heighten the effects of the twice-daily desert light shows known as sunrise and sunset.
"What's always fun is when guests arrive after dark, then wake in the morning and see the awesome scenery. The amazement on their faces is priceless," says Robin Wilczynski, the resort's director of events.
Linda Vista Trail, a 2.5-mile loop hike, is accessible from the resort grounds, and eight more hiking, biking, birding and equestrian trails await within Catalina State Park, just 3 miles away. El Conquistador's nightly resort fee covers a two-hour bike rental each day, leaving no excuse to leave Oro Valley's 30 miles of paved bike paths unridden.
But attendees don't have to leave the property to experience the spirit of the Southwest. El Conquistador's 100,000 sq. ft. of flexible indoor and outdoor meeting space includes Last Territory, a uniquely Southwestern venue that harkens back to the Old West. A rustic faux-frontier town—complete with picnic tables, fire pits, string lights and space for a band, a dance floor or both—the indoor/outdoor venue provides a dream backdrop for desert revelry.
It's also a logistical luxury. "Often, meetings have a fairly tight agenda. Last Territory allows the best of both worlds. You truly feel like you have left the property and are in the Old West, without the hassle of transportation," Wilcyznski says.
Amenities at the only IACC-approved venue in southern Arizona include five swimming pools, three golf courses and tennis courts. Elements Wellness Center, the on-site spa, is about to get an upgrade: A new $3.1 million spa facility currently under construction is expected to open in early 2020.
Planners who make use of El Conquistador's meeting spaces, such as the 11,000-square-foot conference center, will find working with the event staff to be a true partnership. Count Michael Nave, a regional sales manager at Johnson Matthey, among those loyal customers drawn back to El Conquistador again and again.
His company sponsors an annual industry conference for Nitric Acid Users Group (NAUG), which typically draws 65 to 80 attendees from the United States, Canada and the United Kingdom. More than half of the 26 conferences held to date have taken place at El Conquistador, including NAUG XXVI, held May 5–9.
Attendees have toured a cave, a missile silo and a desert museum, and participated in golf outings, tastings and mixology events on the resort grounds. Through it all, El Conquistador has been a constant. "The resort and location never get old," Nave says.
Communicating early and often sets the stage for success. "We hold pre-event meetings on-site a few months before the event and have a regular conference for fine-tuning heading into the event," Nave says. "It's nice to have our banquet event orders in advance to review what is planned versus what we need and want at each stage of the conference."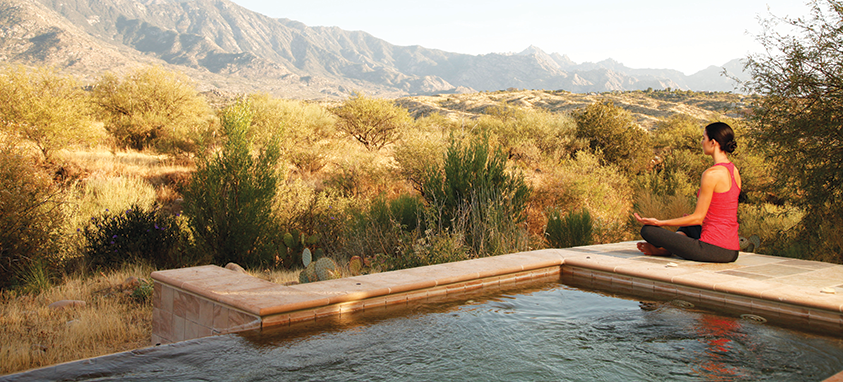 Maximizing a group's strengths is a point of focus at Miraval Arizona, a luxury 400-acre Santa Catalina Mountain resort featuring 12,000 sq. ft. of creative indoor and outdoor event space. But it's the property's focus on mindfulness and wellness that sets it apart.
"Miraval Arizona is an ideal locale for business retreats and private events for its programming, curated to help foster growth, leadership and new ideas. Through individual and team-building exercises, participants rise to new challenges and help generate healthy, lasting change in their company or group," says Senior Event Planning Manager Maggie Bronkie.
The onsite Challenge Course builds trust and fosters cooperation through high-flying stations such as a 45-foot tall zipline. Soar at sunset for maximum effect. In Miraval's renowned equine experience, both horses and humans help attendees identify personal patterns. Mindfulness and relationships are central to all available equine activities, which range from photography workshops to painting a live horse.
"These activities are a major reason groups come to Miraval—to incorporate some of the more unusual and adventurous options to excite their employees," Bronkie says. The opening of Miraval Austin Resort & Spa in February gave groups access to a Texas version of the Miraval experience. Western Massachusetts will follow suit when Miraval Berkshires Resort & Spa opens in Lenox this winter.
Adventure is also a hallmark of Tanque Verde Ranch, a 151-year-old guest ranch on 640 acres overlooking the foothills of Saguaro National Park's Rincon Mountain District. Activities on offer include horseback riding lessons, guided hiking and biking, and team cattle working.
Last December, in partnership with adventure hospitality company Under Canvas, Tanque Verde debuted 26 safari-style glamping tents. The resort's commitment to rustic luxury continues with the construction of The Barn. Set to open in late 2019, the new 12,400-square-foot indoor/ outdoor event venue will include a rustic bar, panoramic sliding doors in the massive dining room and a sprawling lawn.
In May 2019, Casino del Sol completed a 9,600-square-foot expansion of its existing conference center, which pushes the property's event capacity above 3,000. Highlights of the 100,000 sq. ft. of available indoor and outdoor event space include an 18,000-square-foot grand ballroom, a conference center terrace and a pool deck.
Sunny days, starry nights, outdoor recreation and luxurious meeting venues combine to cast a powerful Sonoran Desert spell over planners, as Visit Tucson can attest.
"While there are some restrictions, Visit Tucson's You Fly, We Buy program will cover accommodations, transportation and airfare to give talented destination experts a chance to show you why eight out of 10 meeting planners choose Tucson after a site visit," Aguilar says.
Planners, rest assured: Attendees will happily follow.
Immersive Event Venues
Three Gathering Spaces with Environments All Their Own
When a destination captivates the senses the way Tucson does, expectations for excursions can run almost impossibly high. Yes, there is pressure to deliver. But remember: Attendees are ready to be wowed. These three crowd-pleasing attractions are ready to rise to the challenge.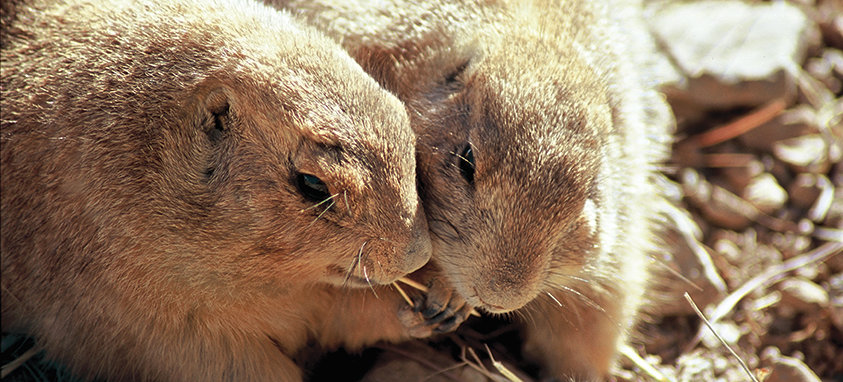 Arizona-Sonora Desert Museum combines elements of zoo, botanical garden, art gallery, natural history museum and aquarium into one hybrid venue. In addition to tours, planners can book onsite events for groups of up to 450. The 97- acre grounds—which are half-curated, half-wild—contain an array of garden, terrace, cafe and theater spaces to dazzle attendees. Visits from educational ambassadors for animals, such as a porcupine, Harris' hawk or desert tortoise are an optional, but unforgettable, addition.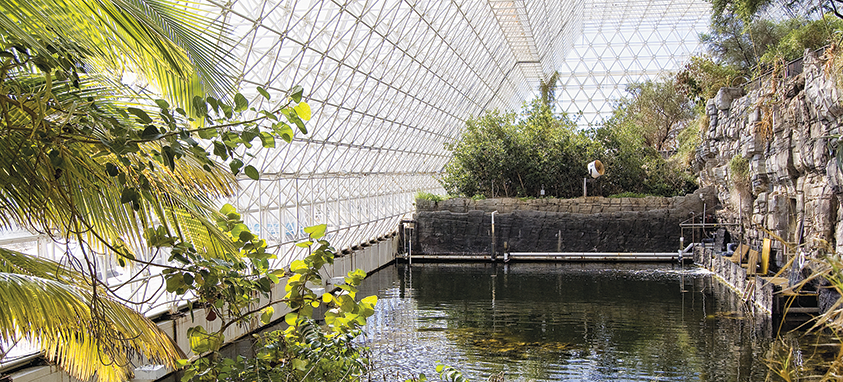 Nothing compares to Biosphere 2, located about 30 miles from downtown Tucson. Beneath a roof containing 6,500 panes of glass, the world's largest living research center houses a replicated mini-world, complete with a rainforest, a million-gallon ocean, a coastal fog desert and much more. Its mission is equally vast—to serve as a center for research, outreach and education related to Earth's living systems and their place in the universe. Arrange a 90-minute private tour for up to 120 attendees, or book a 90- to 120-minute, behind-the-scenes tour for smaller groups.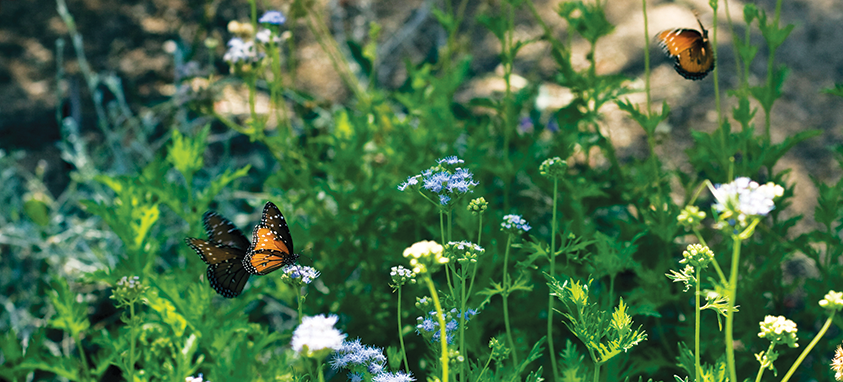 An expertly executed mash-up of nature, art and culture, Tohono Chul inspires attendees to engage with and learn from the natural and manmade masterpieces in their midst. Set on 49 vibrant acres, 10 miles north of Tucson, the site can accommodate up to 300 attendees for events in the garden or bistro. Lecture space and group tours are available, too. The heady mix of Sonoran stimuli on display at Tohono Chul may awaken attendees' minds to new ways of thinking.
Smart Meetings Related Posts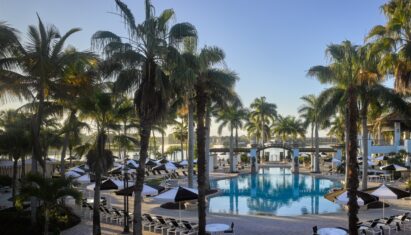 Curabitur aliquet quam id dui posuere blandit. Vivamus magna justo, lacinia eget consectetur sed, convallis at tellus.