Meet The Greater Bay Area Spots Loved By Locals and Visitors
Downtown San Francisco
When event professional fancies turn to the West Coast, the San Francisco Bay Area beckons. The wispy hand of Karl the Fog embraces ambitious agendas with visions of innovative business opportunities, new meeting spaces and the unexpected around every street corner.
Some of San Francisco's neighborhoods have been popular for so long that visitors know them like their own backyards. But even these long-loved areas have new attractions and activities to discover. There are also relatively unknown neighborhoods that will become equally beloved once visitors start exploring them.
Outside the city proper, the North, East and South bays have their own charm and meeting infrastructure. Smart Meetings asked the honorary greeters in each of these places to share their neighborhood favorites for groups.
San Francisco
With San Francisco Travel CEO Joe D'Alessandro as our guide, we explore new areas around the city that just welcomed the $551 million expansion of Moscone Center. An additional 157,000 sq. ft. of space created a contiguous 505,000-square-foot expanse of trade show floor that marries the two sides of the street in emerging SoMa (South of Market).
This additional indoor and outdoor space swung open the doors the same year as a record number of hotel openings and renovations, including the long-awaited 203-"cabin" Yotel San Francisco and 194-room Virgin Hotel San Francisco. Boutique hotel owner Viceroy Hotel Group kept things fresh with remodels at 202-room Hotel Zelos San Francisco (5,000 sq. ft. of meeting space), 196-room Hotel Zeppelin (4,000 sq. ft. of meeting space) and 116- room Hotel Zetta (2,700 sq. ft. of meeting space).
A classic in Union Square that has been refreshed for the ages is The Westin St. Francis, which recently put $9 million of new shine on 56,000 sq. ft. of meeting space to celebrate 115 years in the city. The journey up in a glass elevator to the 32nd-floor Golden Gate meeting space is Art Deco breathtaking.
InterContinential San Francisco will be new again this fall with a redesigned lobby, and event and dining spaces accented with pin-striped carpet and splashes of international orange as a tribute to the Golden Gate Bridge.
Up next: The St. Regis San Francisco and San Francisco Marriott Marquis.
The Mission District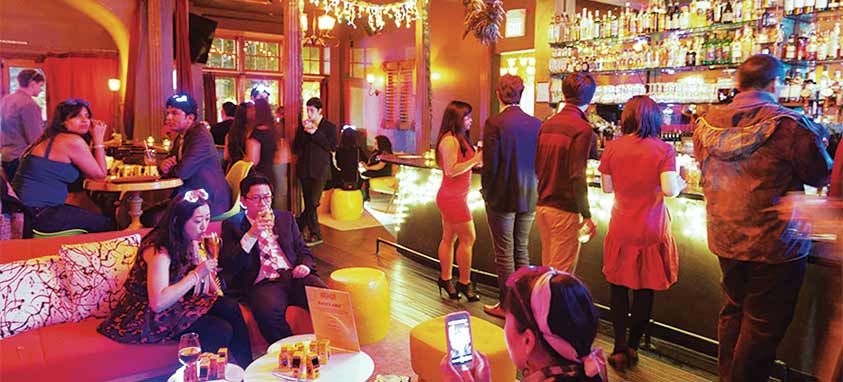 The Mission San Francisco de Asis was one of two places where San Francisco began in 1776. Today, it is the centerpiece of a vibrant neighborhood of restaurants, nightlife and cultural activities, including The Chapel, which occupies a historic 1914 building that was originally built as a mortuary and has now been stunningly renovated, preserving the 40-foothigh arched ceiling and adding an outdoor dining patio. Urban Putt is an indoor mini-golf course that's as funky and fun as the neighborhood it resides in. You can play 14 holes on the zany, high-tech course while enjoying elevated food and drink offerings.
Even as artists get priced out of the Mission, some galleries have true staying power. Creativity Explored, a nonprofit incubator of affordably priced art by people with developmental disabilities, combines entrepreneurial altruism with a winning aesthetic. Gallery tours are available.
The Mission District is best explored by mouth on a walking food tour with Avital Tours and Edible Excursions. Best things to eat: Pastry at Tartine Bakery and Craftsman and Wolves; and chocolate at Dandelion Chocolates. Leave room for ice cream at Bi- Rite and Humphry Slocombe or burritos just about anywhere.
D'Alessandro waxes poetic about the regularity of new venues opening in the area. "While the Mission is one of the oldest buildings in the city, the neighborhood always has something new to offer," he says.
The Presidio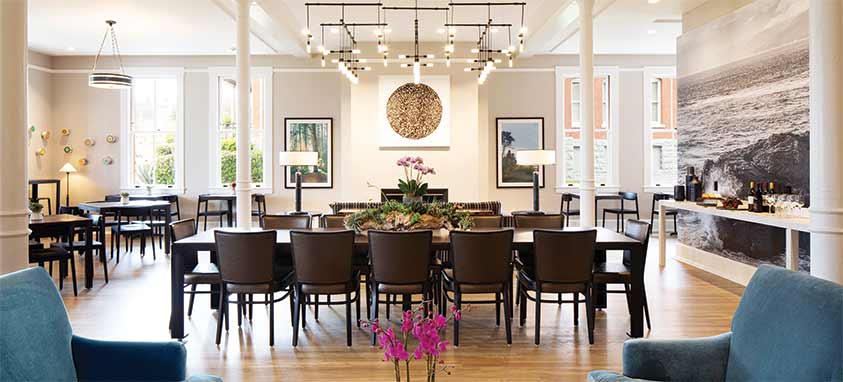 The Presidio of San Francisco is the other place where San Francisco began in 1776. "Between the historic buildings and forested hills and trails, you really feel like you're getting away from it all, without leaving the city limits," D'Alessandro says.
Today, The Presidio is a model of public-private partnerships as a national park filled with a unique variety of organizations and activities. Starting at the new Presidio Visitor Center for the big picture, groups can make their home with a view at The Lodge at the Presidio, which opened its 42 guest rooms in 2018 in the former barracks. The sister of the nearby Inn at the Presidio (opened 2012), it has modern decor and amenities that honor the location's heritage. D'Alessandro calls it "national park chic."
Nearby, Presidio Officers' Club features a spacious ballroom with panoramic views of the city, as well as an open-air courtyard for smaller gatherings. Adjacent to the Officers' Club are the Chapel of our Lady, Presidio Chapel and Inn at the Presidio, making it easy for anyone to plan a special occasion in the park. Walking, hiking and biking help groups shake off the fog of back-to-back meetings. Other activities include trampolines at House of Air, bowling and golf.
Ghirardelli Square
At Fisherman's Wharf, Ghirardelli Square has a whole new attitude, generated by new owner, Jamestown, which also manages One Times Square in New York City. Recent additions include San Francisco Brewing Co., an innovative craft brewery, bar, restaurant and outdoor beer garden that pours its own handcrafted beers, offers an interactive selection of games and serves the freshest of San Francisco-inspired pub food. And Palette Tea House, a new venture by the owners of popular Koi Palace Restaurant in Daly City, features dim sum and other Chinese specialties. The large, vivid space is optimized for groups.
This collection of shops and unique destinations holds a special place in the hearts of locals and visitors alike. "My grandfather worked at the chocolate factory right after he emigrated from Italy to San Francisco, so Ghirardelli Square has a special place in my heart," D'Alessandro says. "Visitors love it for the variety of excellent dining, shopping and activities."
The historic 252-room Argonaut Hotel, which has long anchored the Square, recently renovated the public areas, including the 7,000-square-foot Blue Mermaid Restaurant.
See Monterey Again

Bay Area neighborhoods may be perfect places to get business done, but Monterey County is a favorite playground for those who call the Bay Area home—or anyone who wants to get a little closer to nature.

Whether you are gathering the team at the newly renovated Monterey Conference Center's 100,000-square-foot ballroom, the adjacent Portola Hotel & Spa's private The Club Room or Asilomar Conference Grounds on the Monterey Peninsula, you are never far from the water. Kite competitions, beach Olympics and nature hikes get attendees closer to the reason they traveled to California's Central Coast. Book a dinner at Monterey Bay Aquarium and meet in the glow of the jellyfish tanks or schedule a Save our Shores CSR activity to make the outing more meaningful.

In Carmel, Quail Lodge & Golf Club offers epic greens and cool rides with Land Rover Experience Driving School Teambuilding programs. Anchored by 6,500 sq. ft. of golf-course-view inspired meeting space.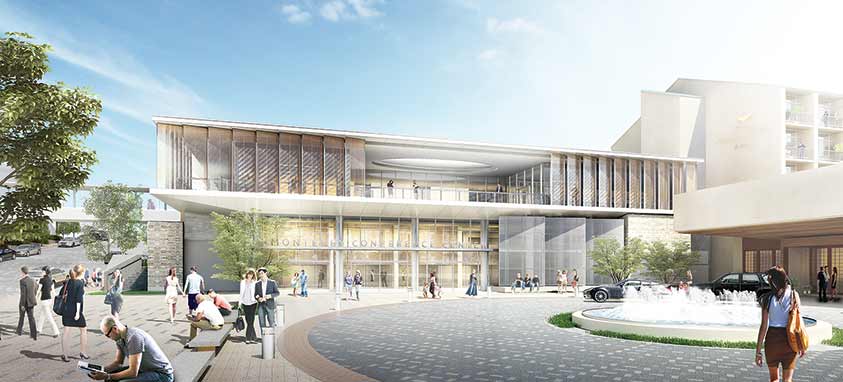 Dogpatch
Located on the east side of the city, Dogpatch was once a gritty industrial neighborhood. Today, many of those old factories and warehouses have new lives and purposes. D'Alessandro describes it as a neighborhood of makers and artists.
Chase Center—emerging home of NBA's Golden State Warriors—will open there in the fall with a joint Metallica-San Francisco Symphony concert before the first basketball game. The $1.4 billion development includes a 5-acre park, 18,000-seat arena, luxury VIP suites, divisible theaters with separate entrances for nongame days, a planned hotel and an outdoor balcony space with views of the Bay Bridge and beyond.
Also in the developing 'hood, Museum of Craft and Design showcases artists and designers utilizing traditional tools along with innovative methods, challenging conventional notions of craft and design's role in the world. Nearby, The Midway is a new, multifaceted creative complex that is billed as equal parts creative laboratory and performance space. The sprawling 40,000-square-foot venue is open for exhibitions, workshops, performances and special events. Housing art, food, music and emerging technologies under one synergistic and collaborative roof, developers envision it as a place where San Francisco's creative communities collide.
For those who want to stay where the professionals play, Hyatt Place San Francisco Downtown opened 230 guest rooms in walking distance of newly renamed Oracle Park. Still to come: Marriott SOMA Mission Bay Hotel promises 250 guest rooms and a rooftop lounge and garden.
San Jose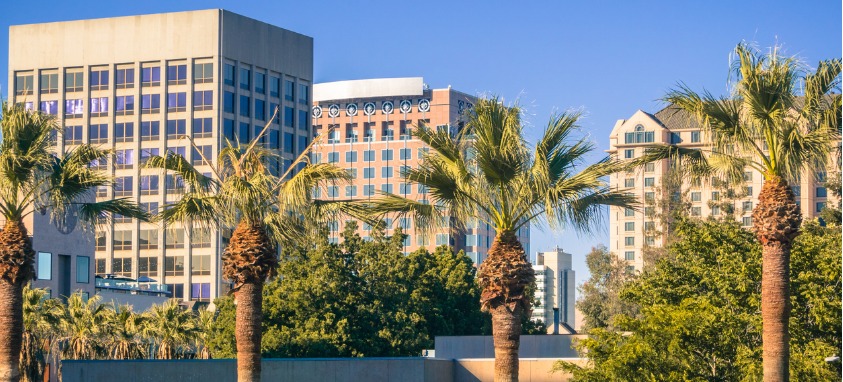 As the largest city in Northern California and the epicenter of the start-up genesis, San Jose—and the county of Santa Clara in general—know how to build dynamic meetings. With 17 neighborhoods offering a range of culture, activity and all-around inspiration, here are some of Visit San Jose Director of Communications Frances Wong's go-to local meeting destinations.
Downtown
You can't be in San Jose without stopping by Downtown San Jose, Wong says. In fact, chances are you'll be staying in there with five name-brand hotels in the area—AC Hotel by Marriott San Jose Downtown (210 guest rooms and 3,400 sq. ft. of meeting space, next door to SAP Center), Hyatt Place San Jose Downtown (240 guest rooms and 6,900 sq. ft. of meeting space), The Fairmont San Jose (805 guest rooms and 65,000 sq. ft. of meeting space), Hilton San Jose (353 guest rooms and 550,000 sq. ft. of meeting space, connected to San Jose McEnery Convention Center) and The Westin San Jose (168 guest rooms and 8,800 sq. ft. of meeting space).
Wong advocates trekking down First Street for some beer and cocktail tasting, or take in a Broadway show or live concert performance at one of the San Jose theaters. "With walkable restaurants, bars and attractions, Downtown San Jose offers convenience, accessibility and a variety of activities for visitors," she says.
There could soon be even more to love, as a planned expansion of The Tech Museum of Innovation and accompanying 19-story office park are in the works next to a proposed expansion of Adobe Systems' headquarters.
Little Saigon
San Jose is home to the largest population of Vietnamese people outside of Vietnam. With bragging rights like that, you better believe the city has high culinary standards on Southeast Asian cuisine such as pho, banh mi sandwiches and Asian snacks. Wong suggests checking out Story Road, the main corridor in Little Saigon, home to Grand Century Mall and Vietnam Town, two beloved shopping plazas.
East Bay
When it is time to leave the towers behind, go east and you will find modern meeting space served with a side of fresh outdoor air and small-town living. Scott Slocum, regional director of sales and marketing with Walnut Creek Convention and Visitors Bureau, refers to the city on the low-density side of the Bay Area Rapid Transit line as "the jewel of the East Bay."
He suggests a combination of enjoying some of the best shopping and dining in Northern California in Broadway Plaza and Downtown Walnut Creek, and taking in the scenic outdoor Mount Diablo regional trails. "It's all within the same location," he says. With easy access from Walnut Creek Marriott's 342 guest rooms and 19,705 sq. ft. of meeting space, business and pleasure are never far apart.
A new must-stop is Shadowbrook Winery's modern-rustic tasting room. For VIPs, book a chauffeured Mercedes Sprinter to pick guests up with a glass of rose while they are whisked to the custom tasting experience.
One town over, Shelley Mitchell, marketing and communications specialist at Visit Concord, puts taking in the nightlife in Todos Santos Plaza in Downtown Concord on the list of must-do experiences.
The city offers unique venues for craft beer tasting (Epidemic Ales Brewery), shopping (The Veranda Retail and Entertainment Center) and fun team building (Six Flags Hurricane Harbor Waterpark picnic area and ATG Escape Room).
The city is home to nine hotels and a total of 1,300 guest rooms, so bring the entire group.
Arrival
San Francisco International Airport (SFO) is in the midst of a $2.4 billion upgrade at Terminal 1 that will improve the pre-security experience, add new boarding areas and improve the connection to AirTrain by 2022. This year, 9 gates and a consolidated security checkpoint will open.

Already, the experience has been improved with the reopening of Hyatt Regency San Francisco Airport, an upscale property with park, stay and fly packages, 789 guest rooms and 69,000 sq. ft. of event renovated event space.