Choo! Choo! The leaves are changing color, the air is getting crisp and the trains are chugging along. Trains were the main form of transportation in yesteryear and they are a great way to keep fall meetings moving. C'mon, baby, let's do the locomotion aboard these seven sightseeing railroads.
Angels Flight in Los Angeles
Photo credit: Eric Garcetti
If you're hosting an event in Downtown Los Angeles at the LA Convention Center or any of the major hotels, consider treating your guests to a ride on the historic Angels Flight Railway, the world's shortest railway. The steep tracks take passengers 298 feet uphill and downhill between Hill Street and Grand Avenue on Bunker Hill. Since its inception in 1901, Angels Flight has given 100 million-plus rides. It closed in 2013 due to a derailment and has since undergone extensive upgrades. It reopened in August with prices that will make you feel like it's still 1901: $1 per person, or 50 cents with a Metro Tap Card.
Napa Valley Wine Train in Napa Valley
No designated driver is necessary for the Napa Valley Wine Train. This old-fashioned railway was established in 1864. Groups of up to 300 can enjoy gourmet dining, local wine tasting and scenic views of 25 miles of vineyards through the railcar's large windows.
Revolution Rail Co. in Adirondack Mountains
How's this for a fun team building activity? Railbiking through the beautiful Adirondack Mountains during the fall foliage season! Riders pedal their way down the tracks in North Creek, New York, for a six-mile guided tour over the river and through the woods.
Duquesne Incline in Pittsburgh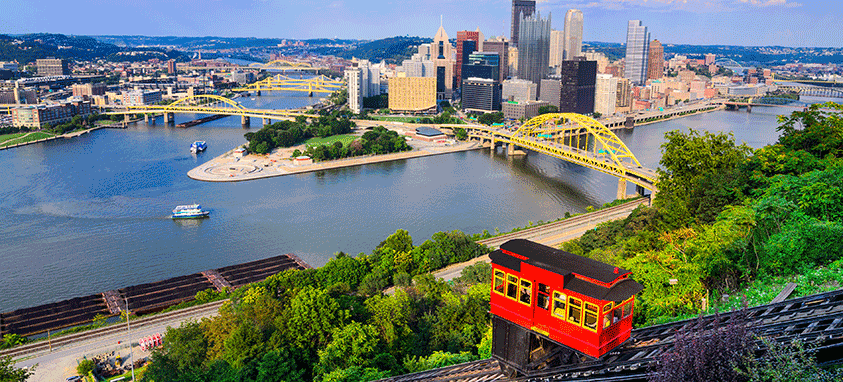 Feast your eyes on breathtaking views of Pittsburgh from 400 feet above the ground. The Duquesne Incline began operating on May 20, 1877, and is one of the country's only remaining inclines. The rail system continues to use its original cable cars. Groups can schedule complimentary tours of the upper station, which contains a museum of the city's history and the machine room.
Great Smoky Mountains Railroad in Bryson City, North Carolina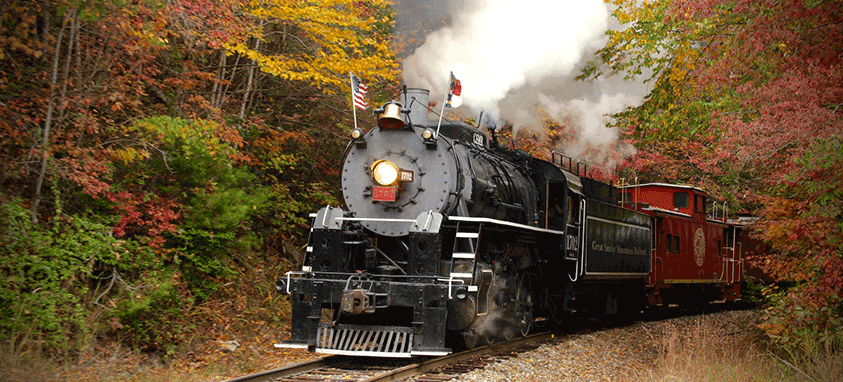 Photo credit: Bryson City / Swain County NC Chamber of Commerce
Get your tickets to board the Great Smoky Mountains Railroad that takes passengers through the countryside of Western North Carolina. There are diesel and steam powered trains, depending on which line you ride, that travel across 53-miles of track, through two tunnels and over 25 bridges. With 125 varieties of trees along the route, including oak, birch, sugar maple and Fraser fir, this is a great way to take in the fall foliage. The Great Smoky Mountains Railroad is so picturesque it can be seen in The Fugitive, starring Harrison Ford; My Fellow Americans, starring Jack Lemmon, James Garner and Dan Aykroyd; Digging to China, starring Kevin Bacon and Evan Rachel Wood; and Forces of Nature, starring Sandra Bullock and Ben Affleck.
Guests over the age of 21 can reserve the first class car, which includes luxurious furniture, a meal, large windows and a souvenir tumbler. You can even designate a special seat for tour bus drivers to come along for the ride. Plus, everyone gets to visit a Lionel train museum. Another fun option is renting out the caboose for a picnic.
Royal Gorge Route Railroad in Canon City, Colorado
Royal Gorge Route Railroad is gorgeous. In addition to stunning scenery, Royal Gorge also offers murder mystery events, a rolling restaurant for lunch or dinner and Ales on Rails, a beer pairing experience. It has been family-owned since 1999 and accepts group reservations.
Scenic World in Blue Mountains, Australia
Hold your breath and leave your fear of heights at home. Australia's Scenic World features an amusement park ride in the middle of a forest. Not quite a rollercoaster, the Scenic Railway is the steepest passenger railway in the world. Thrill seekers can choose their own adventure of up to a 64-degree incline.
Since 1945, the Scenic Railway has welcomed more than 29 million passengers and was completely refurbished in 2013. It descends through a cliff-side tunnel and takes 84 passengers through the Jamison Valley floor, giving guests stunning views of Three Sisters rock formation. Scenic World is also home to event space for conferences.