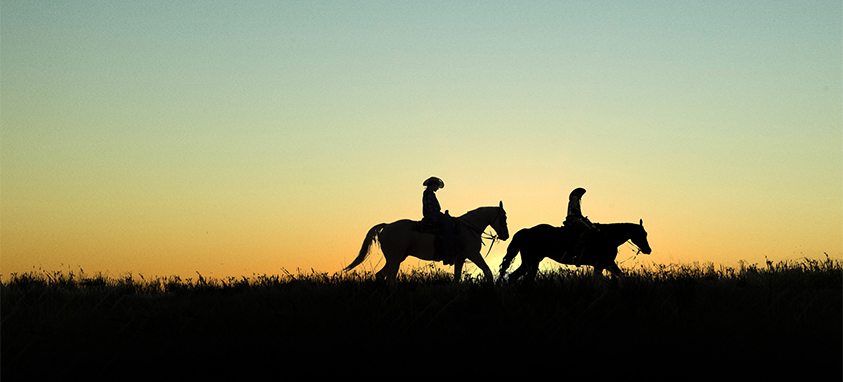 Incentives love beach resorts, and conferences are big at big-box hotels in the bustle of busy cities. But isn't it time for a change of scenery? Why not head up into the mountains, into the woods and into the wide-open plains?
Need convincing? Studies have shown that being in the outdoors is immensely beneficial for physical and mental health. It helps to improve concentration, vision and creative thinking, and it can reboot mental energy, boost immune systems and reduce the stress brought in from the corporate world. Taking a hike, riding a horse or simply sitting on the back porch of a cabin can have a noticeably positive impact.
Many guest ranches throughout the American West and Southwest cater to groups of all sizes and offer activities for everyone. From the most seasoned cowgirls and cowboys to a tenderfoot's first rodeo, these ranch resorts will give your group an experience they will never forget. But that doesn't mean they have to rough it. These ranches bring luxury to the rugged. With game rooms, spas, private cabins and morning yoga sessions, guests can relax outdoors without sacrificing luxurious amenities.
Don Strange of Texas
Located 45 minutes outside of downtown San Antonio, the historic Don Strange Ranch is a working longhorn cattle ranch that's perfect for corporate events. With its own catering company for private dinners or parties of hundreds, this is the place to enjoy some of the best cowboy comfort food in Texas. On arrival, guests choose their own cowboy hats, and activities include longhorn feeding, line dancing, a full Texas rodeo, kayaking and a ridin' a mechanical bull.
The Ranch at Rock Creek, Montana
Located just outside Philipsburg, Montana, this full-on ranch experience has been honored with a Forbes Five Star Award and is a member of National Geographic's Unique Lodges of the World. It can host 125 guests in its 29 unique accommodations of glamping cabins, a granite lodge, a historic barn and Western-style luxury homes. Guests can go horseback riding, fly fish, take a Montana photography workshop and a master naturalist class—all amid a breathtaking, big-sky landscape.
Vermejo Park Ranch, Raton, New Mexico
This true cowboy ranch sits on 920 square miles of Southwestern glory. Guests can participate in horseback riding, photography classes, sport shooting, fishing in more than 17 lakes and 30 miles of streams and experience world-class dining. An 800-square-foot meeting space can hold up to 50 people. This getaway will have your guests leaving with an extra giddy-up in their step.
Devil's Thumb Ranch, Tabernash, Colorado
Devil's Thumb encourages teams to bond through outdoor activities. But before they play, they can meet in the many breakout meeting rooms. Other indoor activities include a billiard room, bowling alley and a 37-seat movie theater. The adventurous can opt for zipline tours; the mellow can relax with yoga and a spa. And it wouldn't be a home on the range without lessons on horse care and shoeing, fly fishing and hiking tours.
Alisal Guest Ranch and Resort, Solvang, California
There are still California cowboys, and many nestle into the heart of Santa Barbara wine country. This ranch and resort offers 50 miles of horseback riding tours, a 100-acre, spring-fed lake, tennis courts, two 18-hole golf courses, a spa and 73 pastoral suites and studios. Minutes away from some of California's best vineyards, Alisal Guest Ranch and Resort offers many event and group packages and is just a few hours' drive from Los Angeles.
Tanque Verde Ranch, Tucson, Arizona
Nestled in the natural beauty of the Rincon Mountains between Saguaro National Park and Coronado National Forest, the Tanque Verde Ranch offers awe-inspiring scenic views. With a variety of meeting venues, exceptional catering, an array of indoor and outdoor team-building activities (including yoga and nature guides) and deluxe, Southwestern-style accommodations, this ranch leaves no cow pie unturned when it comes to guest activities and comfort.
Brush Creek Ranch, Saratoga, Wyoming
Experience 30,000 acres of wide-open Wyoming wilderness. Groups will be treated to a private transfer from the Denver International Airport, as well as a private destination dinner with cigars and whiskey tasting. Brush Creek offers luxury Trailhead Lodge rooms, cabin suites and cabin residences. All meals are preceded with a full open bar. In addition to Western activities, the ranch offers paintball and rock-climbing walls, as well as a full fitness center and yoga classes.