The U.S. still dominates overall in hosting international association meetings, but Barcelona is the top city, according to a new International Congress and Convention Association (ICCA) study. The Spanish city is followed by four other perennial European favorites.
The report found an additional 346 annual meetings rotating throughout the world last year, for a total of 12,558—the highest number ever recorded in the study.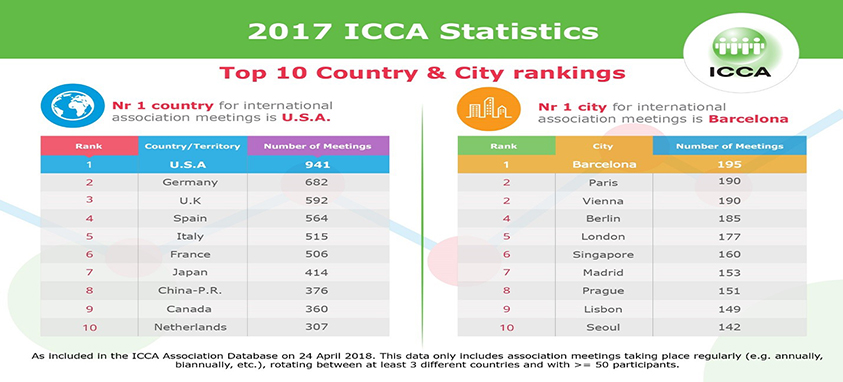 ICCA CEO Martin Sirk noted the importance to scientific research of annual association meetings that rotate countries and include more than 50 attendees. "We are still in a period of revolutionary change in terms of scientific and technological advancement, which are transforming traditional association fields such as health care and trade," he said. "To make sense of the tsunami of new data and information, association communities need to meet. Not just at their traditional, well-established meetings, but in new gatherings specifically invented to serve new academic fields or to reach out to new audiences."
Barcelona was the site of 195 meetings in 2017 (including International Trademark Association—INTA— which was attended by more than 10,000, its largest gathering in 138 years), putting it just above last year's top destinations of Paris (190 events and 112,000 attendees, including the European and Americas committees for treatment and research into multiple sclerosis and the IAS Conference on HIV), Vienna (also 190 meetings and ground zero for The Innovative Vienna 2020 initiative), Berlin (185 meetings) and London (177 meetings).
In fact, the same cities have made the list's top five the last three years. Only Amsterdam fell out of 2017's top 10, making room for Prague, which rose to the eighth slot. Two Asian cities made the top 10 list—Singapore and Seoul, which stayed steady at the sixth and tenth spots.
Oh, and in case you were wondering, the INTA gathering that was in Barcelona last year? It moves to Seattle, Washington, this month.