Smart Meetings will be in one of the world's hottest, most dynamic meetings destinations—South Korea—from June 10 to 15. Managing Editor Dan Johnson will be in Seoul, Busan, Gyeongju and Incheon, visiting several of the country's top hotels, cultural attractions, historical sites and restaurants, and participating in Korea MICE Expo on June 15 at COEX, Convention and Exhibition Center in Seoul. Follow our daily adventures in words and pictures on this page!
---
Day 6
After our usual breakfast buffet, we checked out of Orakai hotel in Incheon and boarded our bus to Seoul. Our first stop there was Coex, known to the meetings industry as Seoul's main convention center, with four main exhibition halls and 64 meeting rooms. But it also contains Asia's largest shopping mall, the city's only airport terminal, three multinational-office skyscrapers and two theaters, among other things.
We then had a Korean lunch at SMT Seoul restaurant, where the CVB also gave a presentation about Seoul's elite status as a meetings destination. Next, we visited Seoul Dragon City, South Korea's first Hotelplex, consisting of four hotel brands from Accor Ambassador Korea. It contains convention facilities that accommodate some 4,900 people and the Sky Kingdom entertainment facility.
Our last site visit was to Some Sevit (Floating Islands), offering stylish meeting facilities, including a banquet hall that can accommodate up to 500. Some Sevit also provides spectacular views of the Nangang River.
Later, we checked into our rooms at Novotel Suites Ambassador Seoul Yongsan, and then went to our farewell dinner, hosted by Korea Tourism Organization's MICE Bureau. It featured excellent Korean barbecue, made right at our tables, as well as Korean side dishes. It was a rousing affair, enjoyed by all, and a fitting conclusion to a truly unforgettable fam trip.
Day 5
Today, after enjoying the breakfast buffet at Orakai, where we are staying, we went to Songdo ConvensiA for Korea MICE Expo. We briefly roamed the floor—I surveyed all of the booths, picking up resource materials and briefly making connections.
Then, we attended the opening ceremony, which included a keynote address, "Hallyu: the Competitive Edge of Korean MICE," by Ahn Siwook, managing director of SM Entertainment. His talk was consistent with the focus of the conference—finding ways to blend Hallyu (Korean pop culture, which is very hot) into the meetings industry by including it in visiting groups' itineraries.
We then were free to roam the floor. I interviewed staff from Gyeongju (one of the cities we visited) and Temple Stay, a nationwide program that enables individuals and groups to customize experiences at South Korean Buddhist temples. I also connected with dozens of other people at booths that represented South Korean destinations and culture.
We had a traditional Korean lunch at Caisson24, and then went to G-Tower Observatory, offering panoramic views of the local area. We also visited Gyeongwonjae Ambassador Hotel—it features traditional aesthetics, providing a bit of a balance to the technologically saturated surrounding area.
In the early evening, we went to the Korea MICE Expo Networking Party. It lasted a couple hours, and featured food, drink, socializing and K-Pop entertainment.
Day 4
The group boarded our bus to visit Hwangnyongwon, shaped like a pagoda-style wooden temple, that was designed and built in collaboration with Buddhist monks. Its more than 40 guest rooms are intended for people who are participating in prayer and meditation practice there, but the attractive auditorium and garden can be rented to host events for up to 450 people—and there are nice hotels nearby.
The next stop was Seokguram Grotto, which includes Bulguksa Temple. Some of the finest Buddhist sculptures in the world can be found in this complex, which is a Korean National Treasure and a UNESCO World Cultural Heritage site. It was built from granite, in the eighth century.
We had an excellent traditional Korean lunch at San Chuk Hyang restaurant and then traveled to Cafe Dayeon, situated in Gyeongju's Gyochon Hanok Village, where Kim Yang Hee led us through a Korean tea-making session. The group then had time to roam around the village, which is full of shops and family-friendly cultural activities.
Then, we left for the railway station to catch a high-speed train to Incheon. Gyeongju and Busan are in the southeast part of South Korea, while Incheon and Busan are in the northwest portion. So, the train ride cut diagonally across the country.
We are staying at Orakai Hotel. The 2018 Korea MICE Expo Welcome Reception Dinner featured traditional music and dance, along with remarks from South Korean officials. This MICE Expo is drawing meetings professionals from 41 countries; it's the largest annual MICE event in South Korea.
Day 3
Today started off with a breakfast buffet at our leisure, at Paradise Hotel in Busan, where we were staying. The group then headed to the Hilton Hotel in Busan for a property tour. It's a very nice, spacious hotel with attractive meeting space.
Our next stop was Haedong Yonggungsa Temple, an extraordinary attraction with a traditional Korean feel and stunning views. Built in 1376, it's one of the few waterfront, as opposed to mountain, temples. We had a traditional Korean lunch at Vin d'el Olive and then traveled to Gamcheon Cultural Village—a fun, interesting place filled with shops and museums focusing on Korean culture.
We also visited Busan Cinema Center, a modern facility that hosts international film festivals and other events. It has rental spaces available for group gatherings.
Next, we boarded our bus—which has become like a second home to us—to travel about 80 minutes to Gyeongyu, a relatively small but historically and culturally significant city. We had an excellent traditional meal there. The group then went to Donggung Palace/Wolji Pond, a perfect place for a slow evening stroll.
Day 2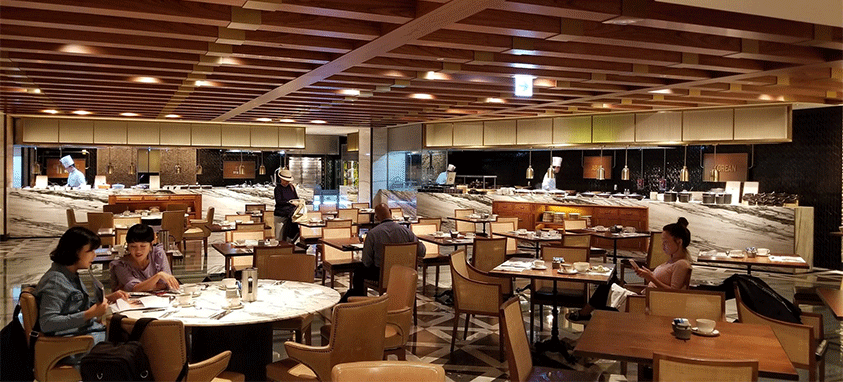 I enjoyed breakfast at Four Season Hotel Seoul's Market Kitchen, which offers a buffet with international cuisines. It was then time to check out and move onward to our next destination aboard a bus.
K-Style Hub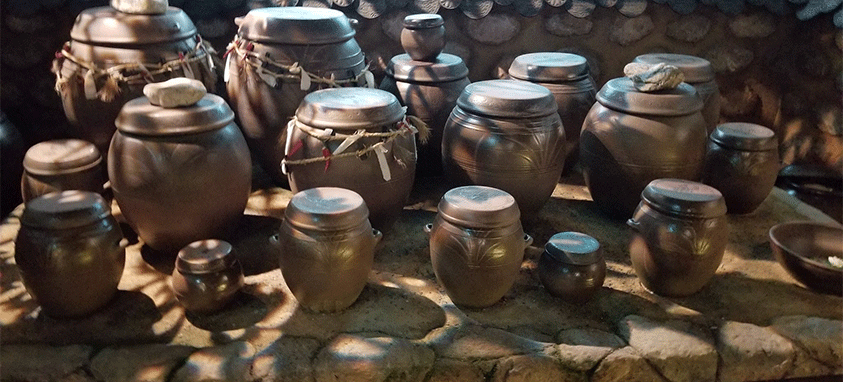 K-Style Hub in Seoul is a great resource, with travel information about South Korea. It has displays, such as these traditional earthen jars.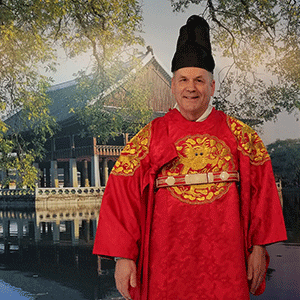 I also got to play dress-up in traditional Korean kingly attire.
Korea House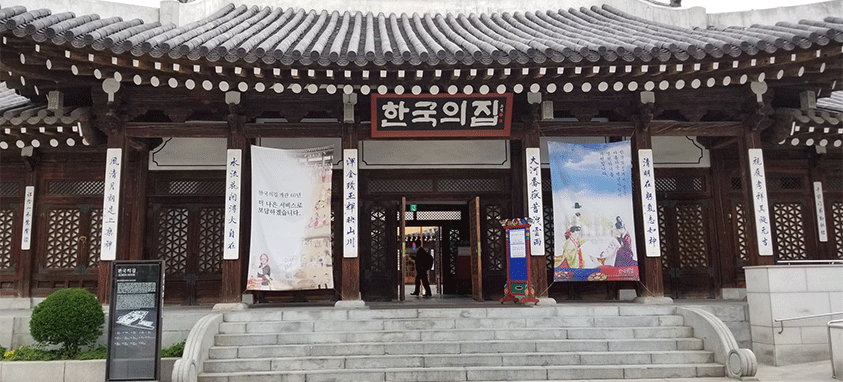 The next stop was Korea House, a kind of cultural center offering traditional Korean cuisine, performances, immersive activities and more.
Korean Cuisine Cultural Center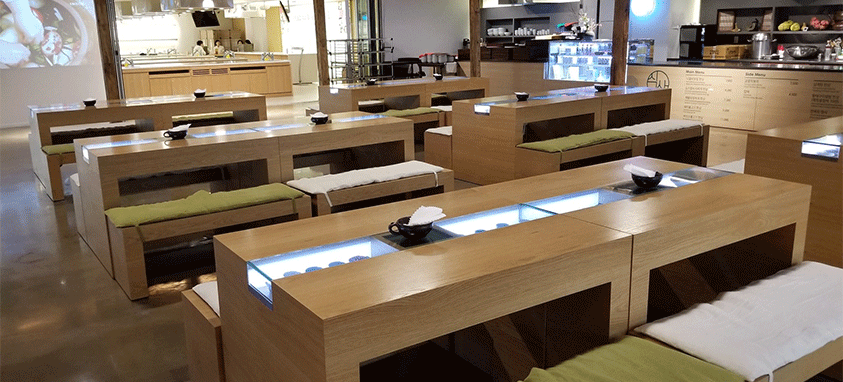 Groups of up to 10 people can participate in Hansik Cooking Program at Korean Cuisine Culture Center in Seoul.
Day 1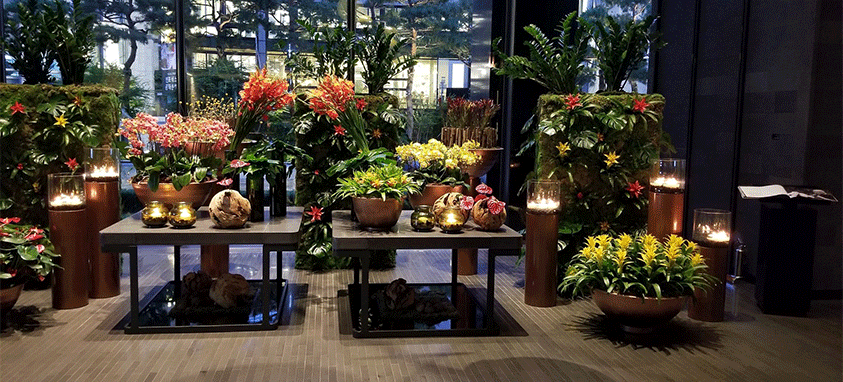 After landing at about 5:40 p.m. local time at Incheon International Airport, I was transported to Four Seasons Hotel Seoul, where I was greeted by this floral display in the hotel's lobby. I enjoyed dinner on my own and then went up to my room to sleep off my jet lag.