Columbus Skyline photo by Andy Spessard
It's not even Halloween yet, but it's never too early to plan ahead for next year's ASAE Annual Meeting & Exposition in Columbus, Ohio. The organization announced this first-time host city all the way back in July 2016, for cryin' out loud! They estimate that 20 percent of the nearly 6,000 attendees will book their own group's convention there within five years.
If you haven't already, it's time to get to the drawing board to book off-site activities and venues for next August 10 to 13. Smart Meetings recently went on a FAM trip hosted by Experience Columbus to scope out the area and make your site selection job that much easier.
Get Touristy
Columbus prides itself in being a very walkable city, and it recently revamped its riverfront, which is now lush, green and beautiful. Go for a stroll and pop in to the brand-new National Veterans Memorial and Museum, opening October 27. The first-of-its-kind museum pays tribute to soldiers who have served in all branches of the U.S. military through artifacts and multimedia exhibits, allowing veterans to tell their stories in their own words.
Center of Science and Industry (COSI) is also along the downtown path. It has 12 meeting spaces for receptions and presentations for up to 6,000 attendees. "Anytime the Franklinton Board of Trade holds an event at COSI it is an 'out of this world' experience. COSI is not just a world-class science center, but also a world-class event venue," says Trent E. Smith of Franklinton Board of Trade in an online testimonial. "The staff, the food, the hospitality and the overall COSI experience will raise the bar for any event you are holding."
If your feet get tired after all the walking, Smart Columbus debuted self-driving shuttles last month. Currently in a testing phase, they'll be ready to accept passengers starting in December.
Get Wild
Have you ever imagined party-crashing giraffes and zebras at your meeting? At Columbus Zoo and Aquarium, made famous by "Jungle" Jack Hanna's countless Good Morning America and Late Show with David Letterman appearances, these are just two of the animal species that might be photobombing your group's selfies at Africa Event Center. The 400-person capacity banquet room and terrace overlook a savanna full of African wildlife.
If you want to be a bit more removed from the animals, the zoo's Water's Edge Events Park might be just your speed. The area overlooks Scioto River and can fit up to 1,300 guests for a complete buyout. Individual pavilions and boardwalks within the area are also rentable for smaller groups.
In total, Columbus Zoo has 10,000 animals on display in six regions, representing where the animals live geographically in their natural habitats. Five of these regions—Australia and the Islands, Shores, Asia Quest, Heart of Africa, and North America and Polar Frontier—are available to be rented for events held within the exhibits.
Get Crafty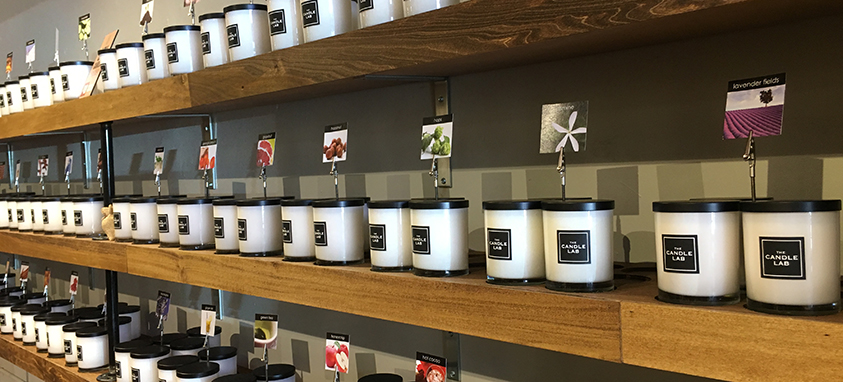 Wax on, wax off at The Candle Lab. A brand-new, two-level location opened directly across the street from the convention center. On the main floor, guests can sniff hundreds of scents and then pour their three favorite aromas into a custom-blended candle. The lab's in the process of constructing a private event room downstairs for meetings and receptions. Planners can also "scent an event" by creating a custom candle to put in swag bags or as a welcome amenity.
Columbus is also home to the world's largest makerspace, Idea Foundry. Get your group's creative juices flowing by hosting a private event there, where attendees can get hands-on in classes specializing in a wide range of activities, including woodworking, blacksmithing, 3D printing, augmented reality and drone racing. The largest event space seats 125 guests, and the grandstand seats 75 people stadium-style for a keynote speaker or presentation.
Get Sporty
"Check" out all the event space at Nationwide Arena, home of the NHL's Columbus Blue Jackets. One of its most exquisite spaces is Founders Club, which fits 185 people for a reception. It includes an area with floor-to-ceiling windows overlooking Columbus' Arena District, a lounge, bar and boardroom. The arena has private event spaces for groups of less than 100, all the way up to 20,000 and everything in between.
Although ASAE will take place during hockey's off-season, renting out the practice arena, located under the same roof, for a skating party is a great way to cool off from summer heat and humidity. And, if there is a game, concert or performance taking place there while your conference is in town, group tickets are available.
Thirty-One Gifts and more than 11,000 of its independent consultants descended upon Nationwide Arena for an annual July convention. Big-budget conventions, such as Avon's annual RepFest in July, also painted the town and arena pink. That event used the bowl to host an exclusive concert by Rascal Flatts, which hails from Columbus.
Baseball will be in full swing in August. Huntington Park, home of Cleveland Indians' Triple-A affiliate team Columbus Clippers, seats 10,100 fans and is a great place to entertain guests for an evening game. If you're lucky, you'll catch a glimpse of BBoy McCoy, the break-dancing bat boy, who performs at select games.
Get Artsy
Wherever you go in Columbus, you'll be hard-pressed to find a place without artwork. A painting even hangs above every bed in the 532-room Hilton Columbus Downtown. One piece of note is located outside the ballrooms, where planners will find more than 32,000 sq. ft. of meeting space. From a distance, the artwork will simply appear to be leaves. Upon closer inspection, you'll discover braille is printed on select leaves. Another piece to pay special attention to is in the lobby. From afar, it looks like a female profile admiring the skyline. Walk up close. The piece is comprised entirely of crayons!
Walk across the skybridge that connects the hotel to the 1.8 million-square-foot convention center, where there's not only a hydroponic garden in the lobby, but artwork throughout. One of the exhibits, "As We Are," will likely leave you speechless. Tough to describe in words, the ginormous LED-light head is a fully immersive experience. Watch below:
The art tour of Columbus continues on over to Pizzuti Collection. The museum can host private events inside an exhibit, sculpture garden, in its library and on the event deck, which can be tented. As of January 1, Pizzuti will be joining forces with Columbus Museum of Art. Le Meridien Columbus, The Joseph, affiliated with the museum, has additional pieces from the Pizzuti's private collection on display. The hotel has 135 guest rooms, 5,464 sq. ft. of meeting space and two tranquil spa suites for guests wanting extra pampering.
Get Fashionable
Milan, Paris, New York, Los Angeles and Miami are viewed as some of the world's leading fashion meccas. It may surprise many to learn that Columbus is also very much in the mix as a fashion capital. The headquarters of such leading brands as DSW, Express, Abercrombie & Fitch and L Brands—Henri Bendel, Victoria's Secret and Bath & Body Works—are located there.
What does that have to do with meetings? A lot. Corporate executives are available as keynote speakers. Attendees can visit the local Nordstrom at Easton Town Center for an expert styling session and team-building competition in which each savvy shopper is tasked with finding the best deal in the store without going over a certain budgetary limit. Ready, set, shop! Think of it as the department store version of the old television game show Supermarket Sweep.
"Baa, baa, black sheep, have you any wool?" Yes, planners, a group's-worth full! Take a farm-to-fashion workshop with designer Celeste Malvar-Stewart. You'll meet the sheered sheep and alpacas the wool comes from and then learn how to turn it in to a wearable scarf.
Get Tasty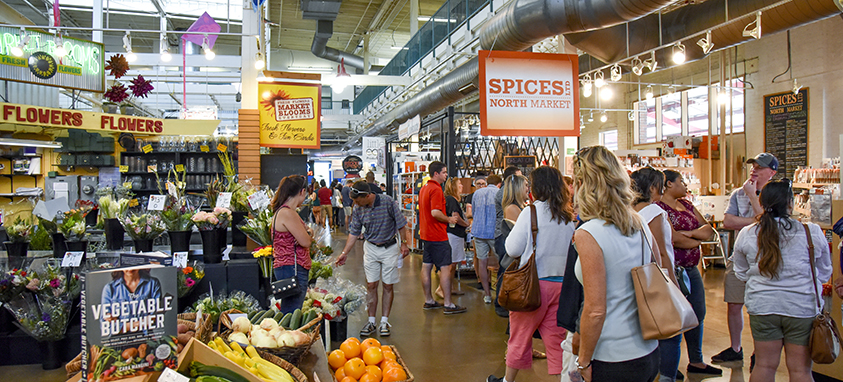 The heart and soul of any city can often be discovered through its culinary scene, and Columbus is no exception. Local influencer and food blogger Nick Dekker, @breakfastwithnick, takes groups on a progressive meal through the Short North's eateries to sample pastries, meals, coffee and juice to jump start the day. Collect four stamps on The Columbus Coffee Experience passport and redeem them for a free T-shirt in an Experience Columbus Visitor Center location. Groups can even learn to cup coffee at One Line Coffee. The city also offers passport booklets for an ale trail and Made in Cbus to promote shopping and dining in locally owned businesses.
A great lunch option for convention groups is North Market, a two-story food hall with more than 30 independent vendors. There is surely something for everyone. Make sure to save room for dessert. Local favorite Jeni's Splendid Ice Cream has an outpost there with a wide selection of unique flavors, as does Instagram-worthy Destination Donuts. Gift certificates are available if you'd like to provide attendees with a pre-paid lunch.
North Market's mezzanine, pavilion and patio can be rented for private events for between 500 to 2,500 people. The International Federation of Library Associations and Institutions World Library and Information Congress was the first organization to rent the space in 2016.
The go-to restaurant group in Columbus is Cameron Mitchell, with more than a dozen restaurants sprinkled throughout the city. Gift certificates are available if you'd like to cover the cost of your attendees' meals but still offer them the freedom to select a cuisine and setting of choice. Should your venue not offer in-house catering, Cameron Mitchell also caters events.
Columbus also has a thriving distillery scene. Wolf's Ridge Brewing recently opened The Hickory Room for private events of up to 120 guests. Middle West Spirits (MWS) ferments vodka and whiskey on-site. Group tours, tastings, mixology classes and private event spaces are available. MWS's year-old, 59-seat restaurant can be bought-out.
Located where the Olentangy and Scioto rivers meet, private waterfront dining is available at The Boat House at Confluence Park. It has four banquet rooms and an event deck. The Buckeye grand ballroom accommodates up to 425 guests.
Get Your Party On
In golf, players celebrate a hole in one, and at Dock580 Venues planners take advantage of three venues in one. Likely to be one of the most coveted off-site party locations during ASAE, the retractable-rooftop Juniper event space sits atop The Smith Bros. Hardware Building and offers gorgeous views of the Columbus skyline.
The Loft, with space for up to 200, is a two-level event space. Downstairs there's a bar and upstairs is an open floorplan to arrange for a meal, presentation or ceremony. Lastly, The Venue can fit 165 guests inside, and the party can flow outside to an adjacent grassy courtyard.
Pop in to the rustic Strongwater Food and Spirits for a meal or rent its gallery, annex and courtyard for a private event in an urban warehouse setting.
Pump up the volume at Express Live!, an indoor/outdoor concert venue than can accommodate up to 5,000 groupies in the heart of Columbus's Arena District. Essentially a blank slate, planners can go for a rock-and-roll atmosphere or transform the space into an elegant affair. What makes this venue unique is that performers on stage can face inside, or you can flip the show around and open up a garage door to face an outdoor crowd at the venue's amphitheater.