Cities from 10 different states were ranked in the top 10 in a newly released online guide from event management software company Aventri.
The rankings were in The Top 100 Meeting and Event Venues in the United States guide, which ranks cities based on their venues' capacity, amenities, uniqueness, proximity to attractions and more.
Las Vegas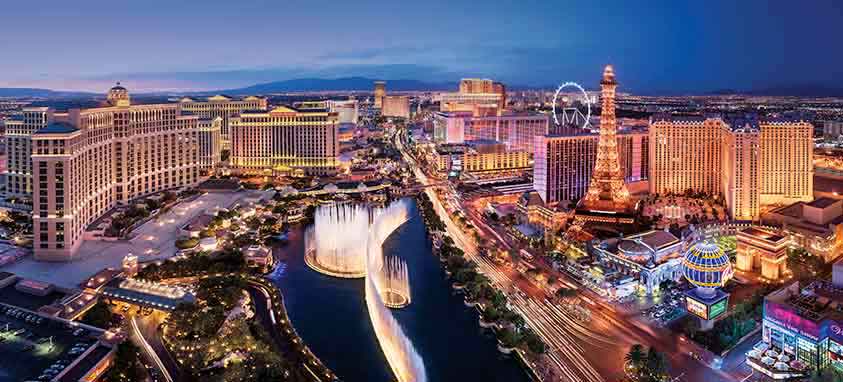 Amid the casinos and virtually endless amount of entertainment opportunities, Sin City offers event venues that will please any planner.
Venues
Las Vegas Convention Center: At 1.9 million sq. ft. of event space, this is one of the largest convention centers in the world; it features 13 exhibit halls, 145 meetings rooms and plenty of spacious lobby areas. A new 600,000-square-foot exhibition space will be added to the convention center in 2020.
More: Transit System to be Installed Under LVCC
Meet Las Vegas: Meet Las Vegas offers classrooms, a boardroom, an outdoor pavilion and 40,000 sq. ft. of exhibition space in three floors. Add to that in-house catering and top-notch technology, and this space a no-brainer.
The Smith Center: While it technically isn't a meeting space, this center has various places to host events. Reynolds Hall, its largest space, can seat up to 2,000 people.
Things to do: The Mob Museum offers a new type of museum experience—you can check out artifacts, ranging from real mobsters to law enforcement officials, and watch mob portrayals in the theater. Hike the trails of the Red Rock Canyon, just steps away from The Strip.
New York City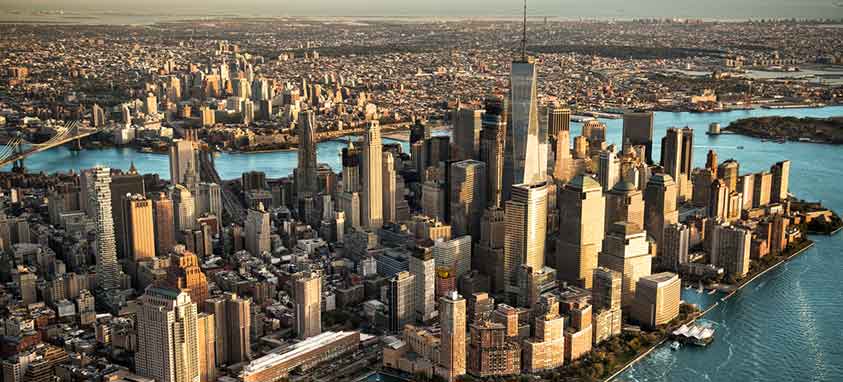 Skyscrapers and pizza aren't all that's great about New York City. Plenty of eclectic venue options await the insatiable event planner, from the historic to the modern.
Venues
The Javits Center: Known to be one of the busiest convention centers in the United States, it boasts 840,000 sq. ft. of meeting space, including 102 meeting rooms, on four floors. The center will complete a 1.2 million-square-foot expansion in 2021.
The Metropolitan Museum of Art: Hold your meeting among centuries-old masterpieces. The Met's six scenic spaces are ideal for company gatherings.
Center for Architecture: This high-ceiling space has great natural light and state-of-the-art tech throughout its three floors. Planners have the option to rent out a gallery, the ground floor or the entire building.
Things to do: New York has an incredible culinary scene—eat some grub at a couple local staples, such as Lombardi's, the city's first pizzeria, and long-standing Katz Deli, open since 1888. Also, the honeycomb-like Vessel at Hudson Yards is a must-see attraction.
San Diego
Does San Diego being listed among the top cities come as a surprise? Well, it shouldn't. With the great weather, hundreds of hotels and attractions, it's a top spot for your next event.
Venues
San Diego Convention Center: It's the largest event space in the city and is conveniently located. In proximity to shops, parks and other prime attractions, "convenient" is an understatement.
USS Midway Museum: Host your next meeting on the Navy's longest serving aircraft carrier of the 20th Century. The space holds up to 4,000 people.
Bay City Brewing Company: If you have a group of beer connoisseurs, this is your lucky day. Located between San Diego and Mission Bay, this craft brewery offers a tasting room, a private event space and an outdoor patio.
Things to do: Kayak through La Jolla Ecological Reserve. Along this kayaking trip, you'll run into various sea caves, including Sunny Jim's Caves, Clams' Cave and Arch Cave. Balboa Park, rated in the top 10 U.S. parks by TripAdvisor Travelers' Choice, is filled with attractions, such as museums, walking trails and San Diego Zoo.
Orlando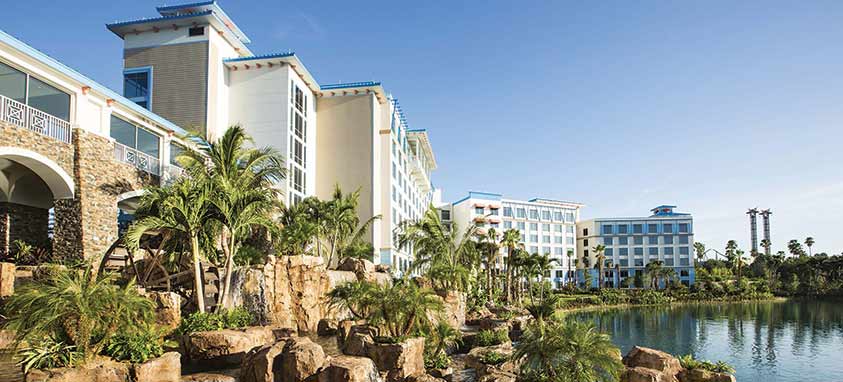 Nicknamed The Theme Park Capital of the World, Orlando is home to Walt Disney World Resort and Universal Studios; and the city hosts incredibly large-scale events. Another nickname arguably could be Meeting Capital of the World.
Venues
Orange County Convention Center: The second-largest convention center in the United States, at 7 million sq. ft. It may be aiming for the top spot, as plans have been made to expand the center, adding 280,000 sq. ft. of new meeting and exhibit space.
House of Blues: If your group eats, breathes and lives for music, this 43,000-square-foot location, which hosts live music daily, is the perfect place.
Kennedy Space Center: Its visitor complex can accommodate groups large and small. Visitors can pay witness to live rocket launches.
Things to do: Groups can participate in plenty of Disney-related activities. Ride the world's most popular roller-coasters at Disney's Magic Kingdom or travel around the world at Disney's Epcot.
Chicago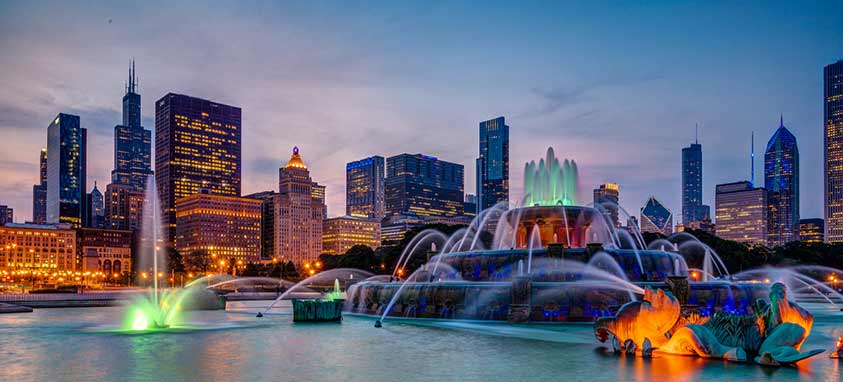 Home to the world's first skyscraper, Chicago is a pioneer of innovation. Explore the vast number of meeting spaces in The Windy City.
Venues
McCormick Place: The 2.6 million-square-foot convention space is the largest in the country. Four ballrooms, four theaters and 173 meeting rooms are featured. It's also linked to Wintrust Arena and five hotels via enclosed skybridges.
360 Chicago: Located on the 94th floor of the John Hancock Center, guests in this venue have impressive views of the city. It's home to Tilt platform, a one-of-its-kind thrill ride that hovers guests 1,000 feet above Magnificent Mile.
Venue Six10: An outdoor terrace, seven event spaces and a wide variety of meeting rooms make this venue as a suitable choice. The venue has recently attained Silver LEED-certified status, as it is powered by 100 percent renewable energy.
Things to do: Millennium Park is home to a load of attractions, including Art Institute of Chicago, The Field Museum of Natural History, Shedd Aquarium and Adler Planetarium. Check out Green Mill Cocktail lounge, which has been around since the Prohibition Era and still houses the booth in which Al Capone sat.
Atlanta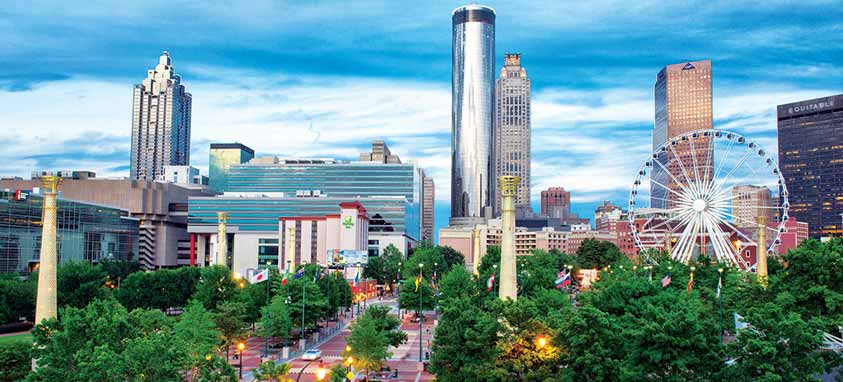 Atlanta has a rich history, including hosting the 1996 Summer Olympics and being the birthplace of Coca-Cola.
Venues
Georgia World Congress Center: The third-largest convention center in the United States, it has more than 1 million sq. ft. of meeting space, 12 exhibit halls, two ballrooms and 100 meeting rooms.
Loft at Castleberry Hill: This space fits well in Atlanta's Arts District. For planners who're looking for a chic vibe, this is the place to book.
Hotel Indigo Downtown: The hotel is something of an art installation in and of itself, and it's adjacent to the 500,000-square-foot AmericasMart Convention Center.
Things to do: Atlanta is filled with historic sites, including Martin Luther King Jr. Historic Site, Carter Presidential Library and the World of Coca-Cola. Step into the driver's seat at the Porsche Experience Center or swim with sharks and manta rays at Georgia Aquarium.
Nashville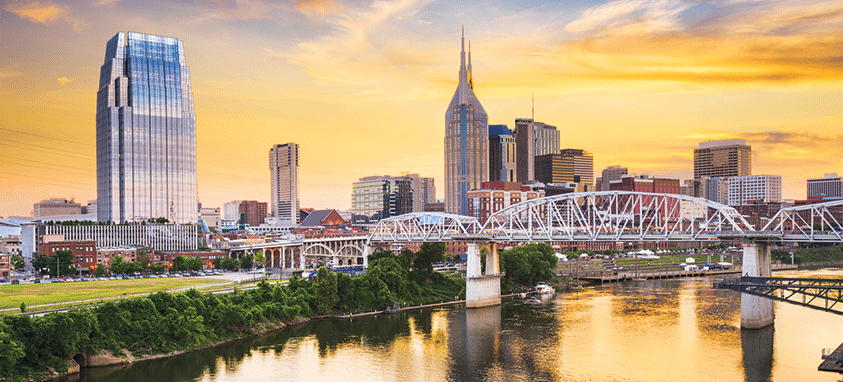 Music can be heard on city streets every hour. An event in Nashville can include jams by legendary bands. It'll be a fun-filled trip.
More: Site Inspection: Nashville Hits High Notes
Venues
Music City Center: The 2.1 million sq. ft., 16-acre venue provides 66 venues for planners to choose from.
The Bridge Building: This river-facing meeting space has been named one of the greenest buildings in the world. A rooftop patio and indoor space, accommodating up to 1,000 guests, awaits.
Gaylord Opryland Resort and Convention Center: It features gardens, pools and a river, all within the convention center.
Things to do: The Ryman Auditorium, which hosts concerts by names such as Blake Shelton and Luke Combs, was named No. 1 thing to do by U.S. Travel News. For music lovers, Country Music Hall of Fame is the place to stop. You will see lots of artifacts, including Elvis Presley's solid gold limo.
Phoenix
It's nicknamed The Valley for a reason, but don't let the hot, dry weather turn you away. Phoenix is a great venue for groups, with its unparalleled meetings spaces. Pack light.
Venues
Corona Ranch: It's the only Mexican and Western rodeo ground that offers space to host meetings and events. It's situated only 6 miles from downtown Phoenix.
Phoenix Convention Center: Located right where the action is, this convention center is a great spot for meetings. It has more than 540,000 sq. ft. of meeting space.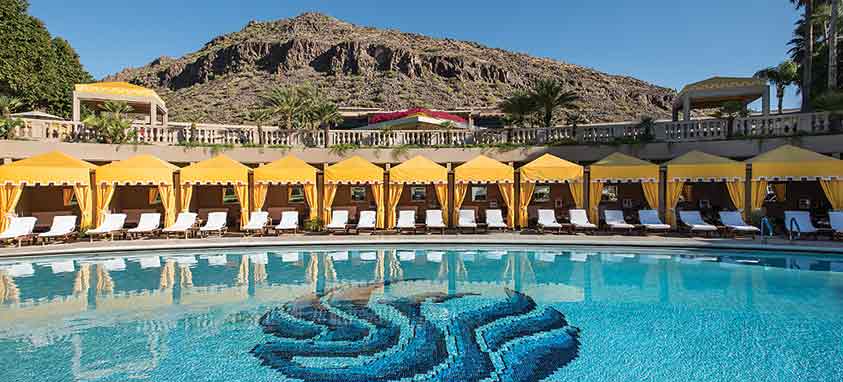 The Phoenician: Surrounded by 250 acres of land, this 450-room property features 90,000 sq. ft. of in-door-outdoor event space.
Things to do: Camelback Mountain, known for its camelback-like resemblance, is one the country's top hiking destinations and ranked the second-best thing to do in Phoenix by U.S. Travel.
Washington, D.C.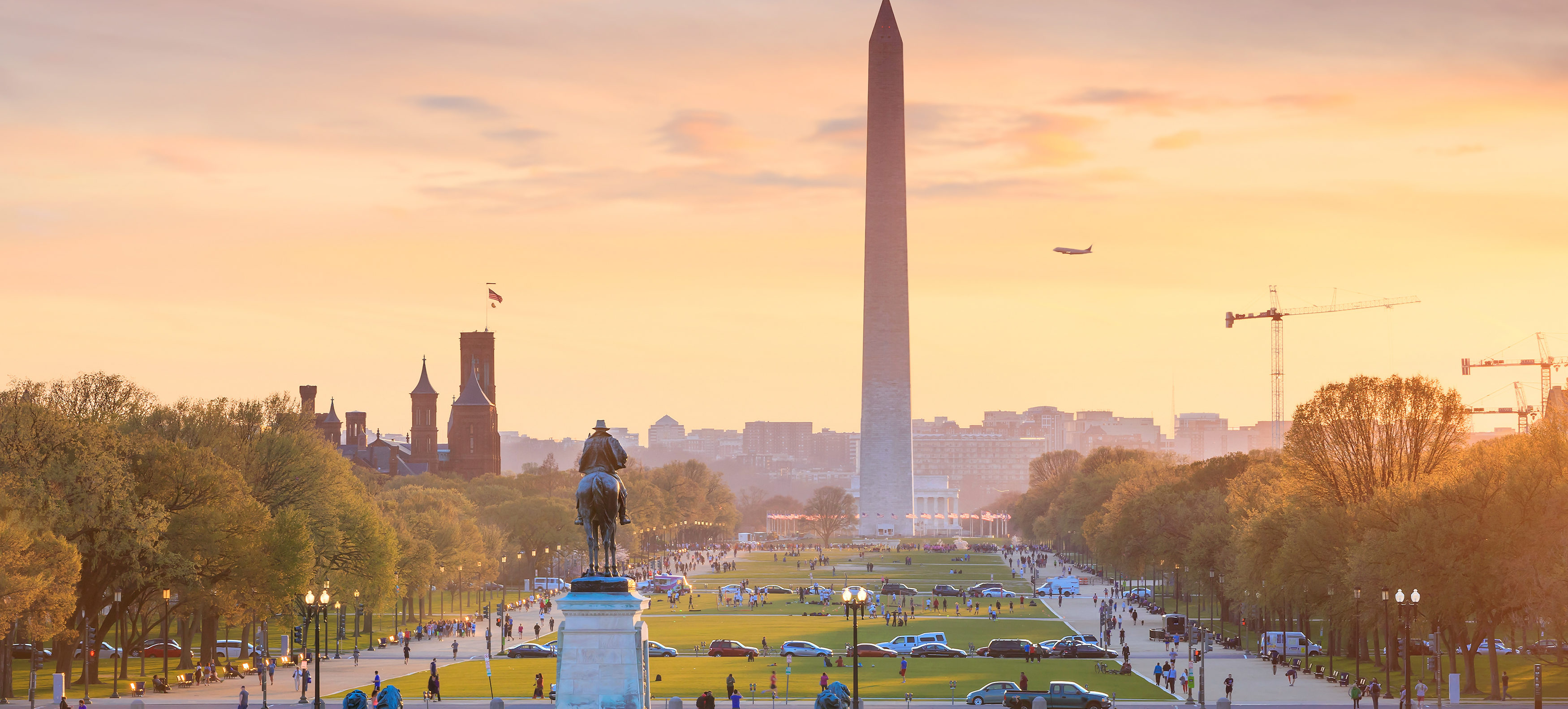 The nation's capital is home to not only home to historical U.S. monuments, but also a wide-ranging number of gorgeous event spaces.
Venues
Washington National Cathedral: This operating Episcopal Church doubles as an event space. It is also one of the tallest buildings in D.C. Featured are four meeting spaces with stained-glass windows and beautiful sculptures.
District Winery: Specializing in meetings and events, this winery, the first commercial winery in D.C., features six private event rooms that hold 40–450 people.
National Air and Space Museum: Home to the first Wright Flyer and a touchable lunar rock, it doubles as an event space that holds up to 4,000 people.
Things to do: In D.C., favorites include tours of the Washington Monument and White House. And at National Archives Museum, you'll be able to view the original documents that paved the way to the United States as we now know it, including the Declaration of Independence and the Bill of Rights.
Dallas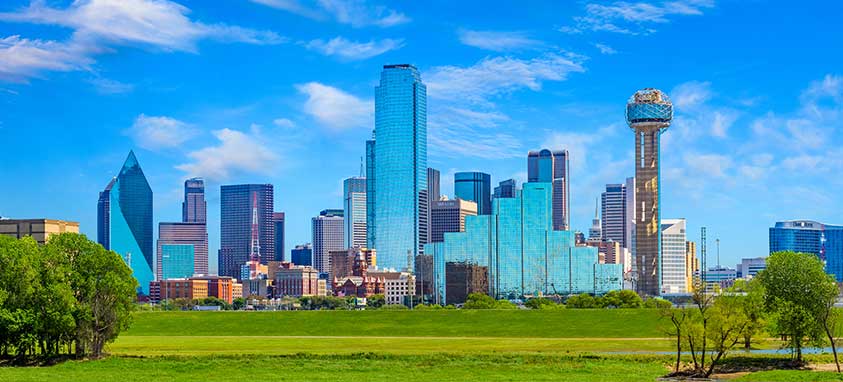 This self-proclaimed Home of the Frozen Margarita is rife with life. After the meeting is done, take a stroll down Margarita Mile and explore the multitude of attractions in the city.
Venues
Kay Bailey Hutchison Convention Center Dallas: Located in the heart of downtown, it offers more than 1 million sq. ft. of event space. It's one of the only United States LEED-EB and ISO green-certified conventions centers.
The Castle at Rockwall: Resting on 10 acres of land, it can accommodate 600 people in its many locations on the property. The Castle also offers eight event experience packages.
Perot Museum of Nature and Science: Featuring 19 different venues, Perot Museum has space for groups of 20–1,500.
Things to do: The Sixth Floor Museum at Dealey Plaza focuses on President John F. Kennedy's life, presidency and tragic assassination. Kimbell Art Museum is one of the top small art museums in the world. Offered is a permanent collection of art from legends such as Picasso, Rembrandt and Monet.