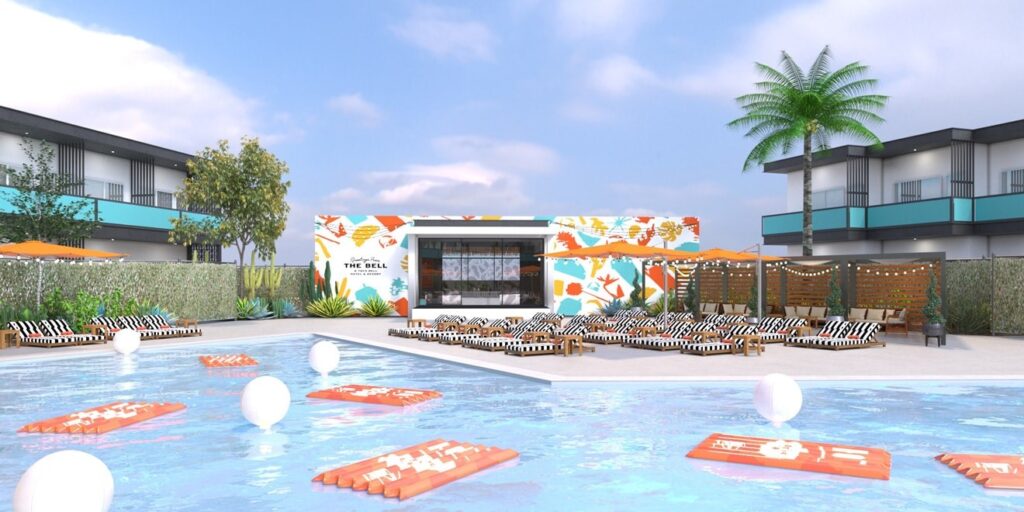 Taco Bell enthusiasts are rejoicing, as they'll now be able to take their loyalty a step further, from merely eating Taco Bell, to living Taco Bell. Starting today, you can book a stay at Taco Bell's 70-room accommodation, The Bell: A Taco Bell Hotel & Resort, in Palm Springs, California. It will feature a "Freeze Lounge," inspired by Taco Bell's "Mountain Dew Baja Blast."
Guests can stay in The Bell—which will temporarily take over V Palm Springs—August 8-12.
This may be the first fast food restaurant to have a pop-up hotel, but in no way is it a novel idea. The pop-up hotel trend has been going on for some time now, and the brakes won't be pumped any time soon.
Pop-Ups in Empty Spaces
The East Coast-based WhyHotel began in 2017, and plans have been made to extend to the West Coast, their first location being Houston, which is scheduled to begin accepting its first guests in late 2019. WhyHotel's operation is unique and their form of "popping up" is economically friendly.
New apartment buildings are nearly empty during their lease-up phase, as they don't allow tenants to move in during construction. WhyHotel has taken advantage of this by alternatively using those apartment rooms as hotels until the apartments are fully leased. This method reduces the need to build new hotels and take up yet more space in often already congested cities.
"In the United States, at any point in time, there are hundreds of thousands of vacant, new-built apartments," Jason Fudin, chief executive officer and co-founder of WhyHotel, told GlobeSt.com. "This is due to the units being delivered to market all at once, upon completion of the complex, since residents can't move into a building that's still under construction. It then takes about a year for a residential building to fill up. The WhyHotel model takes advantage of this underlying inefficiency, putting vacant apartments to work during the lease-up period."
Pop-Ups in Remote Places
Travel experience company Black Tomato has created a pop-up hotel accommodation unlike any other. The concept rests on the idea that if you "blink, you'll miss it." Locations for group retreats are nearly limitless, as all planners have to do is contact Black Tomato with a location anywhere—you can get as remote as you please—on the planet and they'll do their best to make it a reality.
Black Tomato specializes in creating hyper-personalized travel experiences, so creating a one-of-a-kind stay in an off-the-grid location is right up the company's alley. It isn't often—if ever—that groups shack up in dome tents on salt flats in Bolivia, yurts in Namibia's Kalahari Desert, or bubble tents in the Atacama Desert in Chile. Once the stay is over, the entire set-up is broken down and made to look as though you were never there. That's trip personalization taken to the extreme.
In 2016, New York-based TerraVelo started Terra Glamping, or glamorous camping, which can create the perfect corporate retreat anywhere in the United States and Canada. The company's first location was in California wine country, where a glamping hotel featured 10 safari-style tents. The following year the company began a pop-up operation during summer at Gateway National Recreation Area, with five glamping sites in the park's Fort Tilden area. They now offer glamping opportunities in the greater New York City Area, Hamptons, Catskills and more.