Meetings at ARIA Resort & Casino are anything but conventional. Voted #1 Most Popular Meeting Resort in North America and the Caribbean (Meetings and Conventions), there's a reason why groups keep coming back. Come to the space where business leaders and innovators in technology join to connect, change their thinking, and spark new ideas.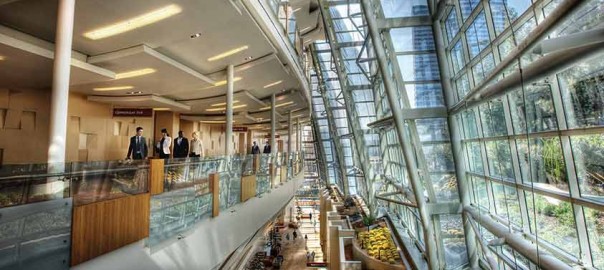 Transfer your information with 7,500 strands of fiber-optic cable and built-in high definition projection screens to really stand out. Find a private spot amongst the 300,000 square feet of versatile conference space to tackle your to-do list in comfort and solitude. Take a mental break by a spectacular wall made of glass overlooking the outdoors. In fact, the Convention Center has the largest glass wall of its kind in the area. Designed to continue the aesthetics of the wall designs, intricate plant walls – made up of 10,300 fresh air plants – have been built by ARIA's on-property horticulture team, to truly expand the depths of nature on the premises. Not to mention, the incredible air purification that these plants provide. Yes, you'll be stuck inside in meetings all day, but with the open space and numerous windows – it certainly won't feel like it.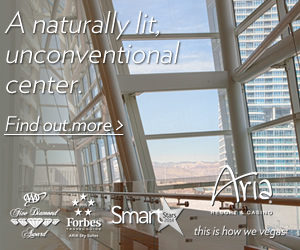 With three levels of flexible space, filled with clean air and natural lighting, we're sure you'll find the ideal meeting place. Whether you're brainstorming the next big idea with a handful of colleagues, or planning a conference with 5,000 industry leaders… ARIA has room for it all.
Have some time between meetings and your team dinner? The Spa & Salon at ARIA offers blow dry, manicure services, and beyond in record time. Or, rent the whole space for your team for the ultimate expression of gratitude and team bonding.
For more information or to book your next meeting, please call 866.718.2489 or email meetings@aria.com.
At ARIA, this is how we Vegas™.