San Francisco's South of Market neighborhood is always abuzz, but recently, more so. After undergoing three years of renovations, last week San Francisco Museum of Modern Art announced May 14, 2016 as its official reopening date. For a behind-the-scenes look at what visitors can expect, I went on a hard-hat tour of the construction site.
Through a side street entrance, our group entered the first hall, a circular sky-lit area surrounded by black marble and slate. The $305 million SFMOMA expansion leaves no area untouched, and each gallery is as architecturally significant as the next. Norwegian design firm Snohetta has designed the spaces to reflect SFMOMA's theme of accessibility, openness, engagement and interaction.
The new museum doubles its square footage for a total of 460,000 sq. ft. of exhibit space, and when it opens it will be the largest modern art museum in the U.S. Housed in the Pritzker Exhibit Hall, the photography collection will be one of the largest with more than 17,000 displayed images.
Jill Lynch, director of communications says it will be a groundbreaking space due to a new photo interpretive gallery with digital interactive opportunities. "People can learn about photography and how to take a picture," she says. "It's a really interactive space for people to understand the media."
In addition to the SFMOMA expansion, supporters of the museum have also sought to bolster educational opportunities for youth. A record number of classroom excursions have been booked for next year, thanks to a generous benefactor who has made it possible for all visitors under 18 to enter for free.
Outdoors, SFMOMA will showcase the largest living wall in North America. The industrial space features more than 15,000 native plants across a broad brick-walled expanse. It's one of two outdoor spaces that will be available for rentals. Another outdoor sculpture atrium on the same level as an upscale restaurant will offer 30,000 sq. ft. of garden space suited for events.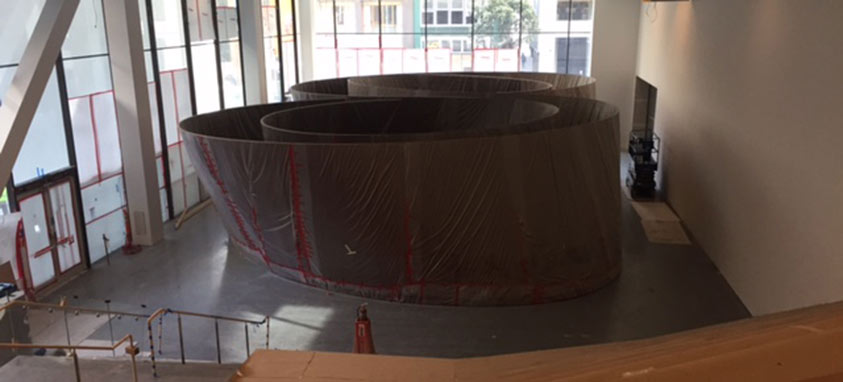 The museum has commissioned a number of dramatic pieces to be unveiled on its opening date. Already on display is a dark maze-like work called "Sequence" by Richard Serra; it's made of large rings cocooned inside each other and takes up the entire floor space next to the ticketing booth. SFMOMA's arts campaign committee has already received 3,000 works of art and will display 600 new pieces when it opens.
Visitors will not recognize the outdoor façade, which appears to topographically mirror a desert landscape with hand-cast fiberglass ridges across the 10-story building. It's a groundbreaking design unlike anything in San Francisco's skyline.
Where to Stay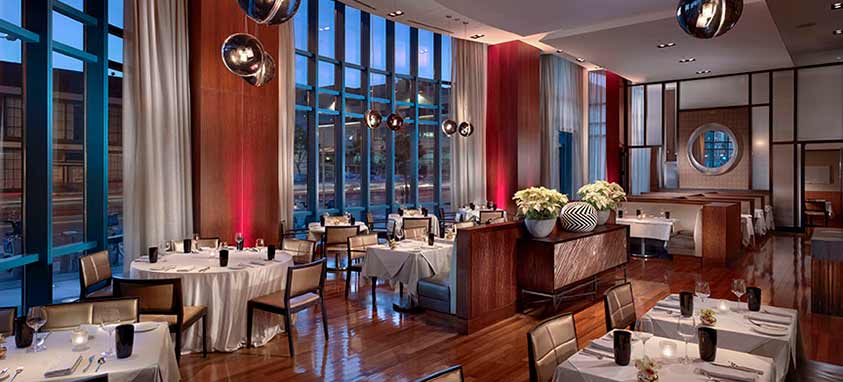 Across the street from SFMOMA, visitors can stay at InterContinental San Francisco (ICSF), a LEED Gold Certified hotel that blends an eco-conscious ethic with a luxury aesthetic.
The star of the show at ICSF is Luce, a fine-dining establishment that was recently awarded its 7th consecutive Michelin star. Chef Daniel Corey fuses local, approachable flavors with a global take on modern American cuisine. Our group dined on tartar of prime beef with fermented black garlic; pacific amber jack and trout roe; and handmade sweetbread ravioli with black winter truffles. Corey and his kitchen staff specialize in the sous-vide method of cooking, which creates especially tender meats and vegetables.
As expected, ICSF's top-tier amenities extend well-beyond the kitchen. We received a behind-the-scenes tour of the property's green features and energy-saving utilities. After it was awarded LEED certification in 2011, ICSF cut energy consumption and building maintenance costs by half. Today the hotel is one of the top green buildings on the entire West Coast, according to Harry Hobbs, area director of engineering.
Guests can also lower their own carbon foot prints during their stay. By participating in the linen and towel re-use program, lowering use of central air and taking public transportation, the hotel will deduct 10 percent of the bill for each method practiced.
ICSF has 550 guest rooms and more than 43,000 sq. ft. of flexible meeting space, including 21 meeting rooms and two ballrooms.
The Local Experience
For a city that's only 49 square miles, San Francisco packs a lot of things to do within its diverse neighborhoods and various hotspots. SF Travel Association keeps the city's best attractions within reach with CityPASS—a booklet filled with free tickets to California Academy of Sciences, Exploratorium, DeYoung Museum and Legion of Honor, Aquarium of the Bay and more. Between dining, tours and tastings, it was easy to see how meeting groups and travelers can combine business with local experiences.