Driving into town from Springfield-Branson National Airport (SGF) with the friendly representatives of Explore Branson, I passed gas stations advertising fuel for $2.07 per gallon. It was immediately evident that Branson was an affordable place for meetings (as well as everything else!)
Branson is situated in the southern part of the state—near the Arkansas border— a four-hour drive from St. Louis and Kansas City. While some might expect Branson to be unsophisticated, it boasts restaurants that stand up to the best eateries in San Francisco. We discovered that the first evening at Level 2 Steakhouse—Hilton Branson Convention Hotel's fine dining establishment—where both the cuisine and service were spot on.
But there's much more to Branson than food.  Planners who want a destination featuring natural beauty, a myriad of outdoor activities and plenty of all-American fun should take a closer look.
Natural Wonders
Branson, known for its plethora of caves and clean lakes brimming with fish, offers an abundance of recreational opportunities for nature lovers. The region is home base for Bass Pro Shops—a chain of super stores selling outdoor equipment—and founder Johnny Morris still lives in the area.
Dogwood Canyon Nature Park in nearby Lampe offers excellent hiking, biking and fishing. The venue, which boasts beautiful chapels and areas with waterfalls, is expanding—they are in the process of building an enormous tree house that can be rented out;  a new restaurant and general store is slated to open in 2016.
Entertainment
Branson is famous for its professionally-staged live shows, which run the gamut from music to comedy and variety. On any given night there are usually two dozen to choose from, including a dinner show that takes place on the water in Table Rock Lake, in Showboat Branson Belle. I saw (and totally enjoyed) Million Dollar Quartet—a musical about one historic night when Elvis Presley, Johnny Cash, Jerry Lee Lewis and Carl Perkins got together and jammed in Sam Phillips' Sun Studio in Memphis.
Silver Dollar City is a wholesome, family-friendly 1880's-style attraction that draws millions who enjoy the rides, shows and people in period costumes demonstrating classic American crafts such as glass blowing and crocheting.
For more modern entertainment, visit Branson Landing—a shopping and restaurant district with more than 100 retail establishments. Take a quick yet exhilarating zip line ride over the lake at Parakeet Pete's, or sample some  locally-made moonshine at Missouri Mountain Moonshine. (It comes in a wide variety of flavors—my personal favorite was Sweet Tea.)
Golf is a big draw during the day in Branson, but it can also be enjoyed at night. Try a round of glow-in-the-dark golf at Thousand Hills Golf Resort. (Make sure not to try driving the golf carts around in the pitch black night after drinking the above-mentioned moonshine!)
Meetings
Branson Convention Center is an impressive, state of the art facility with 220,000 sq. ft. of flexible meeting space. The immaculate exhibit hall, which hosts everything from car shows to livestock, has 47,000 sq. ft. The 23,000-square-foot ballroom boasts a sophisticated lighting system. High-end catering is provided by the professional culinary team of Savor.
Big Cedar Lodge near Table Rock Lake is a lovely meeting venue with 246 guest rooms. The visually beautiful Grandview Conference Center is loaded with rustic charm, and boasts almost 20,000 sq. ft. of meeting space.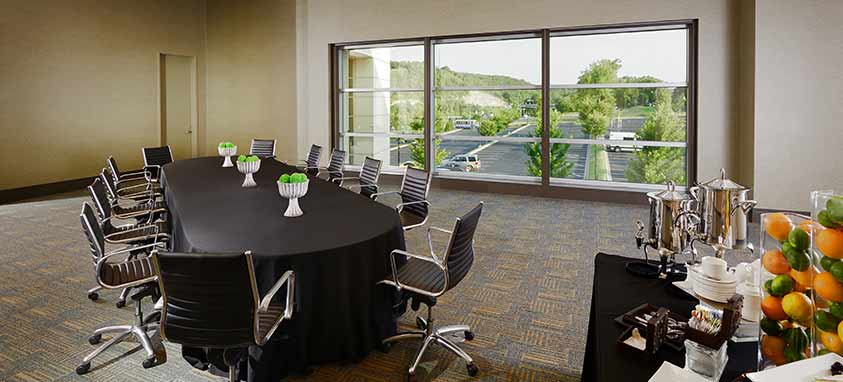 Top of the Rock is another impressive meeting space. Set on an exclusive golf course, it was built by native son Johnny Morris. An onsite natural history museum features skeletons of ancient creatures that once roamed the Ozarks, as well as stuffed moose and deer, historic Civil War relics and Native American artifacts. Dine at any of several restaurants including Arnie's Barn, an actual barn that once belonged to golf legend Arnold Palmer, and be sure to tour the unique wine cellar.
Finally, there is Chateau on the Lake Resort Spa & Convention Center—a spectacular, AAA Four Diamond property that resembles a castle and overlooks Table Rock Lake. In addition to a fabulous spa, a variety of fine restaurants, a movie theater and 301 luxurious guest rooms, the pristine property features 43,500 sq. ft. of meeting space.
Accommodations
The CVB estimates that there are 16,000 guest rooms, at all different price points, in the Branson area. Planners that want to be downtown near the convention center need look no further than Hilton Branson Convention Hotel, which is connected to the facility and has 292 guest rooms. The relatively new hotel was unexpectedly refreshed in 2012 after a tornado rolled through town, destroying much of the building. If planners require more guest rooms, Hilton Promenade at Branson Landing (one short block away) has 242 more.
Wrap Up
Branson is a safe, wholesome, family-oriented destination, with a helpful CVB eager to highlight the attributes of the region. With its many outdoor activities, it is a popular choice for planners in the summer months. But it is also popular in the winter. On Nov. 1 the entire town apparently shifts into high gear; every store puts up Christmas decorations and the shows incorporate holiday themes. Branson is a year-round delight of a destination!