Less than 10 years ago, long-time residents were lamenting that Seattle didn't have the same spirit of adventure and independence any more. Growth was sluggish and prospects for a more robust future were dim. But what a difference a decade makes. Today, Seattle thrives as a meetings destination.
Some of the economic recovery can be attributed to mega companies such as Amazon, which is headquartered in the city, and Google, which has one of its largest offices there. The city prospered due to its widespread technological advances and other attractive offerings as a meetings destination.
Hotels are opening at a steady clip and the Washington State Convention Center recently completed a $20 million refurbishment of its downtown facility. In 2015, Seattle Tacoma International Airport broke its all-time record for passengers served (42 million) for the second consecutive year.
"No one could have predicted what has happened," says Tom Norwalk, president and CEO of Visit Seattle. "It's the biggest renaissance the city has ever seen."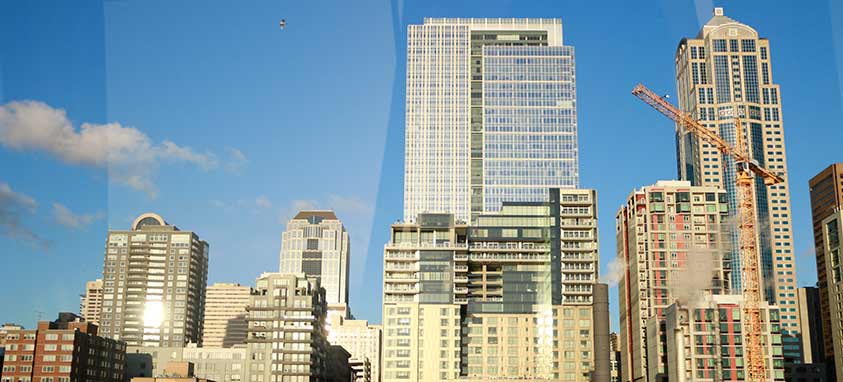 Downtown construction
Development in Seattle
The fun is just beginning. Seattle had 79 construction projects underway as of December and 3,000 to 4,000 hotel rooms are now in the pipeline.
Two upcoming projects will have major ramifications for the meetings industry. A convention center hotel, the largest in the United States north of San Francisco, is being built two blocks north of the convention center, in the heart of downtown Seattle. The $450 million, 45-story building will provide 1,260 guest rooms and 105,000 sq. ft. of meeting and ballroom space. It will also include nearly 30,000 sq. ft. of restaurants, bars and lounges.
"There has been tremendous customer interest in the hotel," Norwalk says, adding that several hotel companies have expressed interest in the property, which is scheduled to open in 2018.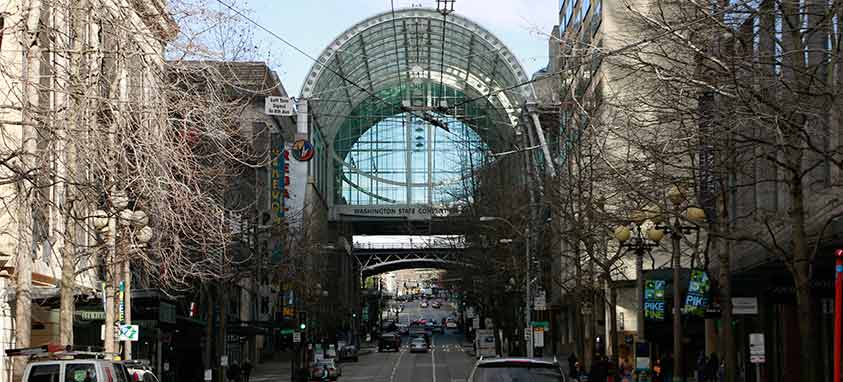 Washington State Convention Center
The other big news is that plans are in the works for a huge addition to the convention center, which currently provides 414,722 sq.ft. meeting and exhibit space. The addition, to be completed by 2020, would be located one block from the current facility. It would include 250,000 sq. ft. of meeting space on two levels, 120,000 sq. ft. of meeting space, a 60,000-square-foot ballroom and a full-service kitchen.
"It would feature plenty of natural glass and light," Norwalk says. "The issue is how to find a way to pay for the project—it would cost about $1.5 billion."
These two large facilities are intended to help address Seattle's growing appeal as a destination city for meetings. The city has lost out on 350 potential meetings during the past five years due to lack of sufficient space.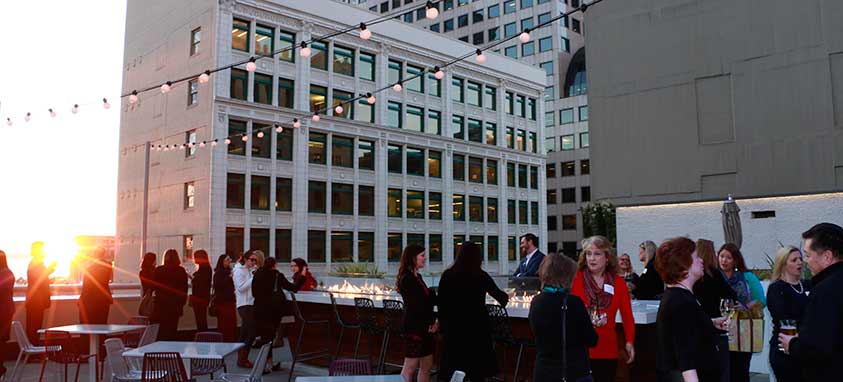 Reception at Motif Seattle
Part of Seattle's problem—though in one sense, a desirable one to have—is that meeting groups tend to love the city. Around 20 percent of participants tack on days before or after their meeting, and more than 60 percent of groups coming to Seattle have come before.
Plus, more groups are coming from overseas. In particular, some 4 1/2 years ago Delta Airlines expanded Seattle's visitor base by serving as a hub for flights to and from Asia.
Norwalk, a native of Seattle who left in 1982 but returned in 1989, is thoroughly enjoying his hometown's renaissance. "It's a lot of fun—it's as good as it gets," he says.